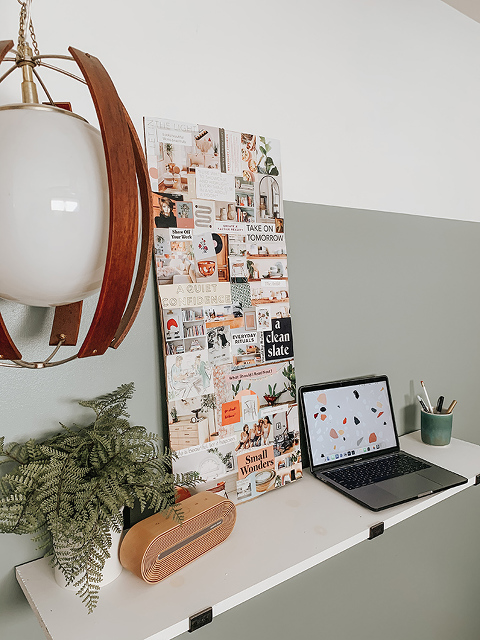 Wow, 2020 was rough, right? I absolutely count my blessings daily because it could have been so much worse, but last year was still really hard on my business (I lost about half my freelance income in what felt like a second as brands adjusted their marketing budgets to cope), and it was hard on my mental health, too. I'm a homebody, but even introverts like me need to get out of the house sometimes. Anyway, the point is that my inspiration was zapped by the end of 2020, and I was really worried that I was going to feel completely unmotivated at the start of 2021. That said, I'm happy to report I'm currently feeling the opposite!
Now that social-distancing and at-home quarantining feel more like routine, I know now not to set myself up with lofty goals. That might sound depressing, but it's not! It just means that, instead of thinking big, I'm turning inward to focus on self-care, and figuring out brand new ways to inspire all of you who still come here for home décor and DIY ideas. I love that so many of us are mustering extra energy to pour more love into our spaces during this unprecedented time, and I'm happy to help by sharing all the inspiration I can gather. And there's still so much inspiration to make good on—even when confined to the same square footage day in and day out.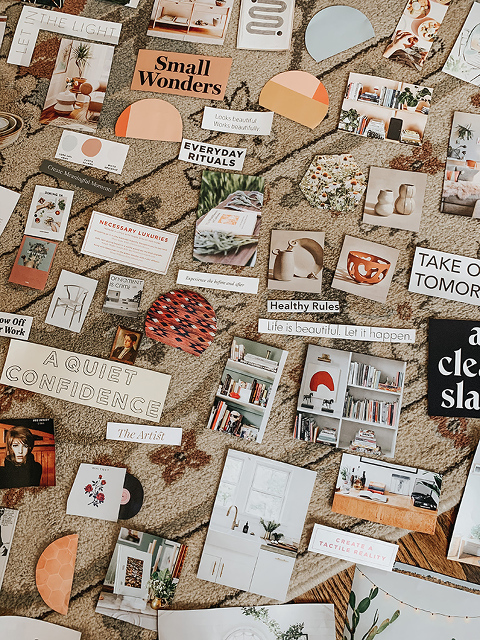 One of my favorite things to come of the 2020 holiday season at the end of last year was a fun little afternoon inspiration-gathering project I worked on: a DIY vision board. I say "little," but it actually ended up being a several-hours-long activity that has honestly changed my entire outlook on the new year. My thought process for creating a vision board was to have one collage-style design board that I could keep in my office and reference whenever I felt like I lacked direction and ideas. I wanted a piece of art filled with all of my favorite things that I could turn to during times of mental defeat. So far, it's working like a charm.
To make it, I just gathered all of my favorite old magazines, and a pair of scissors. Then I spent hours pouring through them, cutting out anything that spoke to me and embodied what I hoped to lean into in 2021. I focused on reading books, cooking more at home, music, décor (of course!), uplifting quotes, and ceramics (I might not be able to go to the studio right now, but I can still spend this time gathering inspiration and ideas). As I cut things out, I realized I was also inadvertently pulling together a pretty specific organic color palette of rust, blush pink, black, white, mint green, and evergreen.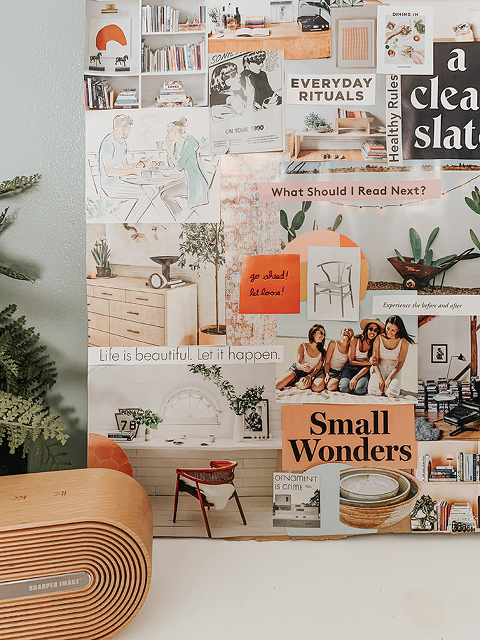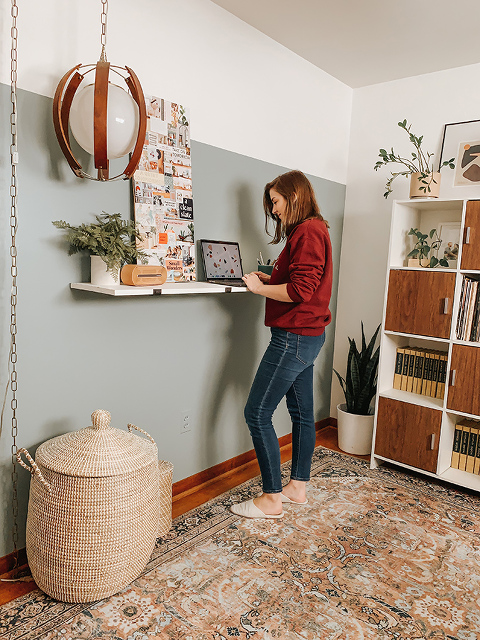 After I was done cutting things out, I cleaned up the magazine mess, and then spread the clippings out around me on the floor. For the base of the vision board, I had planned to use a piece of thick cardstock, but that ended up being far too small for everything I had cut out. I didn't want to sell my 2021 vision short, so I pivoted and grabbed a larger piece of cardboard from the recycle pile. Then, I used double-sided tape to attach everything to the cardboard in a collage arrangement. A few clippings didn't fit, but most of what I had decided was worthy enough for the vision board made it in there in the end.
Now, I keep the board sitting propped on the standing shelf desk I DIYed last year, and it's one of my favorite things to look at throughout the work week. It helps steer my ideas in a direction I know will make me happy and make me feel fulfilled, and it's also a great reminder to keep pushing myself to try new things. I intentionally added things like books and music to the vision board because those are leisure activities I want to make more time for. I've already been able to do exactly that this year, and I credit my vision board as motivation for accomplishing that change in my lifestyle.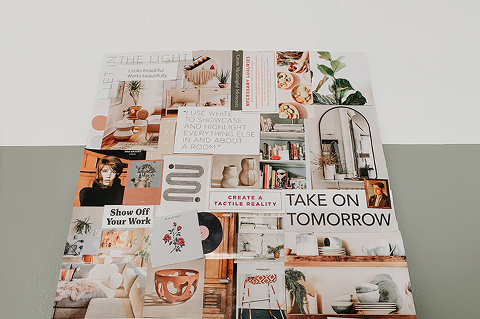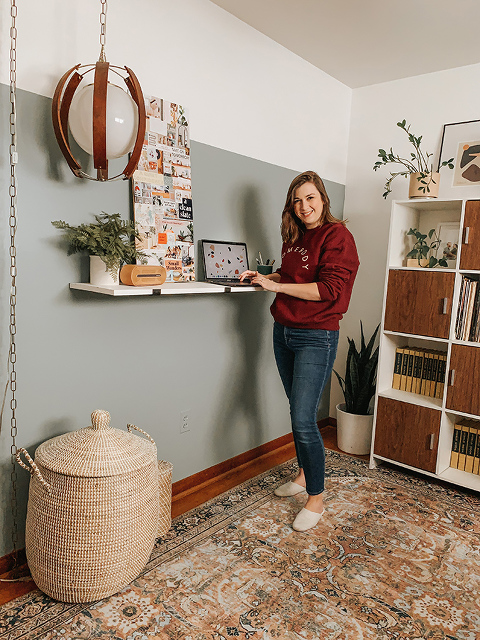 Have you ever created a vision board before? This is my first time making one, and I think it might become an annual tradition. I love the thought of being able to look back on them year after year to see how I've changed, and what drives me to keep being a better person, both personally and in my career, too. I encourage you to try it if you've felt yourself spinning in circles lately!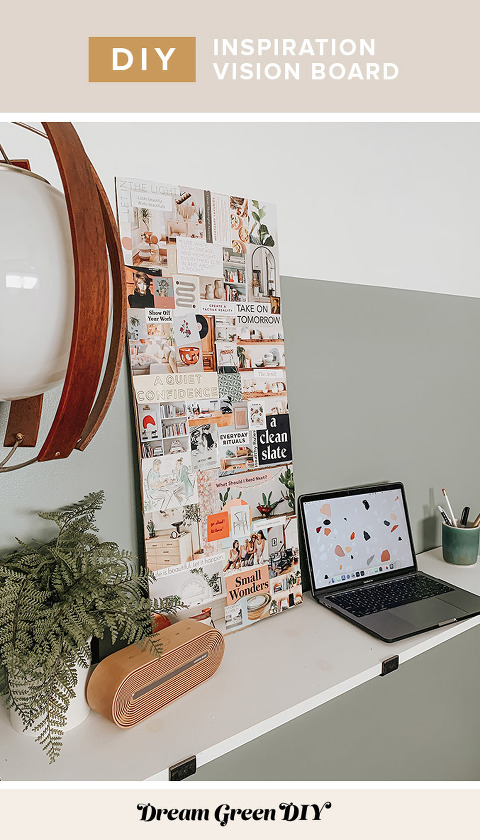 P.S. Here's a similar idea I worked up back in 2017 for a free DIY wall-mounted mood board in case you'd like an alternative method to try.