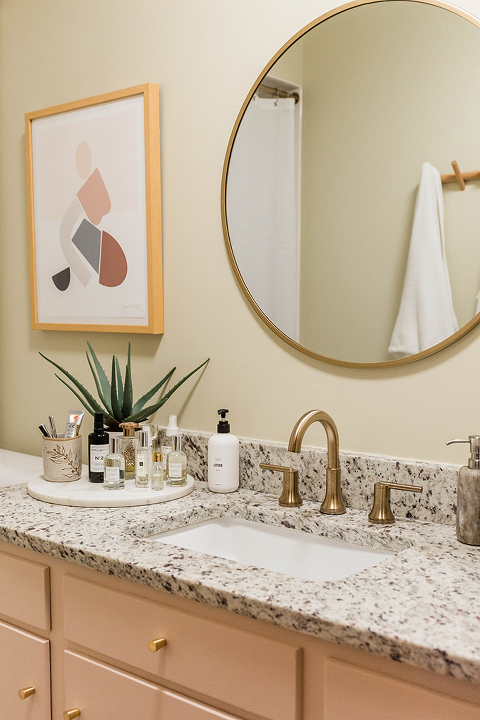 I'm the first to admit that some of my design choices don't end up sticking. And today's story is all about literally unsticking one such "mistake." I'm putting that last word in quotes because my DIY peel-and-stick wallpaper backsplash idea in the bathroom was a fun one, and it definitely helped give the space some pizazz. That said, it just didn't feel quite right to live with day in and day out. Sometimes I go a little too far with my designs, and they end up needing to be scaled back. This is one of those times.
The very, very good news is that I didn't use real tile to create what I was calling a look-a-like backsplash. The removable wallpaper gave me the look of tile without actually using heavy tools and permanent finishes, so to get rid of it was a cinch! Hop to Hunker for my full step-by-step tutorial for removing peel-and-stick wallpaper the right way, without doing major damage to your drywall. It's easy, for sure, but there are a few tricks to making sure you're not left with a big mess in the end.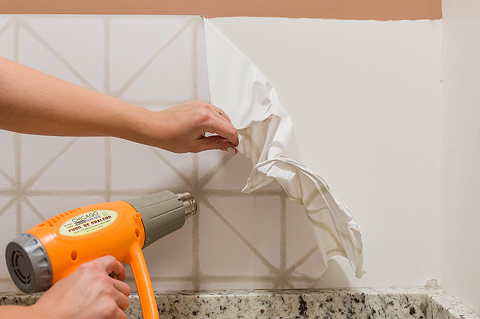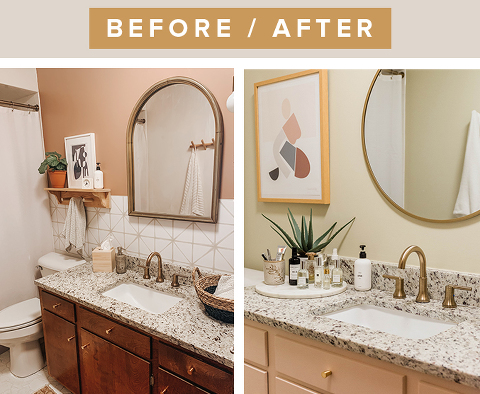 Want to know a little secret that I haven't admitted anywhere else yet? I'm actually still not loving the current look of the bathroom. The new wall color pictured on the right in the graphic above is just not right, (it's way too green), which has me over here wanting to pull my hair out and scream, "When will I get it right?!"
I'm going to try repainting the walls white, and have my fingers crossed that it will give me the final look I've been trying and failing to achieve—and that I won't have to repaint the vanity a different color, too. Just goes to show that even someone who does this full-time can make mistakes. Gotta keep pushing through! Stay tuned to see what's next for this bathroom re-makeover saga.