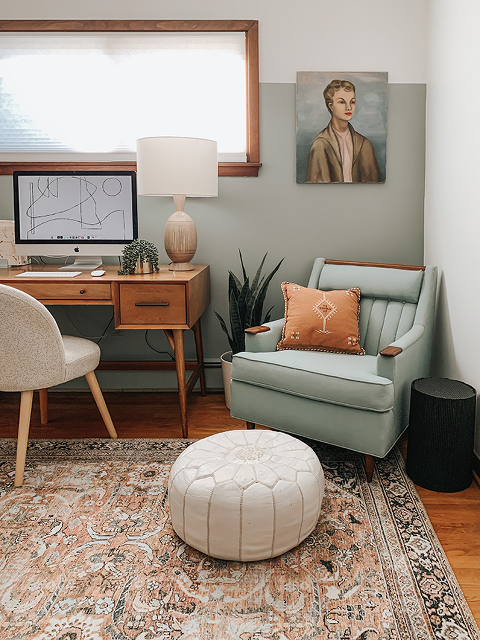 Could your office stand to get an update this spring? I'm actually really, really happy with the way my office is looking right now, but I know what it feels like to not be "there" quite yet. So, if you're in need of inspiration, keep scrolling for all of my best tips in today's weekend link roundup, including the desk I love and pretty office organizers to add productivity back to your day.
Weekend Inspiration: No.129
1. Okay, so first things first, the desk. I immediately get asked about it whenever I share my office on Instagram, and it's just as wonderful as it looks! It's heavy-duty without being oversized, and has the perfect amount of storage. More details here.
2. Since I know you'll ask, this is the rug I have in my office. In my opinion, the flat printed finish on this rug is perfect for an office because it can stand up well to rolling office chairs or any kind of desk chair leg being dragged in and out over top of it. It's super easy to vacuum, but looks really luxurious. The colors make me happy every time I walk into my office, which is exactly the emotion I need to feel when I sit down to my desk for the day. (P.S. It's under $190 right now in the size we got it in)
3. I just recently was introduced to this home storage brand, and I'm in love. The minimalist design is so on-trend, but also feels really classic. I can picture myself putting their nesting trays on top of my desk for paper clips and erasers, or their tote set in the closet to store things like printer paper and ink cartridges.
4. Paint is such a low-stress, nearly instant way to jazz up a home office. Even if you just paint one color-blocked circle on the wall, or go 3/4 of the way up the wall with a bold new color like I did, your office will feel refreshed in practically no time at all. The color I used in my office is "Halcyon Green," by the way.
5. Have you tried your hand at making a vision board yet? There's still plenty of time to make one to help guide your creativity through the rest of the year, and it doesn't cost anything to make.
6. I don't think I could possibly get through my work day without music. Here's my '90s music playlist if you're feeling nostalgic!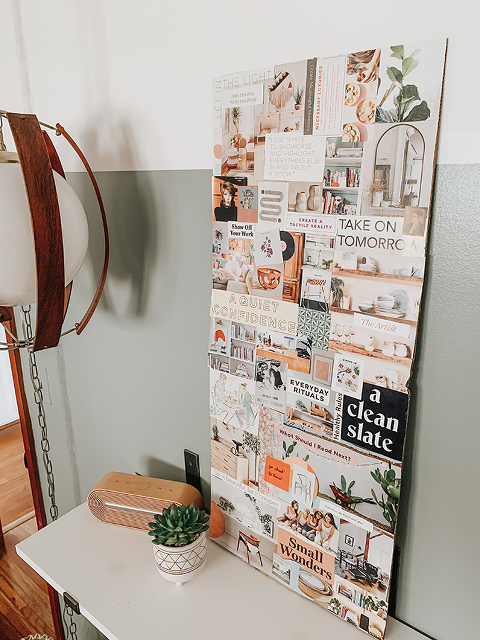 *I earn a small percentage from purchases made using the affiliate links above. Affiliate links are not sponsored. Rest assured that I never recommend products we wouldn't use or don't already love ourselves.