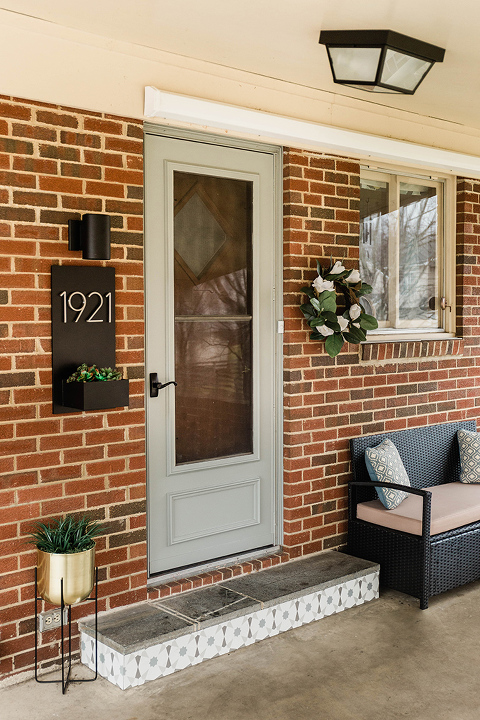 Please don't ask me why (I have no excuse), but it took me almost exactly five years to tackle an overhaul of our side door entryway. This is the door that almost everyone uses—even strangers—so it needed to look just as nice as our front door. The photos below show the entry as it stood for all of those five years (half a decade—ugh!), and it was just as depressing to be in the space in real life as it shows through the camera.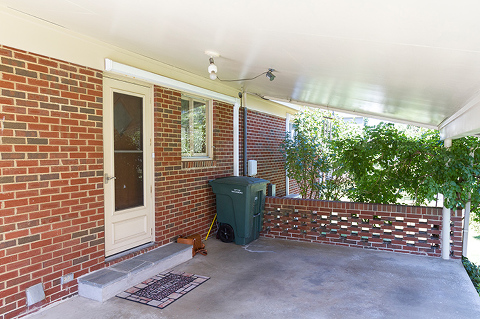 So, the truth is that we did accomplish a handful of small things over the course of those five years. We found a different spot for the trash can so that it wasn't stinking up the carport area, and we tore out all of the overgrown vegetation at the back of the carport to allow for more natural light. We also removed that weird corded motion sensor light attachment that was hanging down from the ceiling.
That was it, though, until I decided to whip the carport into shape once and for all late last year. Here's what we did: replaced the overhead light fixture (and upgraded to a 2-bulb light for added brightness), painted the storm door a fun new color, added a bench for seating and closed storage, I made a DIY house numbers planter, installed a wall-mounted sconce, and I also tiled around the slate stoop.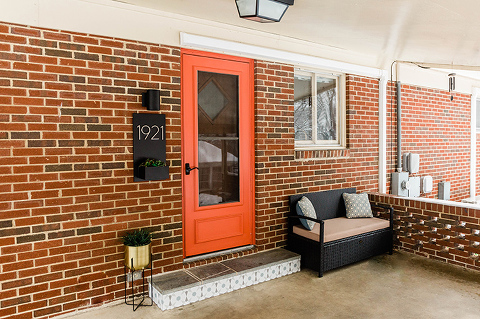 Of course, that's a very abbreviated version of the weeks of work I put into this makeover, but that's the basic idea! The ceiling light and wall sconce were super affordable, and I'm kicking myself for not having sprung for them sooner. If you noticed in the "before" shots toward the beginning of this post, we didn't have any previous sconce beside the door, so we didn't have an electrical box there for the new one. Instead, I just installed it right over the brick and used the puck light trick that's circulating on the Internet to allow us to have a small spotlight beside the door as needed. You can get more information about how I put that together here.
The tiled stoop might be my favorite update. To do that, I cut down these peel-and-stick tiles to fit the slim riser, and then used construction adhesive to stick them permanently against the concrete surface below our slate-topped stoop. It has been almost five months since I installed those, and they're doing great—no peel-away whatsoever!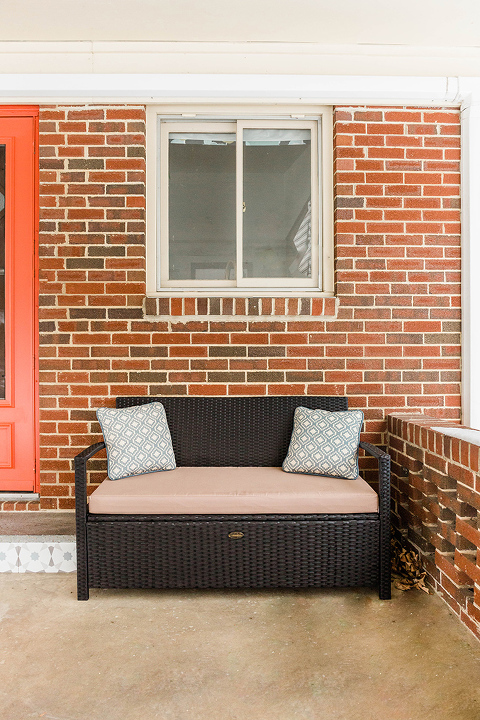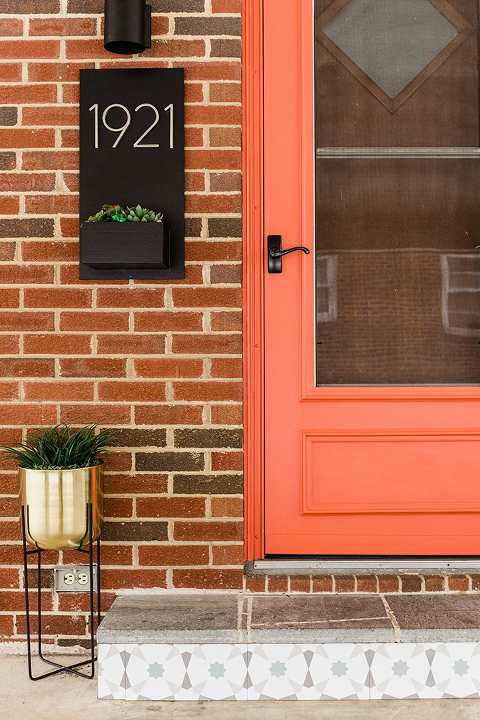 As for the door, I wanted to try something really bold so that it was a big change from the bland tan original color of the door. I went with bright orange because I thought that felt very era-appropriate for our 1960s home. That said, I think it just was a little too bright in the end, so I repainted the door the other day to a softer gray/green color. The old orange color, in case you liked that best, is called "Peppery," and the new greenish gray is called "Illusive Green," both from Sherwin Williams.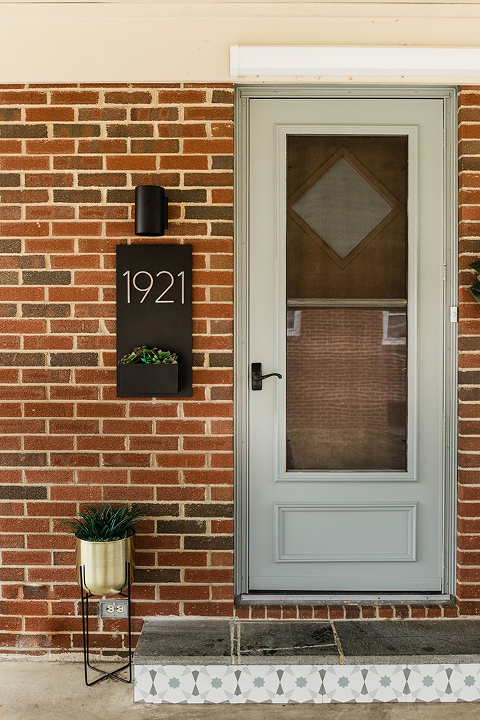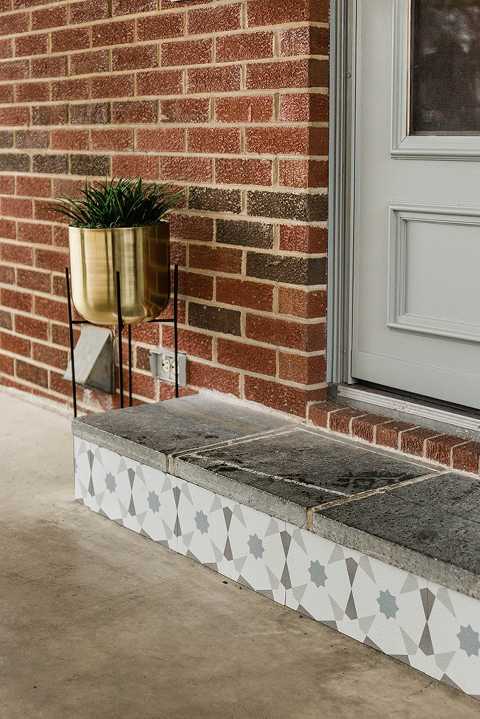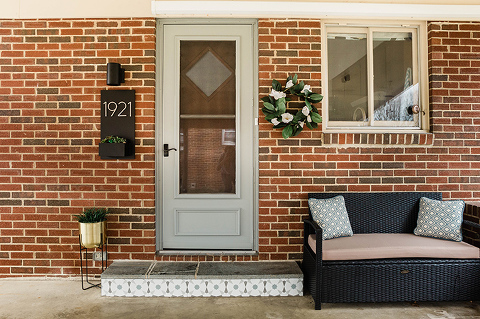 The exact storage bench we bought is no longer available, but it has been an absolute dream to have in our carport. I would definitely recommend searching around for something similar (here's a possible option!) because it has been a game-changer. John keeps some of his fishing tools under the bench seat, and I store a few gardening tools there, too. One of my favorite things to do when it's warm outside is sit there with a book while John works on car or boat stuff. Functional and pretty—my favorite combination.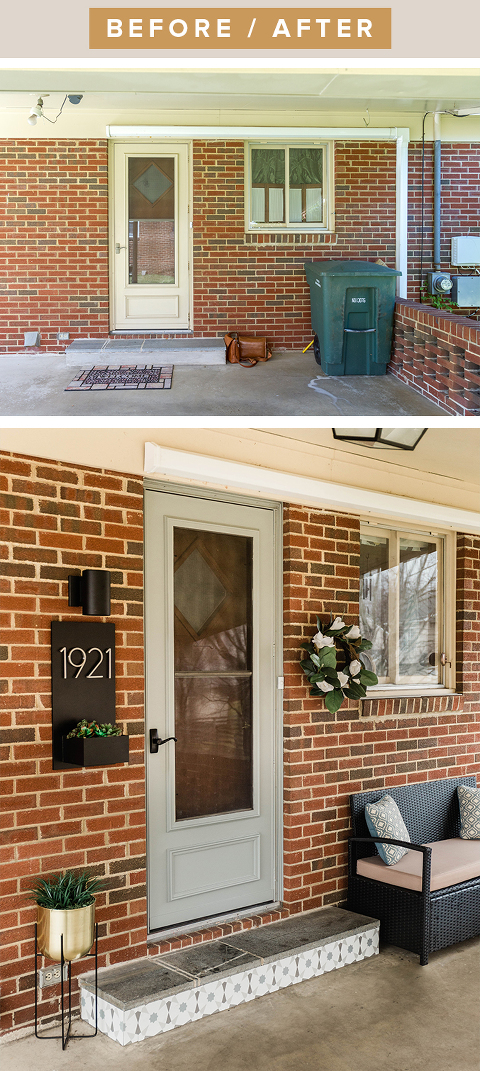 The DIY house numbers planter box is one of the most asked-about things on my Instagram whenever I share about it. I didn't take any pictures of the process because I wasn't entirely sure that it would work, but it did, so I talked through the full tutorial on my Instagram Stories (saved to my profile under a highlight called "DIY ENTRY").
The short story is that I screwed a small wooden box from the craft store to a wooden board (also from the craft store), and then I painted it black, sealed it with a clear spray sealant, added house numbers to the front of the board, and filled the box with faux succulents and rocks. Super easy, and I think it's the most high impact thing I added to the entry. Here's a similar option you can buy ready-made if you don't want to go the DIY route.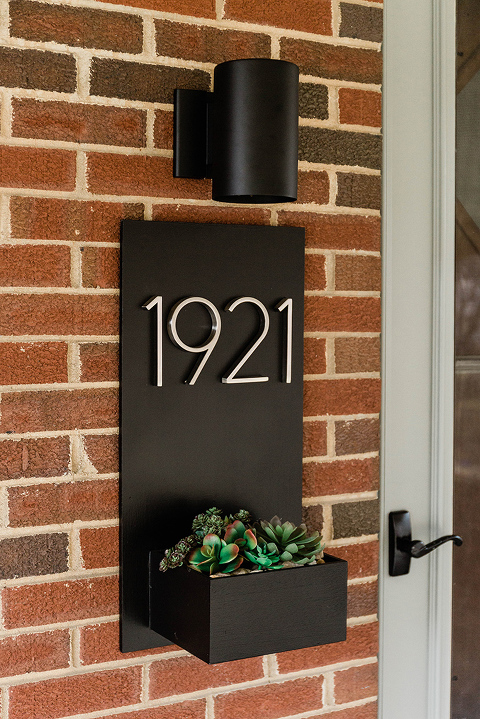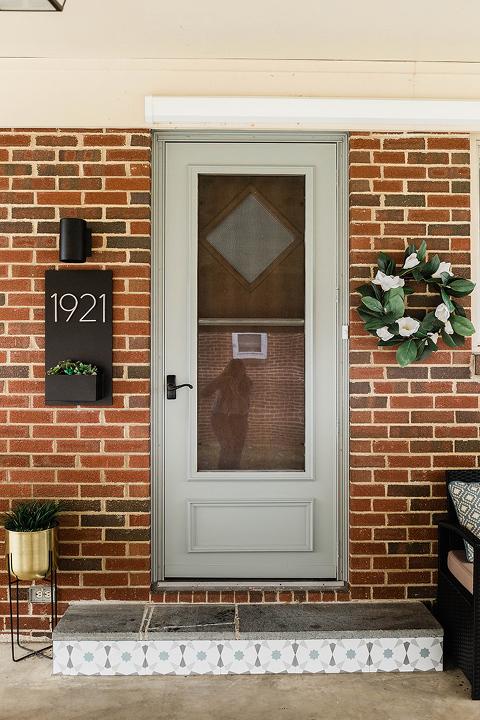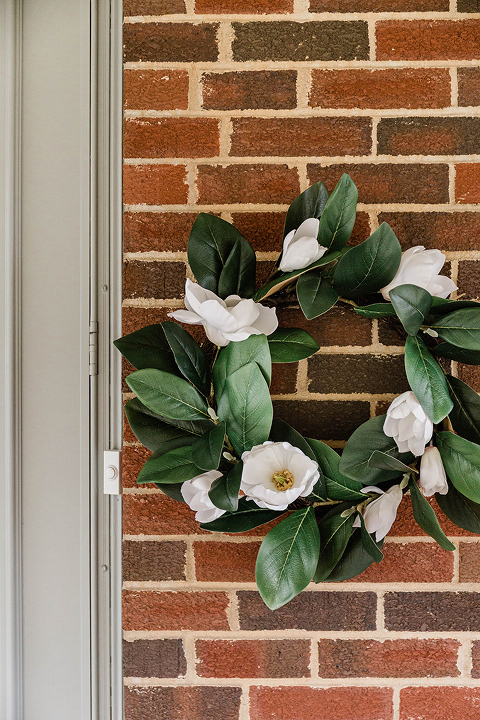 Resources: orange door color, green/gray door color, overhead light fixture, sconce, house numbers planter box (similar), storage bench (similar), outdoor throw pillows, stoop tile, magnolia wreath, gold floor planter (similar)
Can you believe I waited so long to do this project?! Yeah, me neither. I'm so glad that it's done now, though, especially since we'll get to enjoy it as we ramp up our outdoor projects this spring, summer, and fall. Now, I just have to know…Which of the two new door colors that I tried do you prefer? I loved them both, but am definitely happy I toned things down a bit with the "Illusive Green." Let me know in the comments!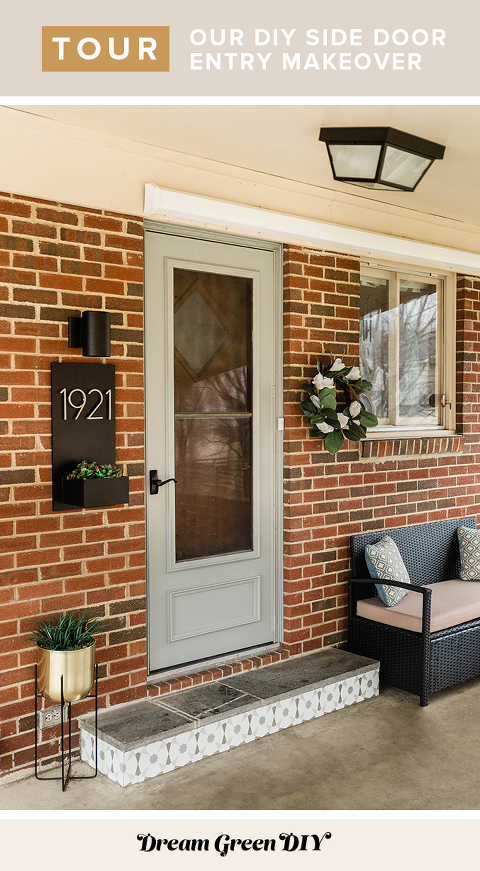 *I earn a small percentage from purchases made using the affiliate links above. Affiliate links are not sponsored. Rest assured that I never recommend products we wouldn't use or don't already love ourselves.