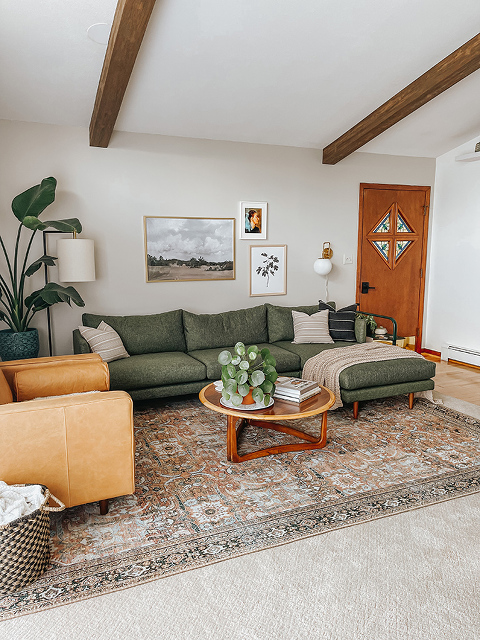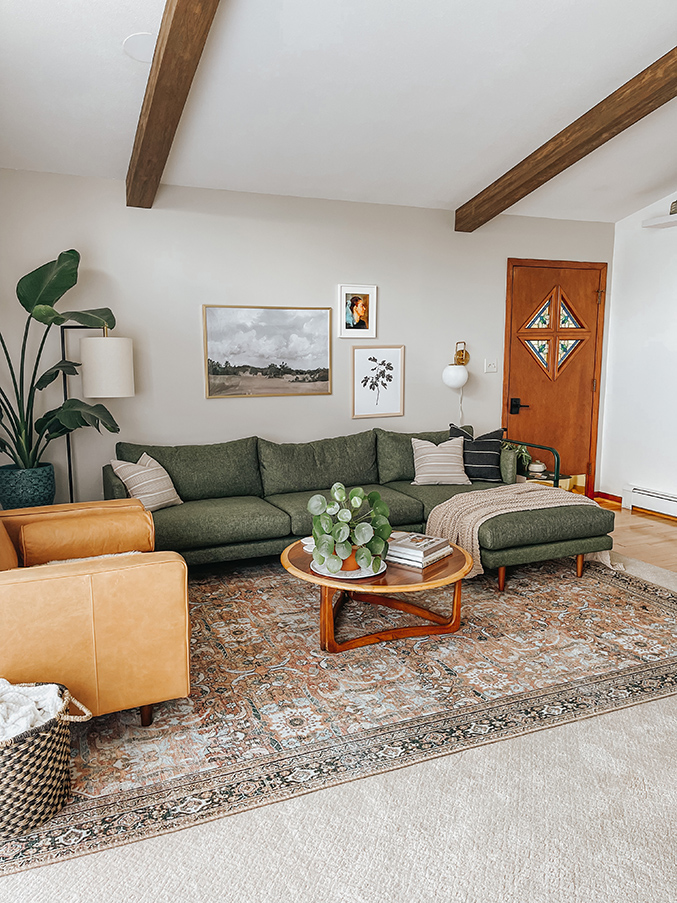 Ever since hitting "Publish" on last week's living room makeover, I've been swamped with messages from you guys asking where the rest of the décor came from. It's really humbling to know that so many of the pieces we ended up choosing caught your eye, and (as always) I couldn't be more grateful for your support. So, I'm back today with the exhaustive living room makeover resources list, as requested, for you to peruse to your heart's content!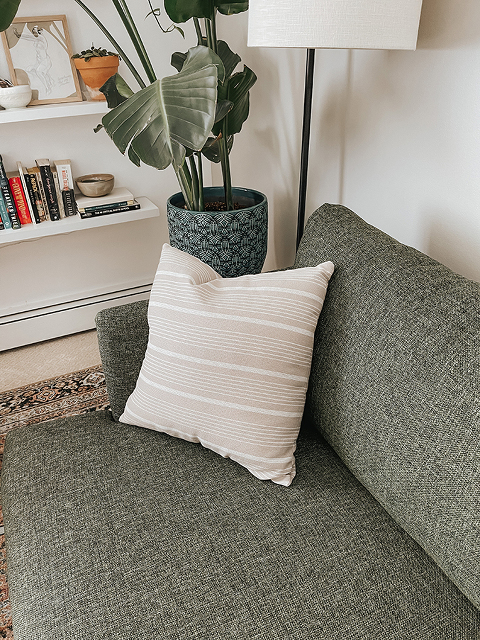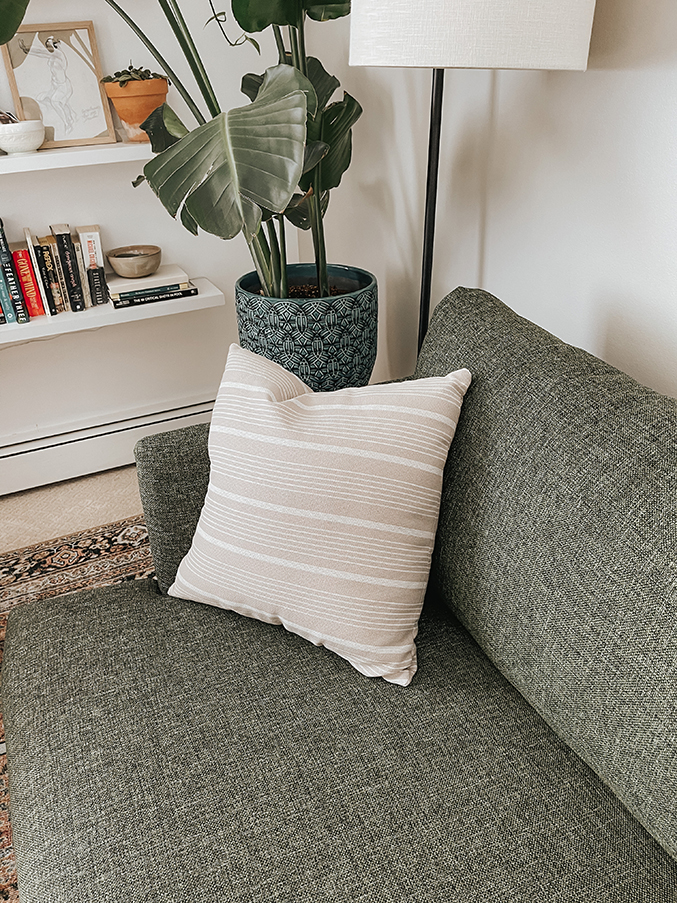 Living Room Makeover Décor Resources:
1. Green couch: Article
2. Leather chair: Article
3. Wall colors: "Agreeable Gray" and "High Reflective White," both by Sherwin Williams
4. Stacked floating book shelves: Target (full blog post about those can be found here)
5. Floor lamp: Target (sold out, but here's something similar)
6. Wall sconce (added after last week's reveal): Amazon
7. Light striped pillows: Target
8. Black striped pillow: Kaekoo
9. Landscape art print: Juniper Print Shop
10. Landscape art print frame: Target
11. Botanical art print: Juniper Print Shop
12. Botanical art print frame: Target
13. Portrait art print: Juniper Print Shop
14. Woven blanket: Target (similar)
15. Green entry rack side table: Open Spaces
16. Coffee table: Vintage (slightly similar here)
17. Bird of Paradise floor plant: Lowe's
18. Blue planter pot: Home Depot
19. Area rug: Loloi
20. Faux wood beams: Barron Designs (full blog post about those can be found here)
21. Curtains: Etsy
22. Frame TV: Samsung
23. Landscape art on Frame TV: Juniper Print Shop
24. Carpet: Home Depot
25. Sheer curtains: Walmart
26. Double curtain rod: Walmart
27. Faux marble tray: Target
28. Pilea plant on the coffee table: Etsy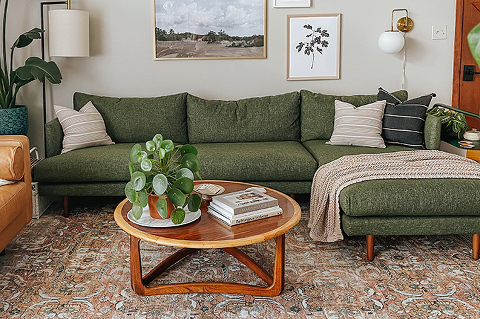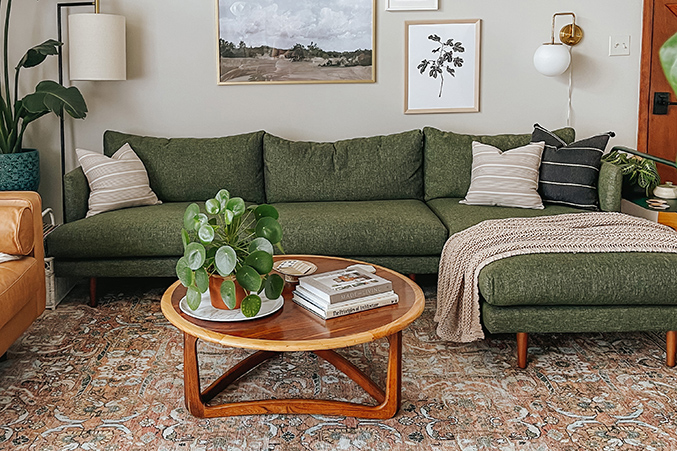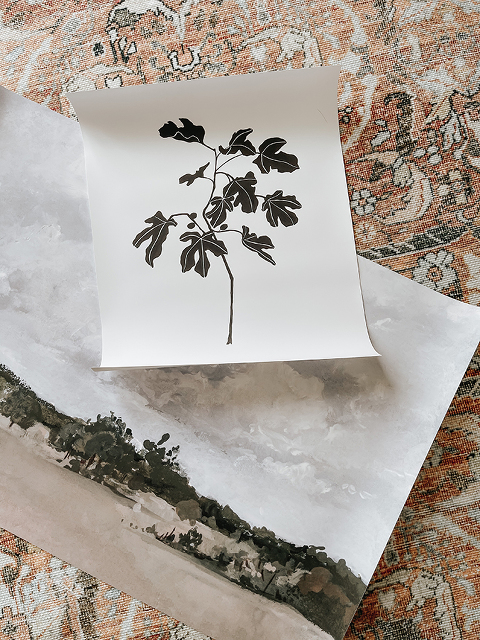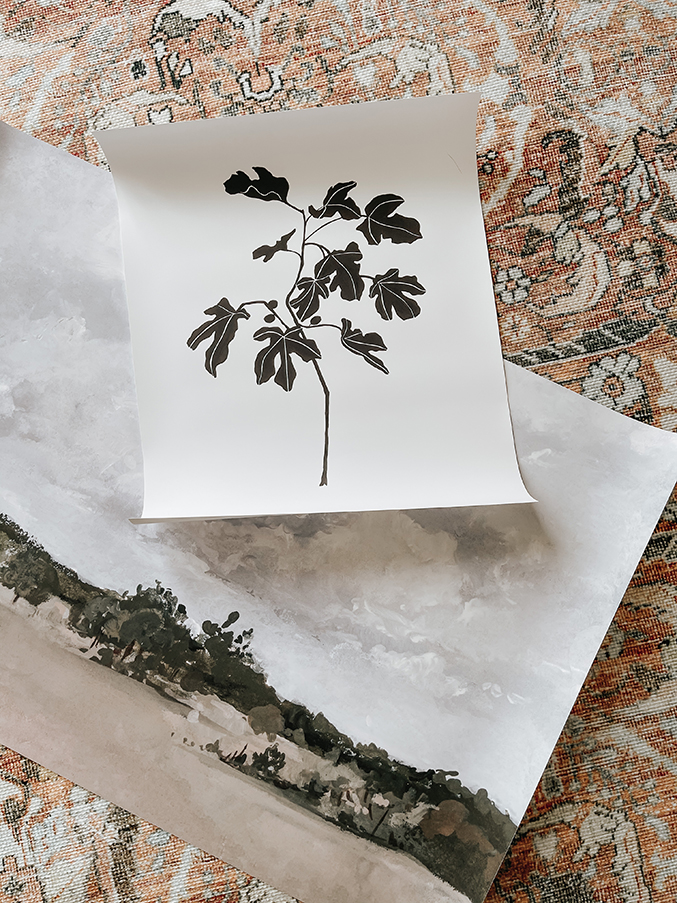 As you might have been able to tell (although I don't blame you if you didn't), I added a couple of extra details to the room after the reveal went live last week. I like to take my time with room refreshes, swapping things around here and there until it feels just right, so I spent a few more days perfecting the room after those initial photos were snapped.
I later decided to hang a plug-in sconce by the chaise side of the sectional since there isn't enough room for a lamp on the slim side table (which is actually an entry rack shelf). I found that I used the chaise pretty often for reading, but that the natural light wasn't great over there by the evening. My new sconce is the perfect supplemental light when I want to kick back with a book. I also added a throw blanket and extra pillow for the same reason: cozy reading (and TV) sessions!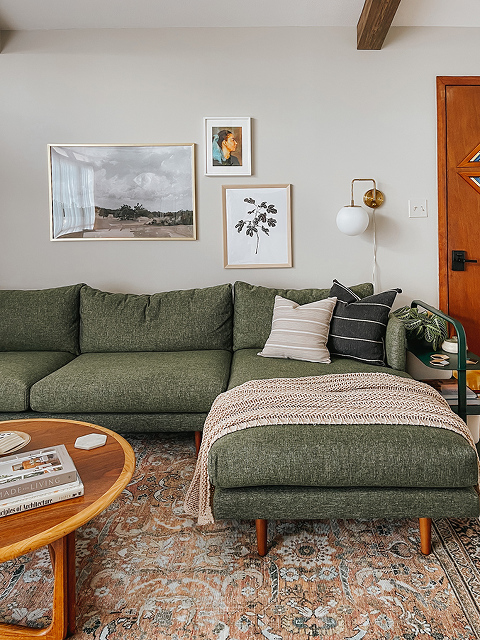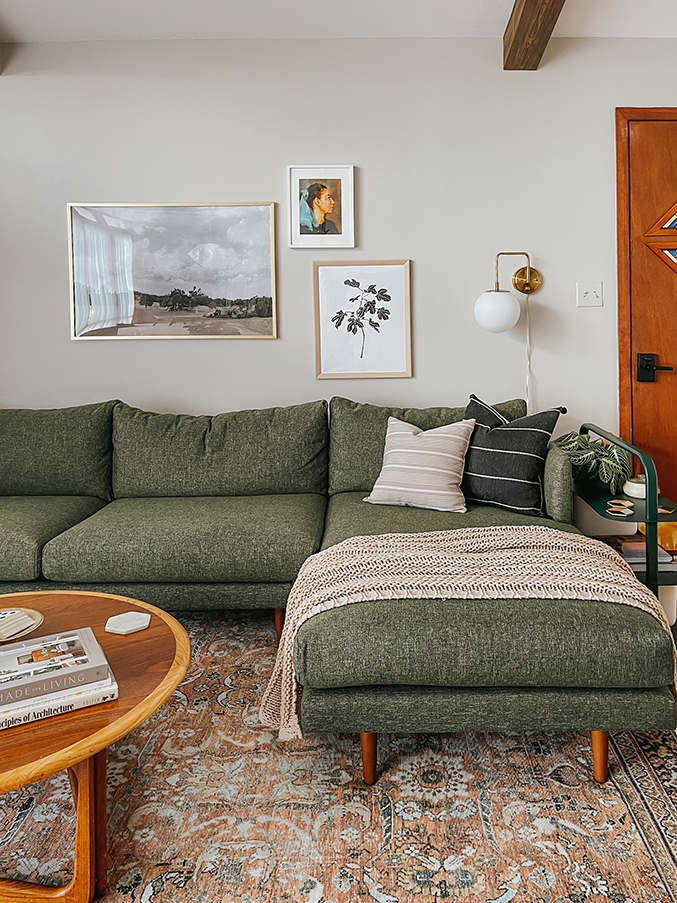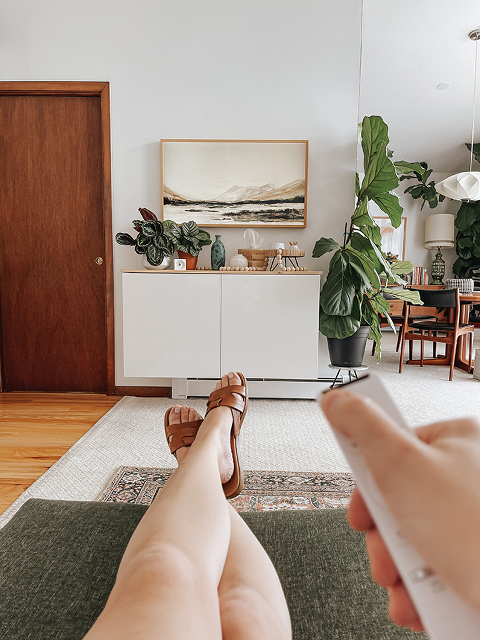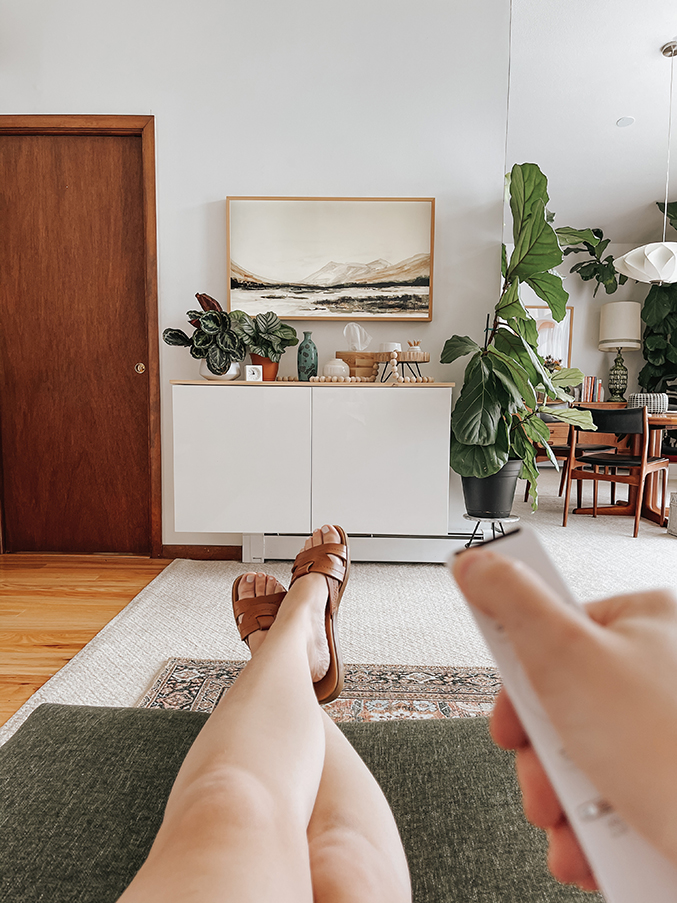 The Loloi rug and Juniper Print Shop art are easily tied for first in my opinion of "favorite details" in the room makeover. There's no denying that rugs and art have the power to make or break a room, and our new additions really sealed the deal on this living space update.
I wasn't sure that I wanted a rug at all in the room because, in the past, it has been really hard to find a rug that will lay flat over our wall-to-wall carpet, but this one from Loloi is the perfect fit. It hasn't buckled or bubbled at all since I laid it down, which, I think, is because it's a really thick printed design. It's stout but soft all at the same time, and I absolutely love the earthy colors throughout it.
Aside from the rug, the new gallery wall of framed art pieces from Juniper Print Shop (and the digital print I used on our Frame TV pictured above!) instantly draw the eye. I decided to take down my old art ledge to create more of a traditional asymmetrical gallery wall, and I love how those three pieces fill the room with color and (dare I say it?!) even a bit of sophistication. We are very far from elegant people, but those beautiful art prints make us feel like we fit the part.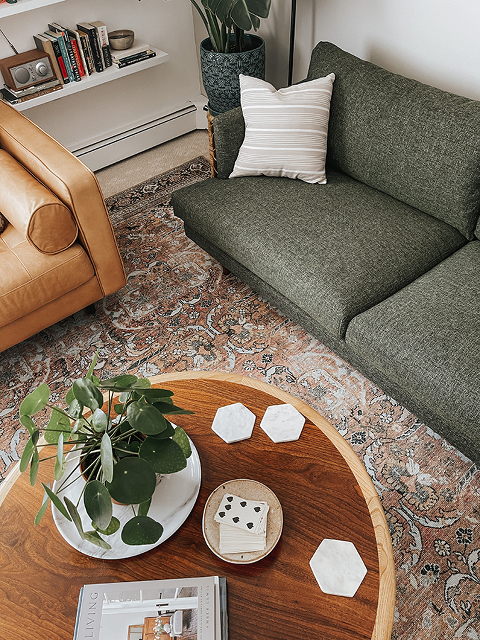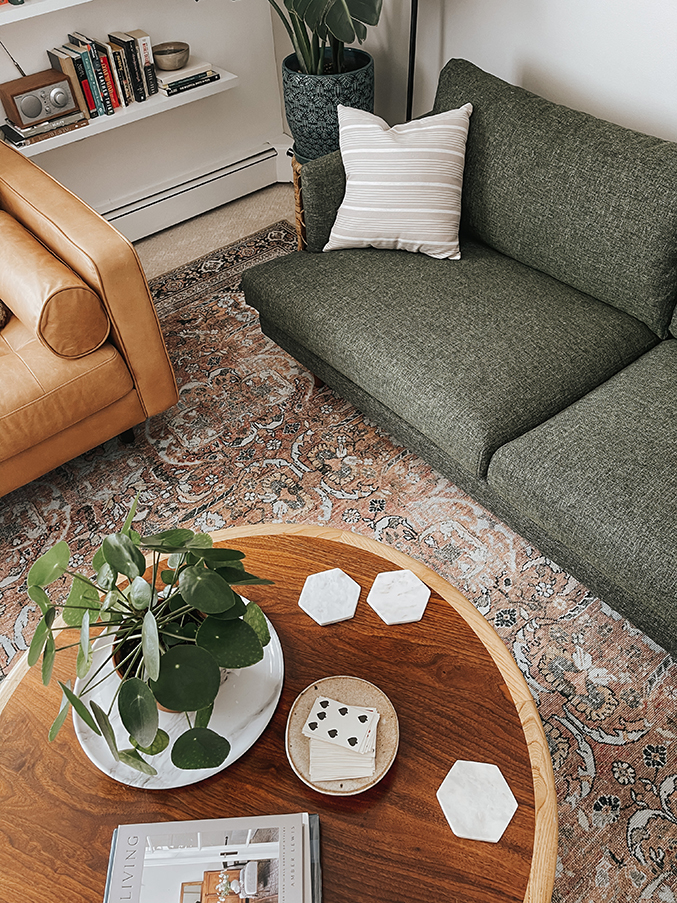 So, that's it! Let me know in the comments below if I missed a resource that you would like to know about, or if you have any questions about the living room makeover in general. I'm not sure if you would ever want the back story behind my approach for room refreshes like this, but if that's something you'd like to learn more about, I'm certainly happy to share. Just let me know below!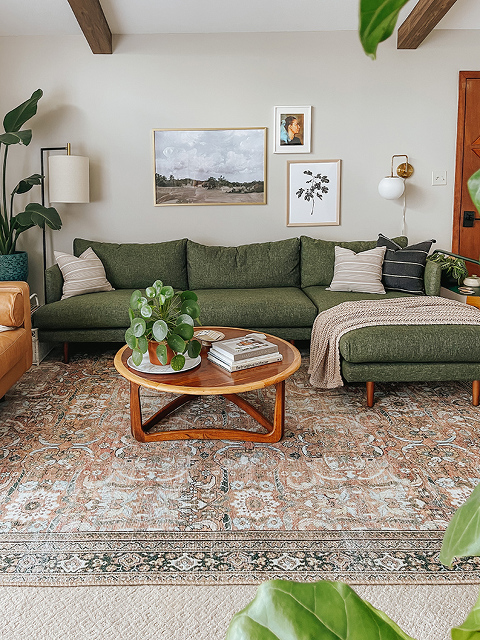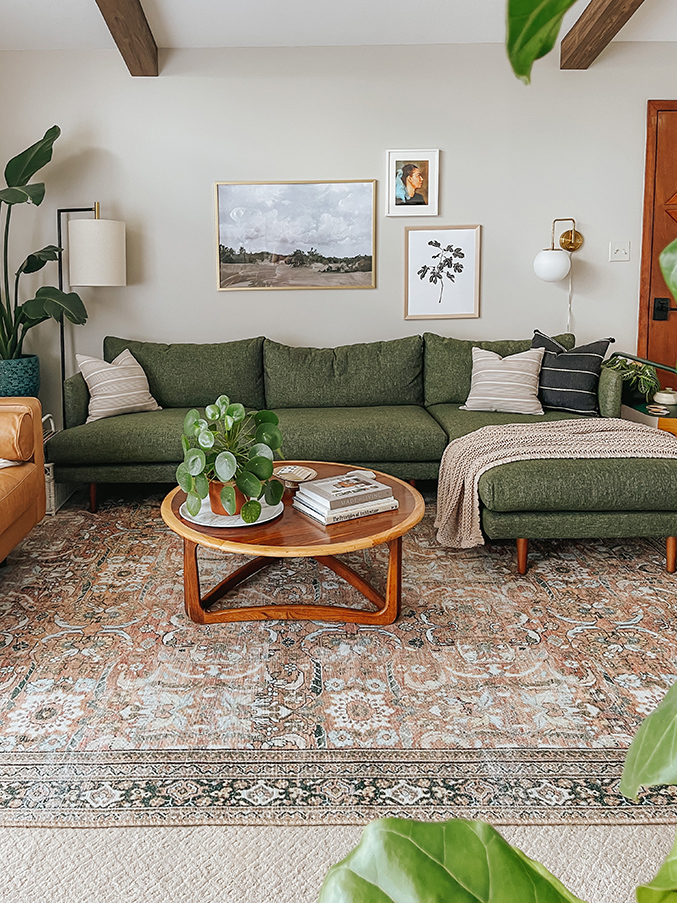 *I earn a small percentage from purchases made using the affiliate links above. Affiliate links are not sponsored. Rest assured that I never recommend products we wouldn't use or don't already love ourselves.