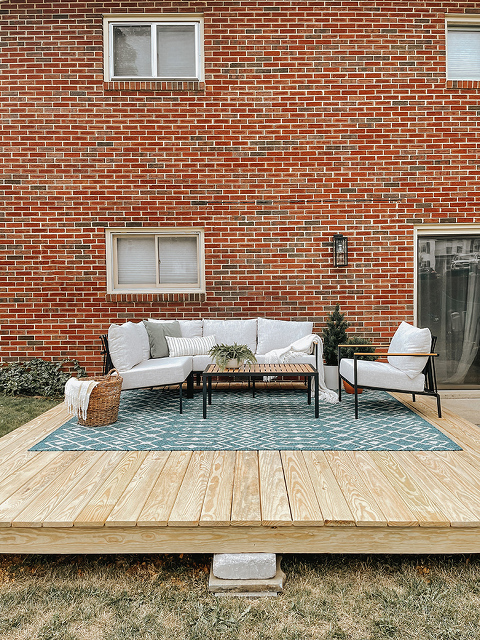 Today's the day! I'm back to share the full reveal of our brand new DIY platform deck project! As I mentioned in last week's sneak peek post, this project has been quite a long time coming, but it's finally done, and we've been racing out back to our open air living space every moment we get. There's nothing quite so satisfying as sipping a glass of rosé with a book in my lap, the breeze blowing through my hair. It's especially satisfying just because of how far we've come. I'll go more into the process below, but stay tuned for a link to the full tutorial for our DIY deck, including free design plan drawings!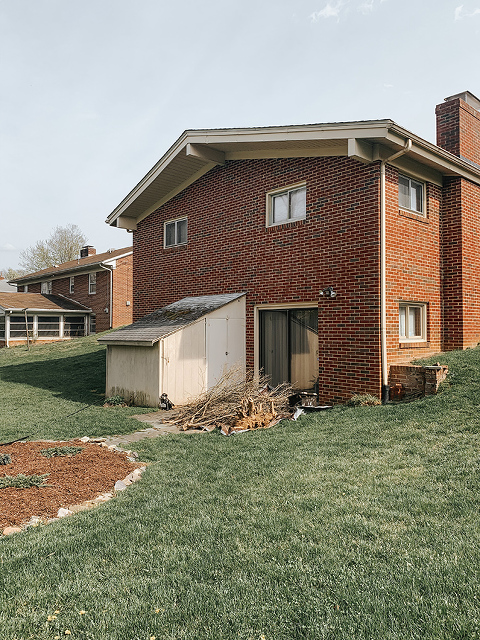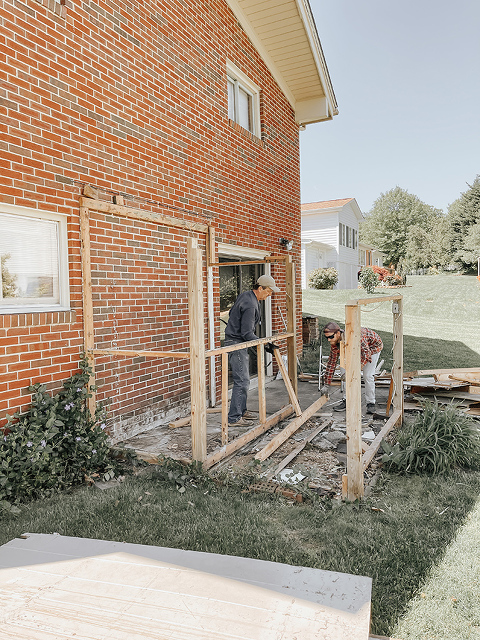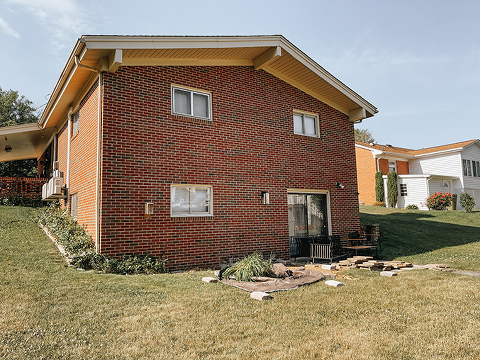 When we first moved into our 1960s home six years ago, there was an old shed in the backyard built right up against the brick wall. It served us well over the years, but the structure was looking a little worse for wear. It was dark and filled with bugs, not to mention lots of junk left over by the previous homeowners. The roof was covered in moss, and it was just beyond repair.
So, you may remember that we decided enough was finally enough this year, and we bought ourselves a new metal shed, which we situated off to one corner of the yard away from the house. The reason we put the shed on the outside edge of our property was so that we had room to build a deck that we could use for living and entertaining. Even though we had been thinking about putting the deck project off a couple of years, I got too excited after we got the new shed and had the old one torn down, so I roped John and my dad into helping me build the deck of my dreams. They (very sweetly) went along with my plans.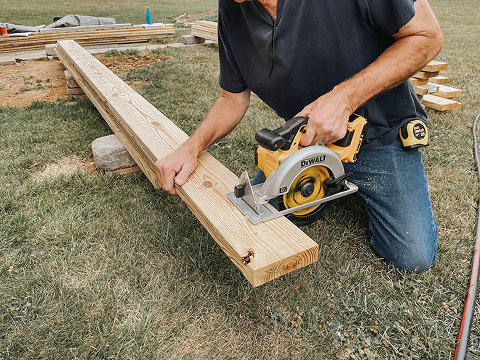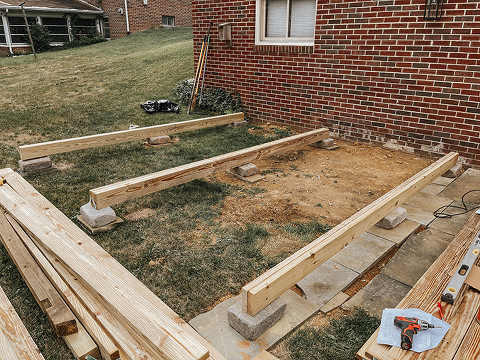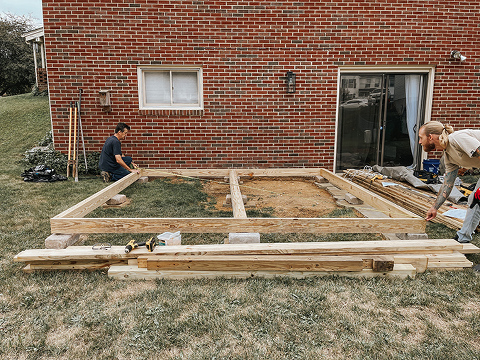 If you want more information on the why's and how's of this project, click back here to this post where I detail our long-term backyard design plans. Of course, I should probably update that post title to "short-term" plans since I bullied my family into moving full steam ahead this year, but you get the idea. We ultimately decided to live in the moment, and realized that it would be so nice to have the deck built ahead of the fall 2021 season. So, my dad (who is a pro wood worker) drew up design plans for the deck, and the three of us (John, Dad, and I) kept in close contact to prep what needed to be prepped before our big 2-day deck build.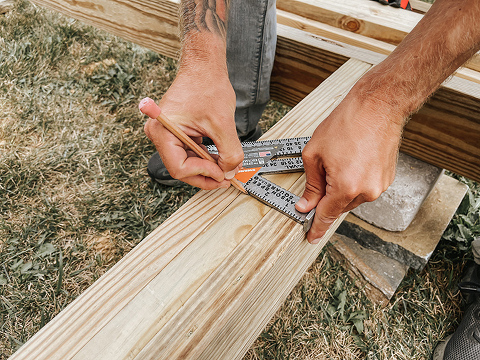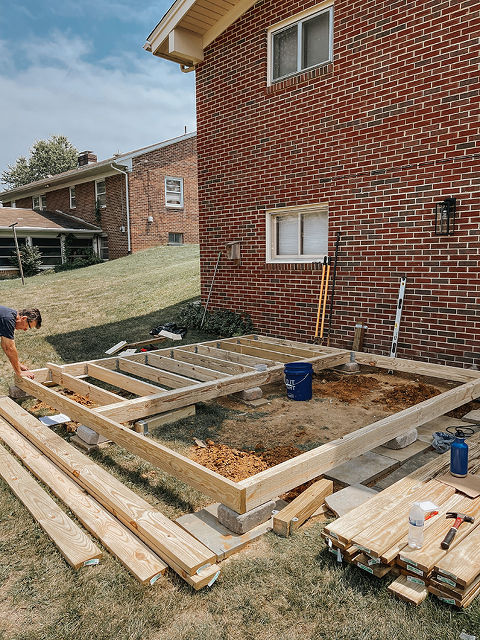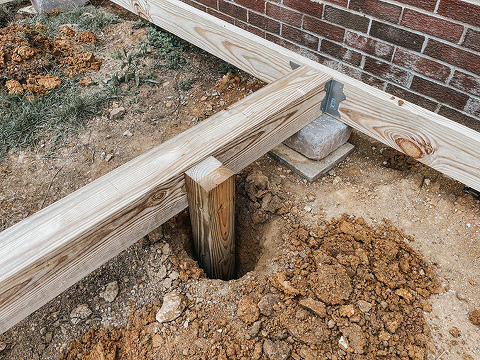 The thing that ended up taking the longest amount of time throughout this process was permitting. Isn't that always the case when you're building something?! At any rate, even though national building code doesn't generally require permitting for this type of floating structure, we decided to go the extra mile since this tutorial was going to live long-term on the Internet, and we didn't want the city to find it and fault us for any reason whatsoever. We're major rule-followers in my family…
Anyway, the city spent weeks looking over our proposed project, taking double the amount of estimated time to get back to us, and then they insisted on a few revisions that were specific to local code requirements (like the addition of anchors, as pictured above). Then we had to go through two inspections. The good news is that our permit was eventually approved, and we know for a fact that our new deck has a firm go-ahead from the city.
As I mentioned, we're a family that goes by the books with everything we do, so the long process to get from Point A to Point B was worth it just knowing that we have the city's approval in the end. I do appreciate their help in making sure our deck is safe as can be, but I still think I've earned the right to complain just a tiny bit.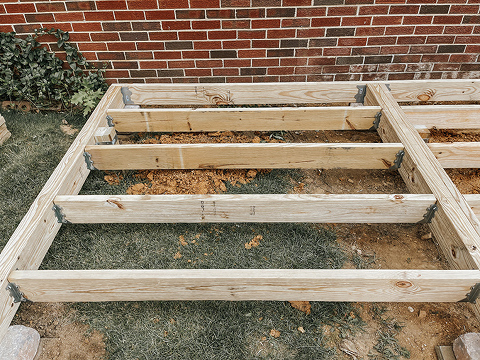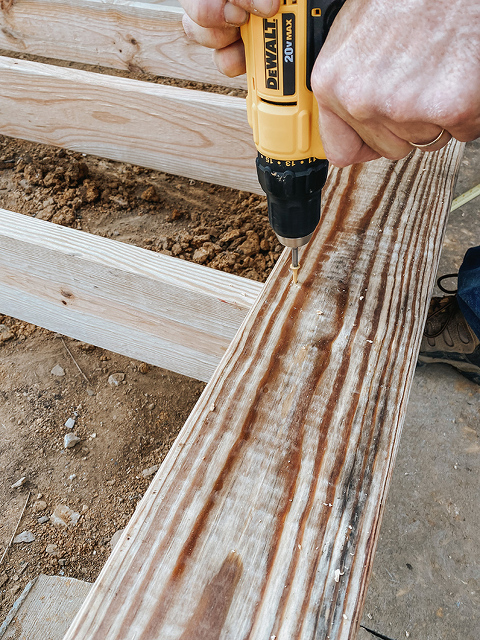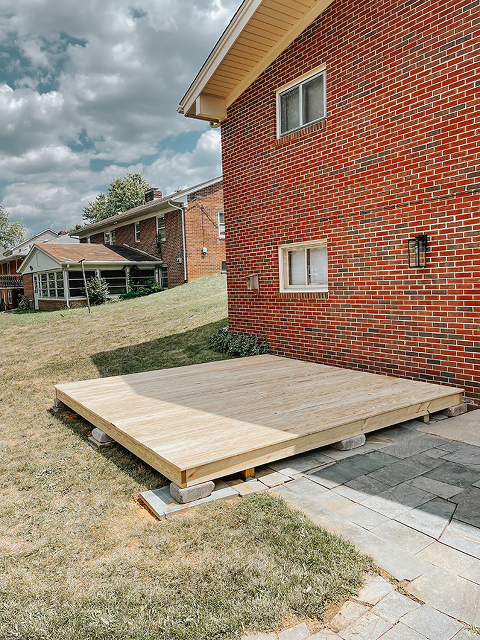 After getting city approval, we picked up supplies on a Tuesday morning, and had the entire deck done the following afternoon. I helped as much as I could, but I have a wrist condition that has been severely limiting my ability to help with big projects like this, so all of the glory really goes to my dad and John. They worked tirelessly to make this project come to life, and I couldn't possibly be more grateful. That photo above shows the deck right after it was finished and pressure-washed, ready for furniture.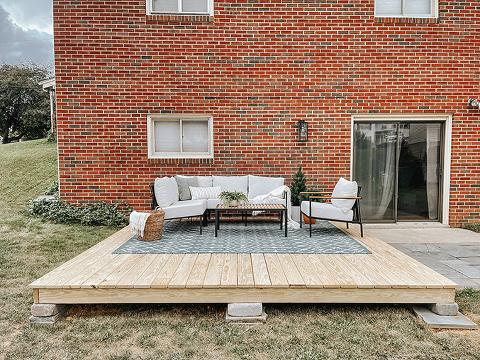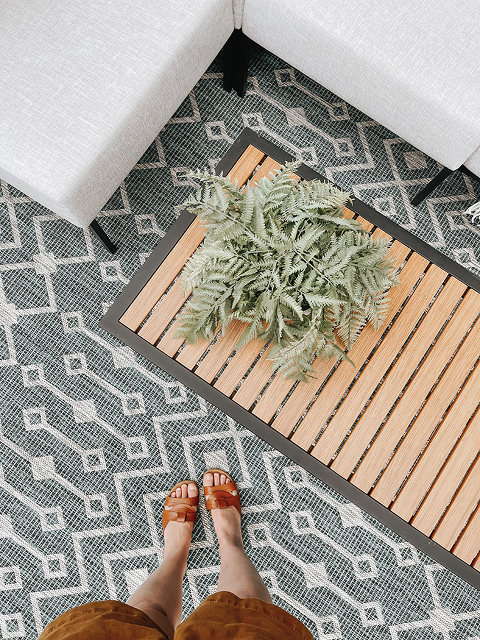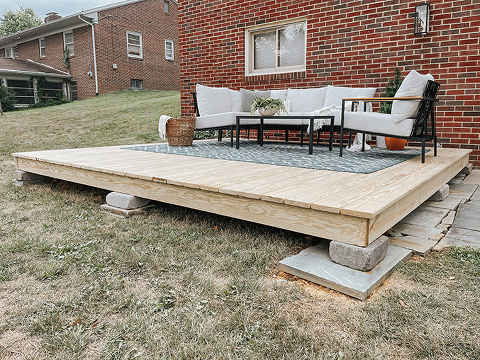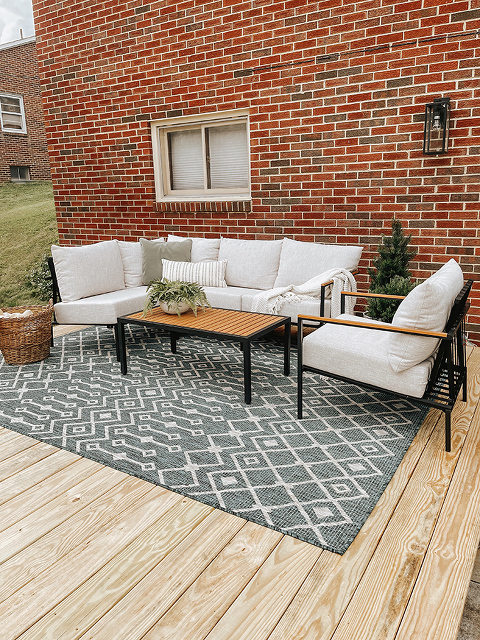 Resources: Outdoor rug, sectional sofa, basket (similar), faux bush, white planter pot, faux tree, terracotta-colored planter pot (similar), blue throw pillow (similar), striped lumbar pillow (similar), coffee table, accent armchair, faux fern (similar), throw blanket (similar), outdoor sconce light fixture
I've been out there to lounge on the sectional as often as I can since we finished the build, and have loved every minute. It has been kind of bug-y (it's cicada season and we have a family of giant wasps living underneath our garden out back), so I've kind of been biding my time until the hottest part of the summer season has passed before I really lean into life on our new deck, but I have a feeling it will be my most-used "room" of the house come fall.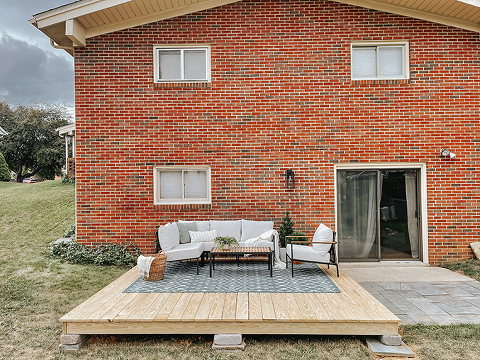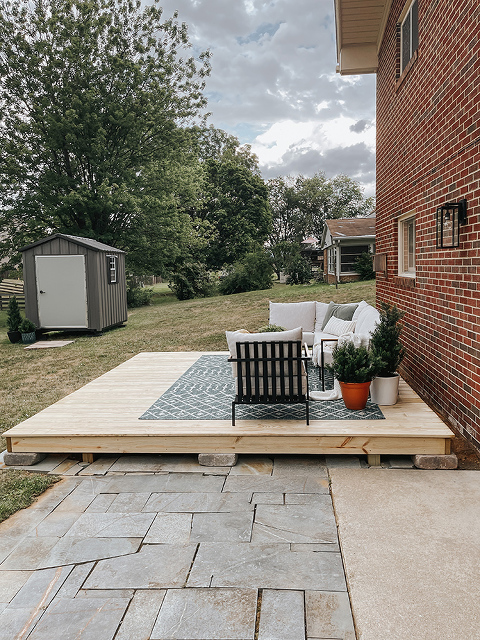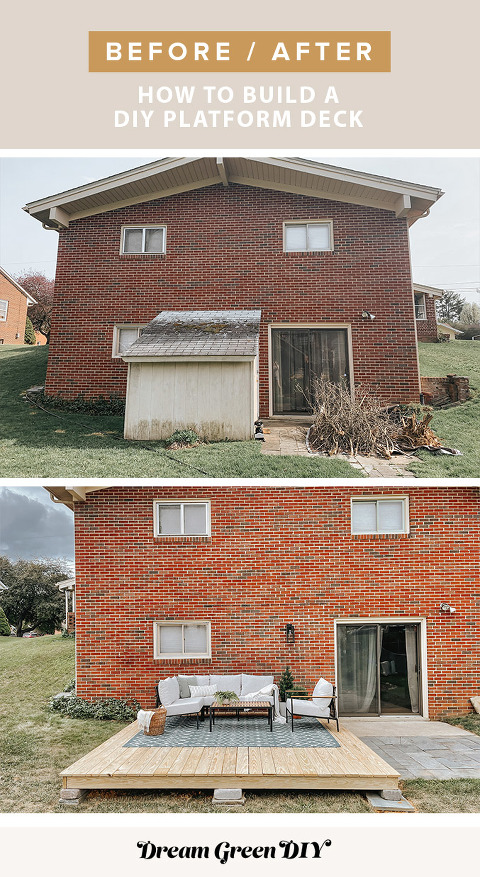 Can you believe that before/after graphic above?! I'm so glad we decided to bite the bullet and knock this project out this year. I've never spent so much time in our backyard before, and it's glorious. This 12-foot-by-12-foot deck has added so much more space to our house and the way we live here. I couldn't recommend this project more if you've been considering something similar for your own house.
By the way, you can hop through to Hunker here for the full tutorial I wrote so you can learn how to build your own deck from scratch, including a linked supply list and our original deck plan drawing. Just make sure you factor in lots of time for permitting! Before you know it, though, you'll be enjoying a glass of wine on your very own DIY platform deck.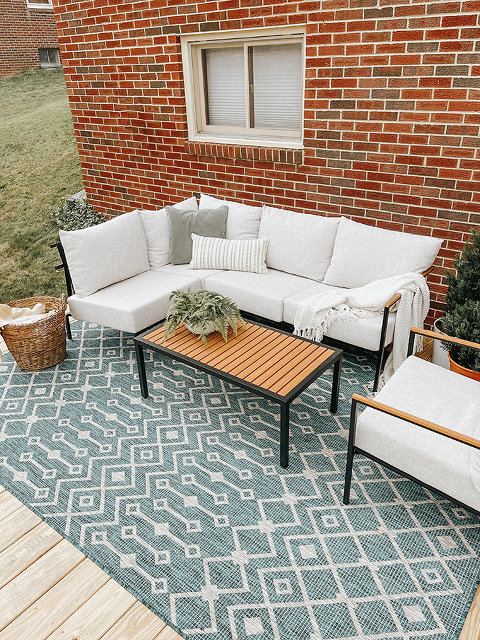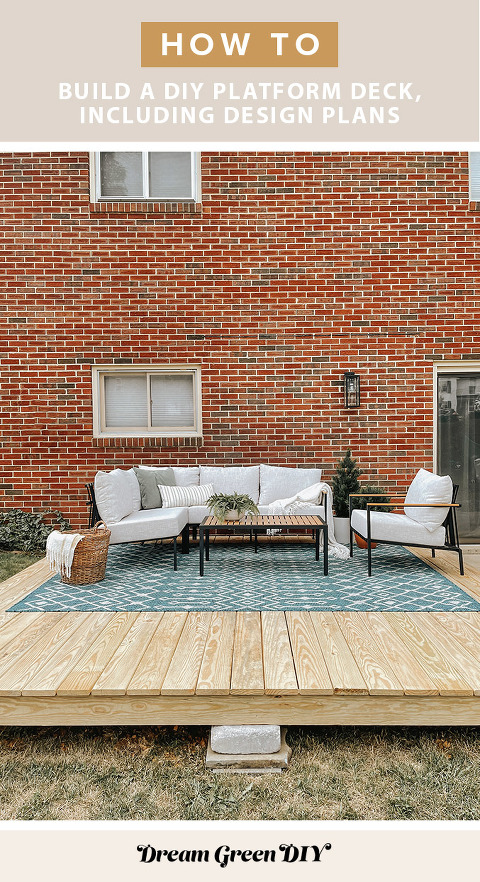 *I earn a small percentage from purchases made using the affiliate links above. Affiliate links are not sponsored. Rest assured that I never recommend products we wouldn't use or don't already love ourselves.