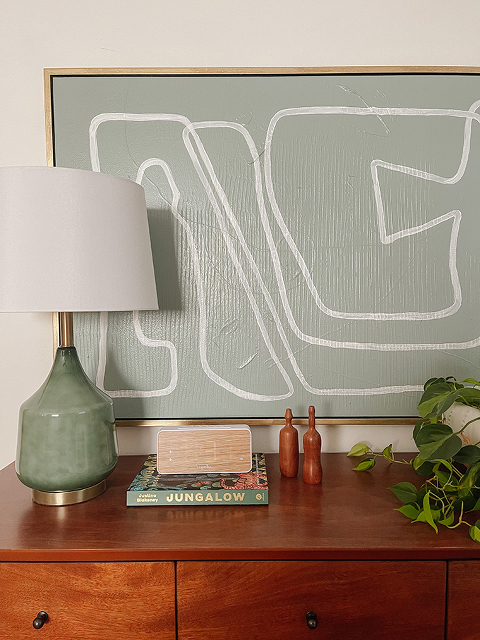 There's no way around it: oversized art is expensive! But sometimes a big blank wall in your home really needs this type of large scale art treatment. Case in point, our main bedroom. I'm in the process of making over this space (full reveal coming at the end of the month!), and really wanted something special to hang over the dresser. The problem, of course, was that I didn't really have a budget to spend on new giant artwork, so I decided to make do with what we already had.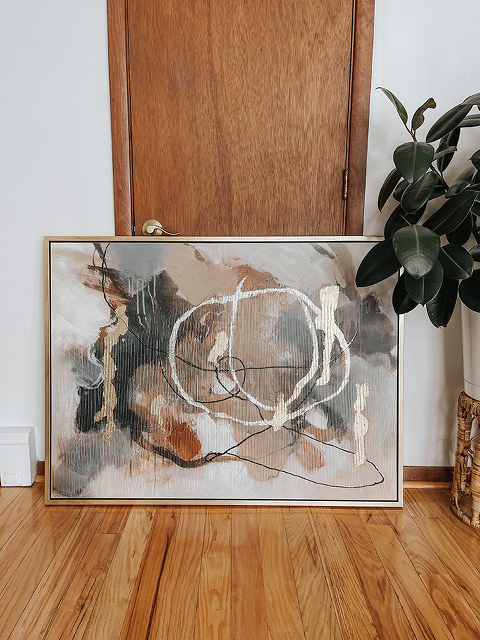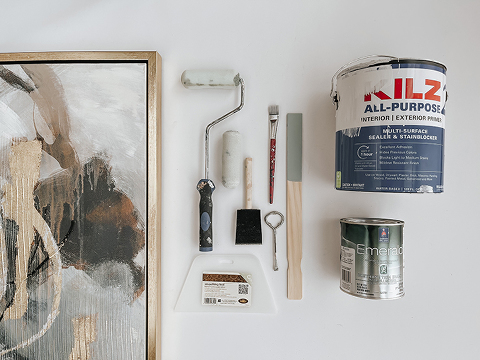 We just happened to have this big, bold piece of abstract art in storage. I was actually trying to sell it at the time all of this brainstorming started happening, but it just wasn't selling. The art piece is admittedly really beautiful, but it was mass-produced (so not super unique) and it had a lot more metallic pigment running through it than I had anticipated when I ordered it. It wasn't something I could return, so I decided to keep the art and try to make it work. Eventually, though, I decided it wasn't quite right for us, and I popped it up on Facebook Marketplace to see if someone else would love it.
Well, it had been a few weeks and I still had no takers. Luckily, it all seemed meant to be because the size of the art piece was pretty much perfect for the spot on the wall over our dresser. I just needed to give it a quick makeover (using supplies we already had handy) to make it just right for us for the long haul.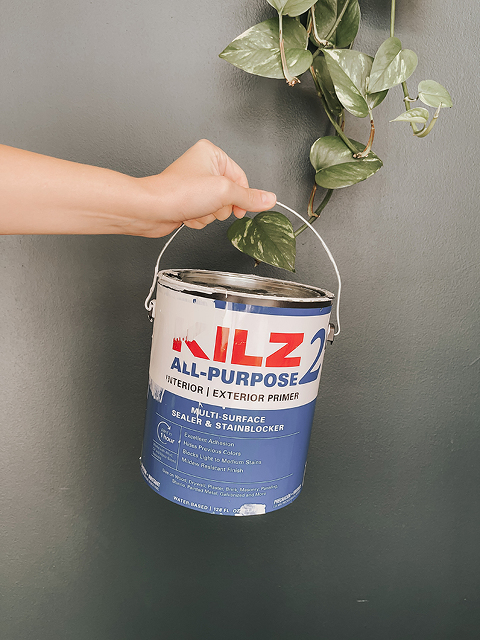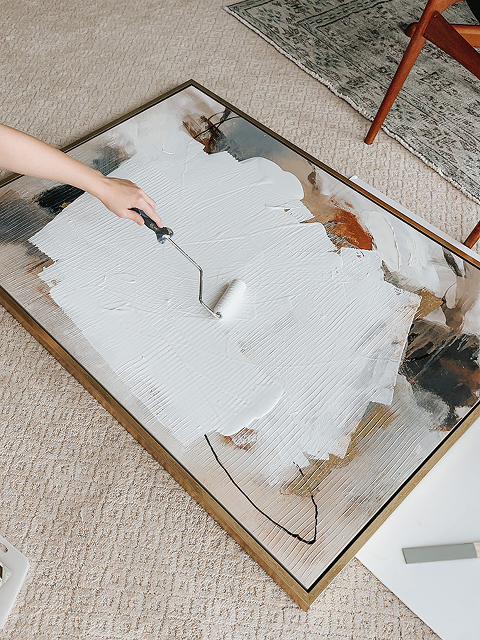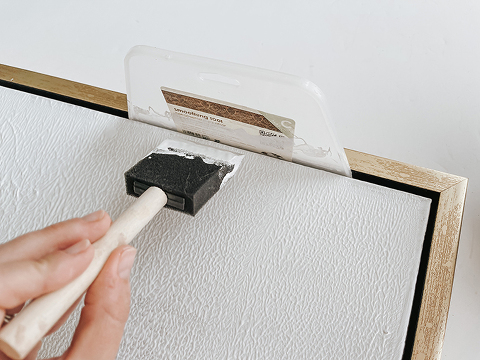 Here's how I did it if you've got a similar piece of art to makeover! First, I rolled and brushed on one coat of all-purpose primer. I used this one from KILZ that we had in storage in our basement. If you have a floating frame, like we do, then you can use something like a wallpaper smoothing tool or piece of scrap cardboard to mask off the frame so it doesn't get any paint on it. Just slip it down between the frame and the canvas, and move it over as you work to shield the frame from paint. If you don't have a floating frame, then just cover it with painter's tape.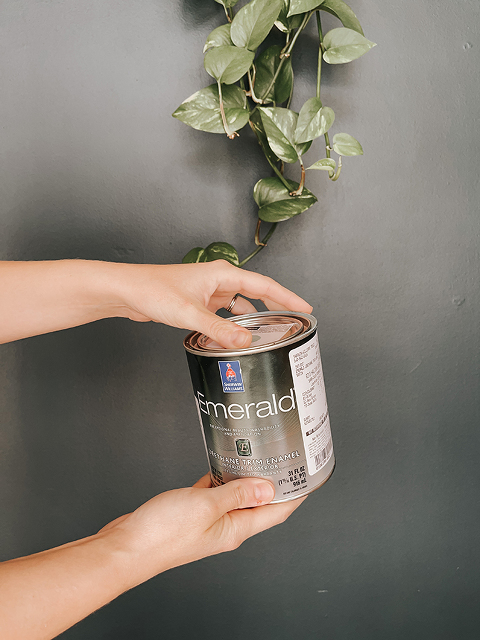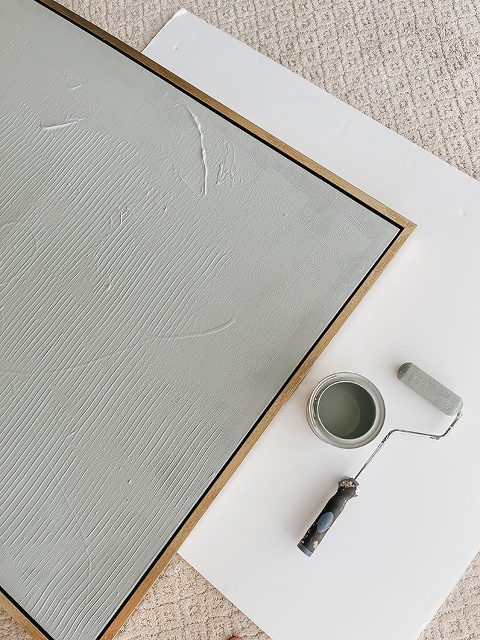 I let the primer dry for about an hour, then I went in with two layers of my topcoat. I used "Halcyon Green" from Sherwin Williams because we already had it from when we made over our bathroom vanity cabinet. I love how the texture of the original abstract painting still comes through, but the competing colors of the underlying art is all covered up. The new soft blue/green color instantly made the piece look so much more soothing to me, and much more like our general décor aesthetic.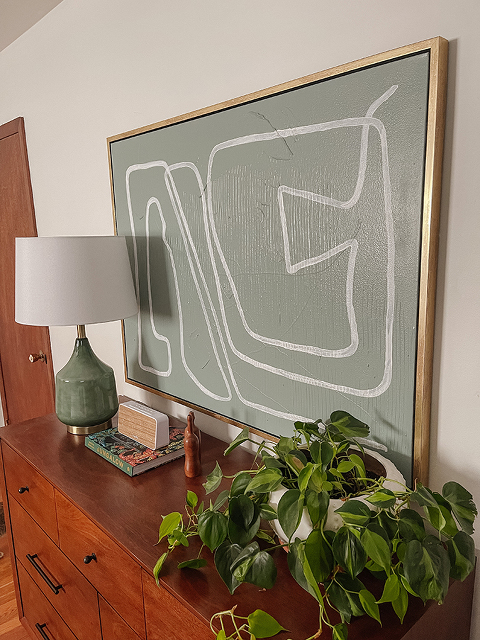 Now for the new abstract design. I had actually spotted a picture of a beautiful blue/green and white abstract painting in the background of a catalog image (you'll see it pictured a couple of photos down in this post). I searched high and low for the original piece of art on the brand's website, and I also did a backward Google Image search to see if I could find out who the artist was. No luck! So, that's why I decided to go ahead and try to recreate something similar on my own. If I couldn't buy it, I could DIY it!
I didn't want an exact copy of my inspiration art piece, though, so I turned it sideways, and got the look in a horizontal composition. This fit the space over our dresser better anyway. First, I freehanded the white linear design of the inspiration art piece on my own solid blue/green canvas with a pencil, and then I covered over the pencil line using white acrylic paint and a 1-inch detail paint brush. I was going to do a second coat of white paint to make it more solid looking, but John saw what I had done and liked the semi-transparent white painted line, so we kept it that way.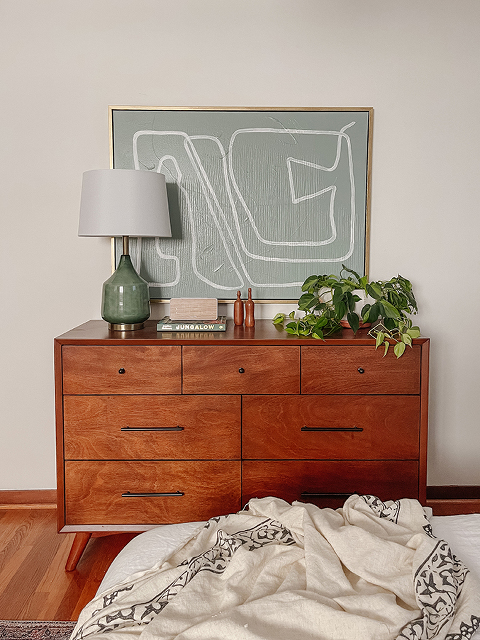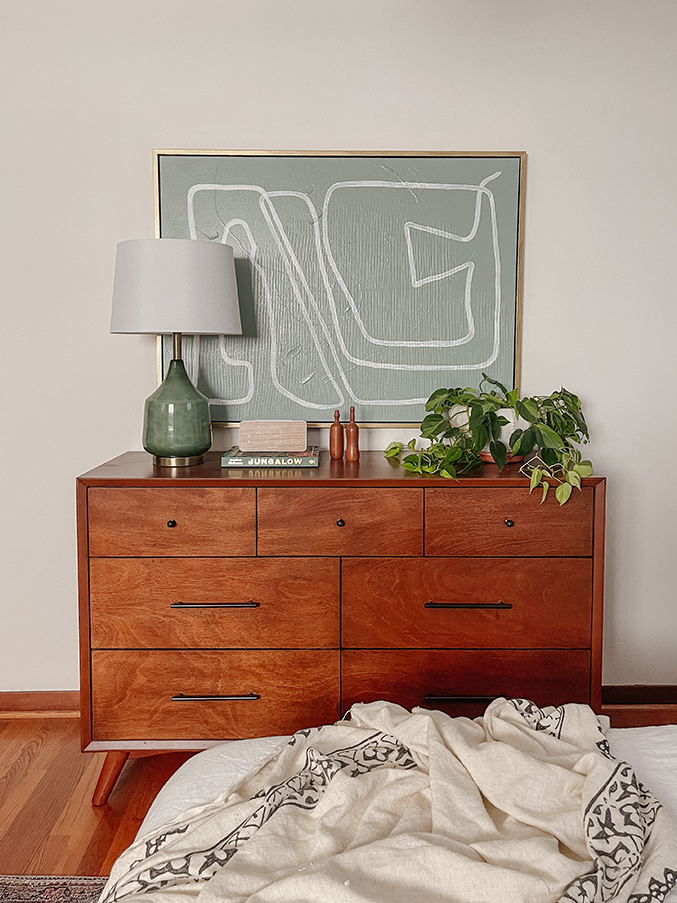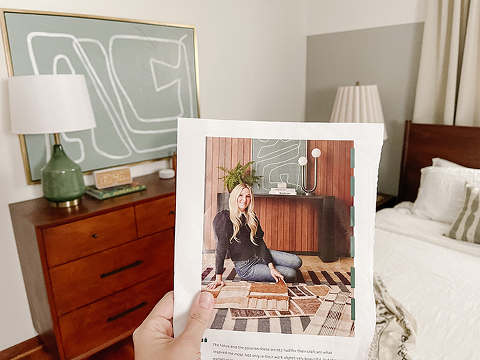 I'm so glad I decided to try my hand at making my own abstract art piece, and am even more thrilled to know that it didn't cost me anything at all since we already had the supplies needed to pull it off. Isn't it wild how close of a match our bathroom vanity paint is to the blue/green paint of the inspiration art piece? It was definitely meant to be. Stay tuned later this month for the full reveal of our made-over main bedroom.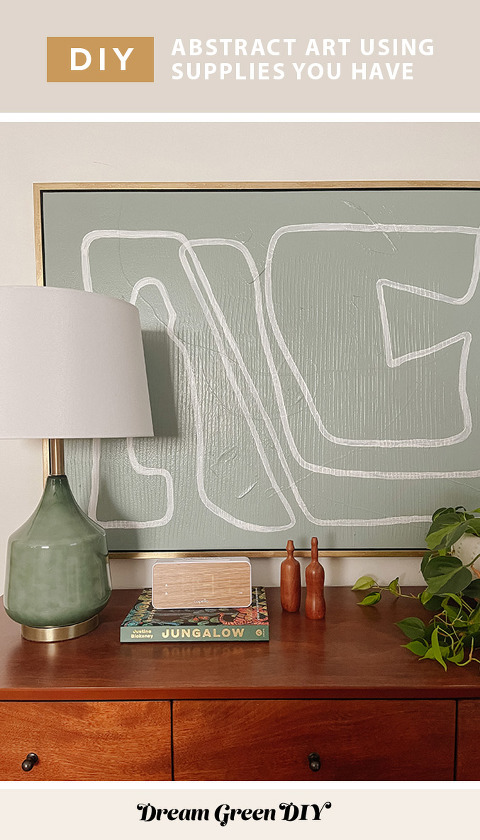 *I earn a small percentage from purchases made using the affiliate links above. Affiliate links are not sponsored. Rest assured that I never recommend products we wouldn't use or don't already love ourselves.