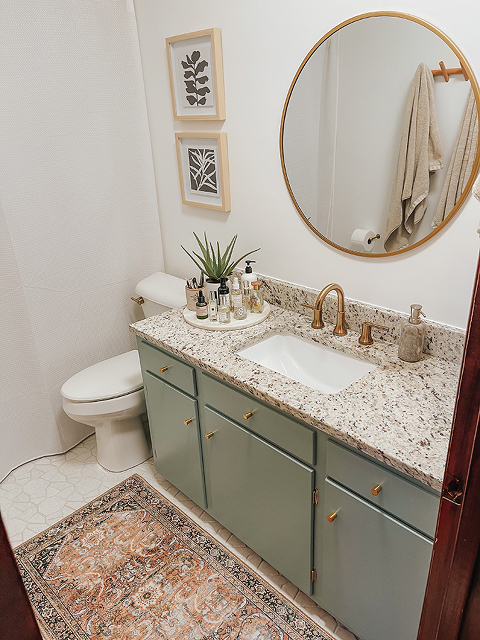 This bathroom…Man, it has been such a struggle to get the design right, but I'm so glad I persevered because today I'm sharing the final look that's here to stay (although, don't quote me on that since you guys know I love change). I'm so burnt out on redoing this room, so I really feel like this the true finish line. I also experienced that magical stomach-flipping, smile-inducing reaction when I stepped back to survey the completed room makeover, which is always a good sign that I've finally nailed it!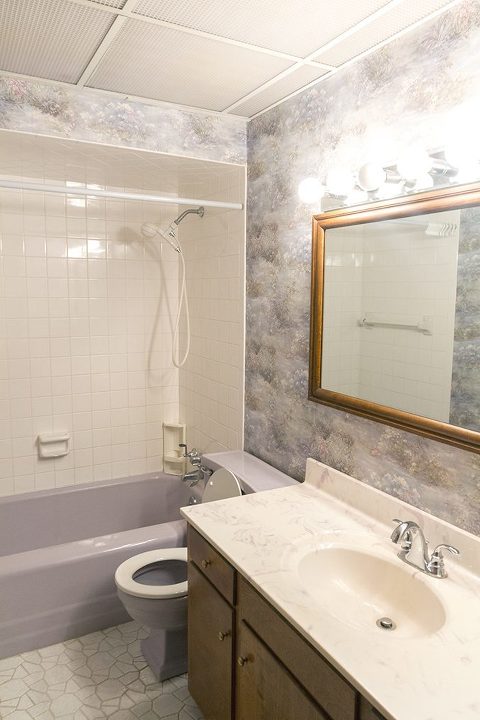 If you happen to have landed here for the first time and need a refresher, don't worry. I've got one for you. This bathroom might just take the prize for "worst spot" in our little 1960s ranch when we moved in almost six years ago. That photo above was snapped right before move-in day, and shows the space in all of its lavender glory.
There was a purple toilet (which we've since upgraded because of plumbing issues), a purple tub (which is still here and we actually adore!), dingy grout lines, an old formica countertop, chrome fixtures, wallpaper, dated lighting—you probably get the idea. It needed help and was one of the top priorities for us when we moved in.
First, we removed the wallpaper and painted the room a soft white ("Snowbound" by Sherwin Williams), then the toilet got replaced. I tore down the drop tile ceiling and old light fixtures, painted the tile grout back to white, had the countertop replaced, and new gold plumbing fixtures were put in. The photo below shows the room after it had been successfully made-under thanks to all of those changes.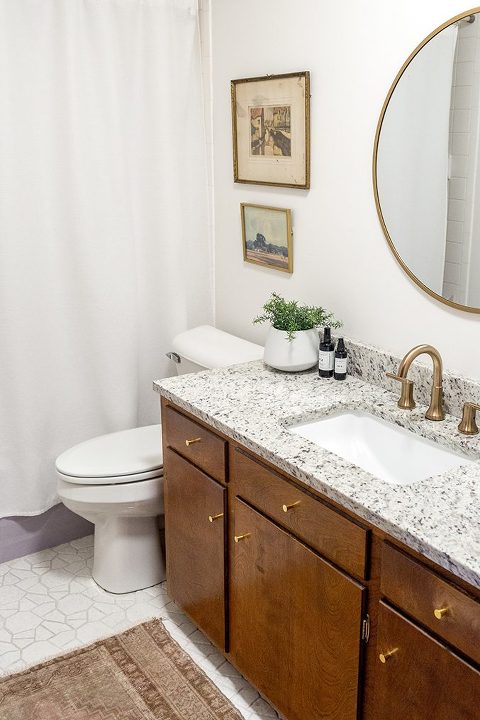 But then, I just couldn't leave well enough alone, and proceeded to make the space over yet again. Many, many times, in fact. I tried more color, then less color, followed by more color again. I eventually painted the wood vanity because it wasn't in the best shape anyway (and, trust me, we have plenty of beautiful wood grain that we celebrate throughout our house).
Then, I was assigned a makeover story by a website I write for, and I made the mistake of taking color advice from an outside source. My editor had great intentions when she suggested cream walls and a pink vanity, so I certainly don't blame her—especially since I was the one who picked the actual shades of those colors. That was definitely my bad. But it was still a good lesson in learning to fight for our own established preferences.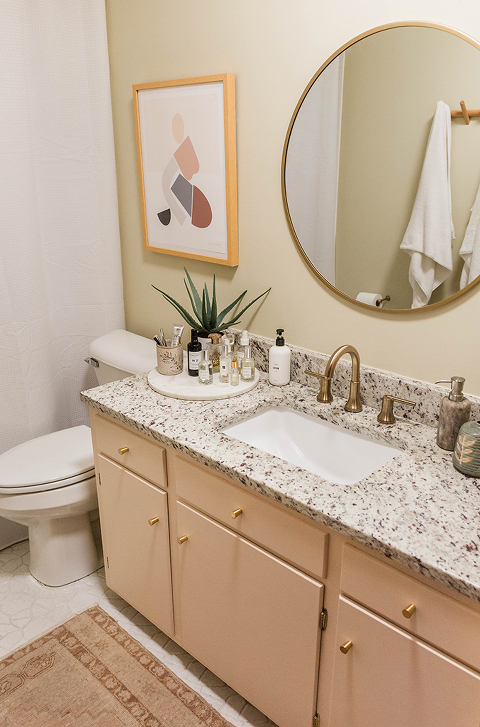 The photo you see above shows the results of that assigned color palette that didn't quite fit our aesthetic. I think it could have easily worked (and worked well!) in a house other than our own, but here it just felt out of place. I tried making the blush pink paint ("Modern Love" from Backdrop) on the vanity work by repainting the yellowish/greenish walls bright white again (this time "High Reflective White" from Sherwin Williams), but the pink still felt too jarring with the rest of our whole home color palette of blues and greens.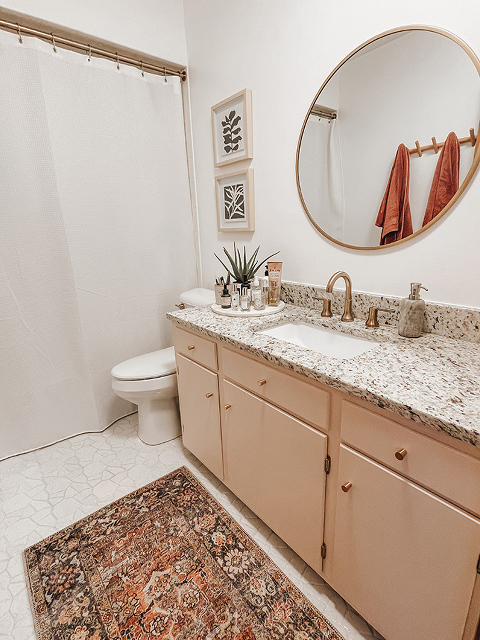 I gave myself about two months to try to make the pink work, but when it didn't, I took my dejected self to the paint store, where I proceeded to purchase a quart of new paint. After brainstorming "Plan Z" for this room, I ultimately decided that the painted vanity was a great way to give the room some pizazz—it just needed to be a different color. I wanted to repeat I color that I knew we loved, so I went with "Halcyon Green," which is what we used on our front door and still really like. Our gold fixtures sort of looked washed out against the blush vanity, but I knew against a blue/green vanity, they would really pop.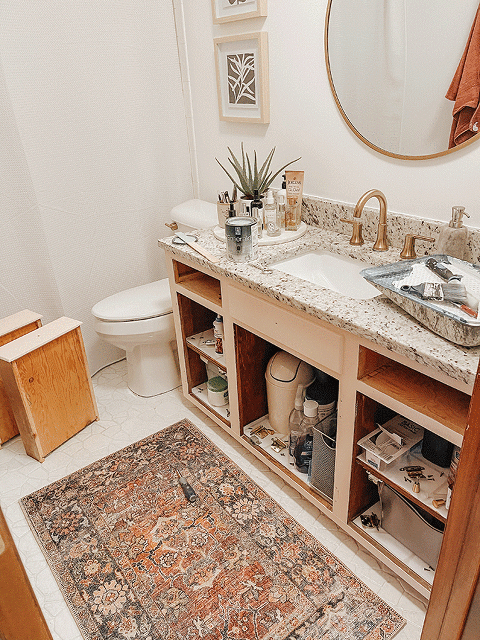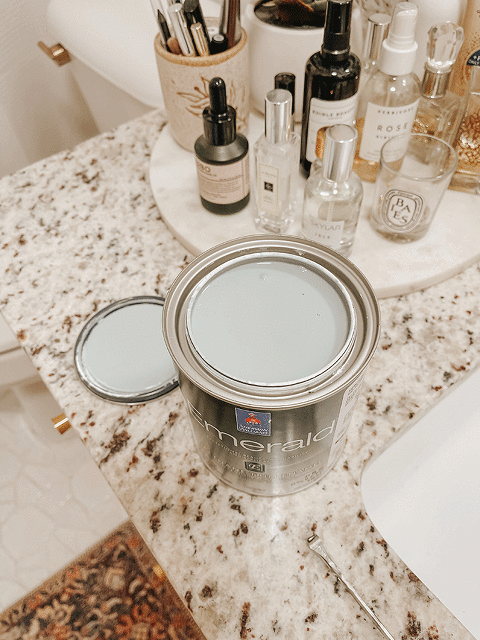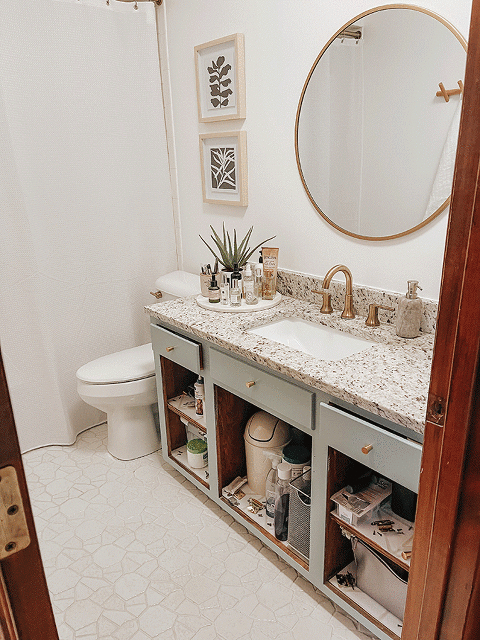 Happily, it worked like a charm and I'm absolutely head over heels for the updated space. The new blue-green color of the vanity is the perfect contrast to the gold fixtures, and feels so perfect alongside the other spaces in our home. It finally "fits."
So, how to paint a bathroom vanity? I put together a full tutorial for this project when I painted it pink originally, so check that out here if you want a step-by-step guide. The most important thing, in my opinion, is that you use a small foam paint roller as opposed to a thicker roller or paint brush. This allows you to get the smoothest finish possible, so there are no visible streaky paint strokes to speak of.
I also highly recommend using Sherwin Williams' Emerald Urethane Trim Enamel in satin. I'm not being asked to push this product. It just worked so well for me, and seems to have left us with a rock-hard paint finish, so I thought I'd give it a shoutout.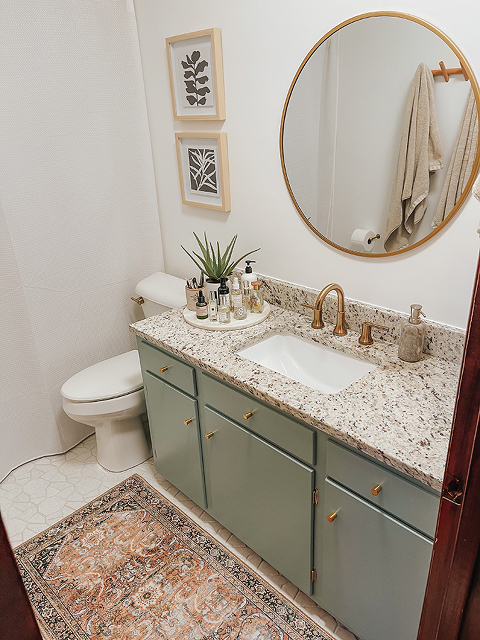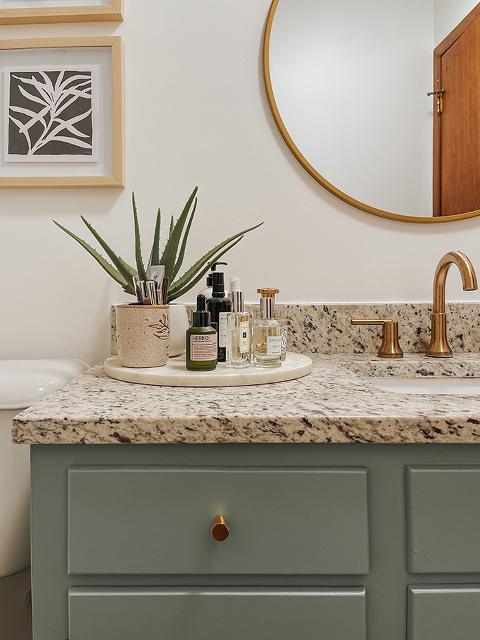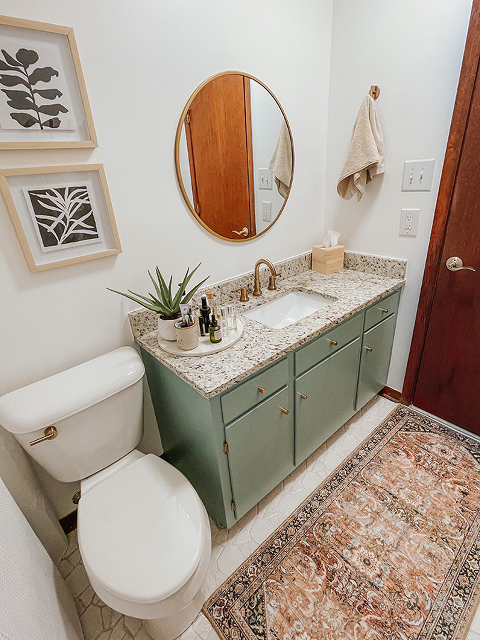 Resources: Sink faucet, rug, gold toilet lever, gold towel hook, wood towel hook rack, wood tissue box cover, door handle, cabinet door pulls, similar art prints, round mirror, extra long shower curtain, gold shower curtain rod, cream bath towels, cream hand towel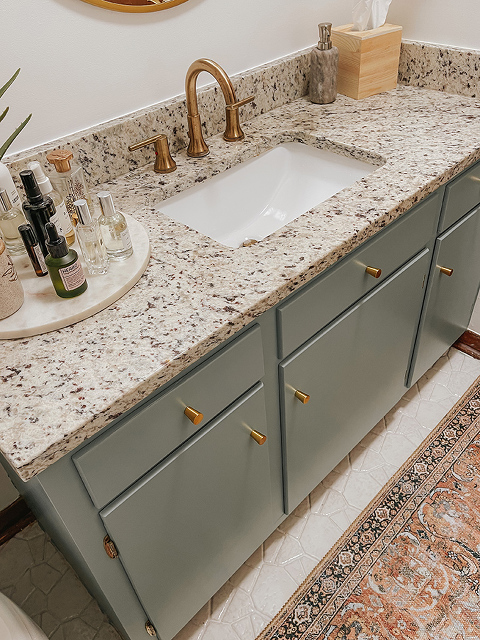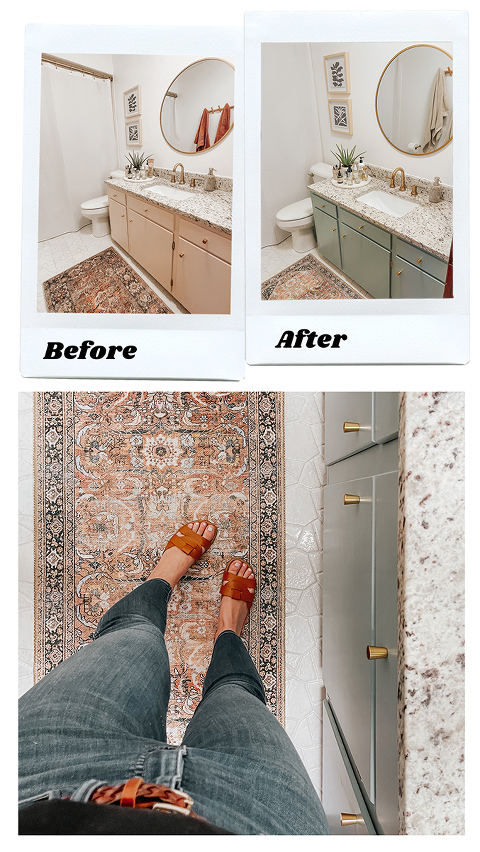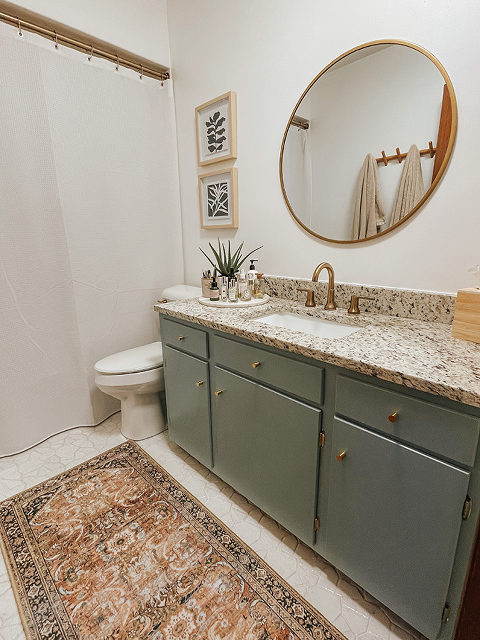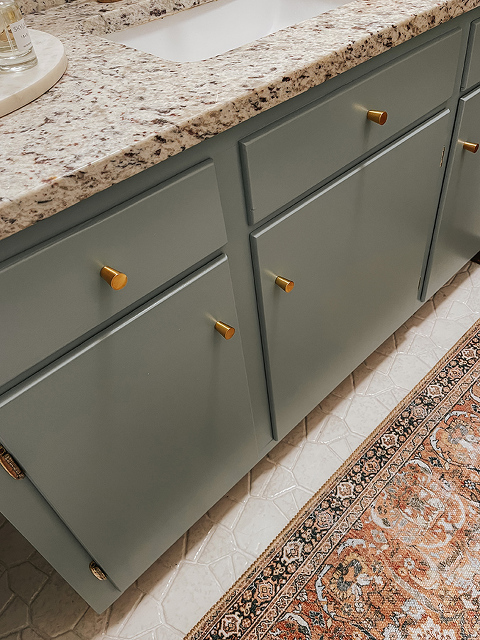 At any rate, it turns out that the seventh time's a charm for this project, and I truly do believe that this look is here to stay. It makes me happy every time I walk into the room, and definitely feels like a great fit inside our home beside the rest of our décor. Moral of the story? Never give up on a room makeover until you get it juuuuuuuust right. I promise you'll get there, so keep pushing through until your space gives you butterflies. That's when you know you've succeeded.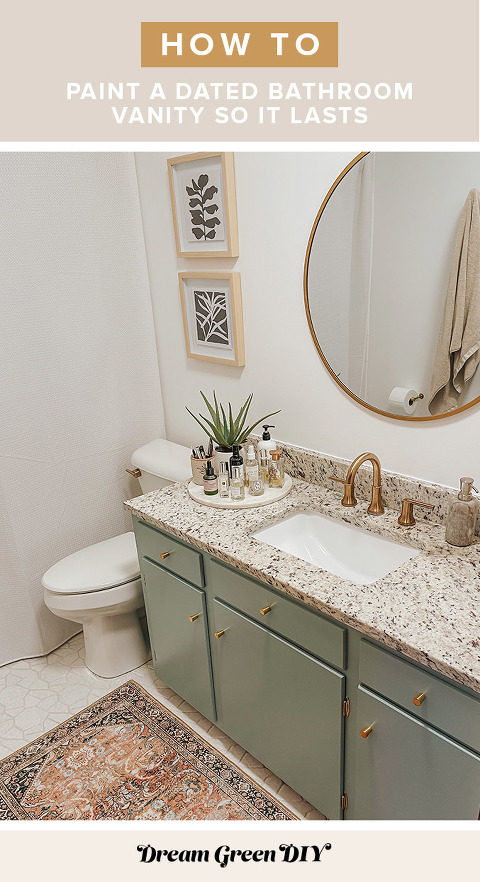 *I earn a small percentage from purchases made using the affiliate links above. Affiliate links are not sponsored. Rest assured that I never recommend products we wouldn't use or don't already love ourselves.