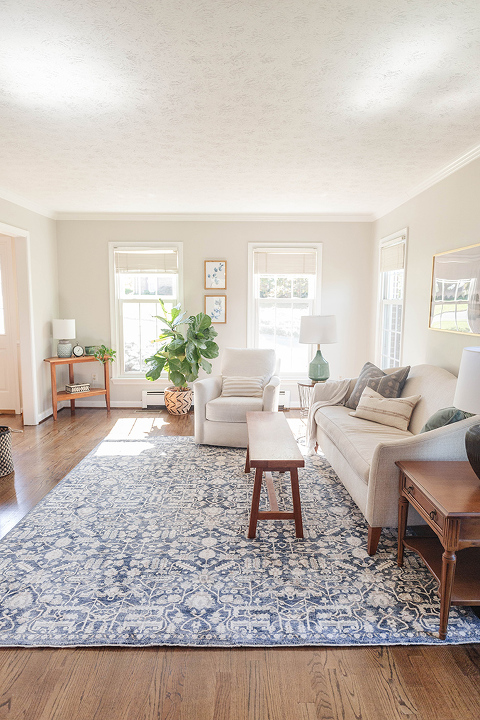 *This post was made possible by Loloi. All opinions are my own.
Did you hear? Amber Lewis (one of my favorite interior designers!) teamed up with Loloi Rugs to release a new collection of home goods that are out-of-this-world beautiful. I was able to preview the collection over the summer, and remember going completely starry-eyed at everything on the launch list. The rugs look so elegant but still have a welcoming feel to them, so they work in practically any space or home, whether it's formal or ultra casual.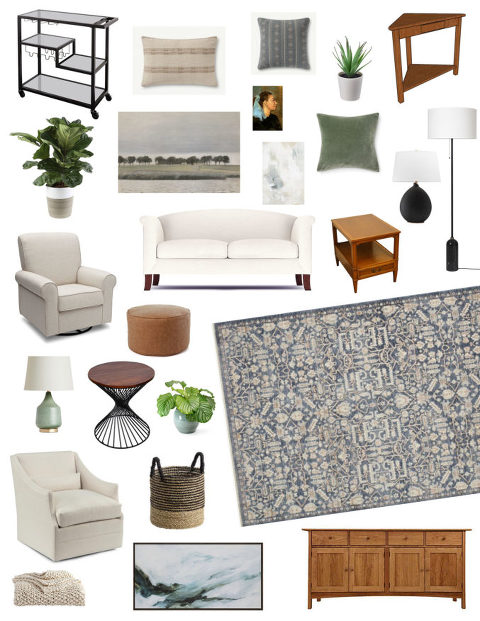 When Loloi kindly offered to let me test a few pieces from the #AmberLewisxLoloi collection in person, I decided to pay the gift forward to my parents. I asked Mom and Dad if they would like me to help them pull off a full living room makeover centered around a new rug and pair of pillows from the Amber Lewis x Loloi collection, and they were game, so I started where I always do: with a Photoshopped mood board!
It took a couple of tries, but we ultimately landed on the scene you see above. We wanted to incorporate lots of rich blues and greens alongside plenty of creamy tones and hits of black to ground everything. Wood tones were also central to the room makeover to warm things up, and balance out the light upholstered furniture.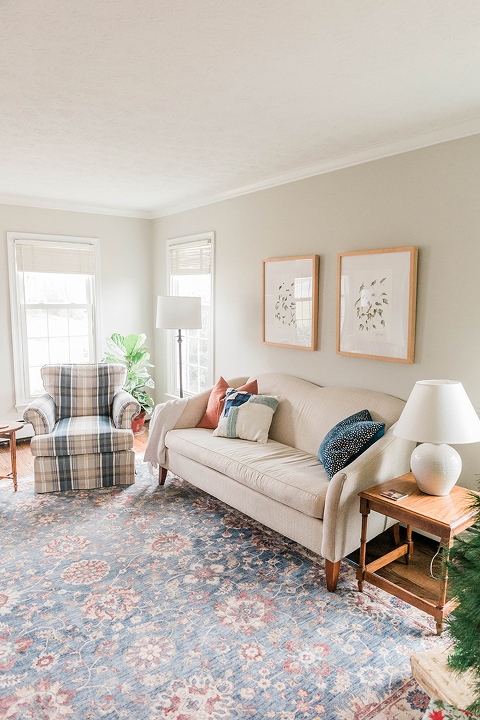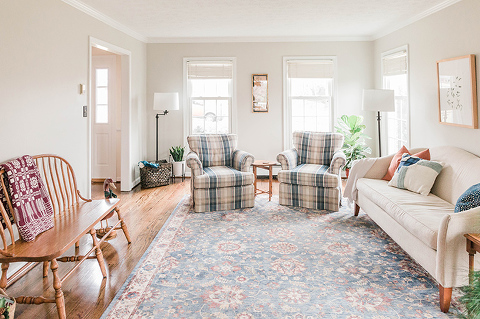 Those photos show what the space looked like before we kicked off this project. My parents had brought lots of furniture and accents with them from their old house when they moved to town a couple years ago, and we all decided that it was time for a refresh. The furniture was in fabulous shape, but their new home's color palette is filled with light aqua and green tones whereas their old house was more about red tones and navy. The good news is that we only needed to swap out a few things to bring this updated look to life.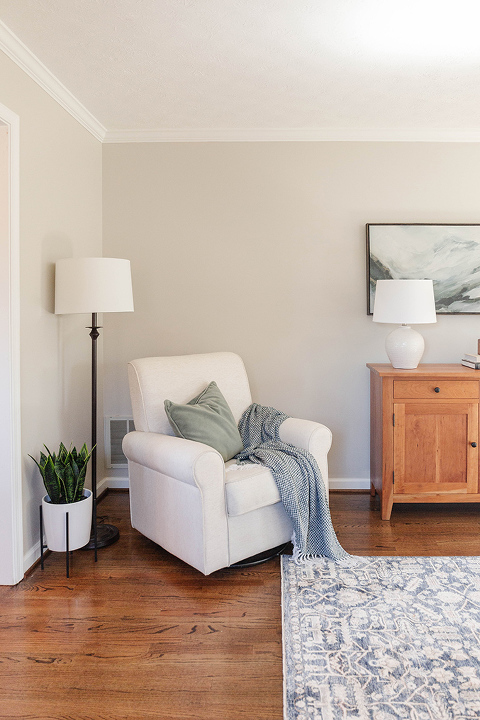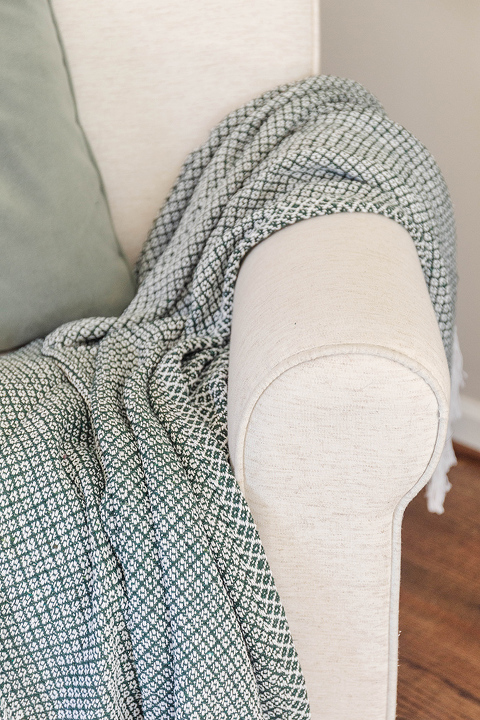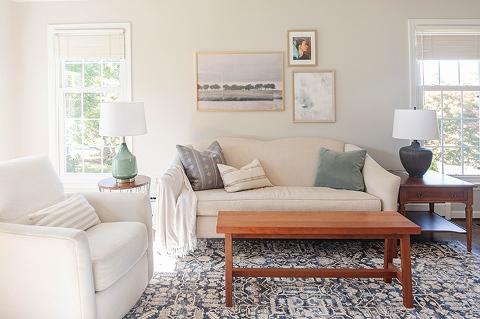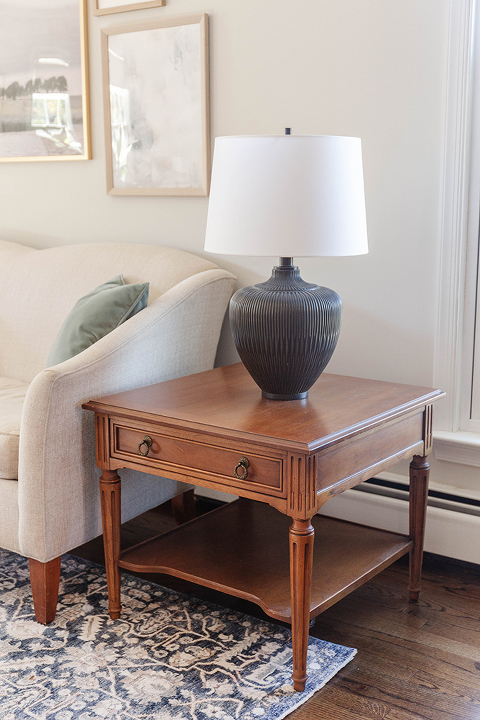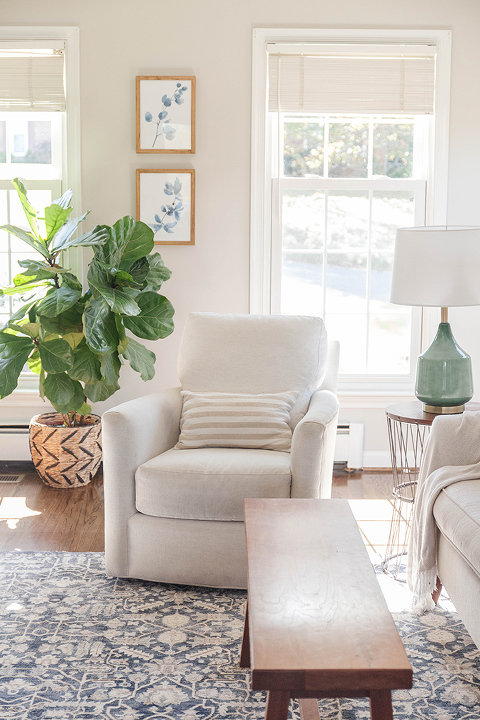 First, we sold their previous area rug and pair of classic plaid armchairs. With that money, we purchased a secondhand creamy white swivel armchair from Facebook Marketplace, and a traditional mid-century wooden side table from Circa, one of our favorite antique shops in Charlottesville. We also bought a secondhand table lamp in a dark charcoal finish, and I brought over a couple of extra accents from my house (namely, the green table lamp and pillows) to round things out. We also updated the art using a few pieces from Juniper Print Shop framed in simple Target frames.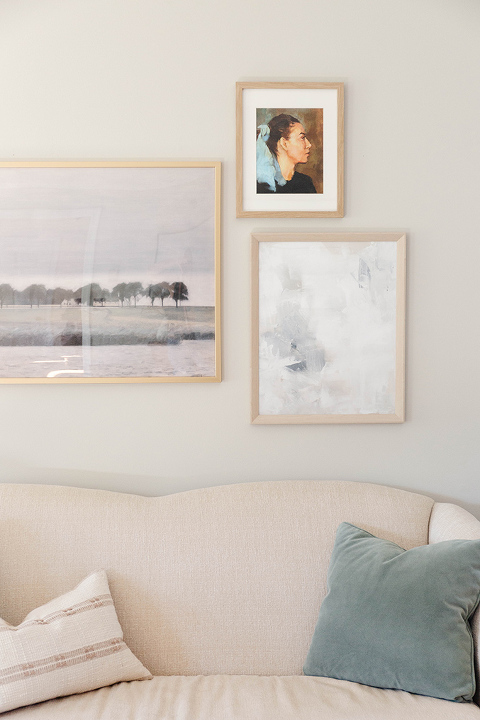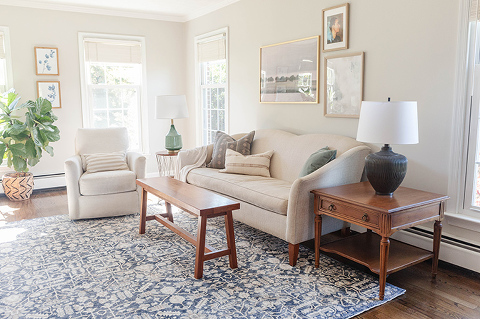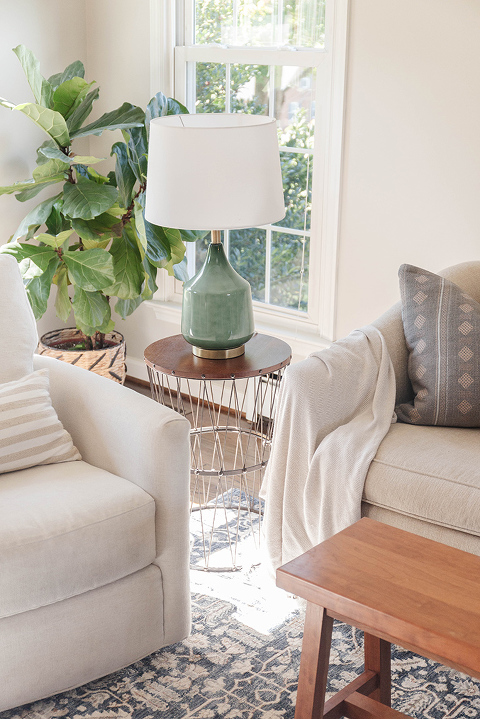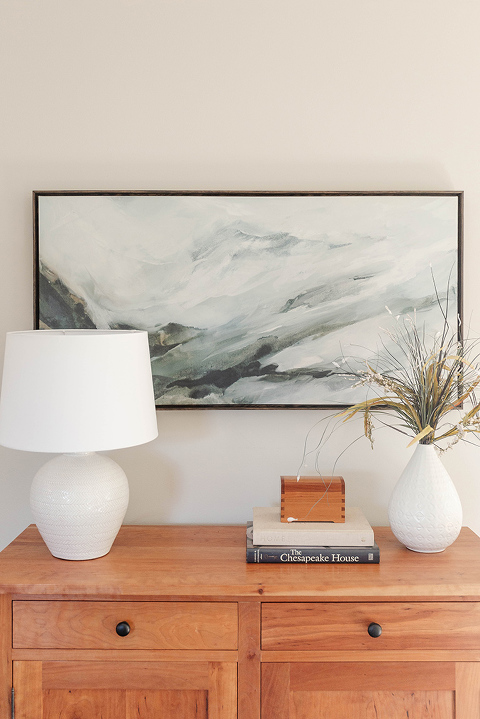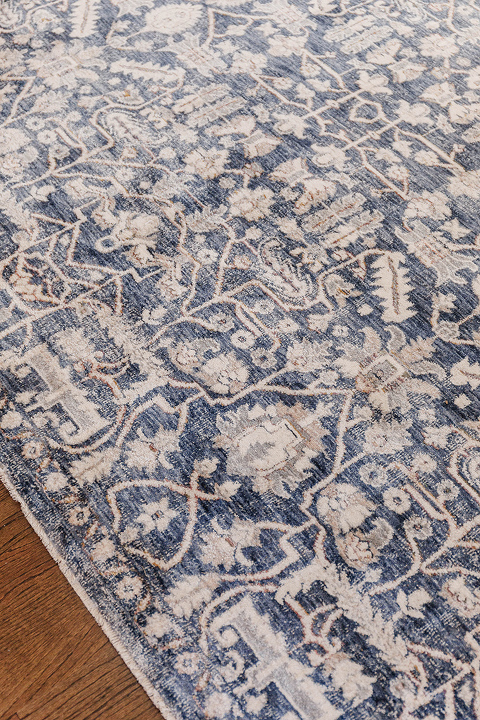 So, what do you think of the updated space?! The new airy color palette feels really refreshing and calming. It's practically begging for us to take a seat with a glass of wine (which, consequently, is exactly what we did after I snapped these photos).
The Amber Lewis x Loloi "Zuma" rug is so luxuriously soft and the pattern is an absolute show-stopper, of course. From further away, it looks like it's made up of a classic blue and white color palette, but when you kneel down to ground level, you'll see shades of rust and even some soft sage green. The neutral Diego pillow pairs so nicely with the blue-toned Palomar pillow on the sofa, and helps draw out the color palette of the rug. If you look closely, everything in the updated room connects to something within the space, which is why it reads as so cohesive.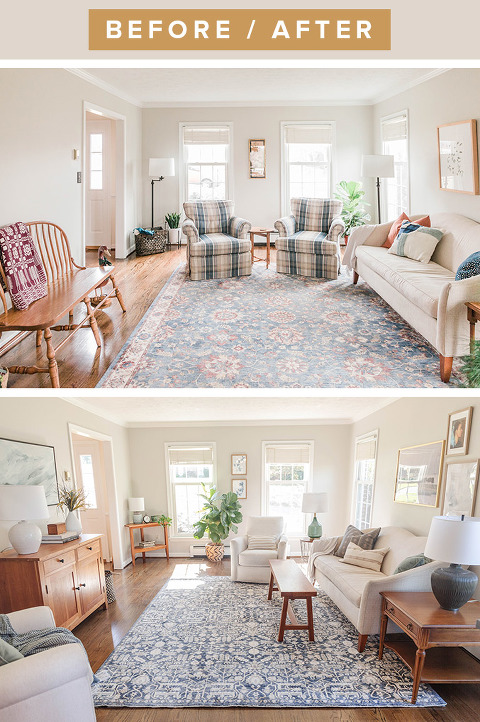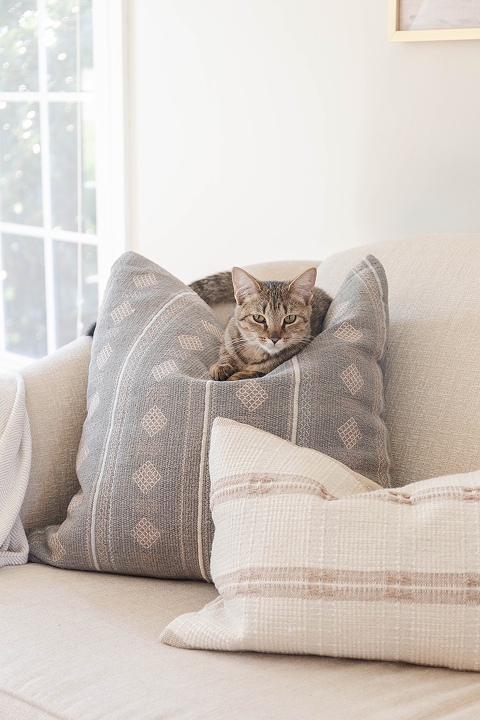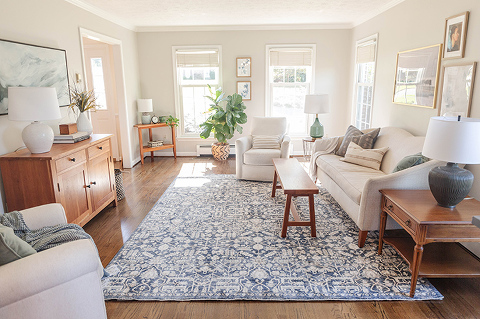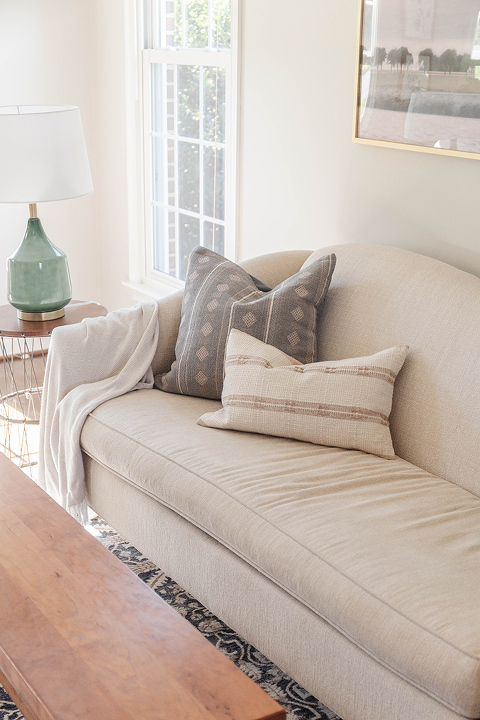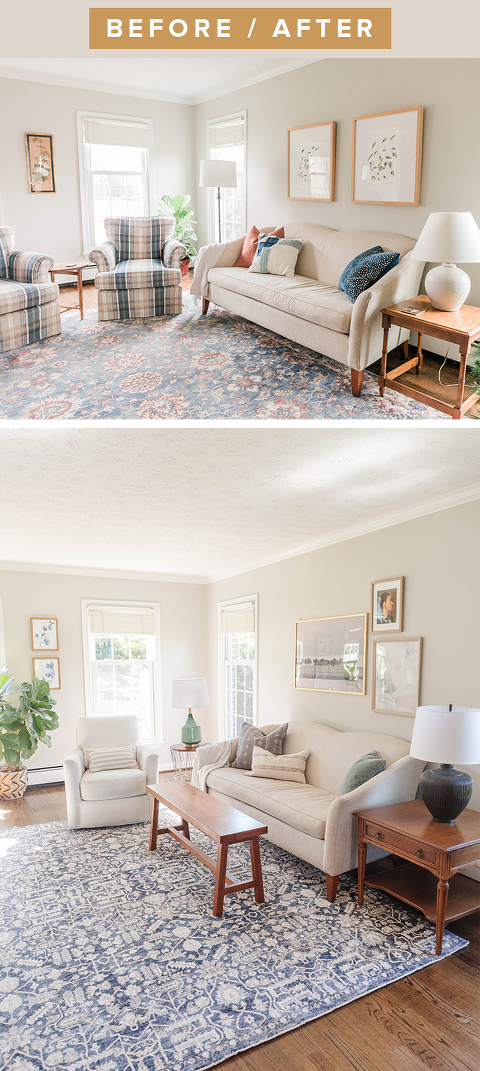 Big thanks to the Loloi team for supporting this creative project, and for giving me a special opportunity to give back to my amazing parents! It was a lot of fun for me to step out of my comfort zone to decorate a more traditional living space, and I hope you enjoyed seeing something a little out of the norm here on the blog. I'll be back with more room makeovers very soon.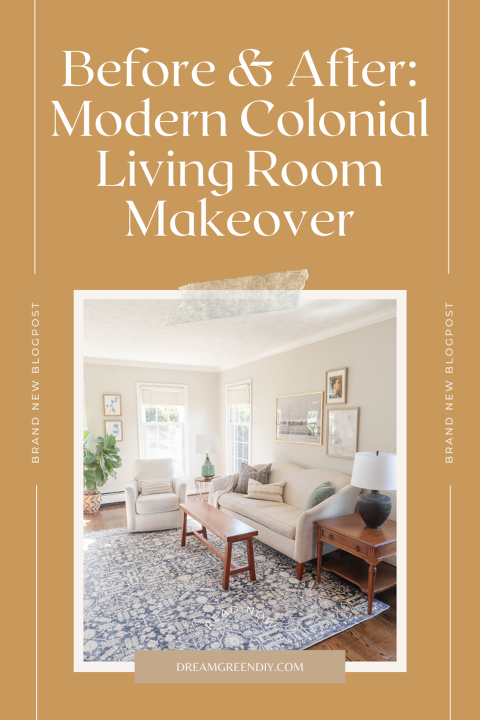 *I earn a small percentage from purchases made using the affiliate links above. Affiliate links are not sponsored. Rest assured that I never recommend products we wouldn't use or don't already love ourselves.