Clever, useful products for the home is one of my very favorite categories to shop on Amazon. Whether it's a super-simple-to-clean area rug that makes life with pets way easier, or the perfect palm-sized vacuum for kitchen crumbs, I get really giddy whenever I discover an item that ticks a box for us and our routines. I spent some time this week reminiscing about the 12 home buys from 2021 that really made a difference in our lives, and this is the full list I came up with.
Top 12 Home Purchases From 2021:
1. Room Darkening Curtain Panels: I finally settled on the perfect curtains for our main bedroom, and now I want them for every room! We hung ours using the back tab for a more polished look, but there is another option for hanging them.
2. Loloi II Wynter "Auburn/Multi" Area Rug: I have never, ever found a rug that I love more. The colors are my dream palette, and this flat printed design is super easy to keep clean. We have it in three rooms of our house—no joke.
3. LED Round Flat Panel Light: I adore the sleek silhouette of this light fixture. It's practically flush with the ceiling, and lights up a room so nicely. We have it in both of our bathrooms. Bonus: You can customize the temperature of the light! In other words, you can make the light it puts off look warmer or cooler, depending on what you prefer.
4. 2' Cedar Artificial Bush: I have officially given up on trying to keep live potted plants thriving outside our entry. I've purchased this artificial plant over and over, and couldn't recommend it more. The zero maintenance thing is a true breeze.
5. Matte Black Indoor/Outdoor Wall Sconce: I added this sconce above our back deck last fall, and love it. It's modern but also a touch traditional, and does a great job lighting up our outdoor living room.
6. Plastic Acrylic Bookends: I had been on the hunt for good bookends for our floating shelves in the living room (this set, and this one up high). I wanted something discreet that actually worked. These bookends fit the bill perfectly.
7. Wireless Door Bell: Last spring I started thinking about getting a Ring doorbell for our house, but I read lots of "meh" reviews, so I decided not to. Instead, I upgraded our ancient old doorbells to these wireless bells. So easy to install, and they work great.
8. Cordless Handheld Vacuum Cleaner: I desperately wanted to find a way to deal with kitchen countertop crumbs. This little (tiny!) handheld vacuum works great.
9. Extra-Strong Magnetic Hooks: Another kitchen hack I came up with last year was to hang our everyday oven mits from these magnetic hooks. I stuck them to the side of our metal hood vent so they're out of the way, but still easy to grab.
10. Modern Plug-in Wall Sconce: I really love the fact that more and more lighting brands are coming out with plug-in options for sconces. We added this mod light to the wall in our living room and didn't have to hire an electrician to hard-wire it.
11. Trinsic Universal Trip Lever: Quite possibly the weirdest thing I bought last year was this toilet flush handle. It was outrageously expensive, but seriously worth every penny. It makes our bathroom look so much fancier.
12. Echo Dot Smart speaker: I bought one of these bluetooth speakers for my home office that I recently made over into an art studio so I could listen to classical music while I paint and draw. It also controls all the lights in our house by voice command.
Have you paused for a second to evaluate your purchases from last year (or even the one before that)? I'd love to know what you're still using and loving. It's kind of fun to look back at all of the little gadgets and décor pieces I bought that ended up changing our lifestyle and routines for the better. I think I'll make this list an annual tradition! Let me know in the comments which items caught your eye above.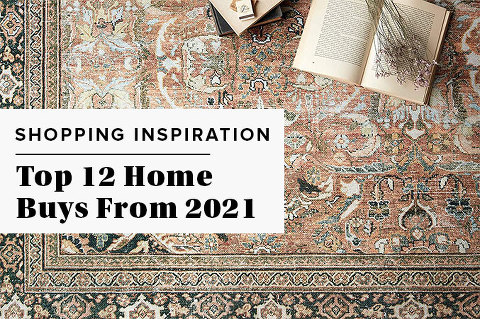 *I earn a small percentage from purchases made using the affiliate links above. Affiliate links are not sponsored. Rest assured that I never recommend products we wouldn't use or don't already love ourselves.