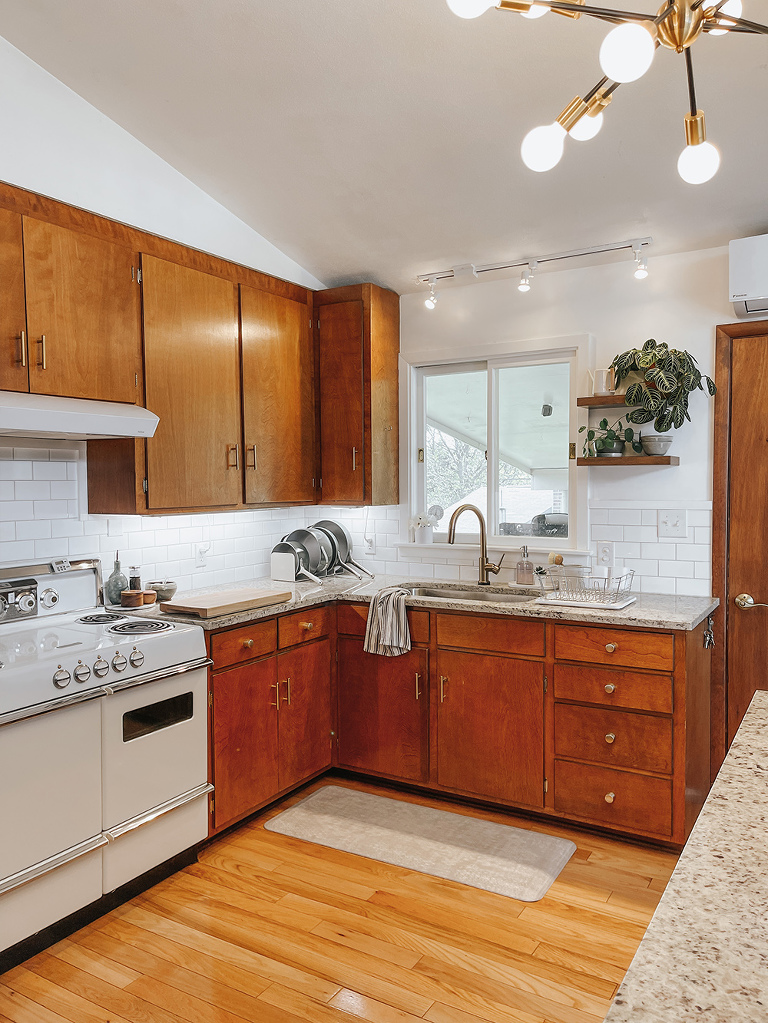 There are a lot of things to love about our house, but one thing I don't love is how dark our kitchen is. It's naturally a very dim room because the one window in the space looks out onto a roofed carport. We've done everything we can to make our kitchen brighter without adding skylights (John is very opposed to that idea). We created a new cutout in the drywall to let natural light pass through from the dining room, and we've also created a very strategic lighting plan to help supplement the scant amount of sunlight we're able to get during the day. I've never been a big fan of artificial light, but we were forced to rely on it in our kitchen, so today I thought I'd talk through the three types of fixtures that have been game-changers in transforming our kitchen into the functional space it is today.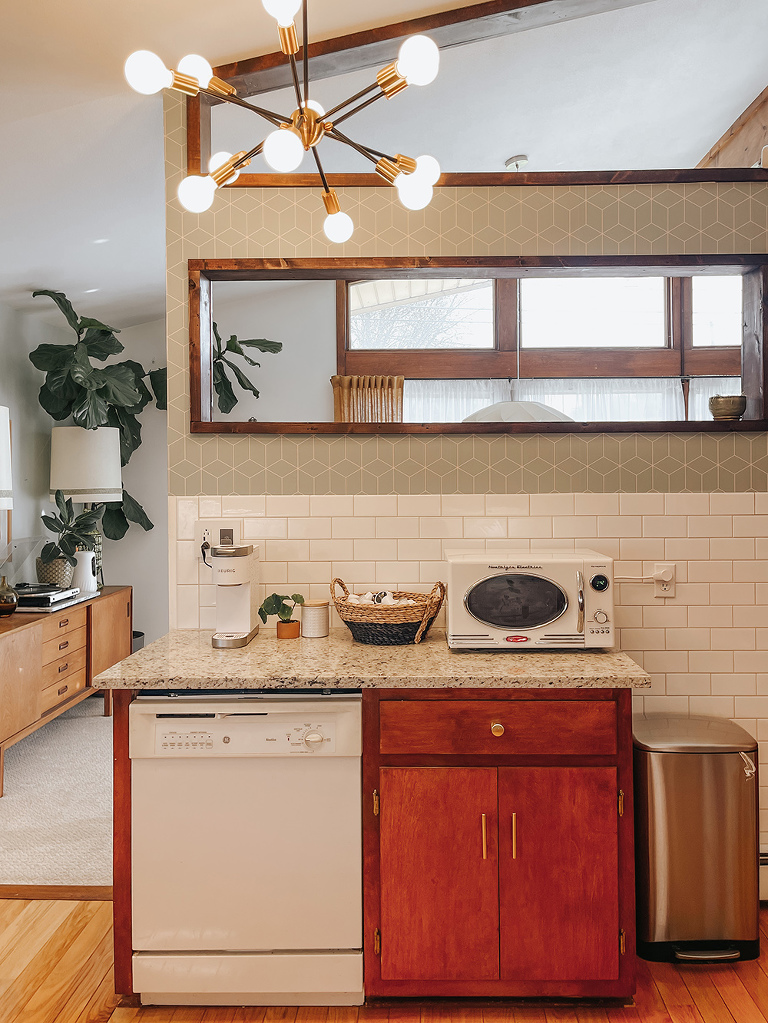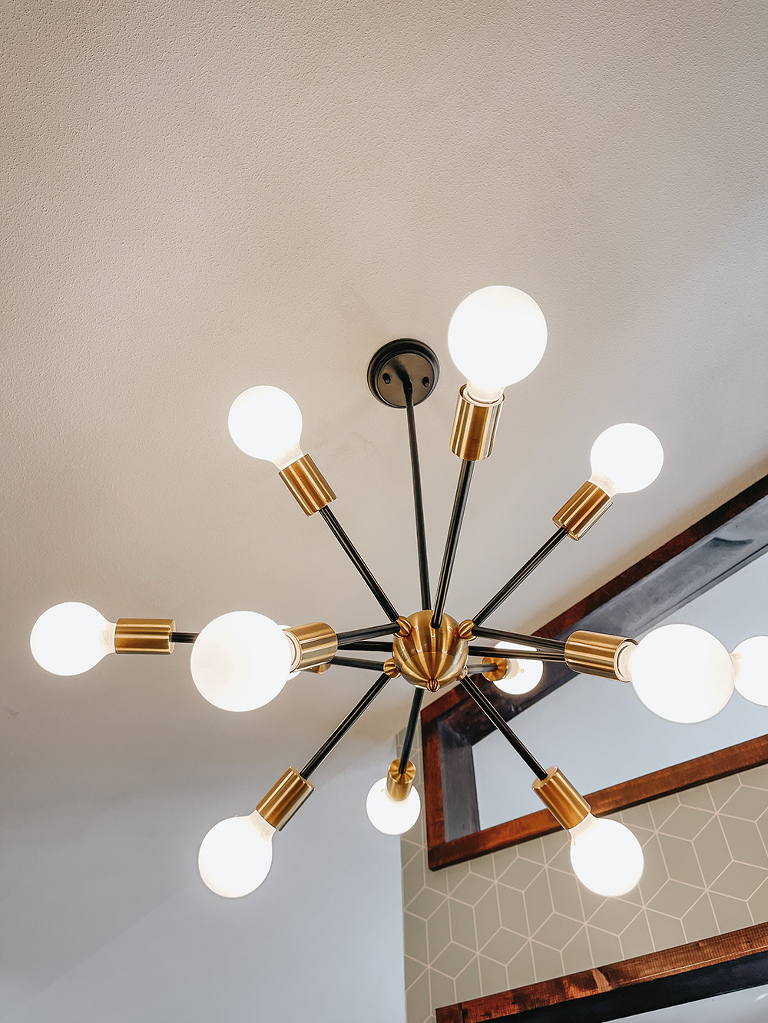 1. An Overhead Chandelier
One of the first things we did when we moved into our retro home was replace the one overhead fixture in the kitchen. It was a very dated ornate brass chandelier that wasn't at all the modern look we were going for. I first replaced it with a cool globe light I found secondhand, but the two bulbs that fixture contained never really cut it in our dark kitchen. And at that point, it was the only artificial light source in the space!
So, after about two or three years, I decided it was time to fix the problem once and for all, and I got a new fixture—this time with not one, not two, but 12 bulbs. The exact fixture I bought is, sadly, no longer available, but this light and this light are similar options to try if you like the look of our Sputnik-inspired chandelier. The upgraded fixture made a huge difference in brightening our kitchen, and the bonus was that it looks super cool, too. We adore the modern mid-century design, and think it adds just the right amount of character to the space in addition to increasing the amount of task lighting.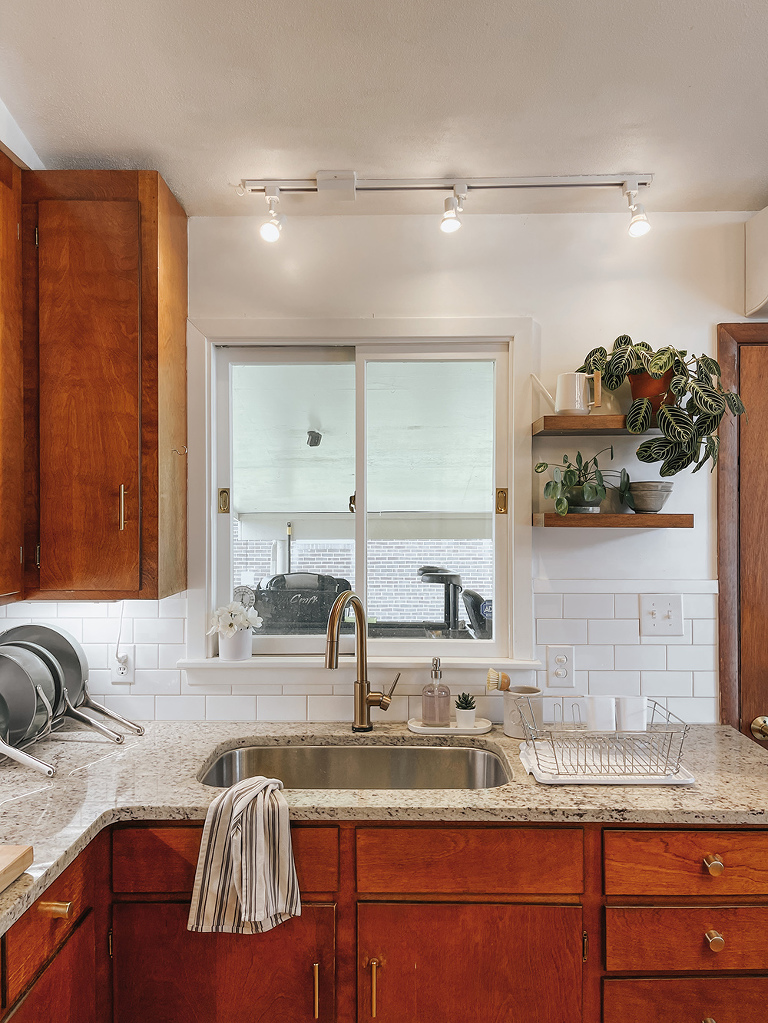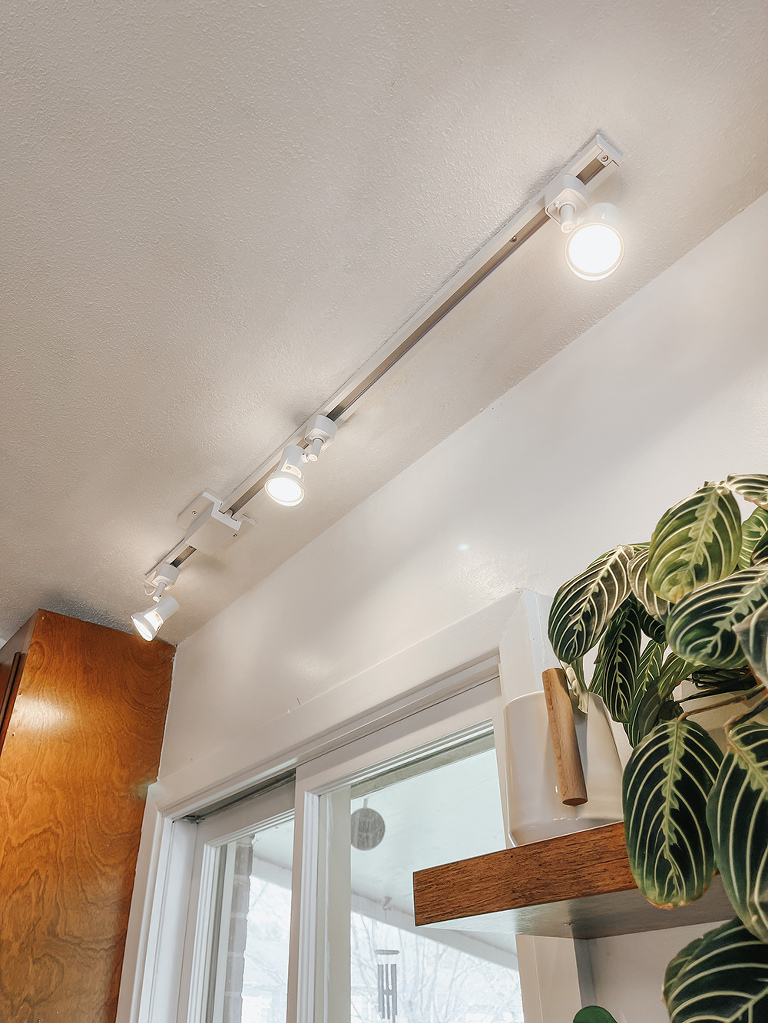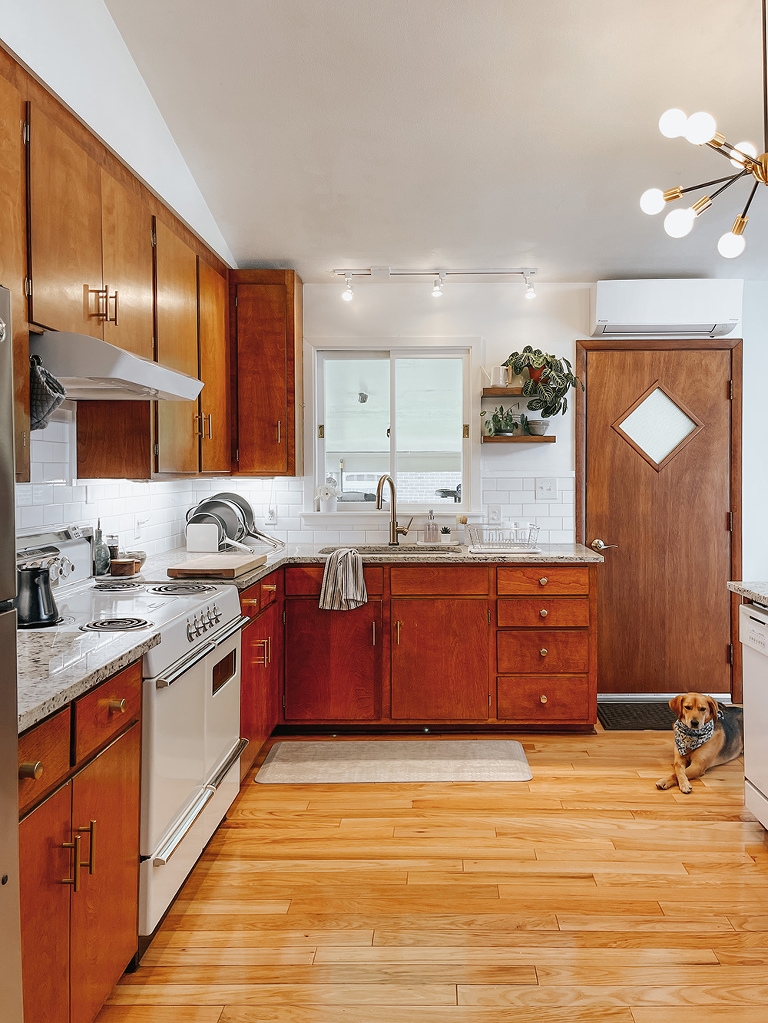 2. Track Lighting Over The Sink
As I said, the one window in our kitchen looks out onto a covered carport, so we can't see the sky or any natural sunshine at all. That fact used to make washing dishes by the sink a little depressing since the dimness couldn't help but creep in from the single sad window. One thing that helped with that situation was installing a track light over the sink. Now I can flip the switch to absolutely cover the area with bright light, which helps make dish-washing much more enjoyable. It helps me see better, too, so I can actually get our dishes, pots, and pans their cleanest. Maybe that's not an issue for you "youngins" out there, but for me and my old, tired eyes, it makes a world of difference.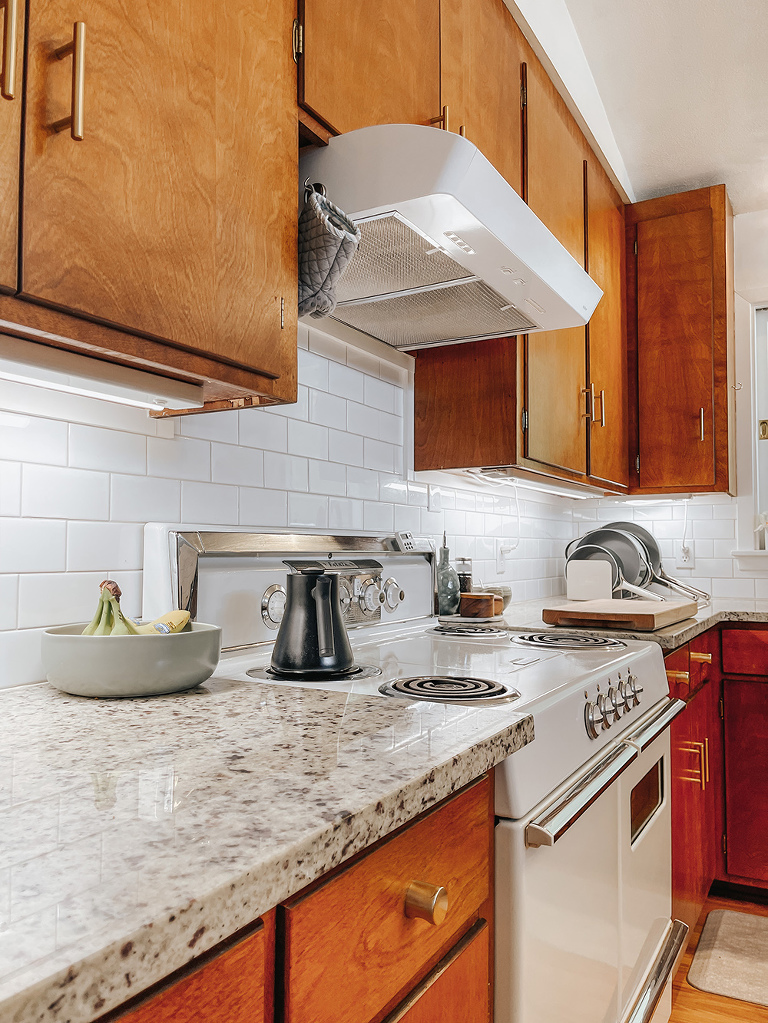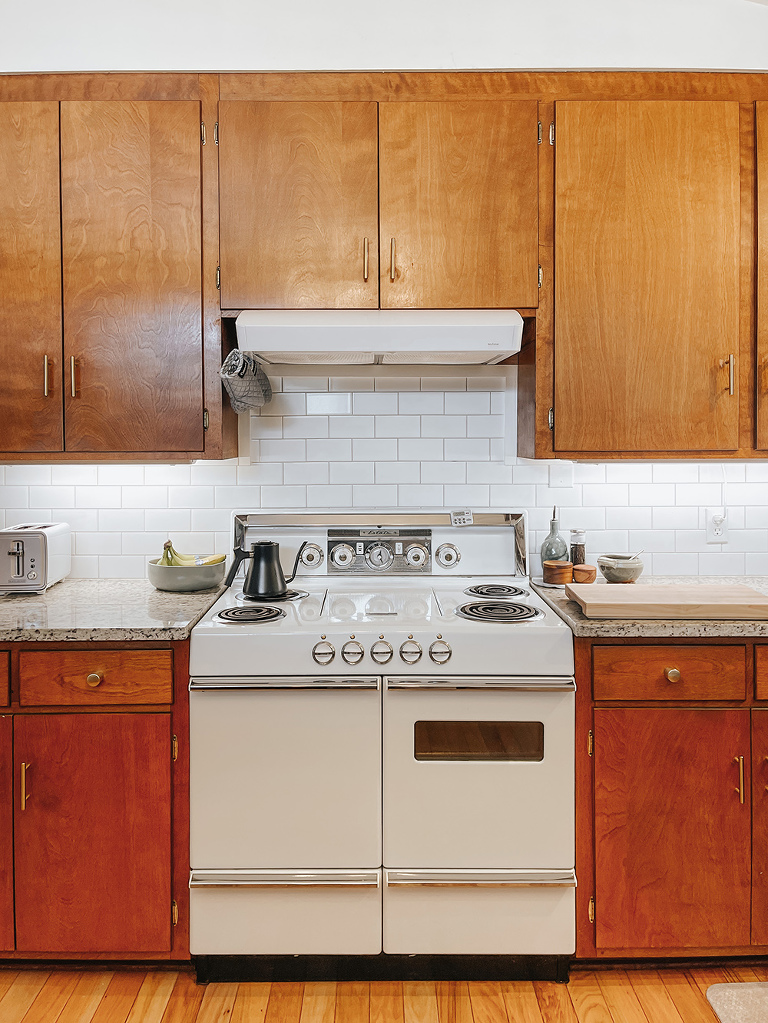 3. Under-Cabinet Plug-In Lights
Even though the new overhead chandelier and track light did a great job flooding our kitchen with light, it wasn't enough to light the space when we were working at countertop level. Cooking was a bit of a drag mentally because we used to have to bend down to see what we were doing (I'm not kidding when I say this room is dark, even on the brightest of days!). We had, of course, heard about under-cabinet lighting and wanted to give it a try, so we bought inexpensive battery-operated lights to experiment with. They were great (especially during one particularly bad power outage), but we knew we could do better, so last year I took the time to install brighter plug-in lights under our cabinets. These high-power under-mount lights were the perfect finishing touch to our trio of kitchen fixtures.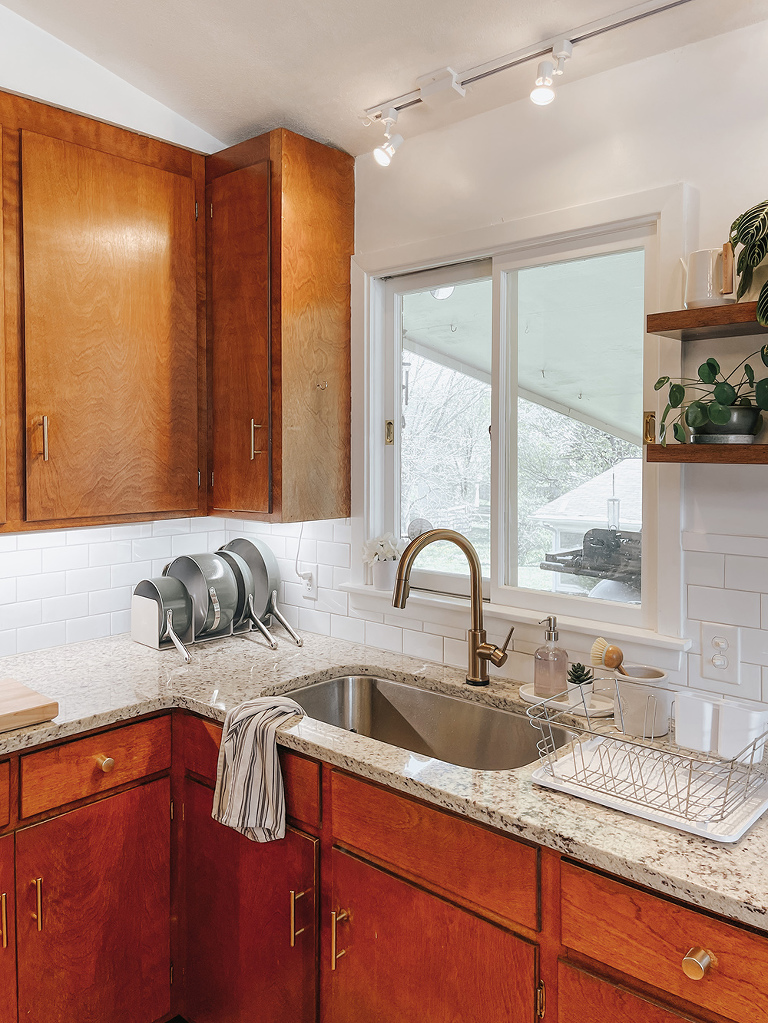 While I will always choose natural sunshine over artificial bulbs to light a room, it really is so pleasant to work in our kitchen now that we've finally perfected the lighting. It's so much easier to work in the space, and it does provide a happy little glow through the doorways into the other rooms of our house, too. It might have taken us seven years to get just right, but I'm glad we persevered. That said, I'll never give up on trying to convince John to have some skylights installed…Wish me luck!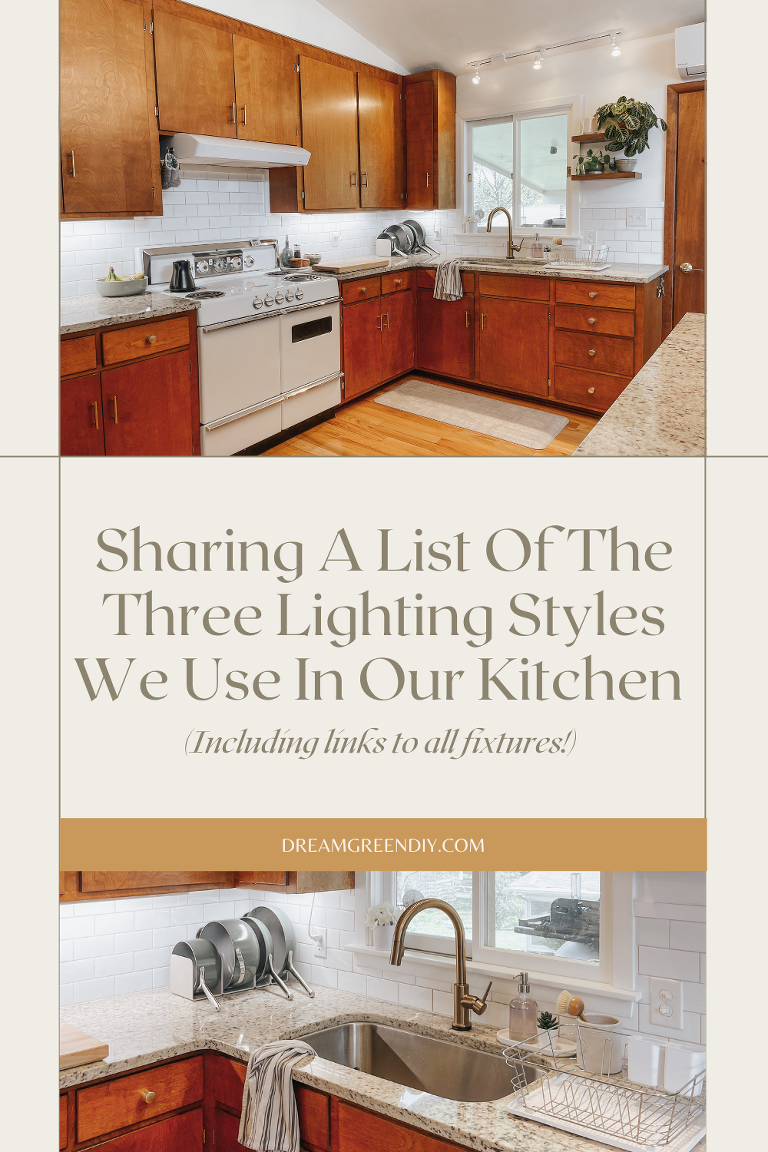 *I earn a small percentage from purchases made using the affiliate links above. Affiliate links are not sponsored. Rest assured that I never recommend products we wouldn't use or don't already love ourselves.