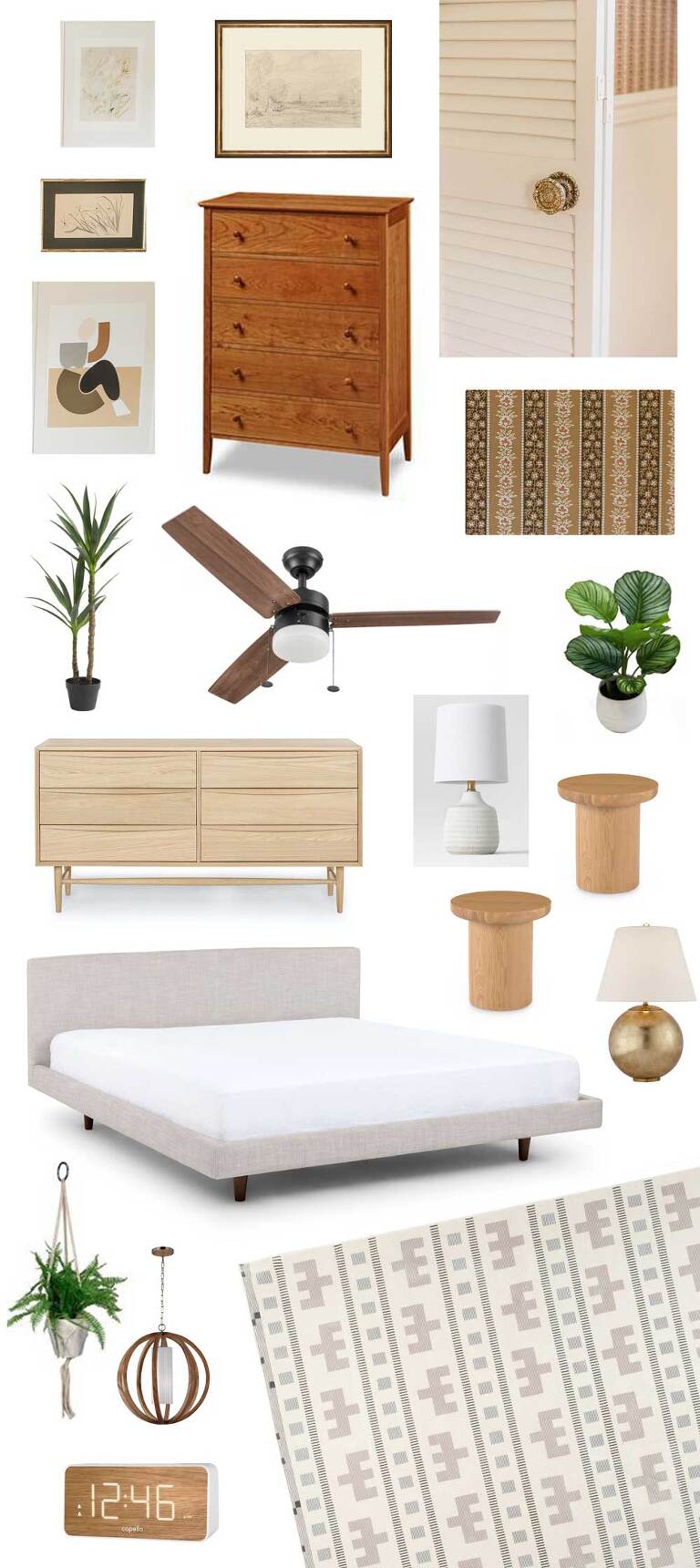 I'm continuing my running new home mood board series by focusing on our main bedroom today. I actually expected this room to take a lot longer to perfect, but then it just happened to come together without much effort at all, almost as soon as I set our furniture in place! Keep reading to learn more about the lightening-fast evolution of our primary bedroom.
New Home Mood Board: Main Bedroom
1. So far, the artwork I hung in this space was all brought over from our old house. I'm not entirely sold on it in this room yet, but that's an easy swap if I find something better while out and about shopping. I love to change up my art pretty frequently anyway, so I'm sure this part of the design won't stay the same for long.
2. Apologies for the blurry Google image, but that tall dresser you see in the mood board is a stand-in for the cherry dresser my dad built for me. That piece is something I'll have in our bedroom for the rest of my life.
3. One of my favorite original details about our new house is the collection of painted louvered doors hung throughout. I even love the oversized ornate brass door knobs! I definitely won't be changing those out.
4. That swatch in the mood board shows the actual original wallpaper hanging in the space. What do you think about it? I had originally been planning to paint the room, but removing the wallpaper in other rooms of the house has turned out to be an absolute nightmare (more on that saga soon). I don't want to remove this main bedroom wallpaper because (a) I'm sick and tired of wallpaper removal, but also (b) I kind of like it! It wasn't planned, but I love the way it looks with our wood furniture and vintage art, so it might be here to stay.
5. Plants, as always, are a must. Most of the plants in our main bedroom are real, with the exception of this Faux Double Yucca Tree. It's the most believable fake plant I've ever come across.
6. One thing we haven't done yet is swap out the dated ceiling fan. We already have this one in-hand ready to install, though, so that'll be done very soon. By the way, we're using the warm-toned blade over the rustic gray wood option—the fan blades are reversible!
7. The rest of the big pieces of furniture in this room were all gifted from Article. We have the Lenia White Oak 6 Double Dresser, two Baarlo Oak Side Tables, and their Tessu Clay Taupe King Bed. We love this collection so much (we hand-picked it ourselves), and couldn't recommend the pieces more if you're in the market to update your bedroom suite.
8. The lighting is a mixture of new lamps, like this mini one from Target now sitting on my dresser, and other vintage fixtures I've purchased over time and brought over from our old house.
9. Speaking of Target, this alarm clock is still a favorite of mine. I appreciate the oversized numbers, which allow me to easily read the time in the middle of the night.
10. The last piece of this puzzle is the rug. We're currently using this washable area rug from Revival, but I can't quite make up my mind if it works. Does it clash too much with the vintage wallpaper? Now that I'm planning on keeping the wallpaper, I think I may need to rethink the rug situation. If you have any suggestions, let me know!
So, now that you've seen the mood board and have heard my side of the story, I really want to know…Would you keep the existing vintage wallpaper? Or change it out for paint? I can't quite decide! I think if it went all the way to the floor, it would be too overwhelming, but the fact that it stops at the chair rail makes it look more balanced. That said, I'm open to feedback, so please leave a comment below.


*I earn a small percentage from purchases made using the affiliate links above. Affiliate links are not sponsored. Rest assured that I never recommend products we wouldn't use or don't already love ourselves.