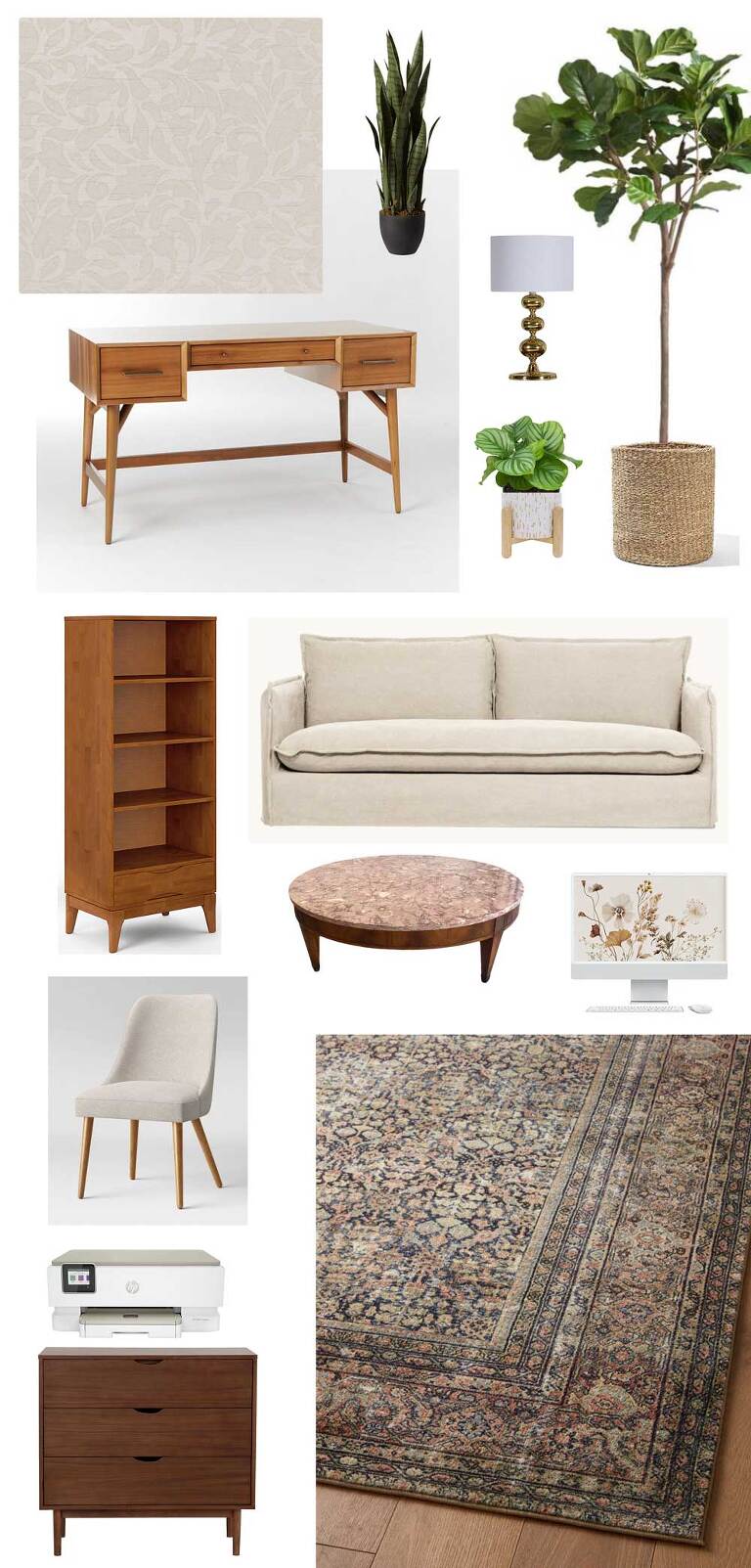 Today's post is the last one in my new home mood board series, and this time we're talking all about my home office. Keep scrolling to find out what I have in mind for this multi-functional space, including my thoughts on creating a lounge versus a guest room. Don't forget to leave a comment once you're done reading the story so you can let me know what you would do? I need all the help I can get.
New Home Mood Board: Home Office
1. First, the wallpaper. I absolutely love the original cream- and tan-colored wallpaper that's already hanging in the room. It's still in pretty great shape, and, luckily, the leafy botanical print is fairly neutral so a lot of designs will work with it.
2. Plants are a must, as always. I have this large faux fiddle leaf fig tree in my office already, which fools pretty much everyone who sees it, whether in person or on Instagram!
3. My West Elm desk came with me from our old house, along with the pretty vintage brass table lamp I'm using with it. I love the mid-century lines of my desk, and the fact that I got it secondhand for such a great price on Facebook Marketplace a year or two ago.
4. I feel like a tall bookcase would go really well in this room. It would add some much-needed visual height, and provide some good storage, too.
5. Now for my thoughts on the lounge versus guest room saga. I ended up with a lot of unexpected extra square footage in my new home office, including more than enough for a bed or a sofa. I've been trying to decide if I want to create a sleeping space for guests or more of a kick-back area with a sofa. I briefly considered a daybed to get the best of both worlds, but I don't think that's the look I'm going for. I want either a bed or a traditional sofa—not a hybrid, if that makes sense. I like the thought of a sofa since a single person could sleep on it if the need ever arose, but keep in mind that we never have guests at our house. Like, really we never do. My parents live in town in a bigger house, so most people stay at their place when visiting all of us. I love the cozy, ultra plush silhouette of this Sixpenny sofa. What do you think?
6. I spotted a cool vintage pink marble coffee table at one of my favorite secondhand shops recently that I think I'm going to go back for.
7. This is the floral artwork I'm currently using as the art desktop background on my computer. I'm really drawn to the earthy, feminine look of it.
8. I still love this upholstered desk chair from Target. It's actually a dining chair, but I appreciate the plush seat while working for hours at my computer and the fact that it doesn't look like a desk chair.
9. Here's a link to the Loloi rug I already have in the room. It's super, super soft, and the rich pattern looks so authentically vintage even though it's a brand new rug.
10. I needed a little more storage in this room, so I recently picked up a mid-century wooden dresser at an antique store here in town. The tabletop is perfect for my printer, and the three drawers have been great for storing linens for our bedroom next door.
The overall design that I've come up with for my home office is admittedly a little on the "girly" side, but I figure it's my room, so I can do whatever I want with it, right?! I think the darker tones in the rug help ground the space a bit and make it feel a little less feminine, but I'd love your thoughts on the color palette. And definitely let me know how you would utilize the extra square footage in my office! Would you do a guest room, or a sofa lounge area? Comment and share your point of view.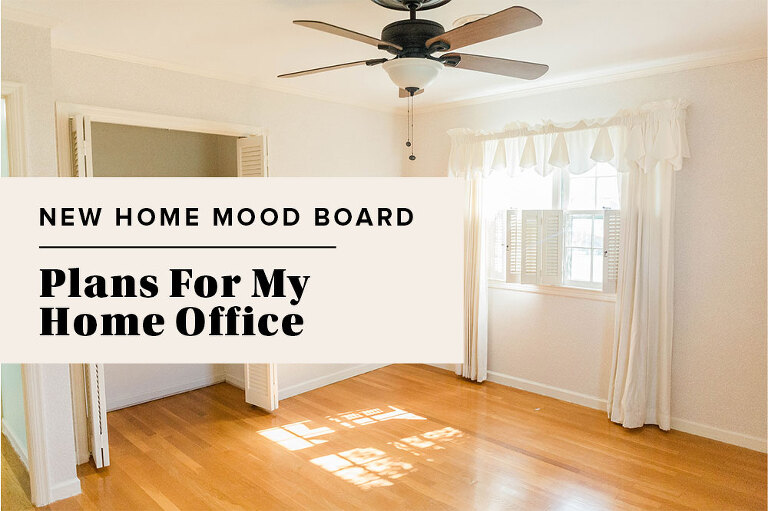 *I earn a small percentage from purchases made using the affiliate links above. Affiliate links are not sponsored. Rest assured that I never recommend products we wouldn't use or don't already love ourselves.