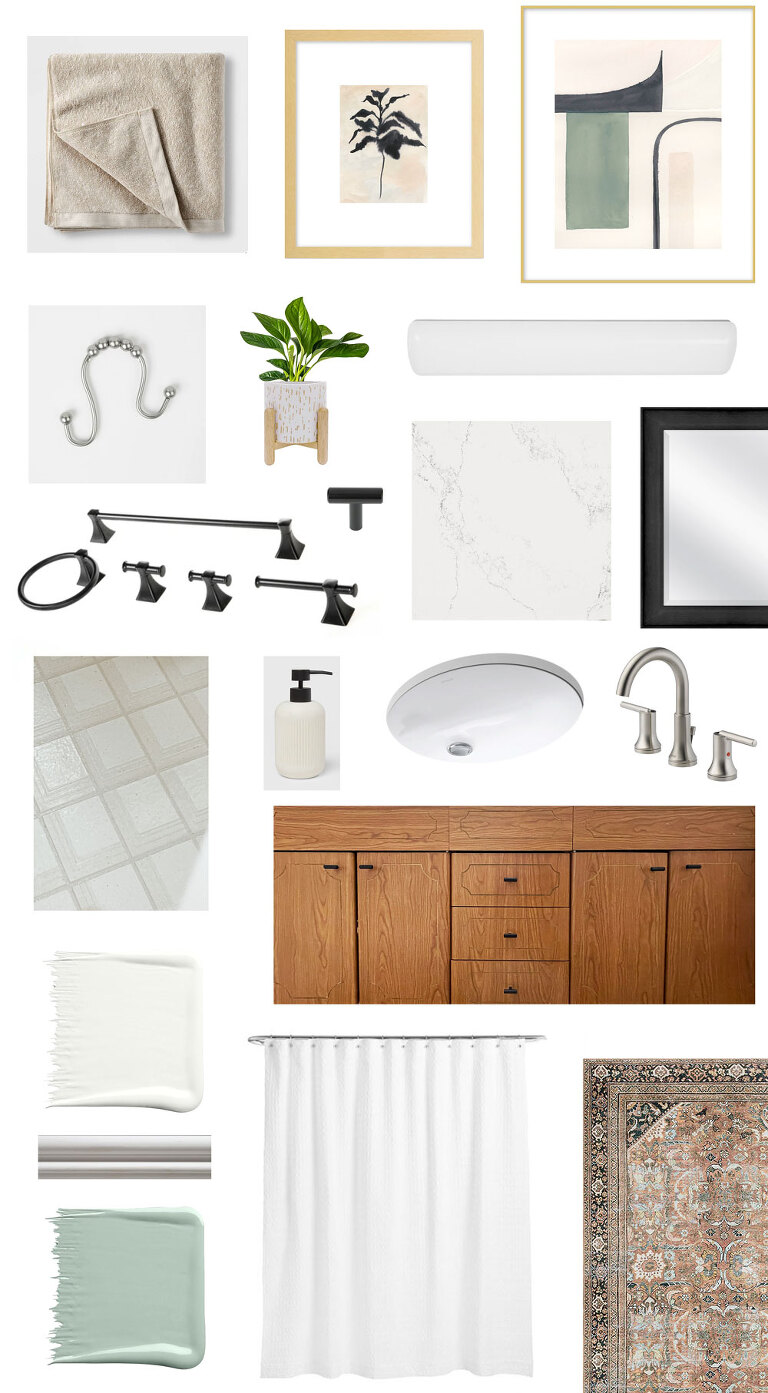 Today's mood board focus is our hall bathroom. This is another space that we've actually already finished! At least, we've finished phase one of the project. The old wallpaper needed to go right away, so we tackled that first thing, and have since painted and decorated the room to match our clean, modern aesthetic. It's much fresher now, and makes me smile every day (full reveal coming soon, I promise!), but there are definitely some longer term upgrades that we'd like to make sometime in the next decade. Keep reading to learn more about our future plans.
New Home Mood Board: Hall Bathroom
1. It took me years to find the perfect bathroom towels. These are "the ones"!
2. I can't decide if I want to hang multiple pieces of art in this room or leave it more minimal. At the moment I have this botanical print hanging in the space, and love it, but may order this abstract print to hang off to the side for some additional personality. What do you think? Is less more?
3. I ordered these shower curtain hooks for our new house because we left our previous set at the old house for the new homeowners. I like that there are two open loops on these—one for the curtain at the front, and one for the liner at the back. It makes laundry day (i.e. taking off and putting back up the curtain and liner) much easier.
4. Plants, of course, are a must, but they'll have to be artificial since there's no window in this room. That works for me!
5. The black-framed mirror and sort of boring white light pictured in the mood board are stand-ins for what we already have. We're going to try our best to make them blend into the background because they function really well. They just aren't very attractive…Maybe we'll upgrade the mirror and lighting someday, but not anytime soon.
6. One thing we do plan to upgrade sooner rather than later in the countertop. I actually don't mind the retro faux marble formica counter, but the sinks are completely shot. There are rust holes all over them, and the faucets aren't to our taste, so we'll need to replace those. I'm thinking these faucets with round white sinks, and a gray and white quartz counter to match our yet-to-be-installed new kitchen counters.
7. I ordered this set of black towel bars and hooks for the hall bathroom, and love them! They were easy to install, and I like that you get quite a few hooks in the set.
8. That photo of the floor shows our actual vinyl floor. I don't mind it, really. If we ever do a gut job down the line, we'll upgrade it to real tile, but for now, I think it's kind of cute!
9. The vanity poses some issues. I'd like to replace it because it's not in great shape. I do like the design of it, but it has some water damage, and the doors aren't hanging very straight or tight after decades of use. I think we'll need to upgrade it eventually, but that sounds stressful, so we'll wait a few years, I think.
10. I'm toying with the idea of doing a chair rail in this room and two different colors above and below it—this white paint color, and this aqua blue. As I mentioned, we already took down the wallpaper, and I've since decided to keep it simple for now by painting the whole room blue, but that doesn't mean I won't add the chair rail and white paint down the line. We'll see!
11. A standard white waffle shower curtain is my favorite. It's clean and classic and doesn't draw too much attention to itself.
12. I'm using this Loloi rug in our hall bathroom along with this rug pad. I love the colors of the rug. It perfectly pulls together the creams and blues I'm trying to incorporate into the space.
There's definitely still lots to do to make this room function well for us, but it's one of those projects that we'll take in small bite-size portions. First, budget is an issue, and I also don't love the thought of living through a big bathroom renovation. We'll probably have to someday, but that day isn't happening any time soon. Comment to let me know what you think of our plans and if you have ideas of your own!


*I earn a small percentage from purchases made using the affiliate links above. Affiliate links are not sponsored. Rest assured that I never recommend products we wouldn't use or don't already love ourselves.