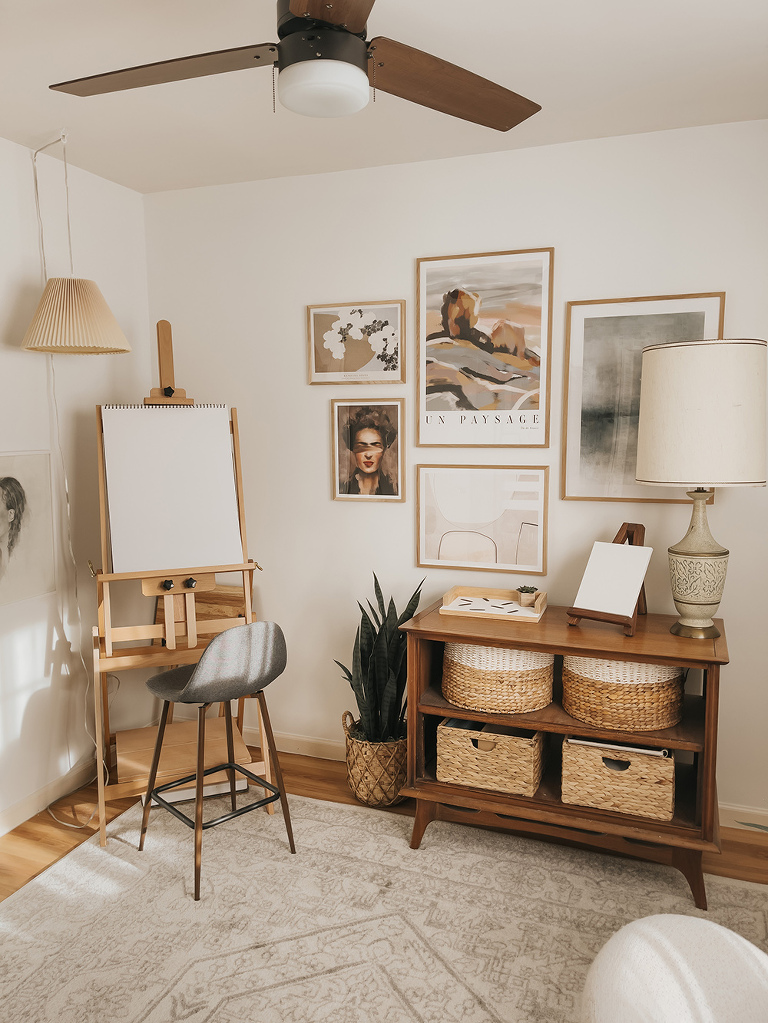 *This post is sponsored by Desenio. All opinions are my own.
If you're new to this blog, you might not know that I went to school for art. I double-majored in studio art and art history, and have always had a life-long passion for all things art-related. My focus in college was graphite portraiture, and, although I only took a handful of painting courses back in the day, I've since felt the urge to try out that type of art now that I'm in my late thirties. I've taken online acrylic painting courses, followed as many watercolor artists as I can find on Instagram, and I've taken a few in-person painting classes, too.
Suffice it to say, art has—and always will be—a big part of my life, and I was so excited to realize that I had room in our new home that could be dedicated to an art studio. This tiny square room took a long time for me to perfect, but I'm finally ready to show you the full reveal, complete with a new gallery wall of inspiring art prints from one of my favorite online art resources, Desenio. Keep scrolling to get all the details!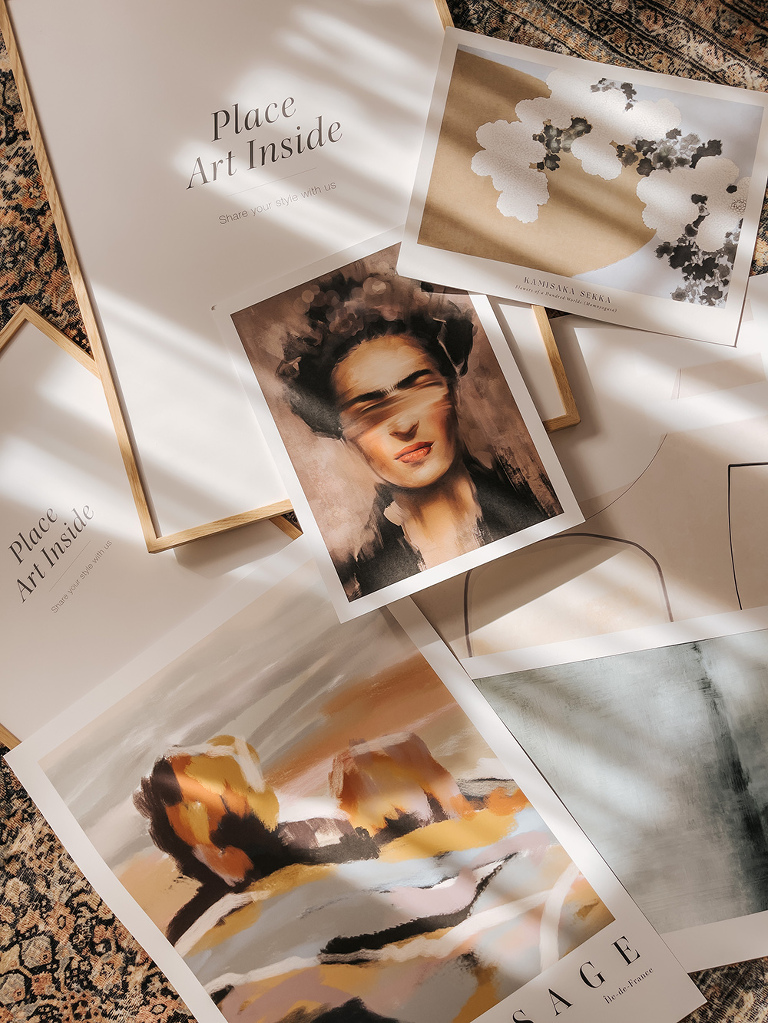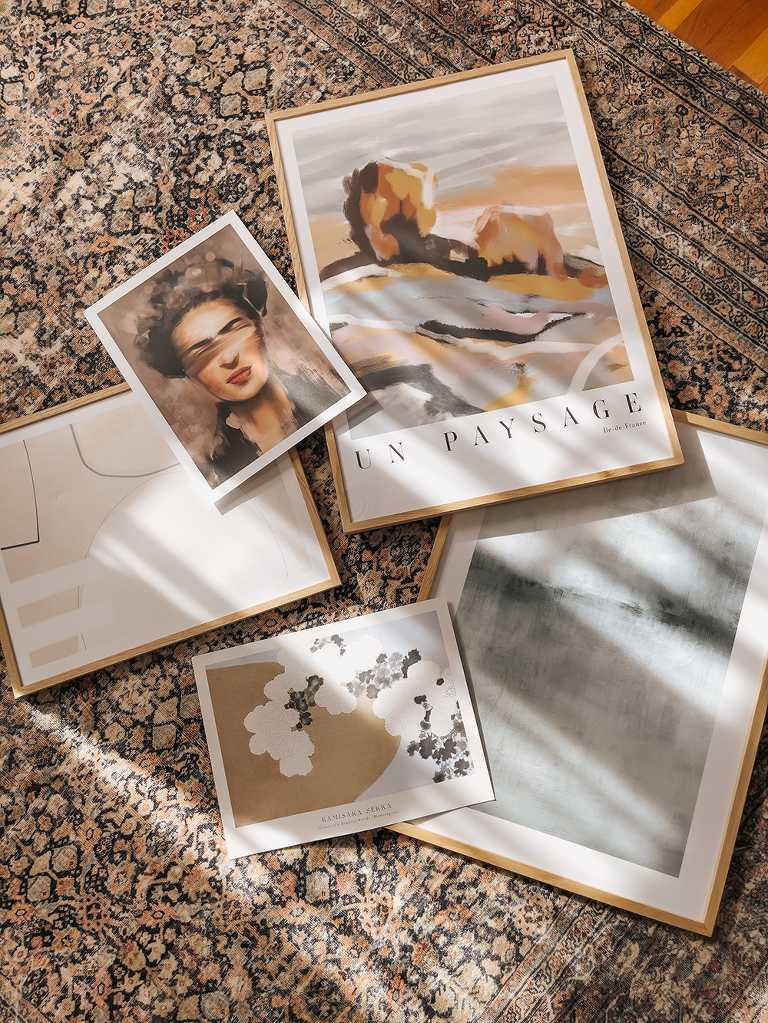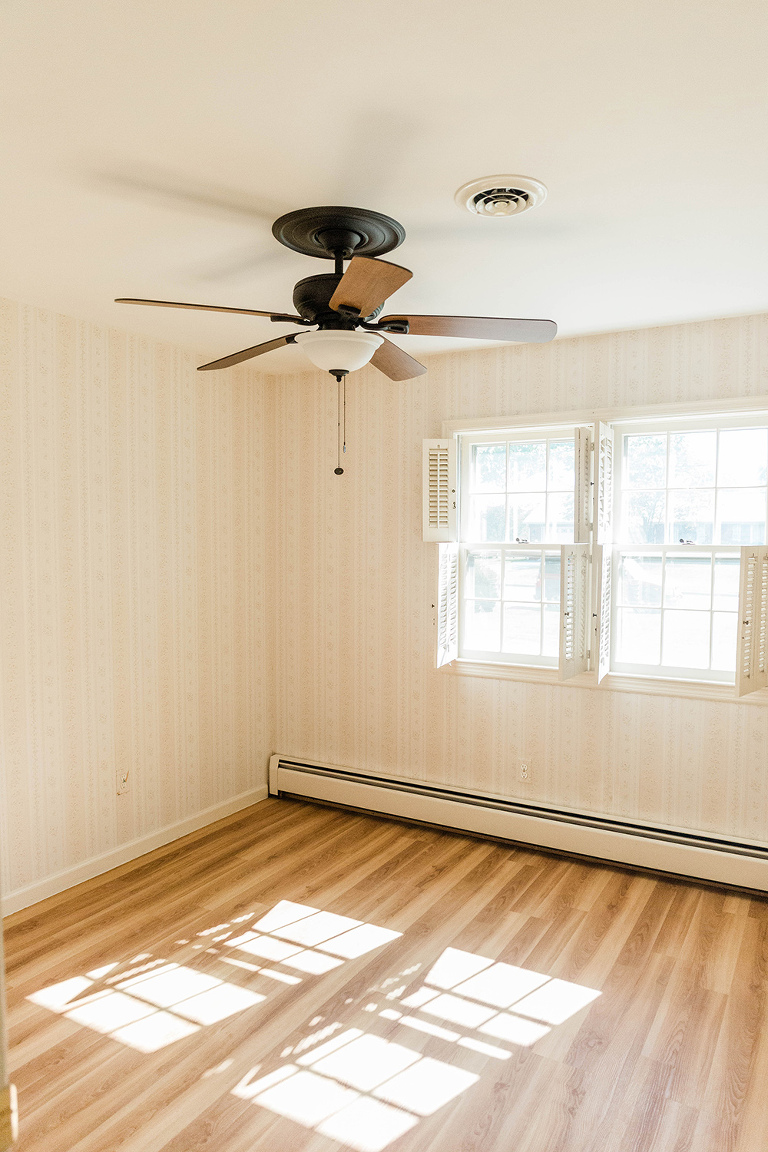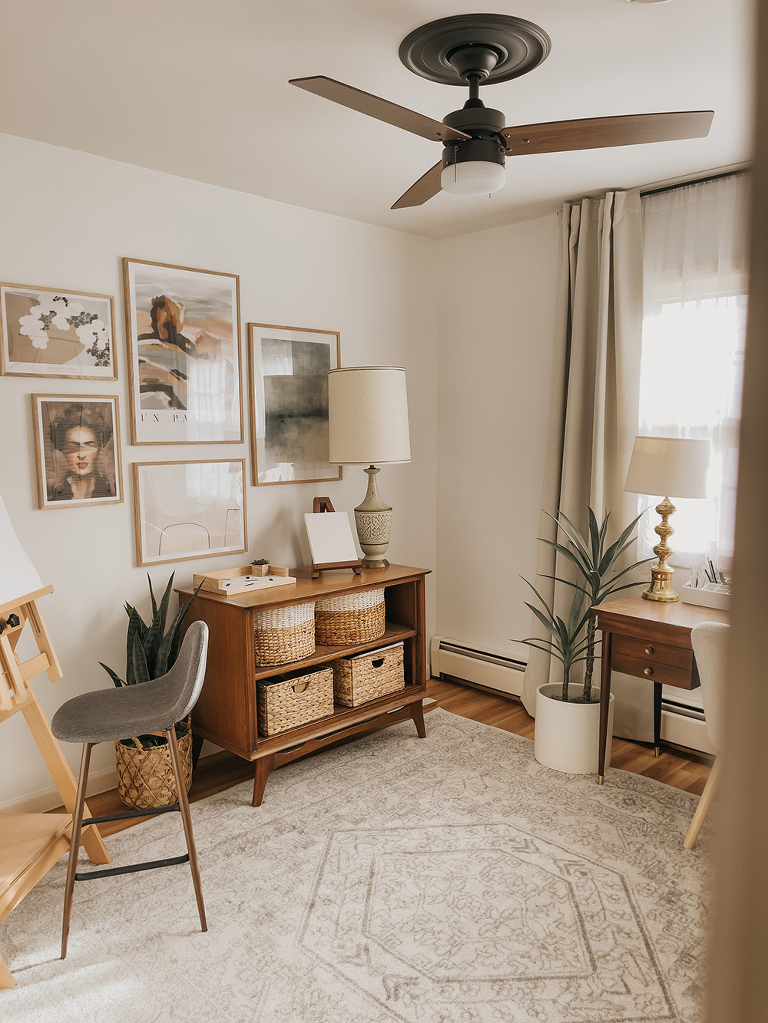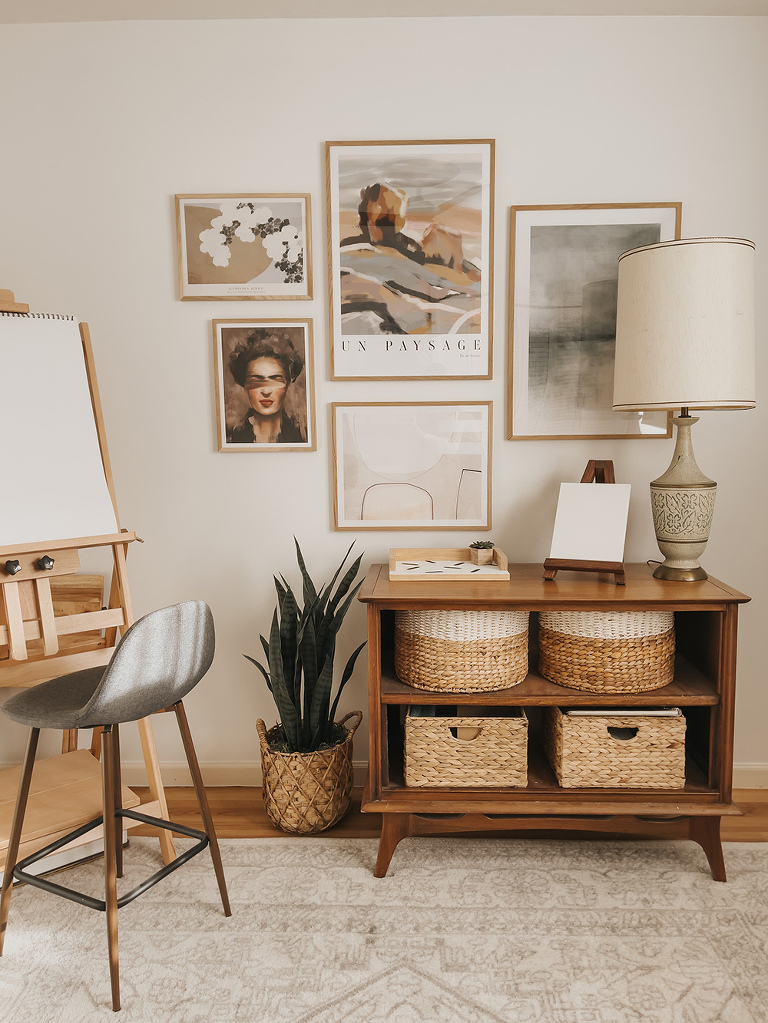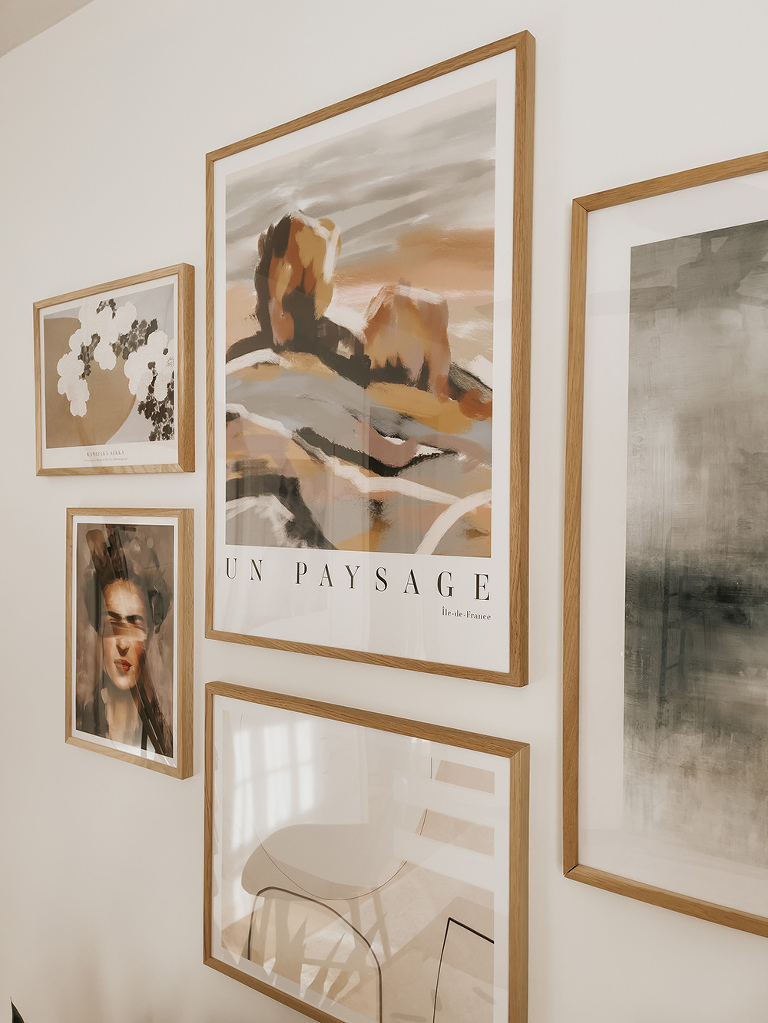 Before, as you'll see in the empty room photo several images above, my art studio was covered in a horribly dated wallpaper, and the windows were hidden by old wooden shutters. One of the very first things I did after moving in was take down the shutters, and then my sister, her boyfriend, and I worked on getting rid of the old wallpaper. It took weeks, but we finally got it all down, and I painted the room my favorite shade of bright white over Christmas break.
After that, it was just a matter of bringing in my own creative flair. I situated my art easel in one corner, layered in a couple of vintage pieces, like the antique storage shelf and desk, and I also added a bookshelf to hold inspiring miniature art pieces and my most-used art supplies. Floor-to-ceiling drapes on either side of the window made the tiny room feel much larger, and sheer curtains in between help diffuse the bounty of natural light that this room gets in the afternoon. Once the essentials were all in place, it was time to add wall art.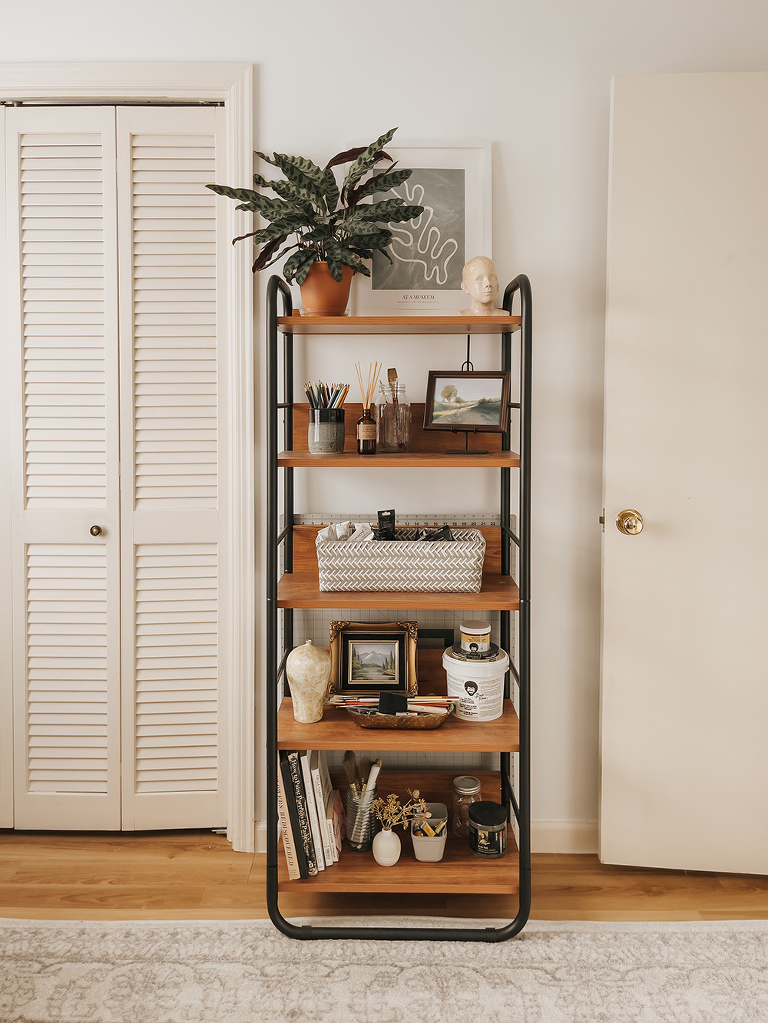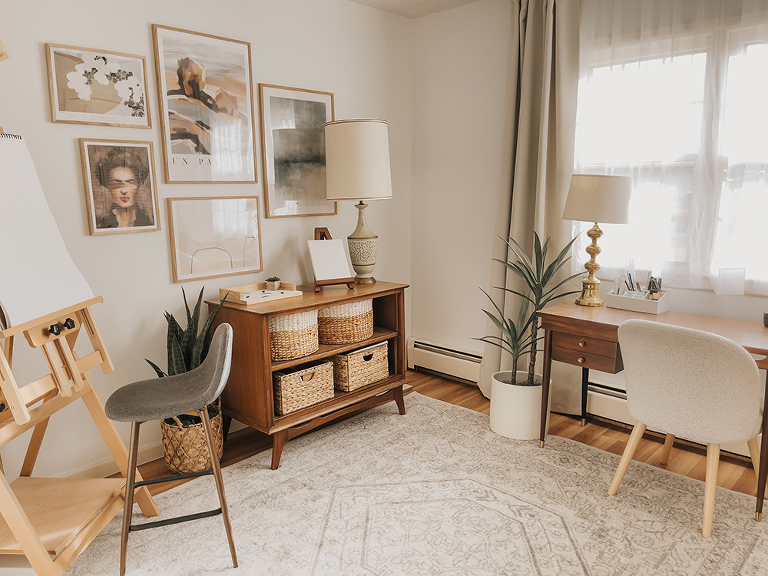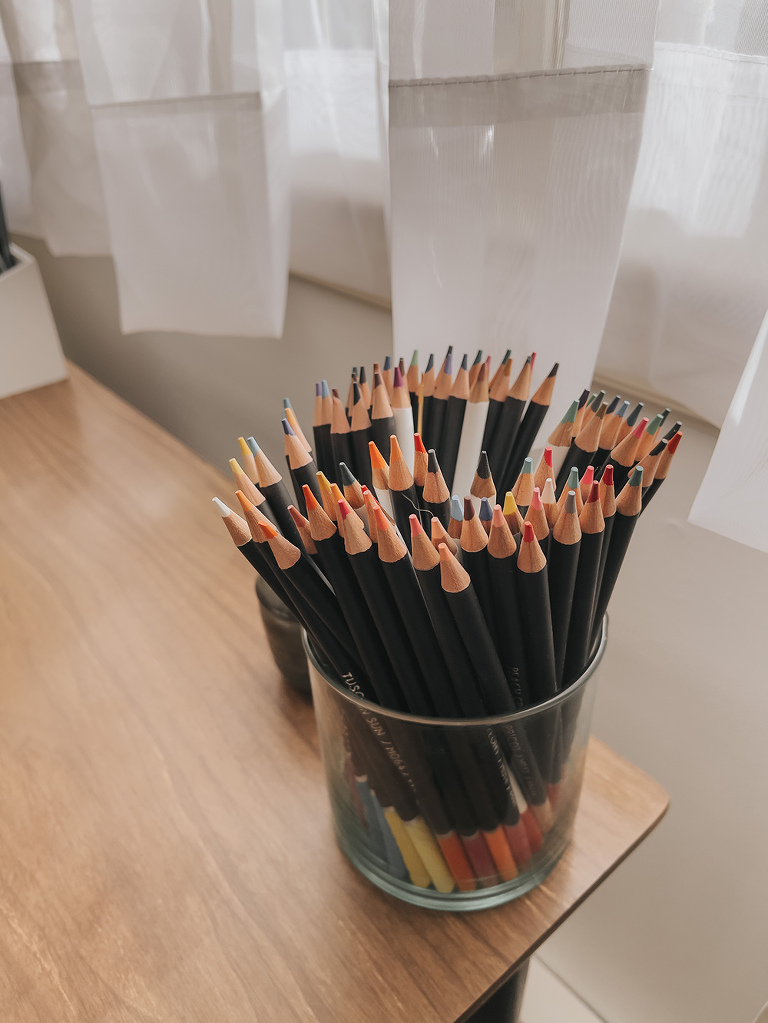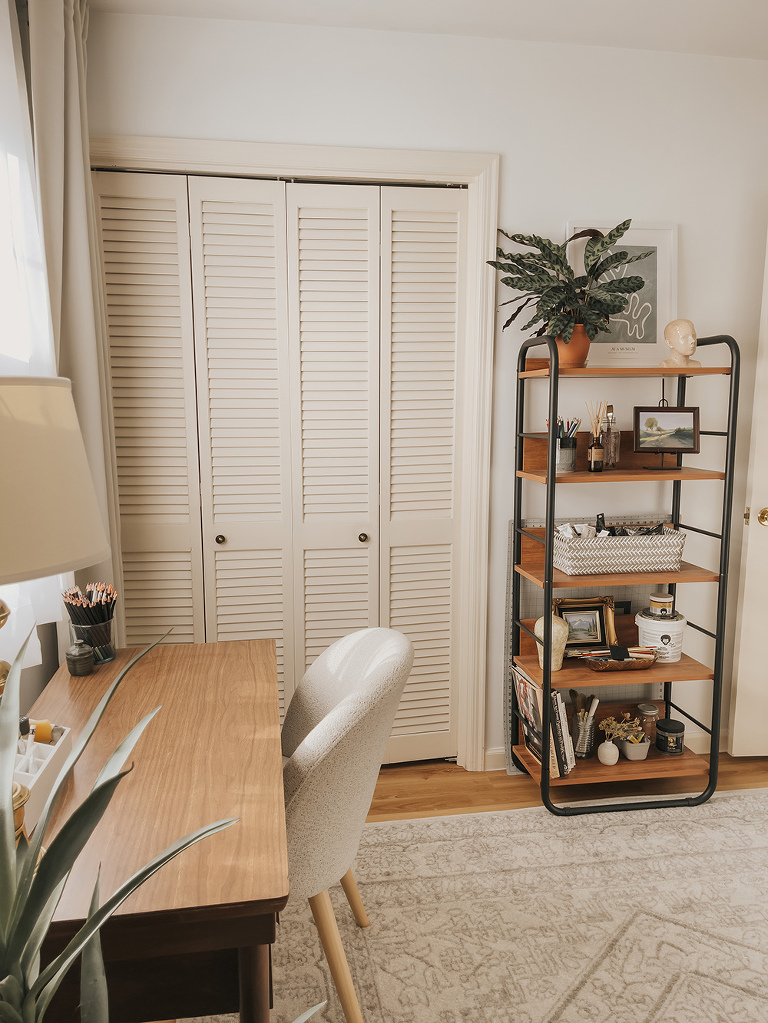 For my main gallery on the largest blank wall in the room, I chose a collection of colorful coordinating framed posters. One of my favorite categories to peruse on the Desenio website is their vintage-style posters, so that's where I started my search.
For my space, I ultimately chose Abstract Scenery Green No2 in 19¾ x 27½ inches, Beige Balance in 15¾ x 19⅝ inches, French Landscape No2 in 19¾ x 27½ inches, Kahlo in Beige in 11¾ x 15¾ inches, and Kamisaka Sekka – Flowers of a Hundred Worlds (Momoyogusa) in 11¾ x 15¾ inches, all displayed in Oak picture frames. You might have also noticed my framed version of Desenio's Mint Pastel Poster sitting on top of my shelving unit. That was from a past collaboration with the brand, and remains a true favorite!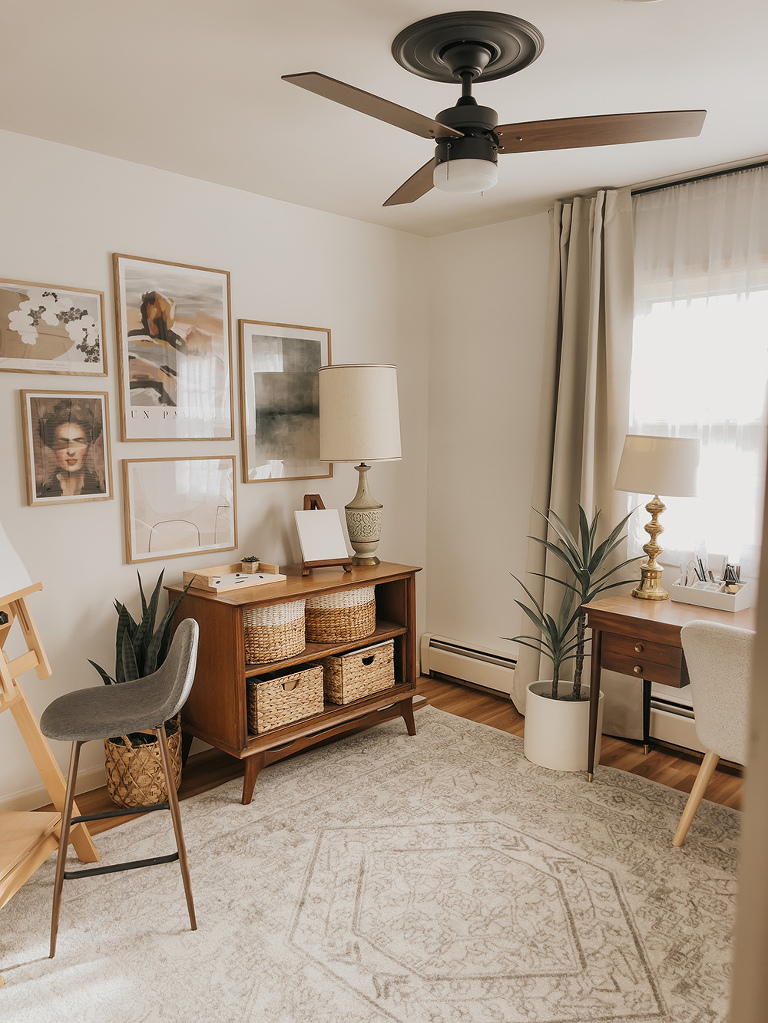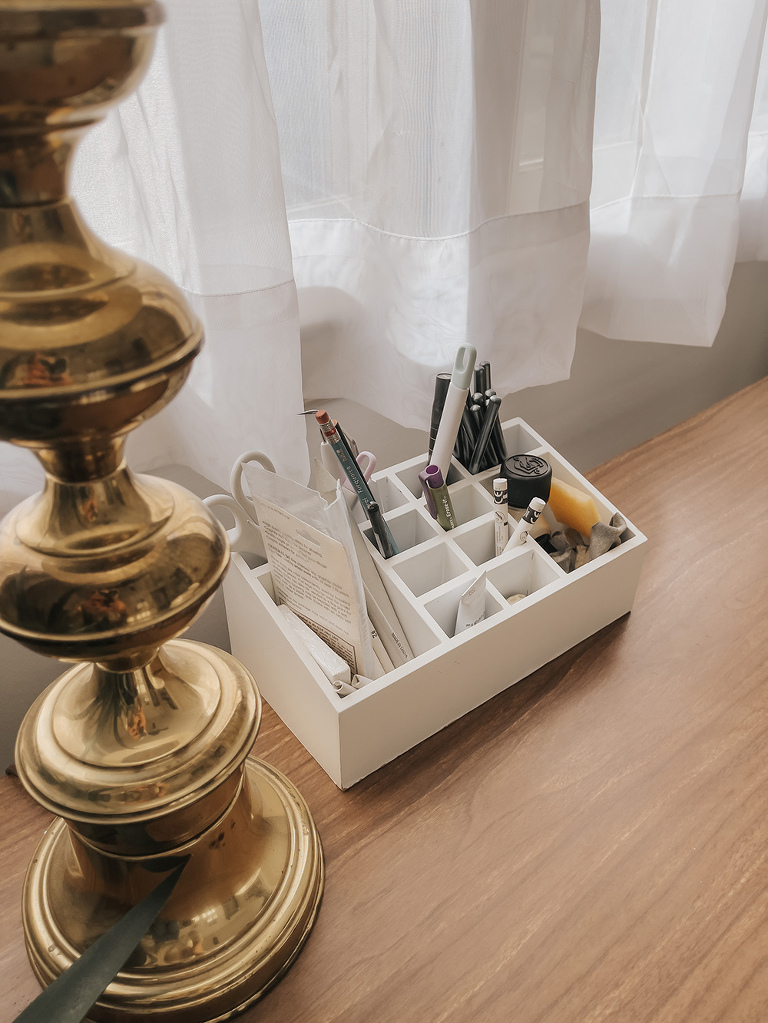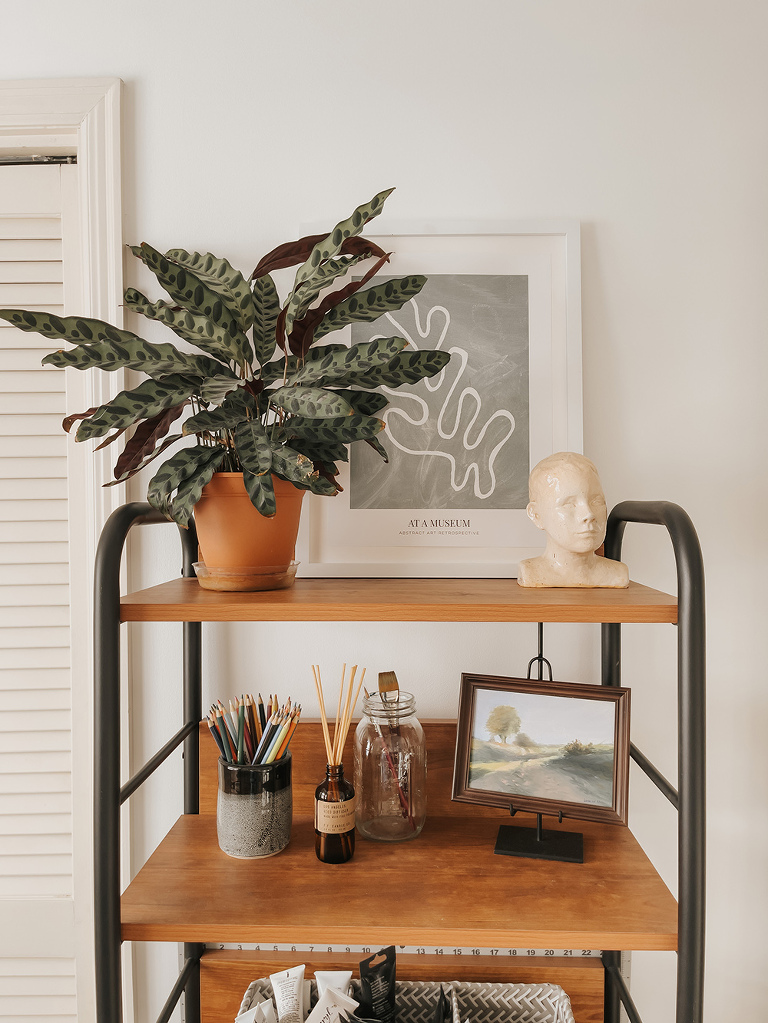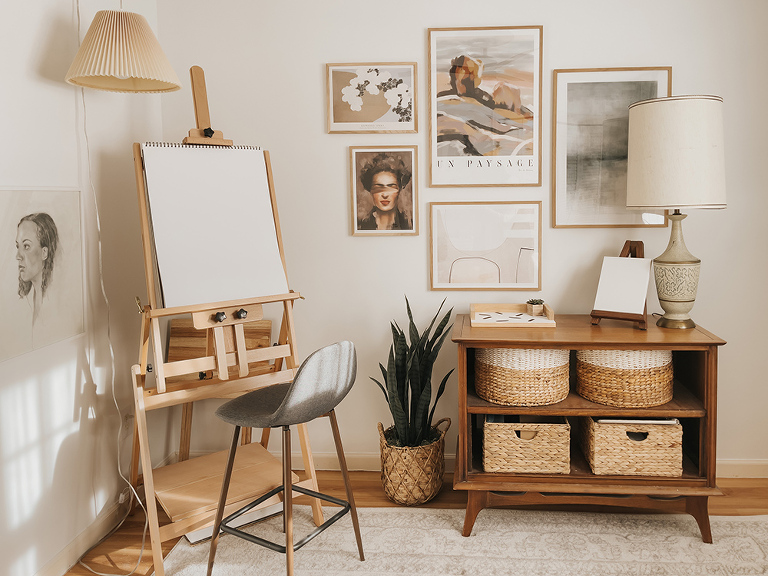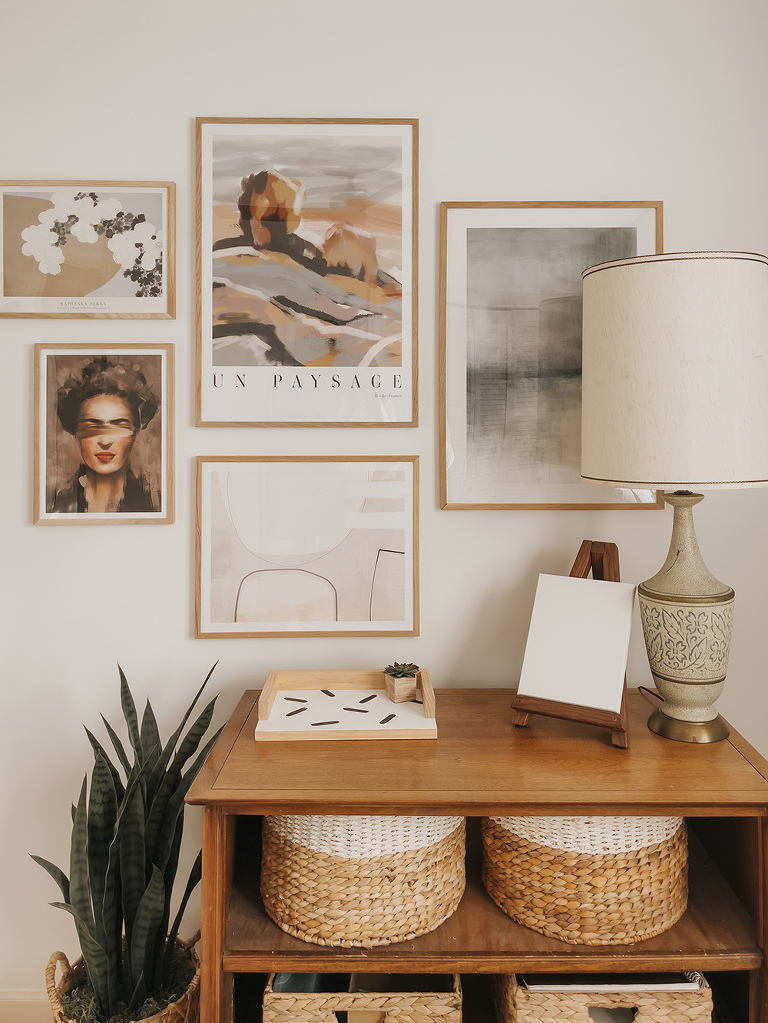 Every single time I walk past this light-filled, colorful room I smile and feel inspired. I haven't had much time to put the space to work yet, what with juggling three million and one house renovation projects, but I'm hoping things settle down soon so I can focus on making new art.
I dream of filling the walls of our new home with my own original art, and know that my Desenio gallery wall is the perfect jumping-off point for getting me there. Sometimes you need to see beautiful finished art to know that you can do it yourself, you know what I mean? Feel free to hold me to that! In the meantime, peruse the Desenio art collection this way, and comment letting me know which of the pieces are your favorites.