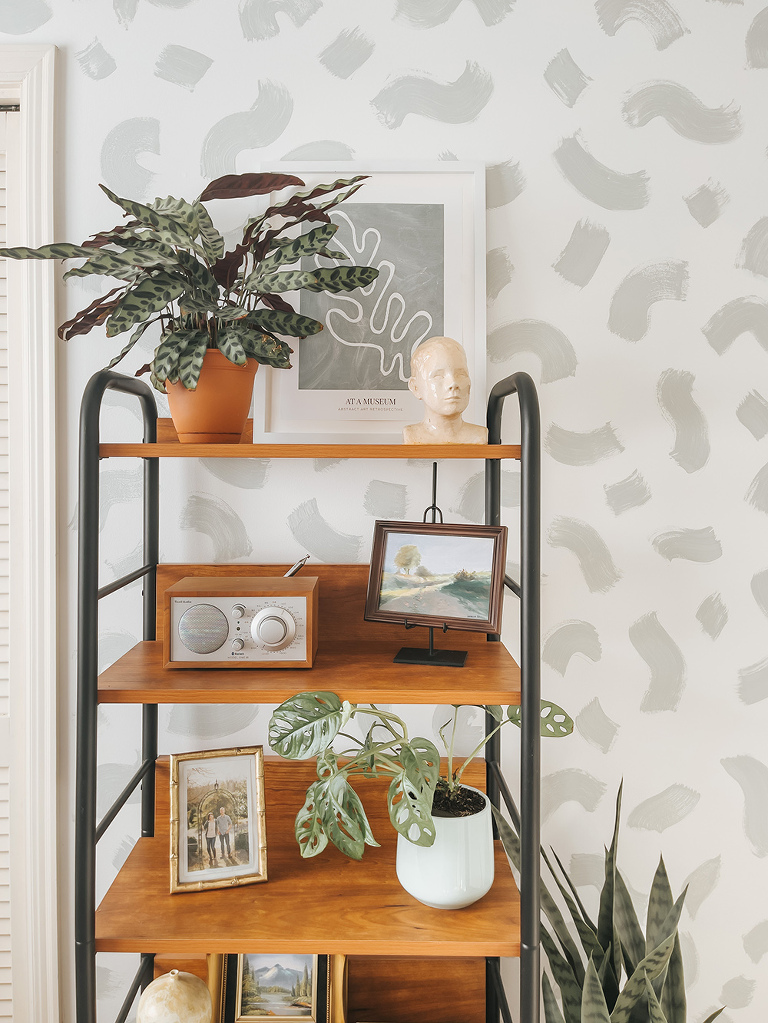 There are "easy" DIY projects, and then there are "easy!" DIY projects. This DIY Faux Painted Wallpaper Feature Wall definitely falls into the latter camp. I'm going to write up a thorough tutorial below, but all you really have to do is slap paint on the wall. It truly is that straight-forward and gives you a surprisingly high impact result. Keep scrolling for all of the details, including the exact brush I use (because it's key!) and the paint colors I worked with, too.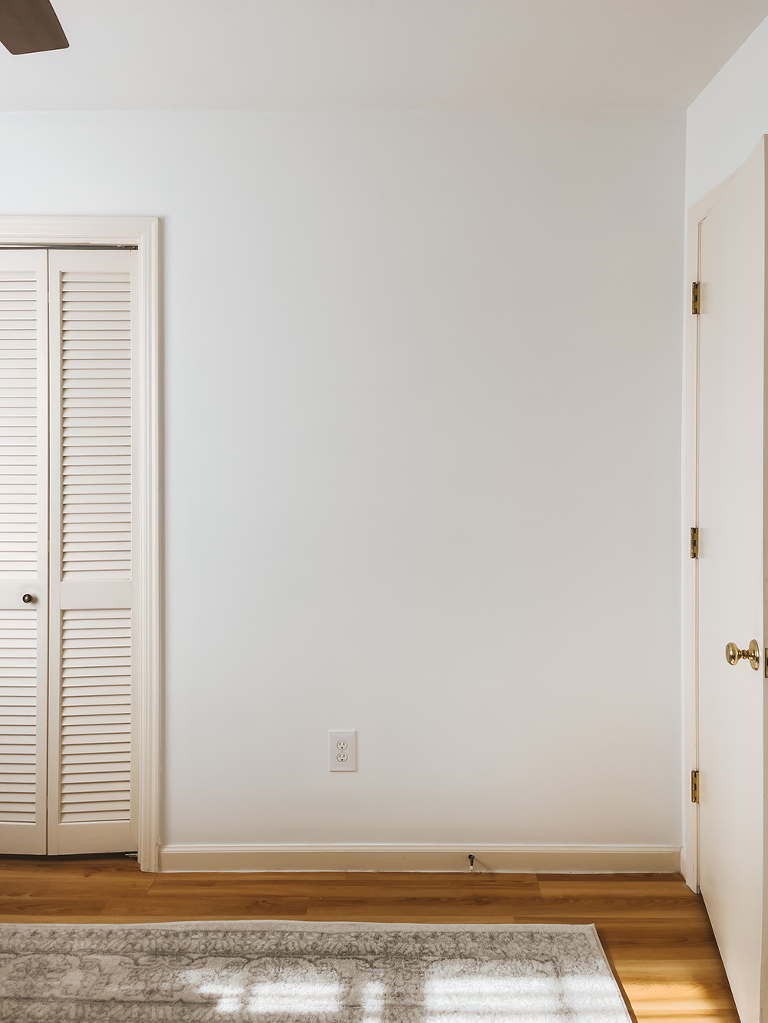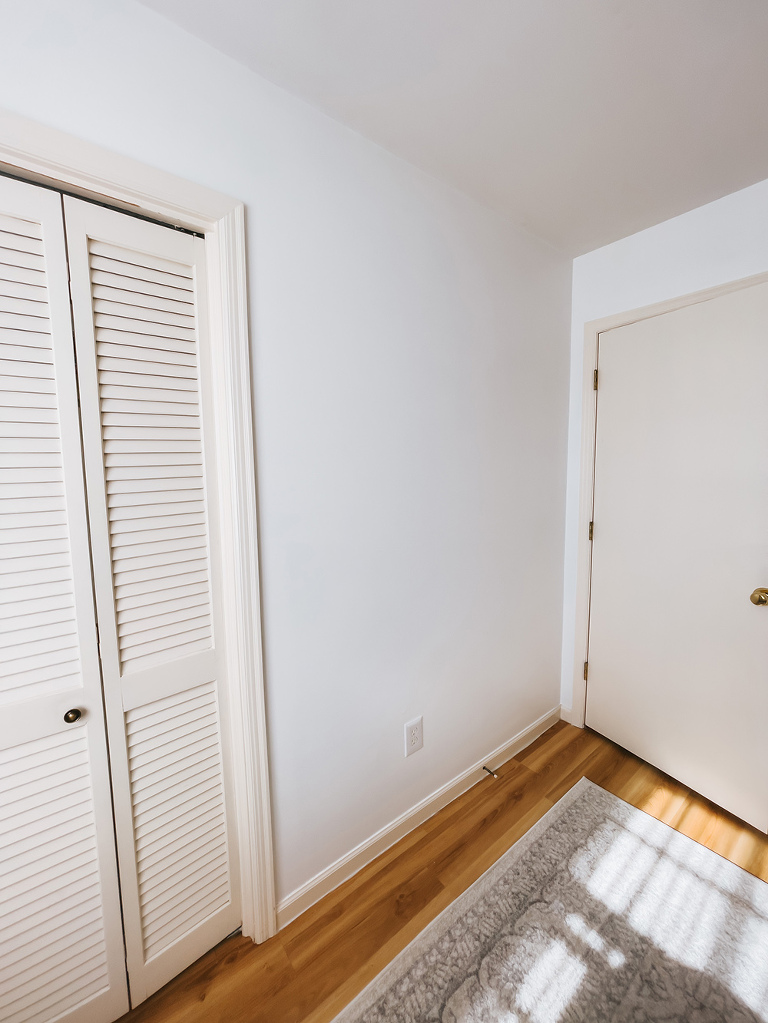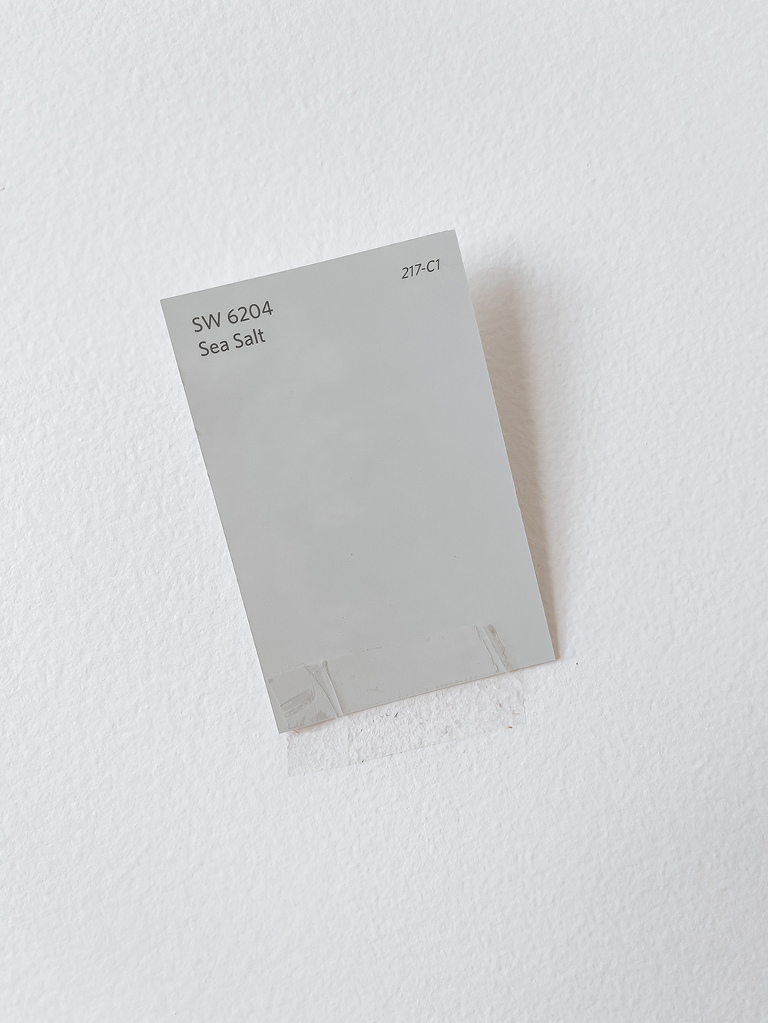 I chose my newly completed home art studio for this project because the walls had just recently been painted a plain bright white ("Extra White" by Sherwin-Williams). This white wall color looks pretty close to pure in person, with no blue or yellow undertones. The clean white backdrop meant that I had the perfect foundation for my faux painted wallpaper pattern.
Essentially, my goal here was to add some much-needed interest to this one wall in my art studio without having to purchase pricey wallpaper. You know I love a good wallpaper moment, but it can definitely eat into your budget. The irregular squiggly arches and dashes pattern that I had in mind for this feature wall was so simple that it would have, honestly, been a little silly to waste lots of money on a wallpaper version when I could just paint it on myself. Doing it this way also allowed me to customize the color to exactly the one I wanted—namely, one I had in my paint stash already so it was free.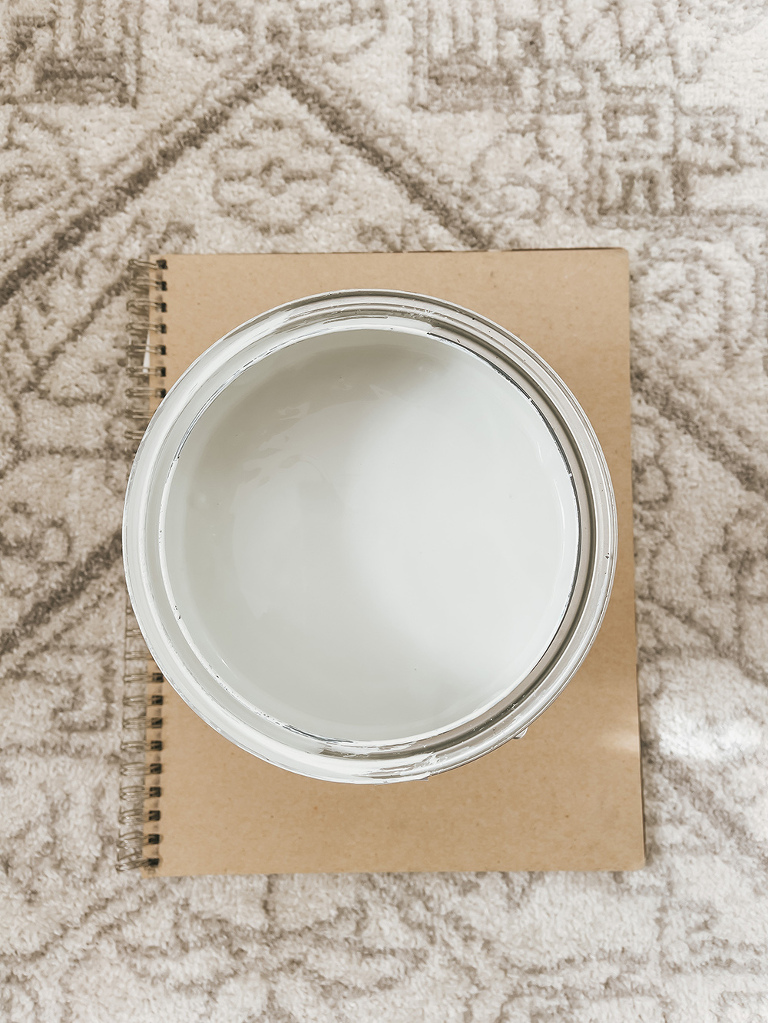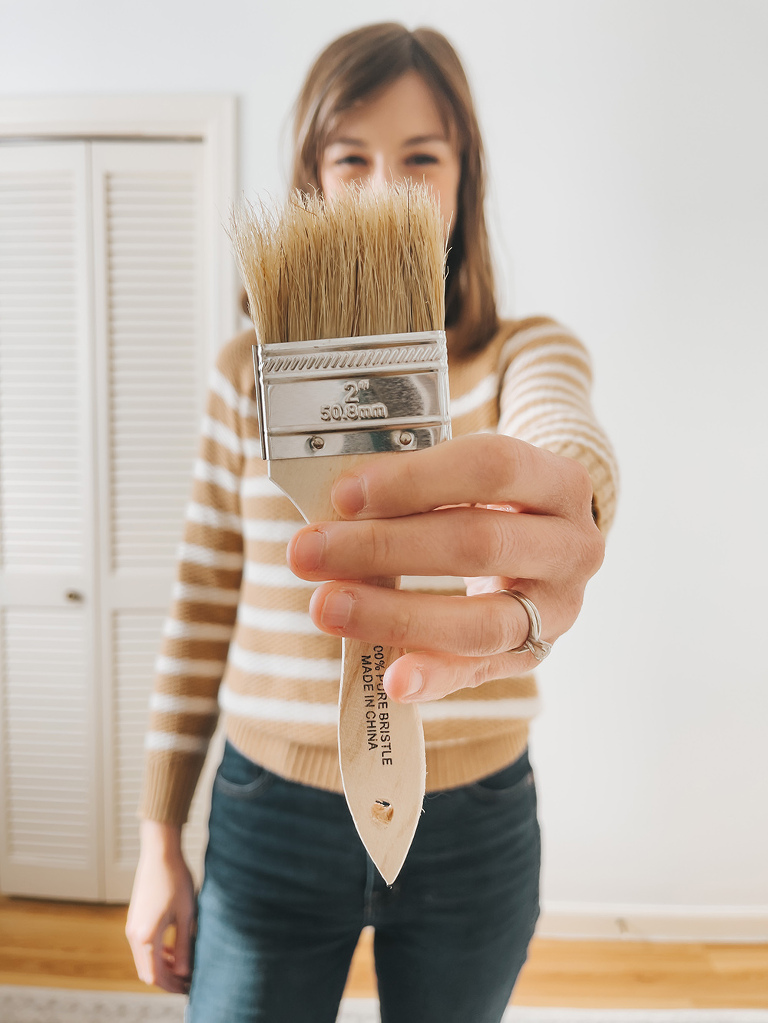 As I already mentioned, the specific brush you use is absolutely key. My vision for these random dashes and squiggles included being able to see the brush strokes along the edges and ends of the shapes. I wanted you to be able to actually see the action of the pattern on the wall as though it had just been painted. I thought it would be super cool if the wall looked almost alive with haphazard visible swoosh marks.
To get that effect, I actually couldn't use a nice expensive paint brush. Instead, I needed just about the cheapest one you can possibly find at the hardware store. You can see the one I pulled from my stash of painting supplies in the photo above. This 2-inch 100% pure bristle brush usually costs just a few dollars, and is, generally, meant to be disposable. The rough hairs go in almost every direction and are never the same length. This is exactly the type of brush you want because it will create the right sketchy paint stroke look.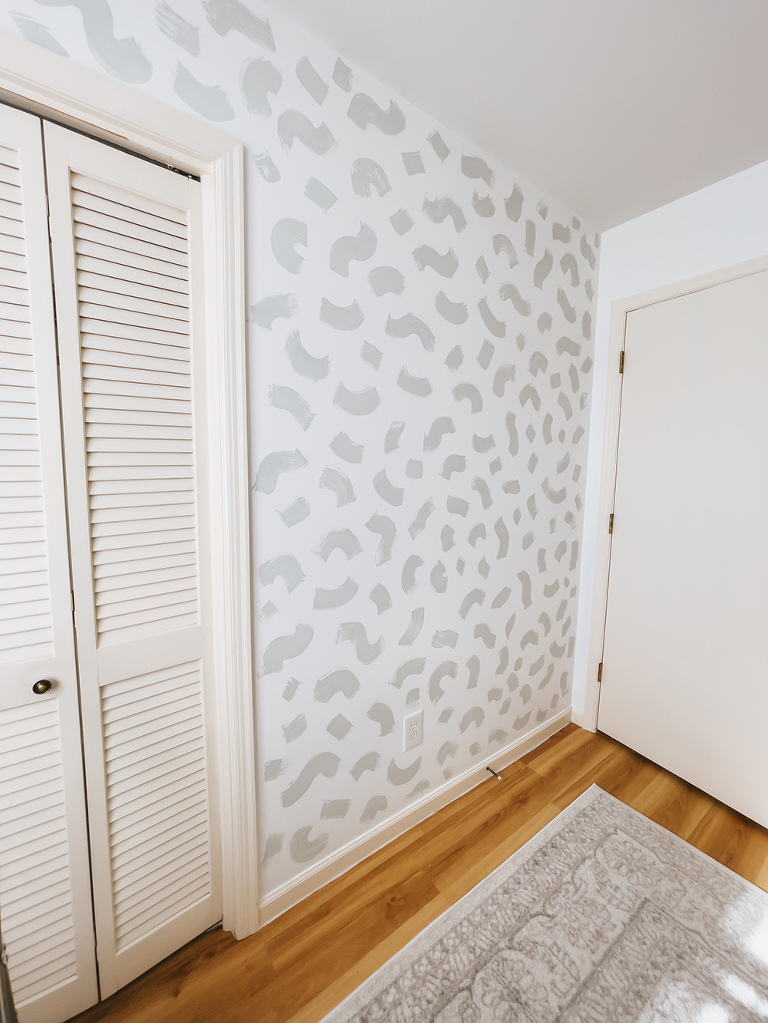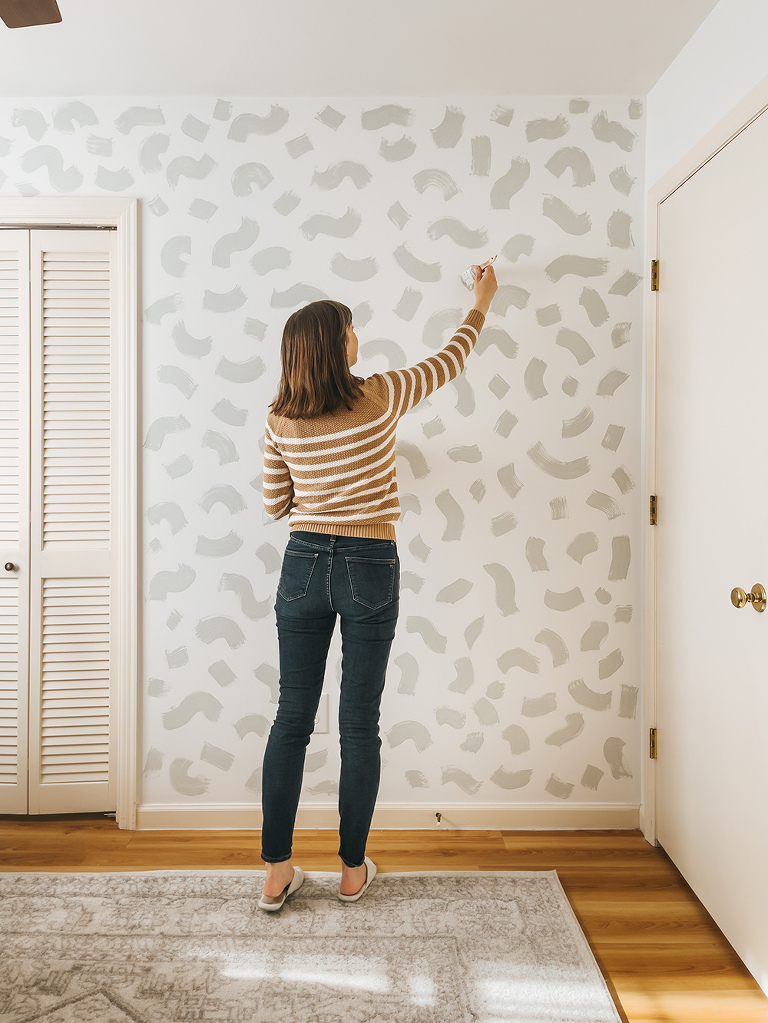 After mixing your contrasting paint for the pattern (I used "Sea Salt" from Sherwin-Williams, by the way), you simply dip your brush in and start slapping paint on the walls. You don't need a lot of paint on your brush for this type of pattern. Dip your bristles just about 3/4-inch into the paint. The very best way to approach this project is to not overthink it. Try to keep your marks generally the same distance from each other (I stuck to about 3-4 inches of white space between each mark), and vary your shapes, but other than that, you just need to go for it.
Go fast! Let instinct take over! Follow your gut when it comes to the shape you paint next, and step back often if you want to make sure you're on the right track. The overall feeling of this pattern is pretty busy and lively, so if you make a mistake, chances are good that it will get lost in the mix as a whole. I know it might sound a little intimidating, but you can do this.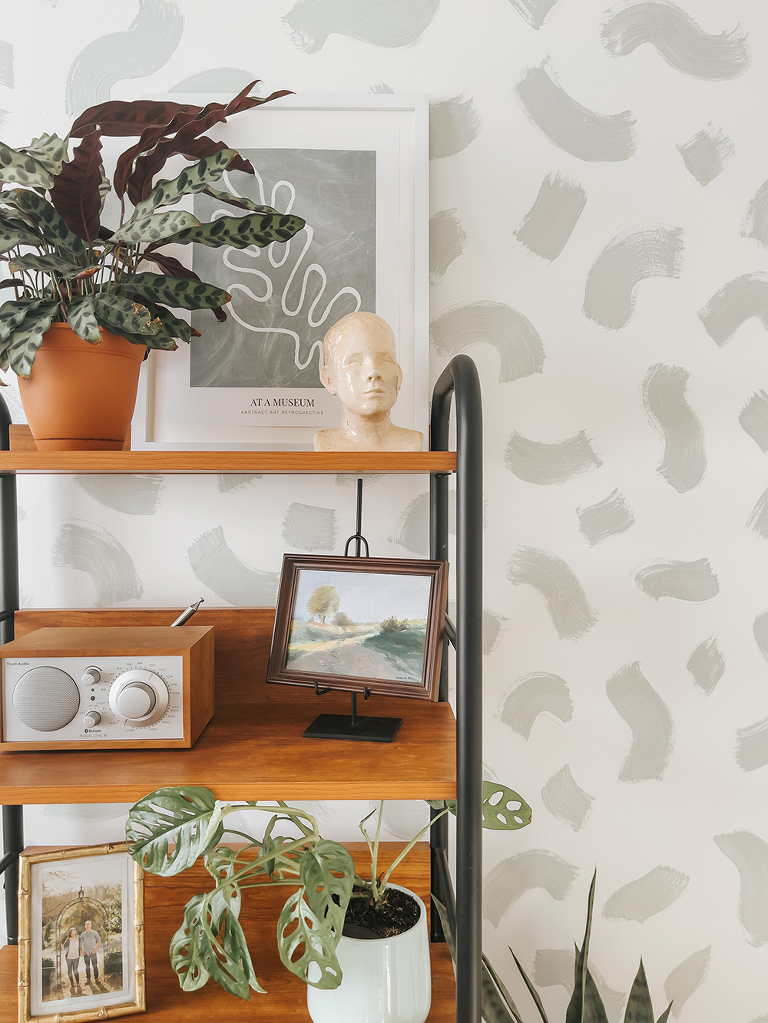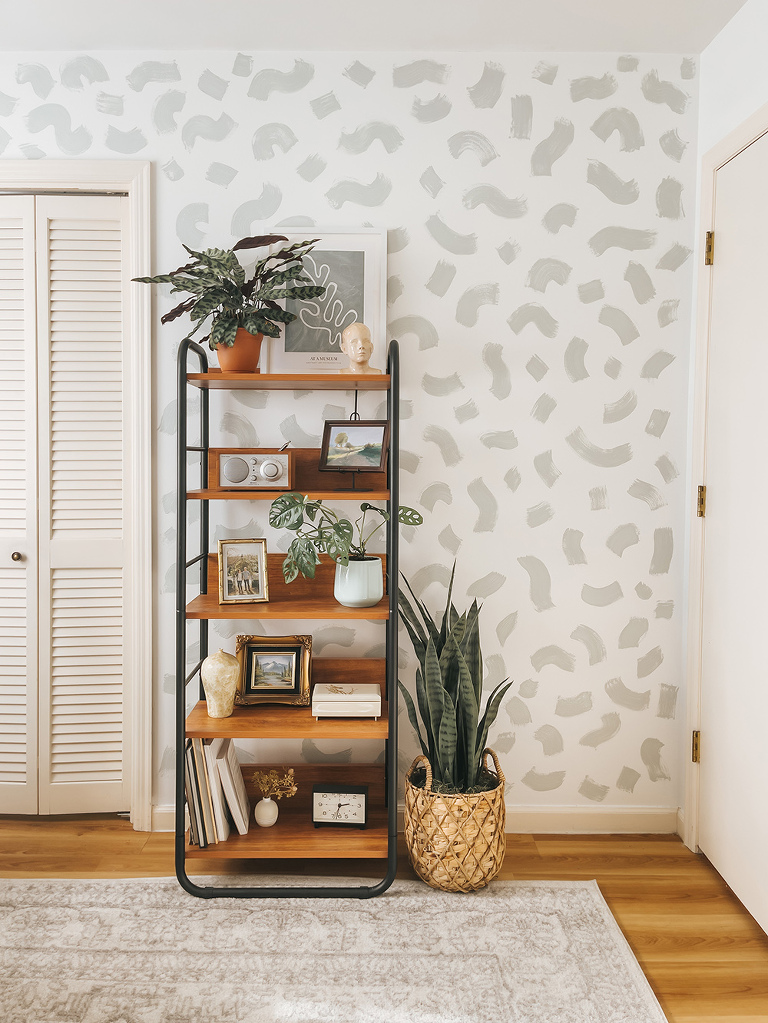 Here are a couple more tips. I didn't get too fussy with the pattern where it met the edges of the wall. I just went as close as I could without touching the trim. I stepped back a few times, but I also periodically just glanced around at the closest 3×3-foot section to make sure I was keeping the pattern fairly consistent and loose. Another helpful tip is to just do one coat of the paint (that's what I did) to give the finished pattern more of a happenstance type of feeling. I did this in my slippers one bright sunny morning, and managed to get it completely finished in 11 minutes and 35 seconds (I know this because I filmed the tutorial for Hunker—coming soon!).
Would you try this project in your own home? I love it so much more than I thought I would, and might just have to continue the pattern over onto the other three walls.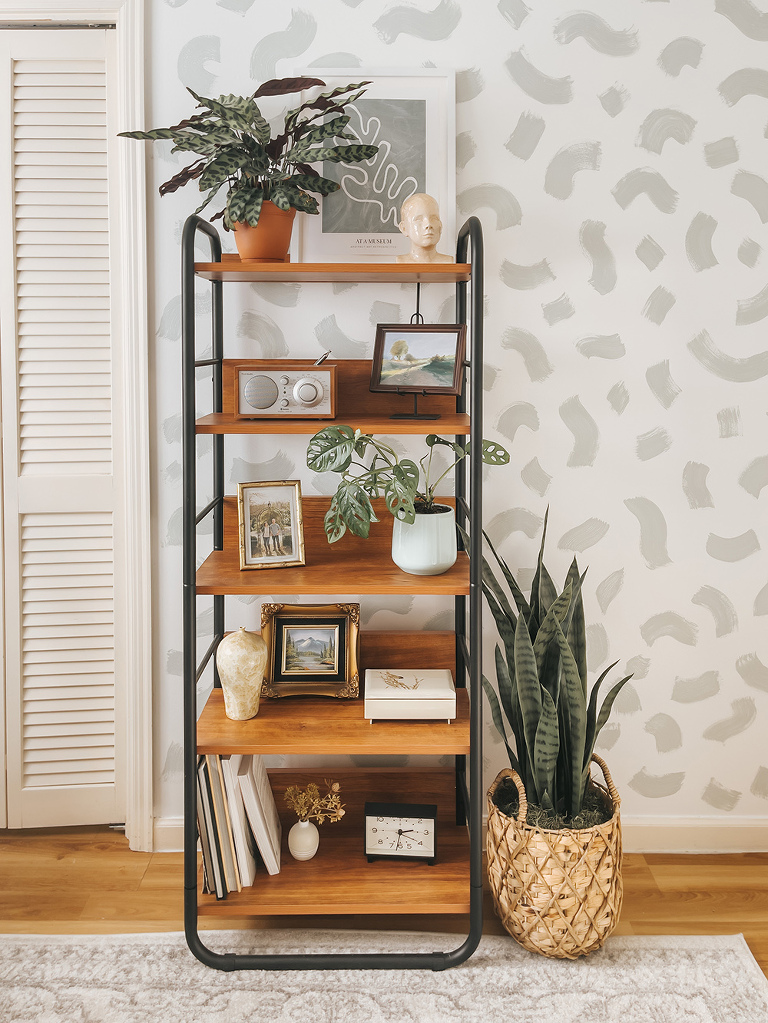 *I earn a small percentage from purchases made using the affiliate links above. Affiliate links are not sponsored. Rest assured that I never recommend products we wouldn't use or don't already love ourselves.