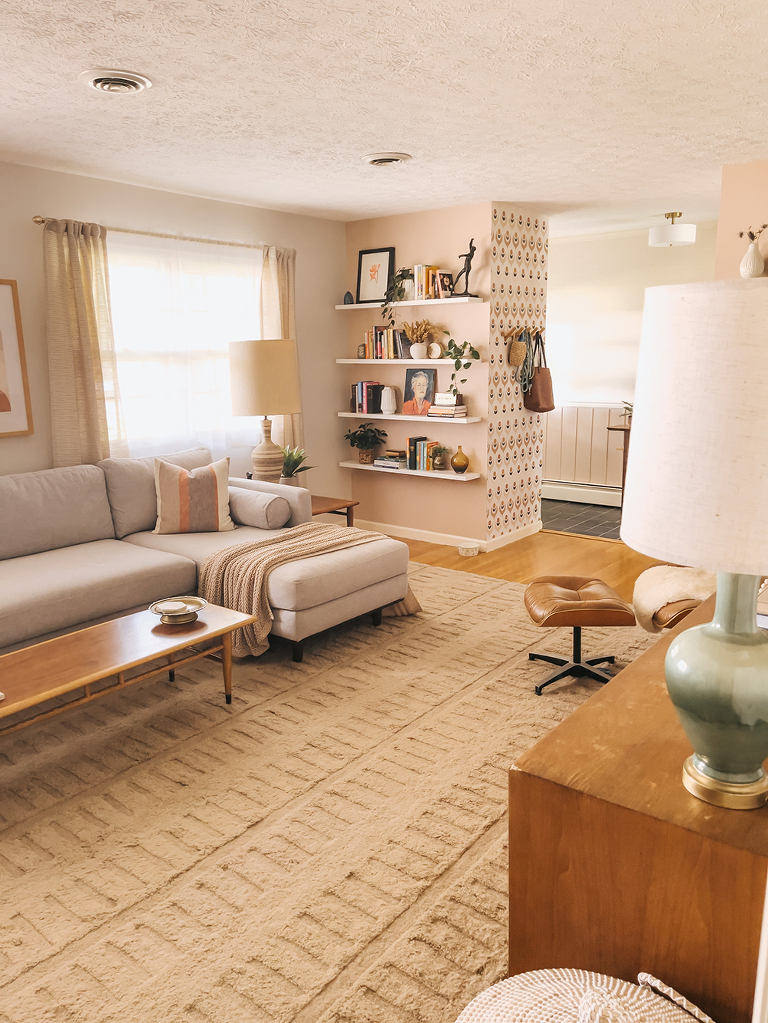 Our home is a pretty typical ranch-style single story house. The bedrooms are off to one side, the kitchen is in the center, all rooms are separated by walls (as opposed to open concept, which we're not very big fans of, so it's nice), and a formal front living room sits just off the entryway. One feature that always seemed to be missing, in my opinion, was a set of built-in shelves in that formal living room I mentioned. I feel like you almost always see a pair of identical cabinets and shelves in these 1960s ranch living rooms, right?
Well, our home didn't come with that detail, and I wanted to add it in, but without having to hire a professional cabinet maker (or having to DIY something that would take me weeks and cost hundreds of dollars, for that matter). Instead, I've spent the past few months trying to come up with something that fit our modern aesthetic and our meager home décor budget. The ultimate solution? Eight of these $30 floating shelves from Target.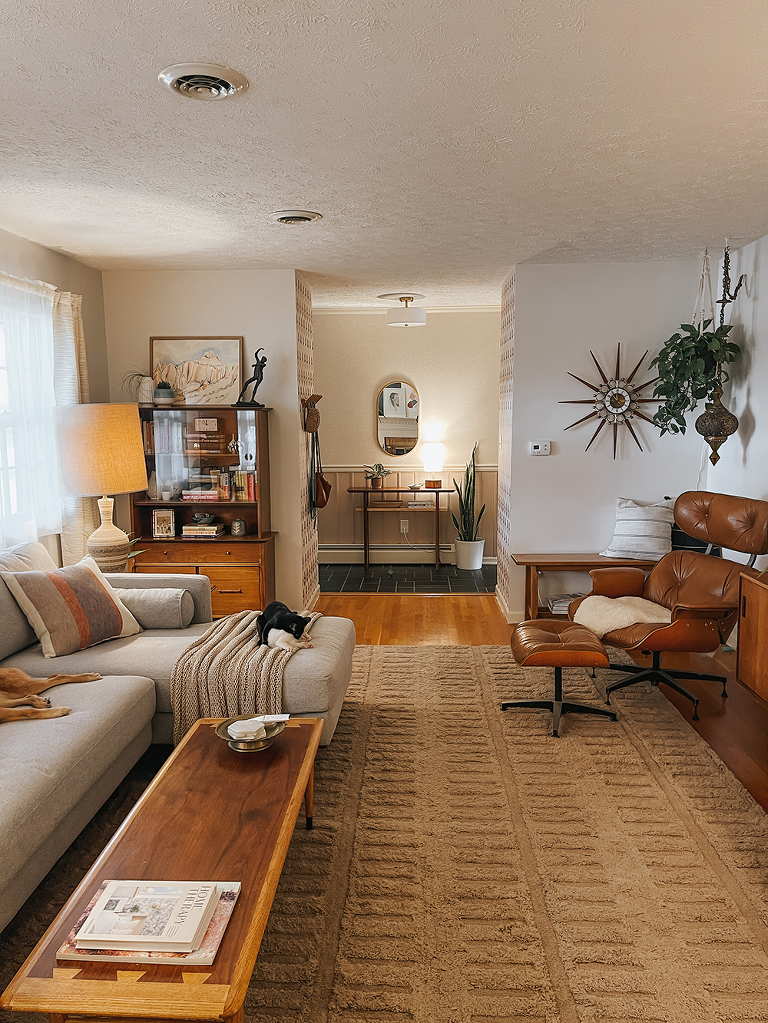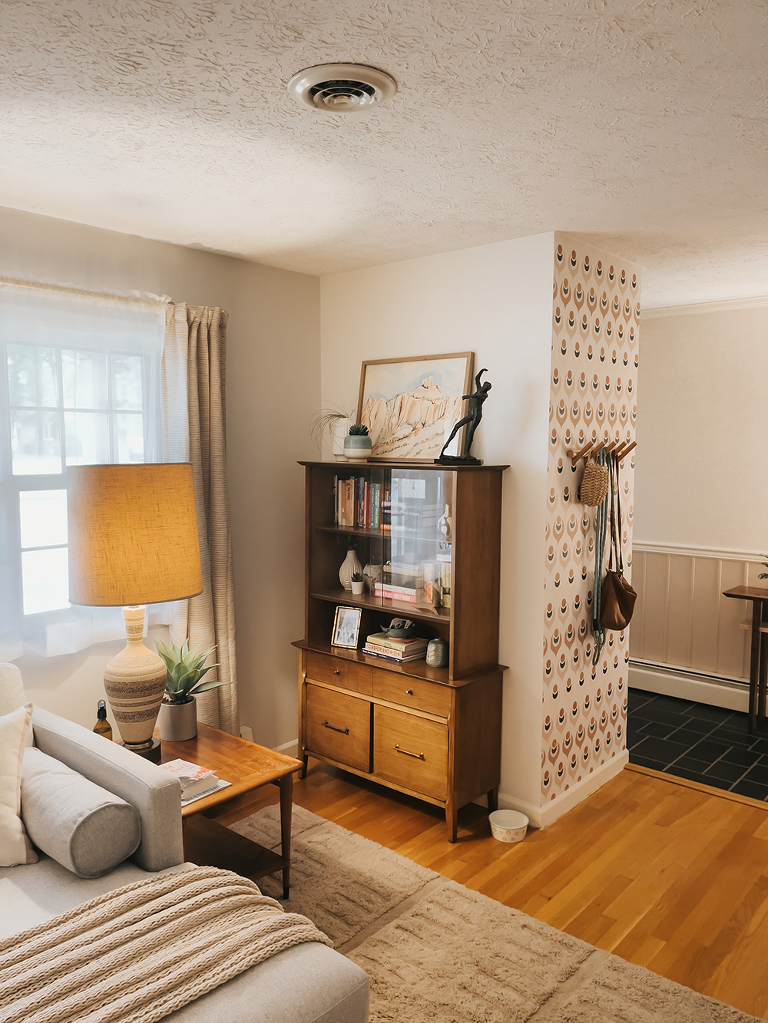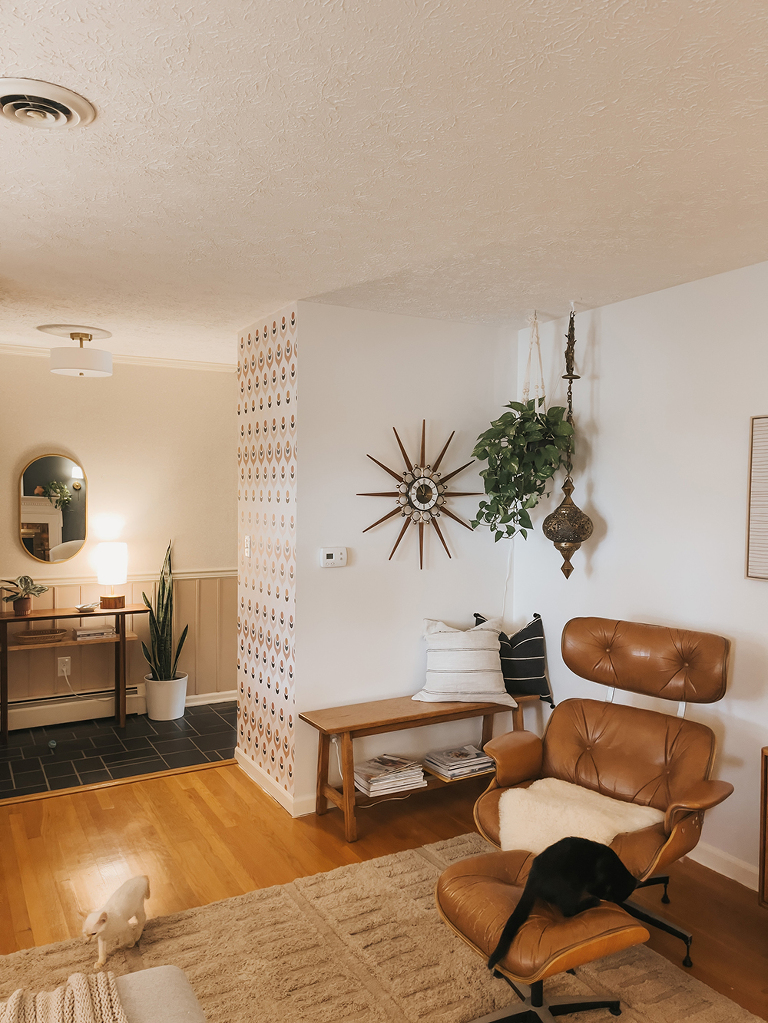 The pictures above show what I had done to decorate this spot in our living room up until this point. The two walls you see in our living room are the backsides of two front entry closets, by the way. To fill them out on the living room side in the interim, I situated a vintage mid-century hutch there that I had bought from an antique store last year, and the other side played host to one of my dad's handmade benches and a wall clock. It worked okay for the year leading up to this project, but I knew we could do better. The bench side wasn't serving much purpose at all, and the china hutch, while lovely, was just too small to hold and display all of my favorite collectibles and books (the hutch has since been moved to the kitchen, by the way).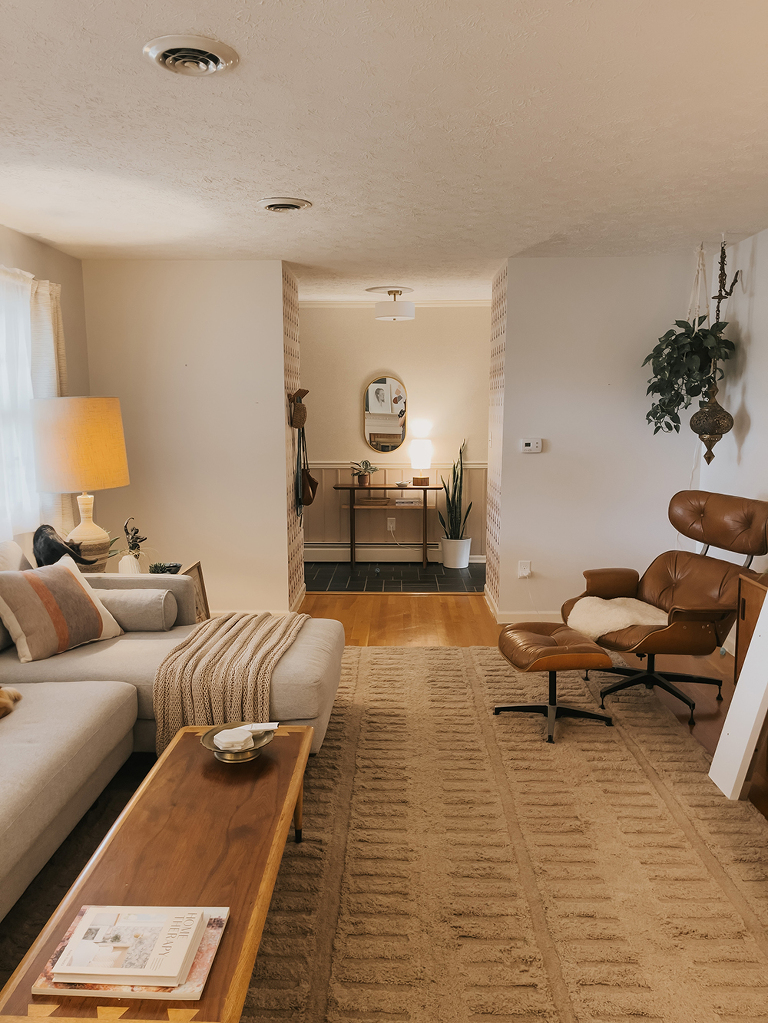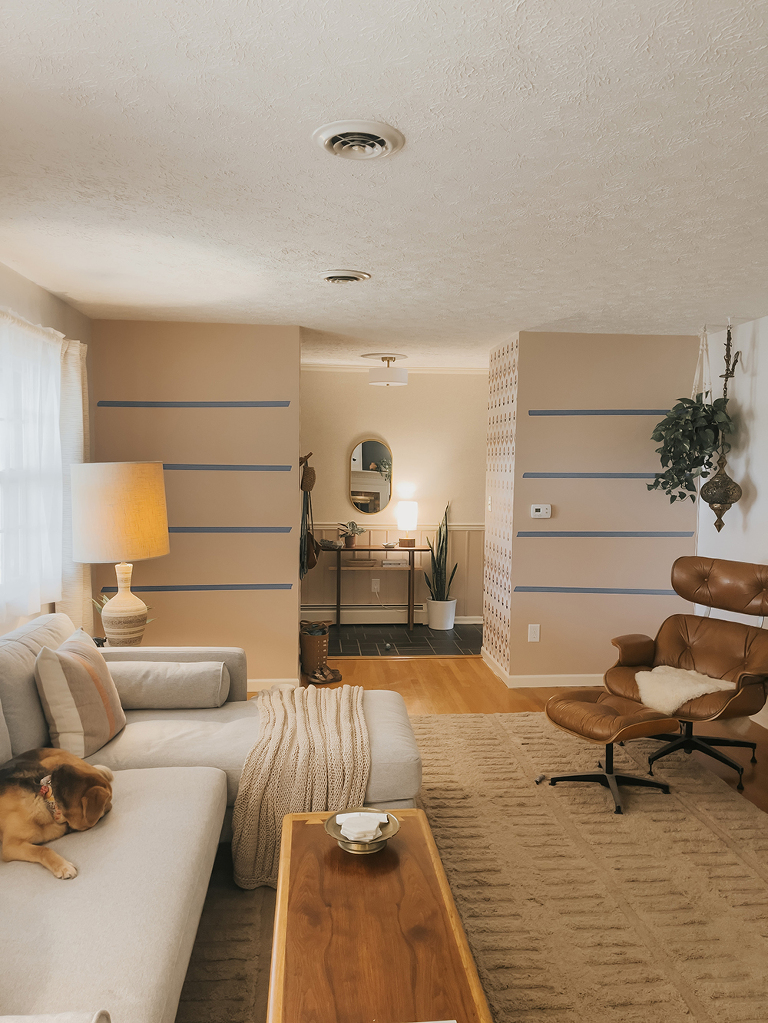 It took a while for me to come up with a solution, but I think it was when I happened to be looking back at photos of our old house, namely the living room. You can see it here in this final home tour that I posted last November. If you scroll down a little ways in that post, you'll see a photo of the vaulted ceiling in our living room and a small set of four floating shelves that I had hung on the side wall there. Those shelves were purchased online from Target, and worked really well for displaying our favorite treasures. I've since repurchased those same shelves countless times in other rooms because they're affordable and hold a surprising amount of weight. I never once noticed any sagging.
The light bulb went off as soon as I was reminded of those shelves again, and I realized that I could get the look of built-ins just by hanging multiples of the shelves. If I did four on either side, it would give me that symmetrical display square footage I was after, and it would cost just about $150. Sold.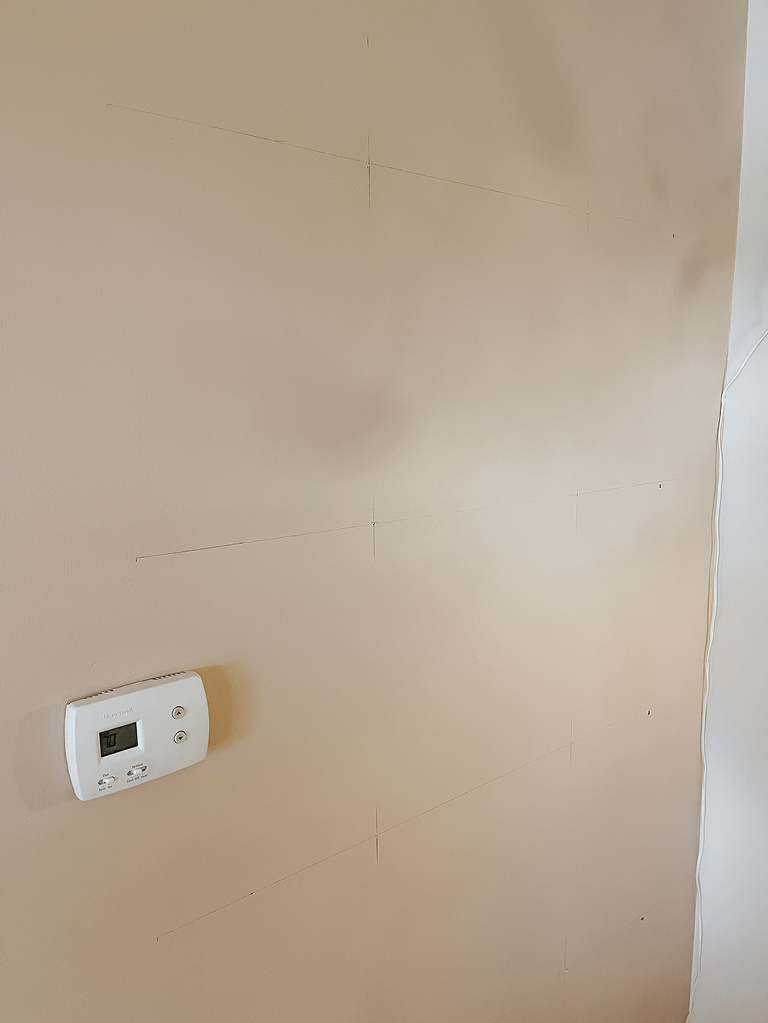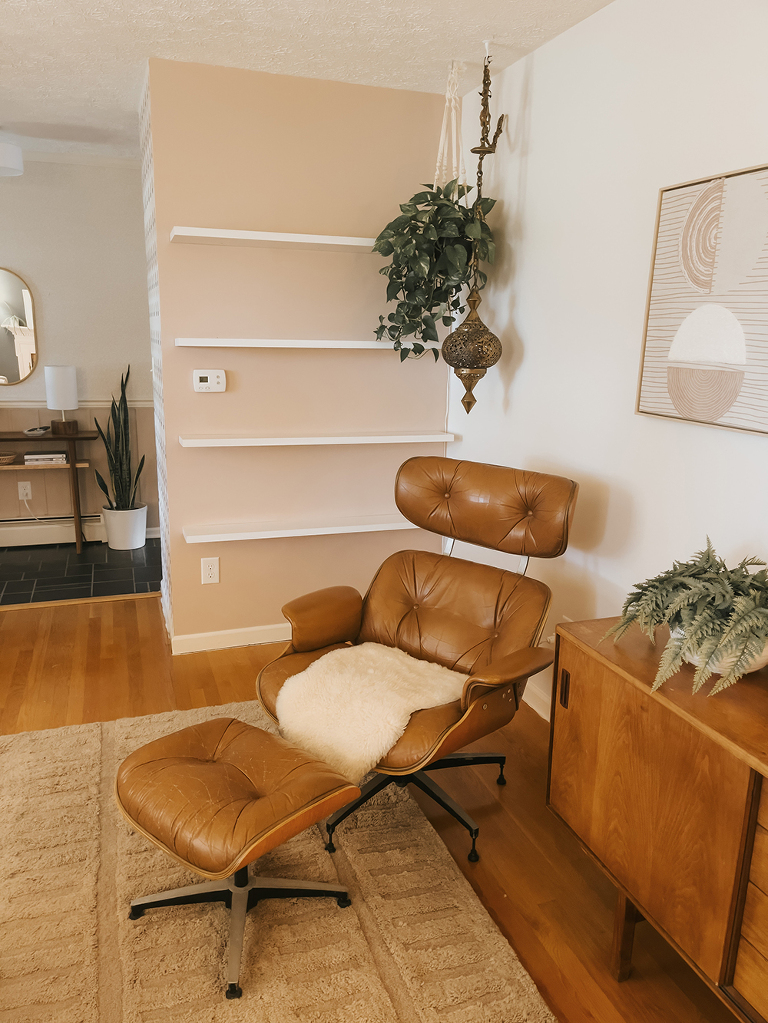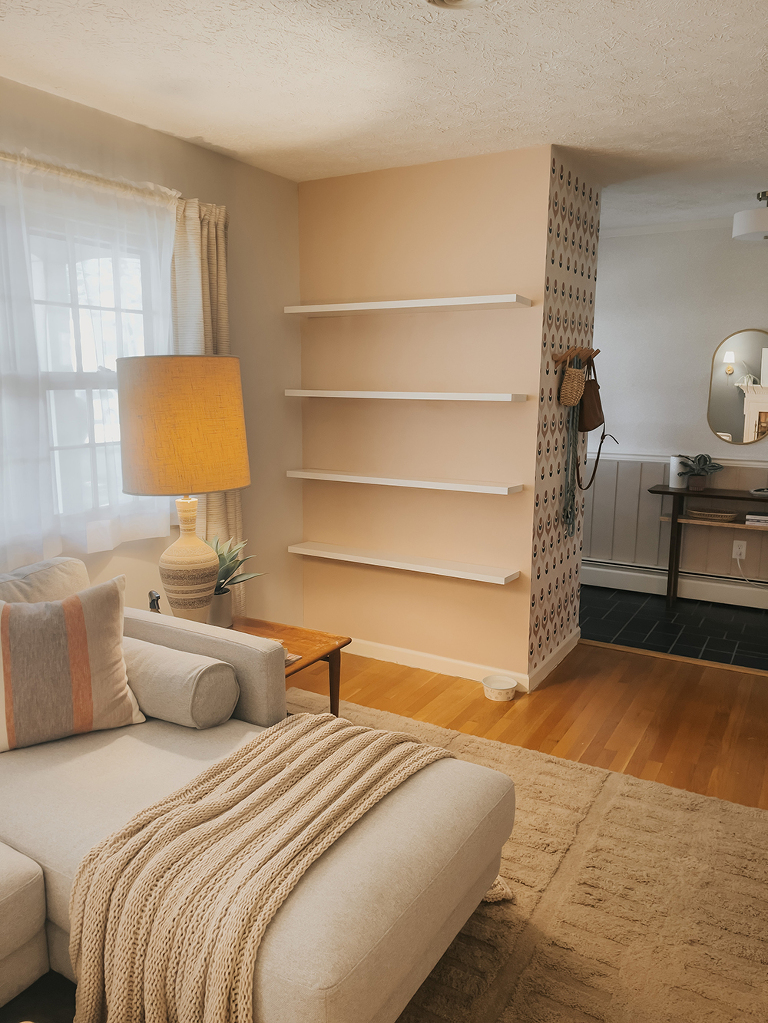 The reason I was able to keep this project under budget was because I stole a handful of the floating shelves where I had hung them in other rooms of our house. I knew I could replace those shelves with art, and that the shelves would be put to much better use in our living room, so I had no qualms about relocating those to the front of the house. I only had to buy a total of five new shelves to complete my collection of eight.
The main thing you want to be careful of with these shelves is that you screw them directly into as many studs as possible in order to avoid shelf sag. Luckily, these shelves have metal brackets with many, many holes peppered across the surface, so it's pretty safe to assume that you'll hit a stud or two when you go to install them.
The bad news for me was that I needed to install my shelves in a very specific spot on the wall since I wanted them centered. The holes on the bracket didn't line up perfectly with where the studs were, but I was able to fairly easily fix that by marking the stud location on my bracket and using a powerful drill bit to slowly drill out new holes through the metal where the screws could then sink into studs. The process went really easily for us, so I say feel free to drill holes in your own brackets to get things to line up properly.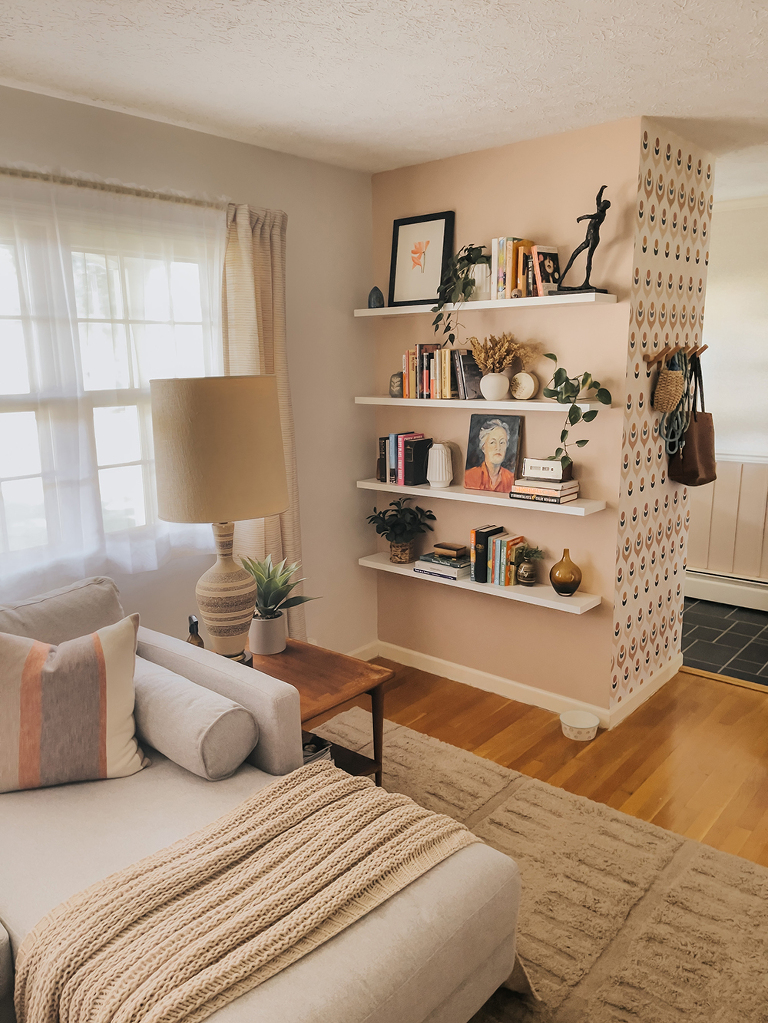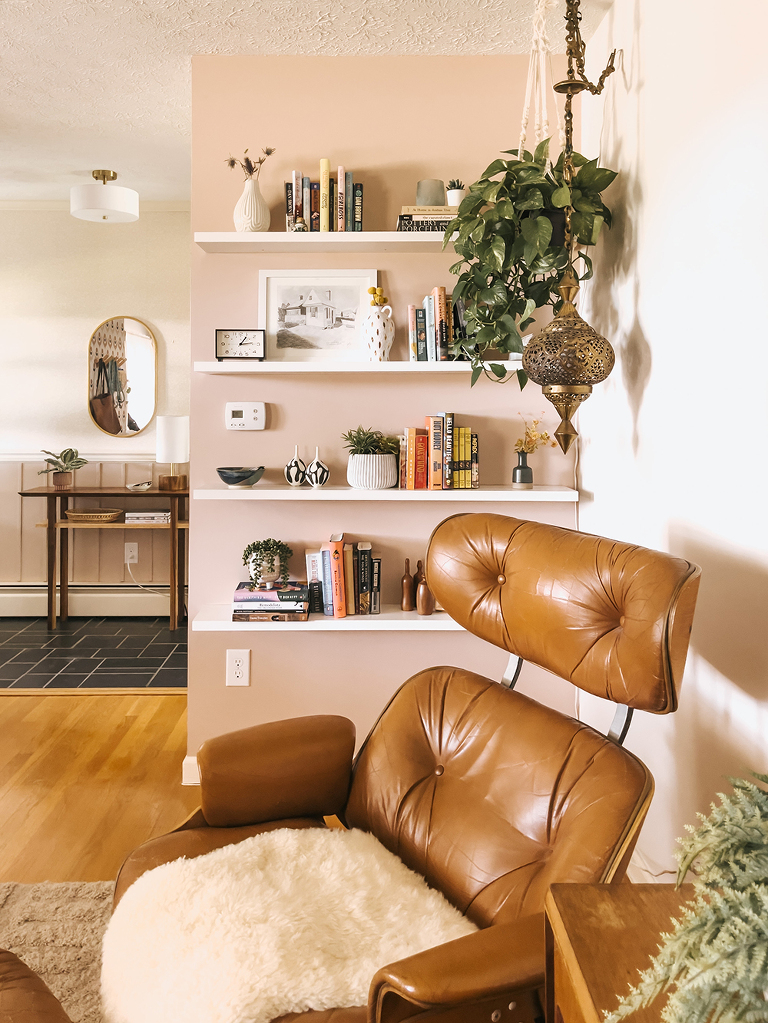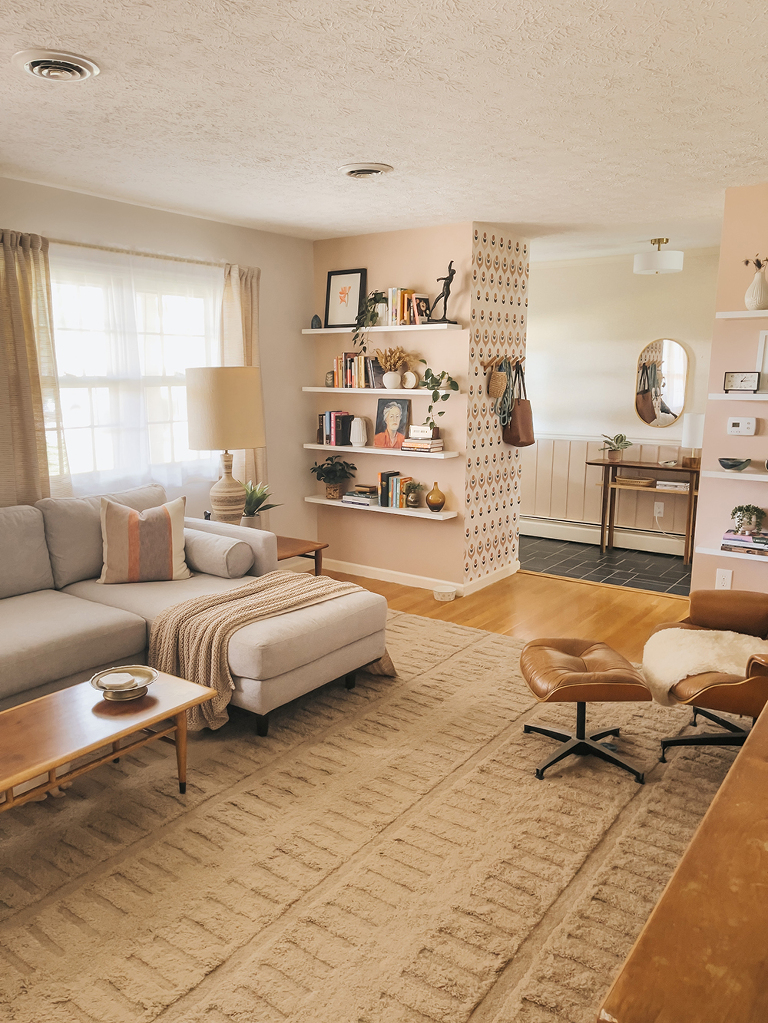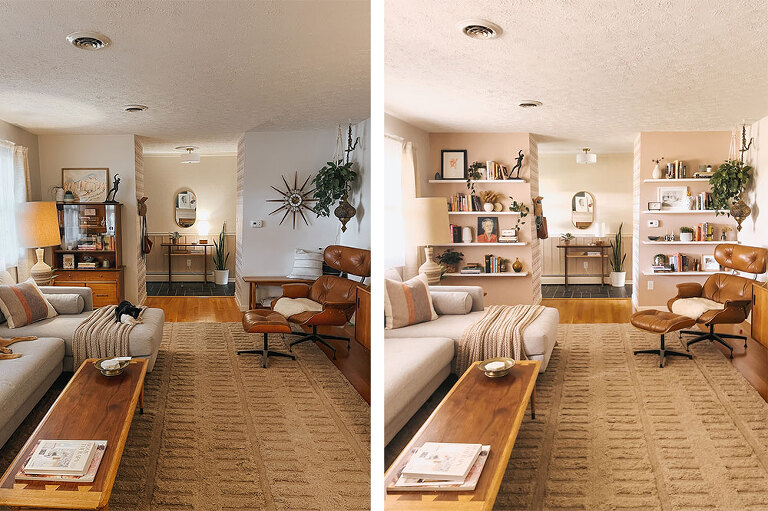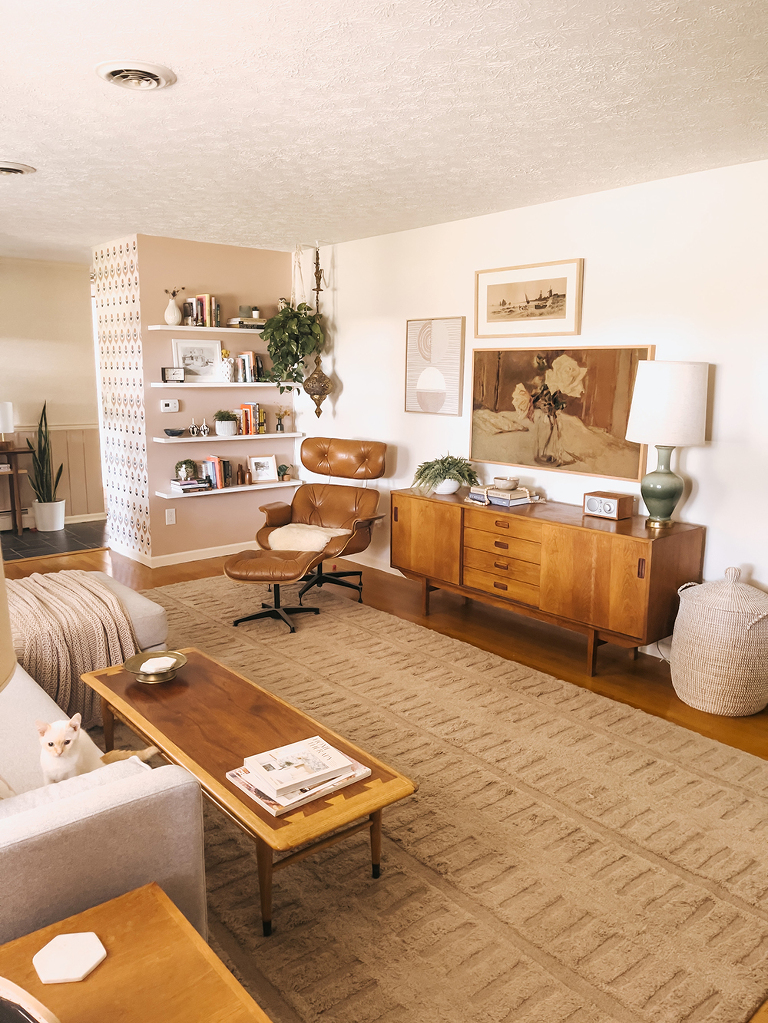 It took about an hour's worth of careful measuring and marking on both the walls and the brackets, and then another hour's worth of drilling and hanging to install, but we had this project knocked out in just one afternoon with very little stress. It would have cost so much money to hire a professional to install true built-ins, and while, yes, they would be beautiful, I think I actually prefer my floating shelf installation even more. It feels more modern to me and complements our aesthetic better than traditional built-ins would have.
I'm just so happy to have a proper place to display all of our favorite art, ceramics, plants, books, and more. Oh, and if you're wondering how the kittens are doing with the breakables on the shelves, I used this museum putty to stick down all of the fragile items toward the bottom. So far, so good. Let me know what you think of this project in the comments! Would you have splurged on true built-ins? Or do you like how my budget-friendly shortcut turned out? If you want to try this project in your own home, grab the shelves here, and you can see an alternate way to style them here in a blog post I wrote from our old house.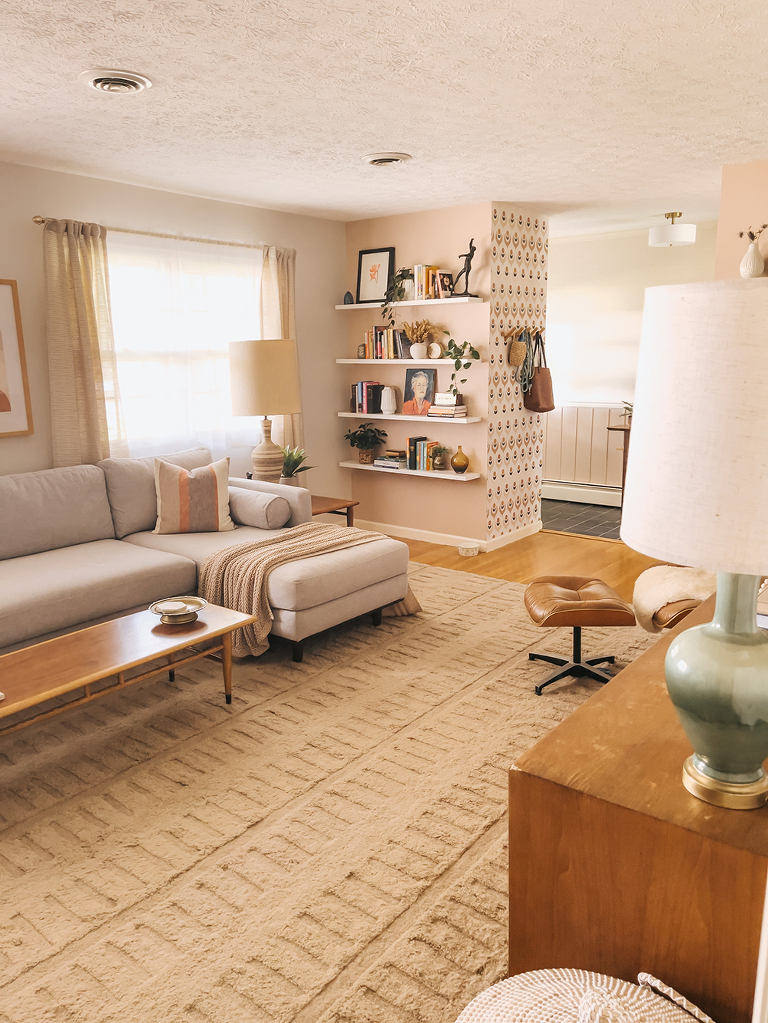 *I earn a small percentage from purchases made using the affiliate links above. Affiliate links are not sponsored. Rest assured that I never recommend products we wouldn't use or don't already love ourselves.