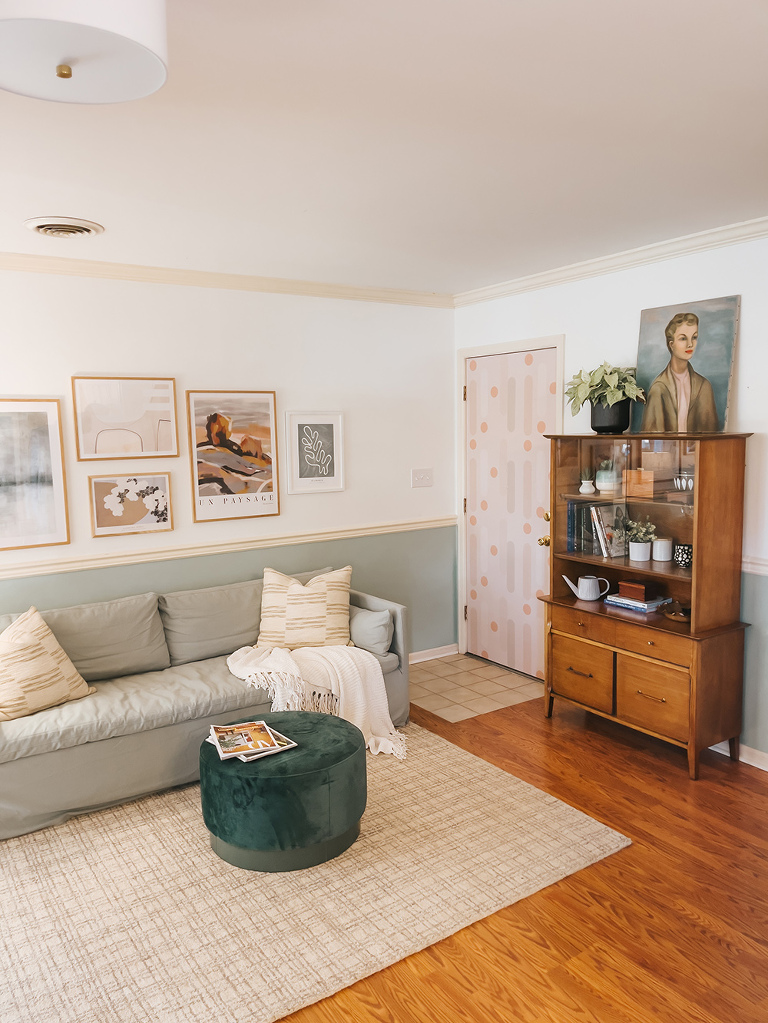 *This post was made possible by the generous support of Fancy Walls and features gifted product. All opinions are my own.
I'm back with another DIY peel-and-stick wallpaper project in partnership with Fancy Walls, and this time it's all about our kitchen seating nook. This spot in the center of our home is right off the kitchen, and probably was meant to function as an eat-in dining space. Since our formal dining room is also right off the kitchen on the other side, there was no need for us to set this eat-in area up for dining. We actually use our formal dining room every night, and have bar seating at the counter in our kitchen, so instead of a dining nook, we decided to turn this kitchen off-shoot into an additional seating area. I love lounging on the couch with our fur babes while John cooks (and vice versa), plus it has become a natural gathering place whenever we have company over, so it made sense to incorporate bonus lounge-type seating.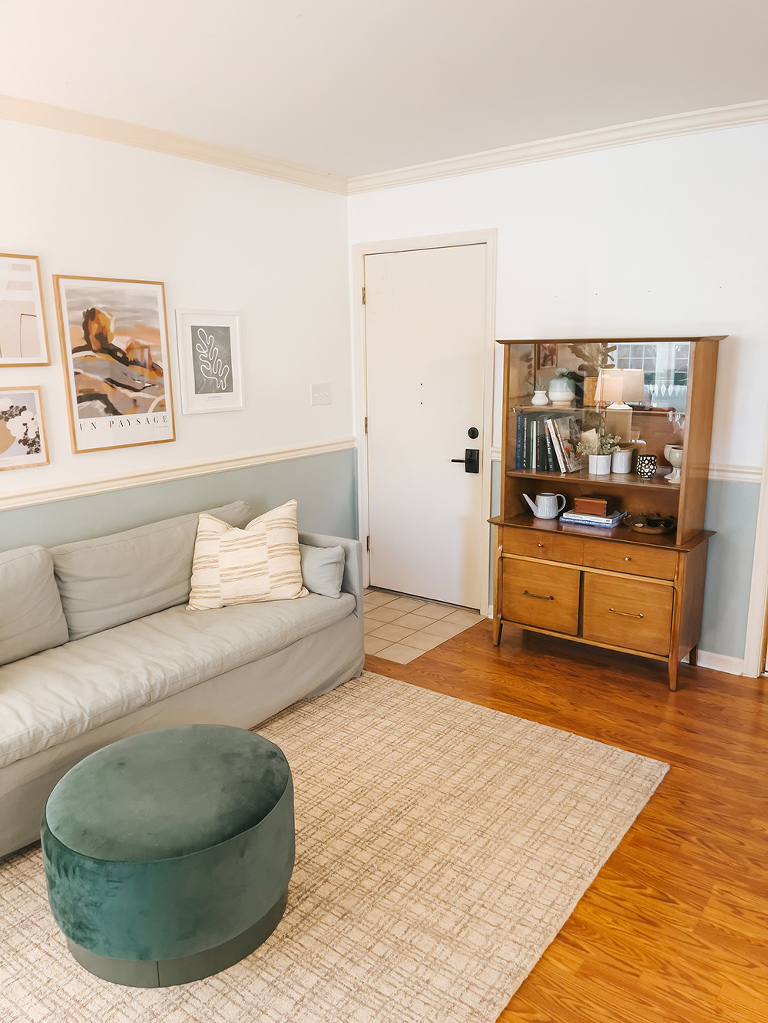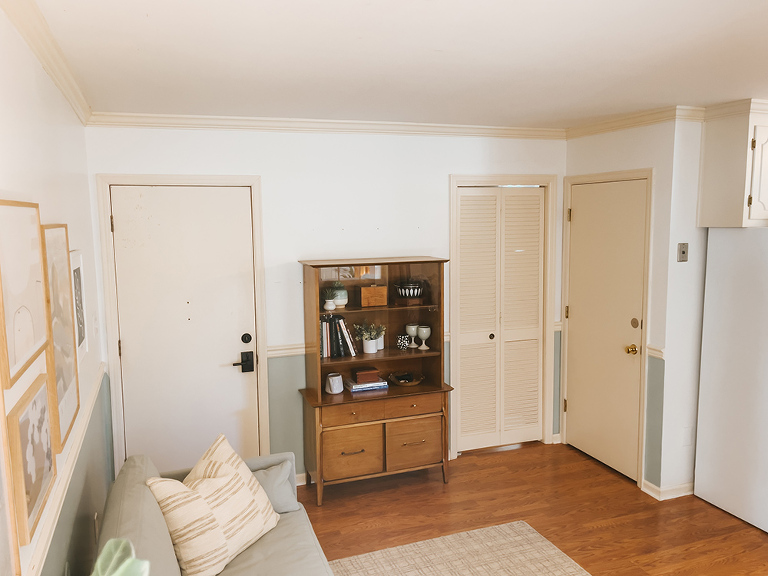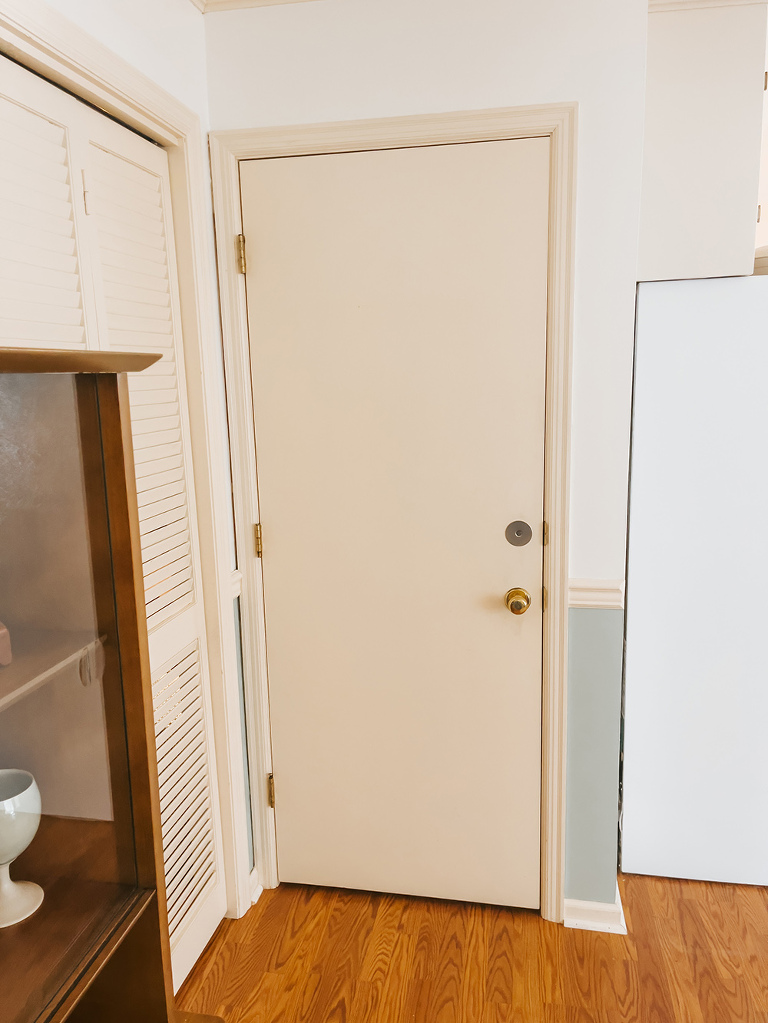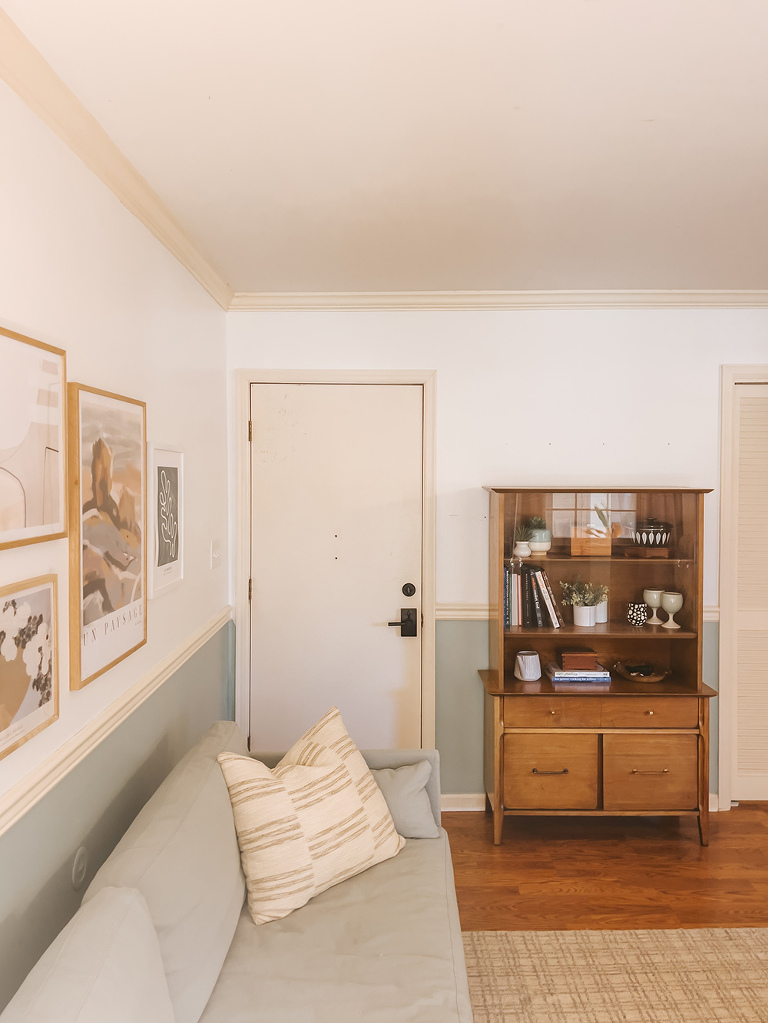 One thing I didn't love, though, was the lack of character in the room. This seating area acts as a major thoroughfare for four different rooms in our home—the kitchen (of course), our back sunroom, front living room, and the garage is also right off this room. Oh, and the basement stairs are in this room, too, if you want to count that as a room! In other words, there are lots of invisible pathways snaking through our kitchen seating area, and also plenty of doors that eat up wall space.
I tried adding personality by hanging an eye-catching gallery wall over our couch, and using a poppy blue paint color below the chair rail, but the many, many doors limited my wall space for art and other decorative accents, like wall shelves or hanging plants. Ultimately, I needed to get creative with the two flat panel 1960s doors to make them feel more like considered (creative!) parts of the room.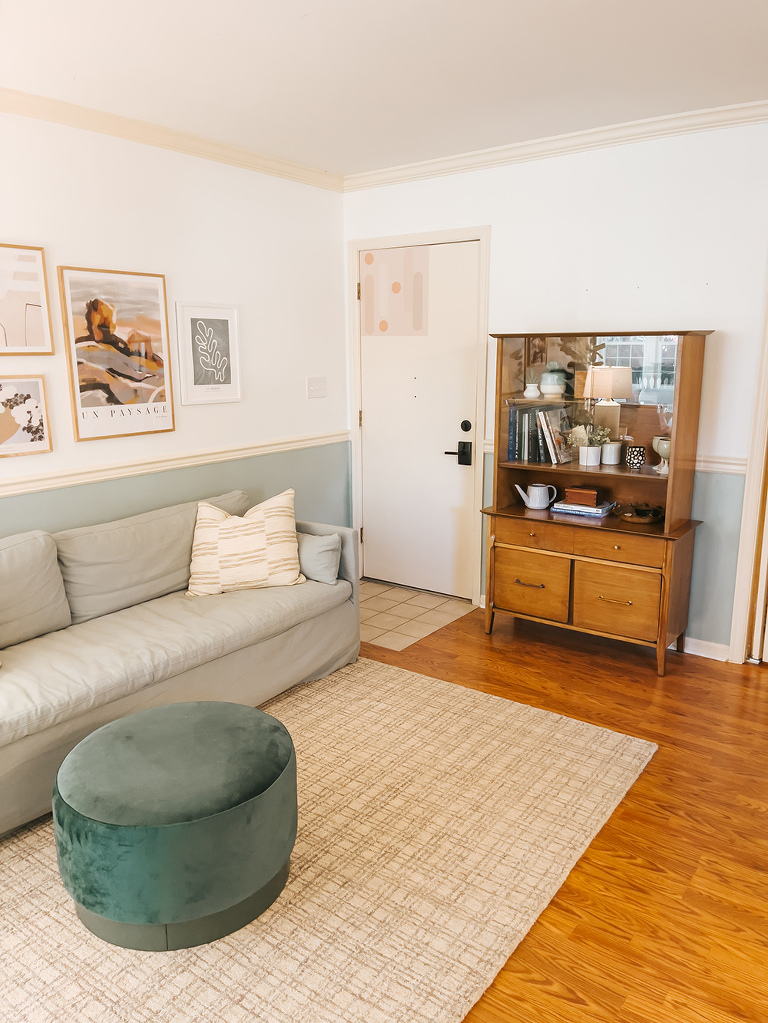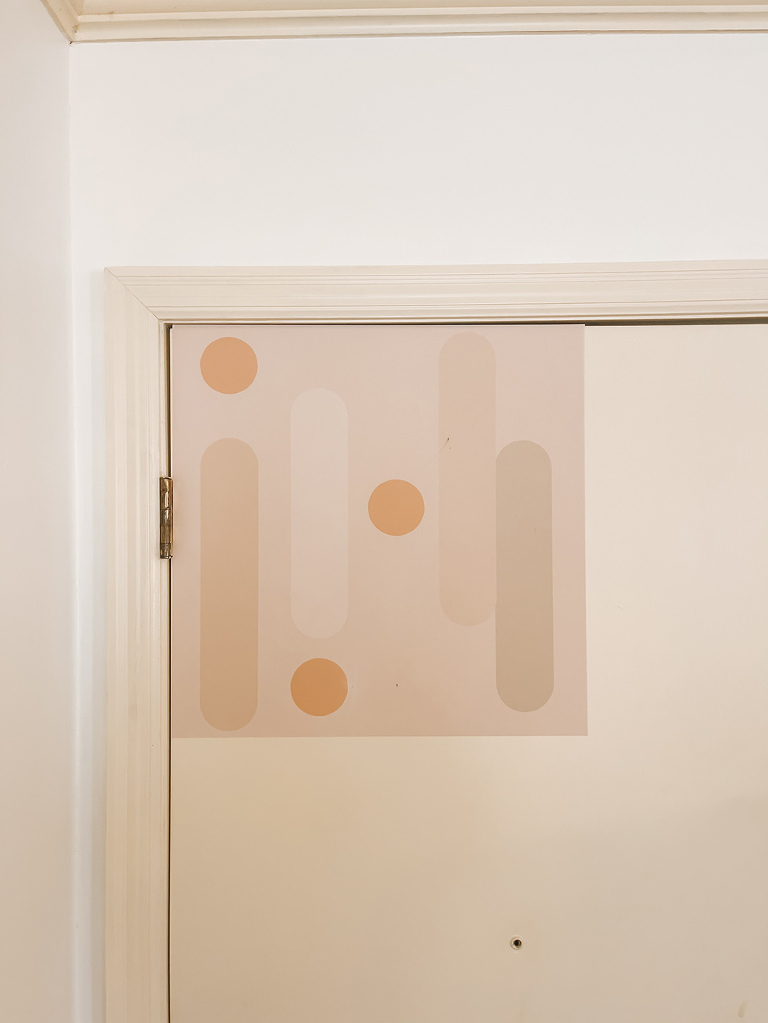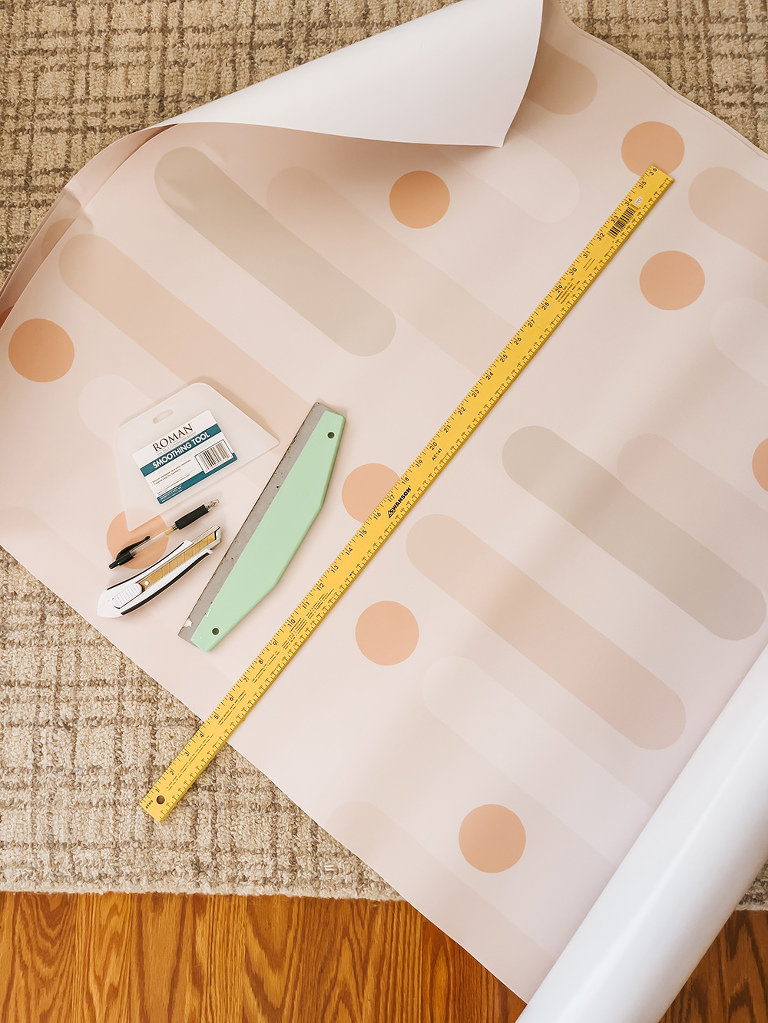 Yes, I could have painted them a fun color, but I'm not really all that big a fan of paint, to be honest. It's messy, I'm not very good at it, and painting also requires so many tools. It just wasn't the direction I wanted to head in, but then I had a lightbulb moment…I could cover the doors with wallpaper! It would take very little time, would give me the instant gratification I craved, and would requite very few tools, too.
I ultimately chose the pattern "Neutral Geometric" from Fancy Walls' collection, and immediately ordered a sample to stick up on the door. The sample gave me just a tiny taste of the splash of color this wallpaper would add to the room, and I was more convinced than ever that it was the way to go, so I went ahead and ordered all the paper I needed for the two doors.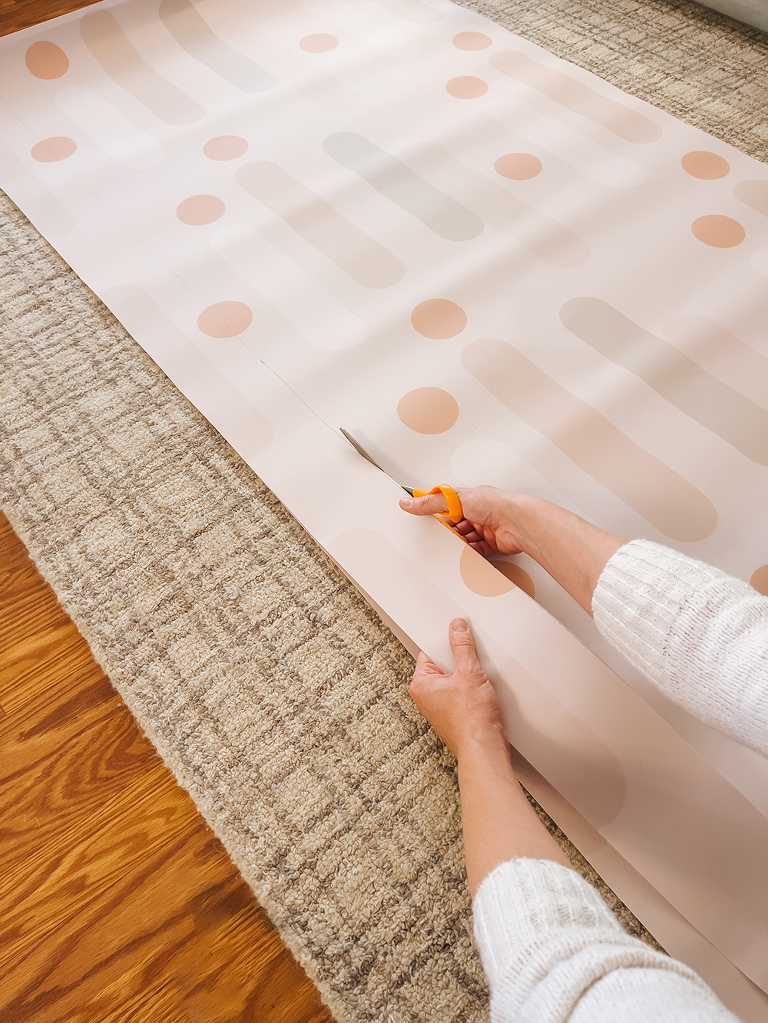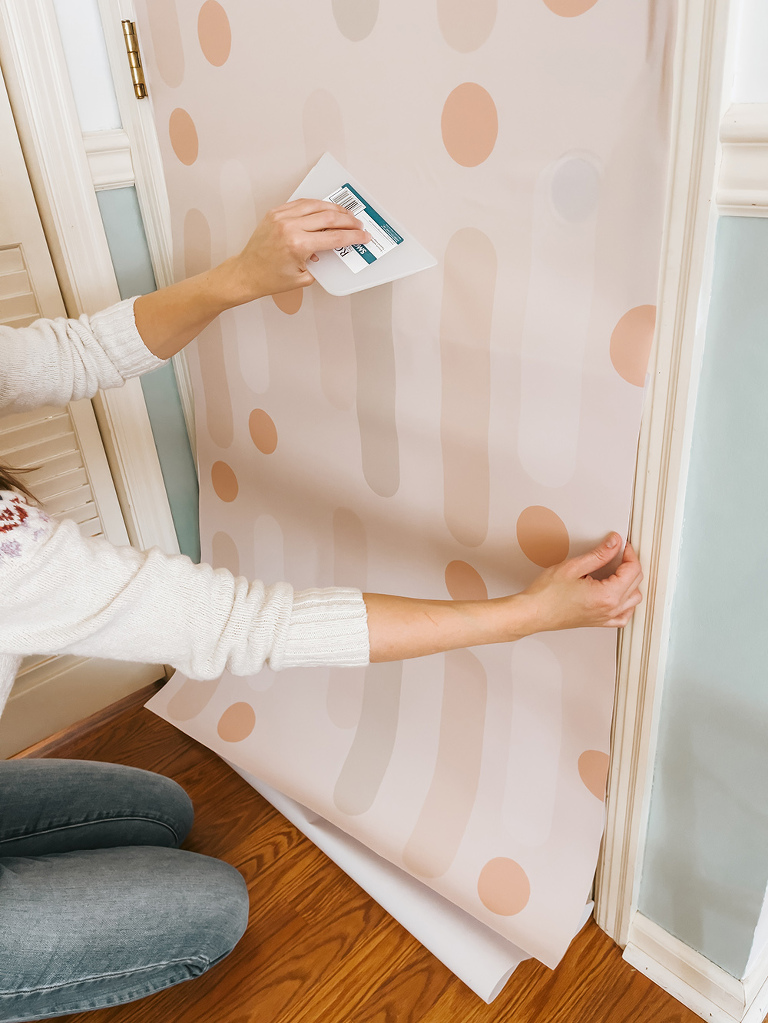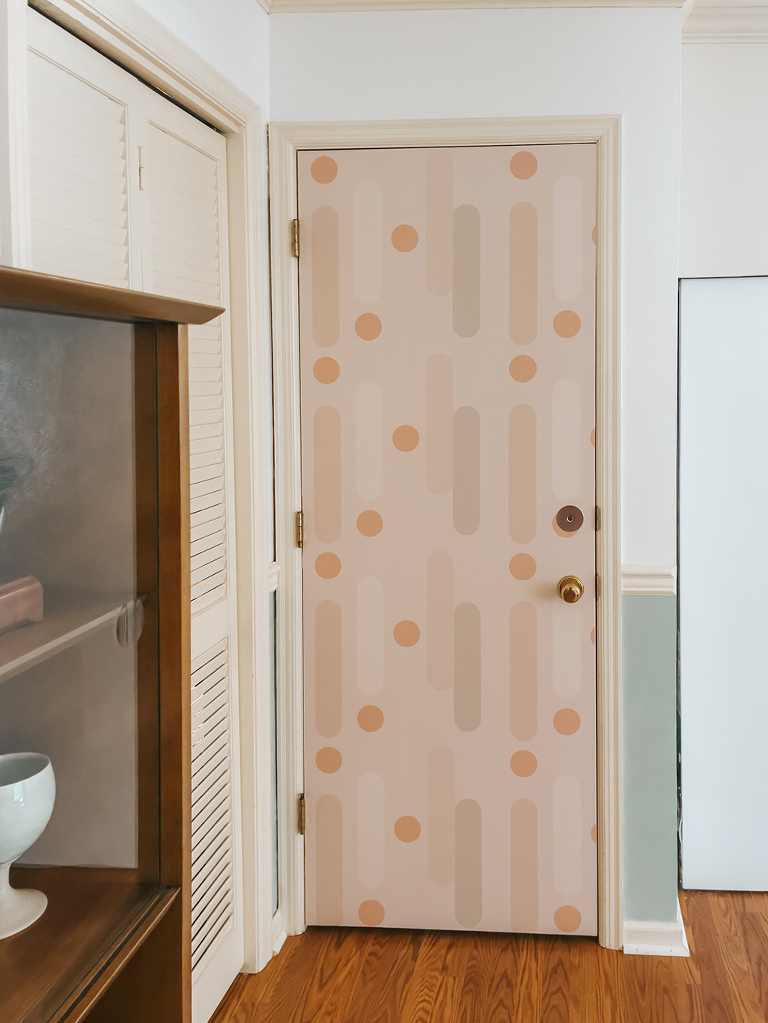 To install the paper, I measured the height and width of both doors (for reference, I intended on covering the basement door and the garage entry door), then I added two inches to those measurements and made light marks on the wallpaper sheets following those measurements. Then, I cut the paper to size, and got to work on the doors.
If you've been following along with all of my Fancy Walls projects to date (here, here, here), then you know I generally follow the same process. I peel back the first part of the backer paper from the wallpaper (roughly 24 inches worth), and then I line up the clean straight top edge and side with the top edge and side of my surface—in this case the top and side of the door. Once I have everything lined up, I press it in place using a wallpaper smoother tool, making sure to push all air bubbles out through the sides. After that section is stuck down, I peel off more backer paper, and use the smoothing tool again to press it in place and get rid of all air bubbles. I keep repeating until finished, then use a sharp razor blade to cut off any excess wallpaper from the sides and top/bottom.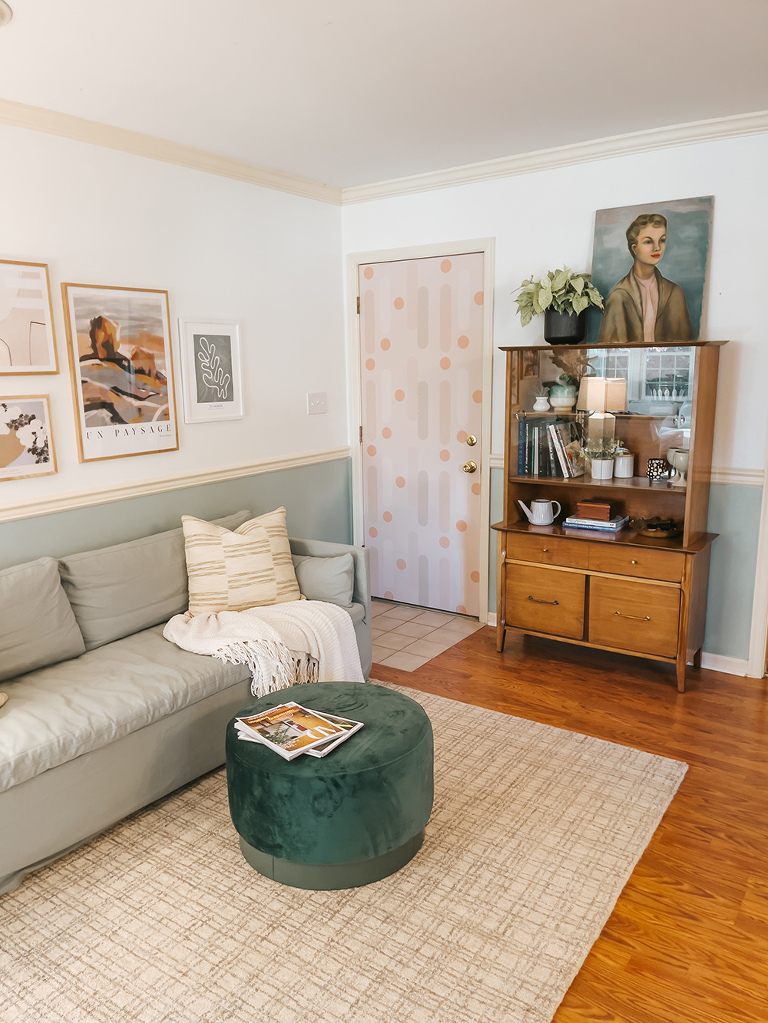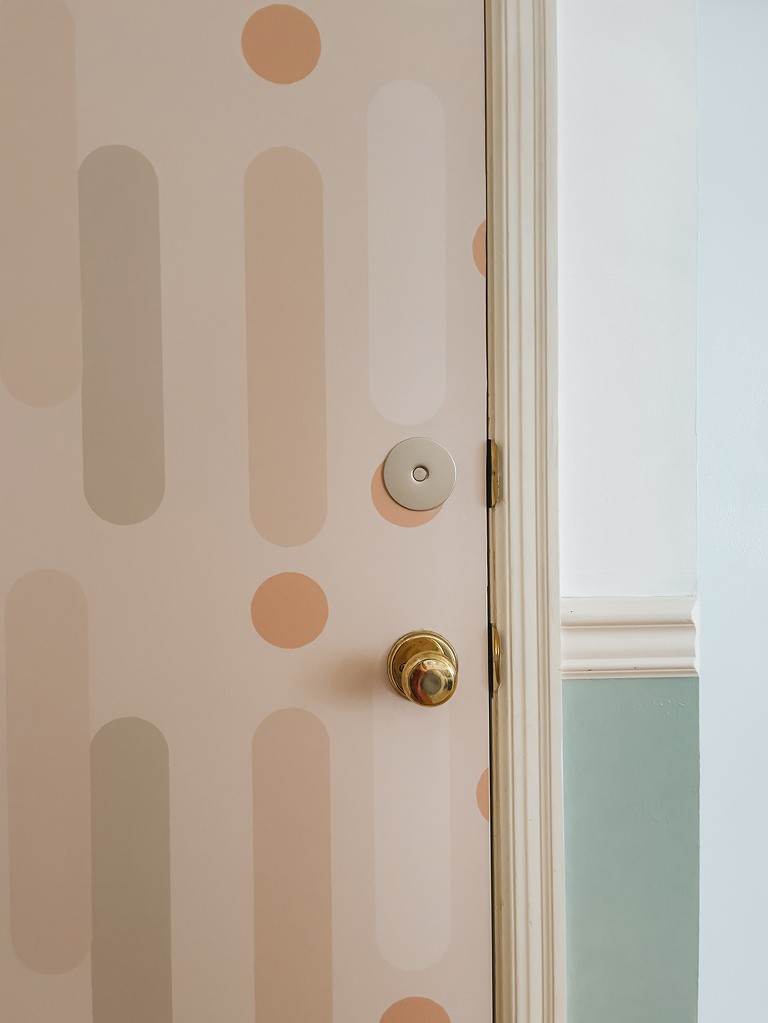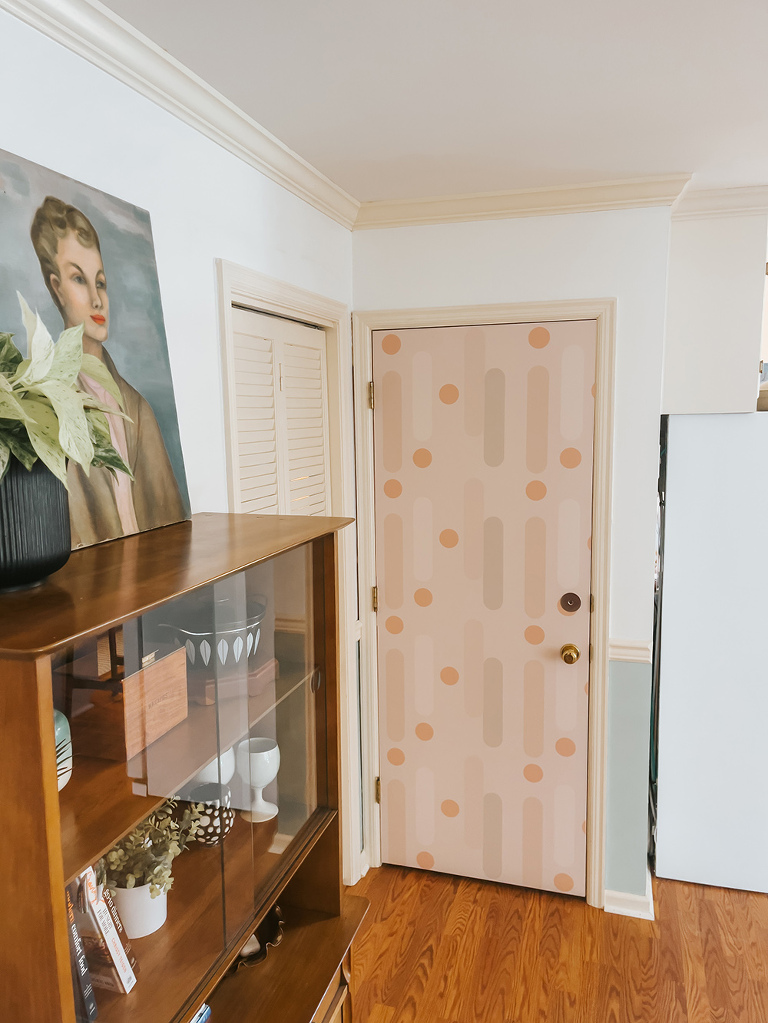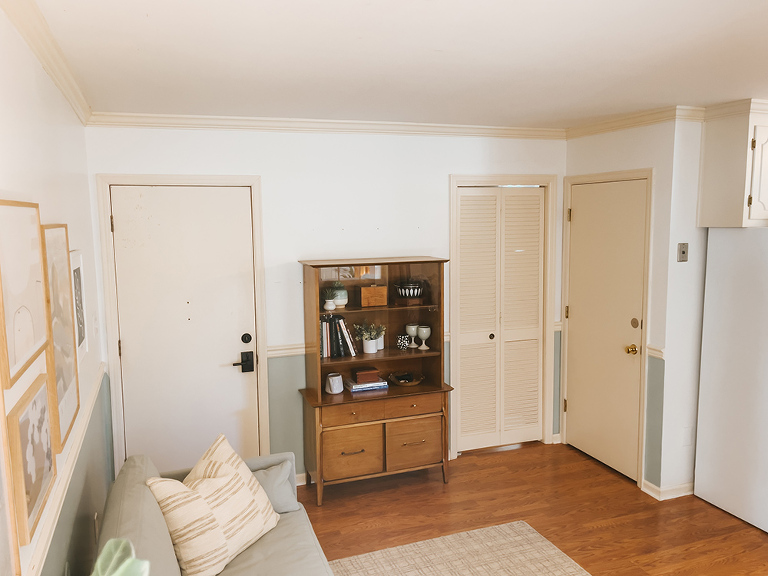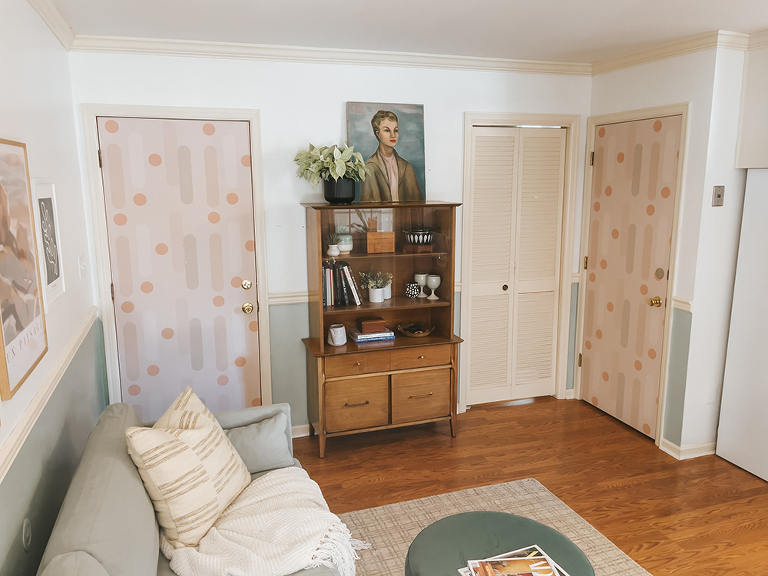 For this particular project, I also had to add in the step of removing the door knobs before wallpapering, and putting them back on afterward, but that only took about five minutes per door. The fact that my doors were both flat panel meant that I didn't need to trim around any decorative moulding, saving me tons of time. I think the whole project took about 30 minutes total, including the removal and reinstallation of door knobs.
I had a feeling that I would really like the finished results, but I actually love how these doors turned out! The retro-inspired pattern adds so much character to this pass-through space, and I love how it complements the blue/green tones in the art and wall paint. It has a very "Brady Bunch" type of mid-century look, am I right?! Click here to order a sample of "Neutral Geometric" from Fancy Walls to see if it's the right fit for your project.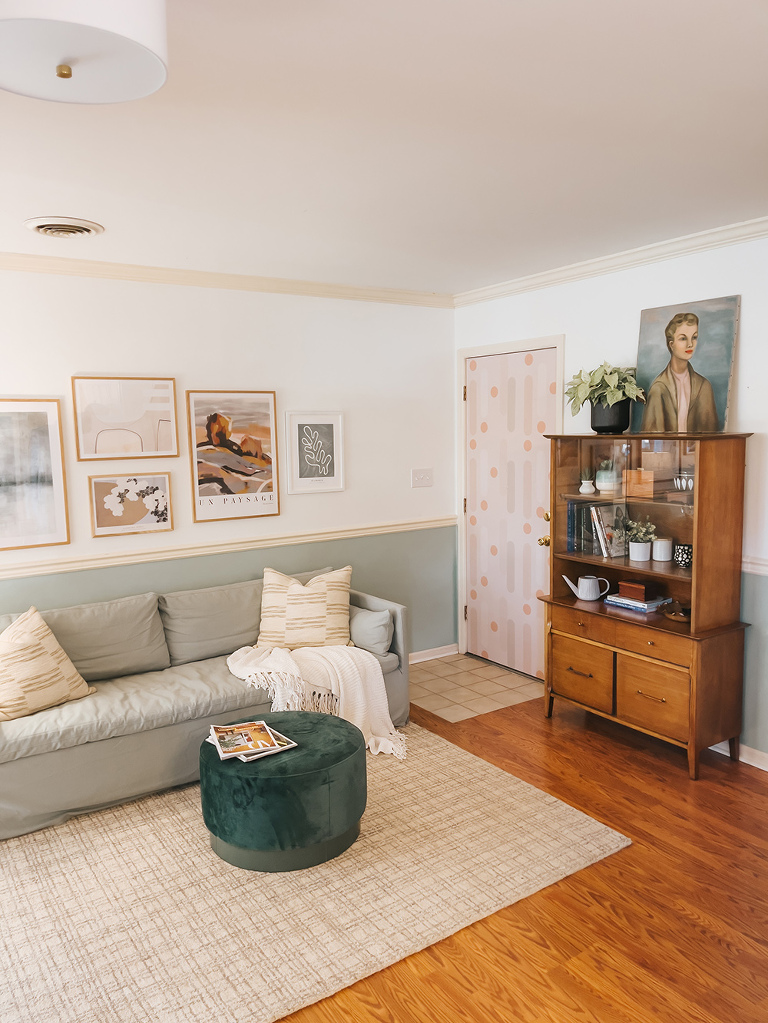 *I earn a small percentage from purchases made using the affiliate links above. Affiliate links are not sponsored. Rest assured that I never recommend products we wouldn't use or don't already love ourselves.