*This post was sponsored by Minted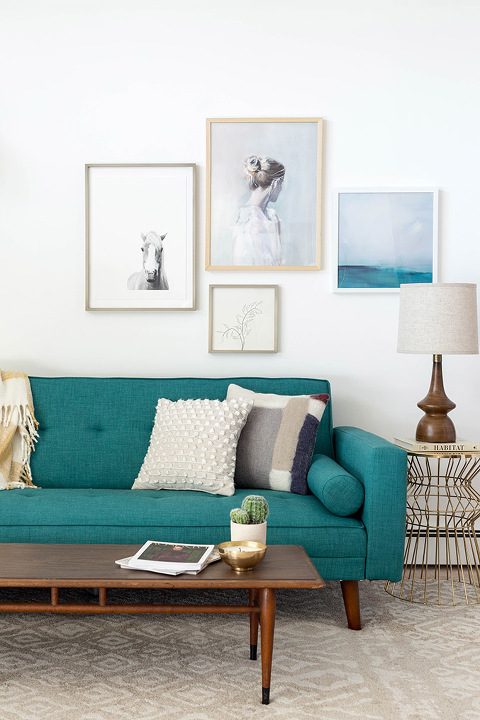 As is tradition amongst most of society, the kick-off to a new year offered the perfect excuse to unveil a new "me." I've drastically changed the way I think about and approach the blog in terms of post themes and photography, and I've adopted a much less "edited" form of expression. It has been liberating, to say the (absolute) least, and I was excited to realize that the mental shift would also inspire a new look in our home, too.
Last month I unveiled my plans for our living and dining room makeover, and while things are still in a small state of transition—as in our recently-recovered leather couch (which we picked up this past weekend!) has yet to be photographed in place—our home is feeling so much more like "us" and less like a product of my blog's old poppy aesthetic. The coolest, most thrilling part of this makeover is the fact that it almost entirely came down to new art and a few new textiles. In other words, it was CHEAP to do but with all of the high impact excitement that a major room makeover is expected to provide.
I partnered with the fine folks over at Minted to pull this whole thing off, and have been chomping at the bit to share the full collection of tour photos. You were able to get a major sneak peek in last week's video home tour, but now you are welcomed to lazily scroll through the still frame highlights below.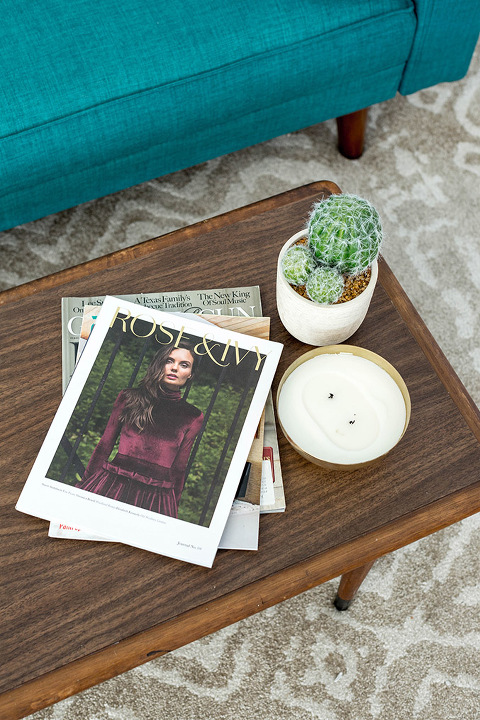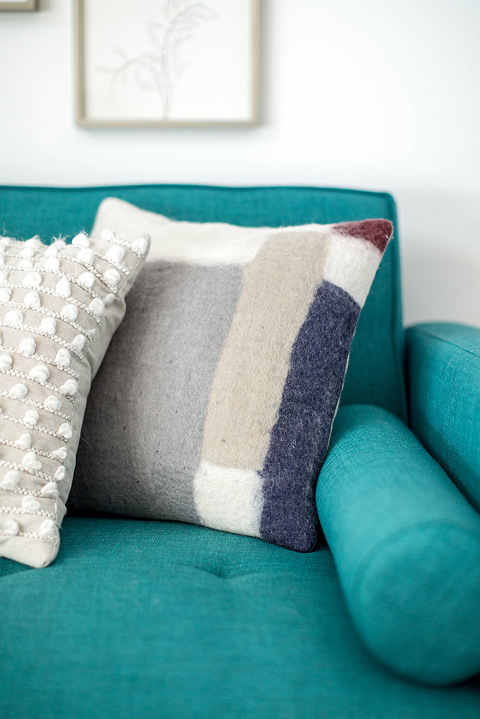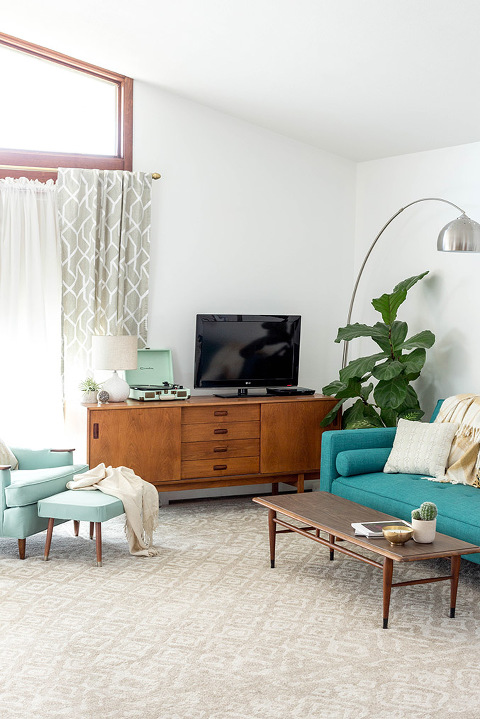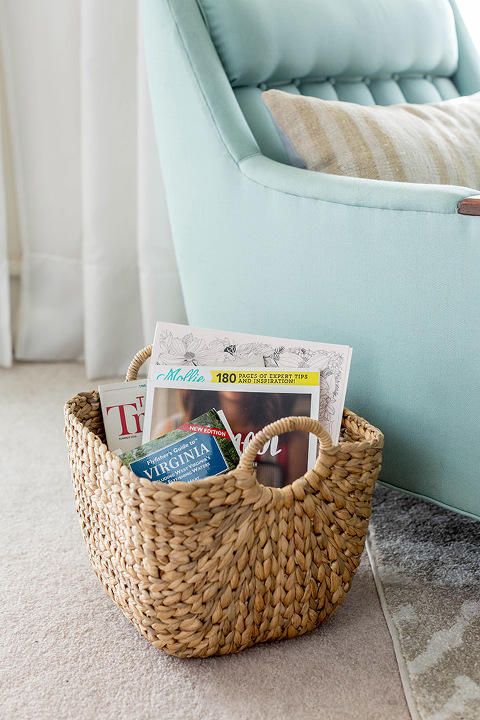 In case you're just tuning in, click back here to see the original mood board and hear my inspiration behind the updates. I'm also sharing a full home tour over on West Elm's blog Front + Main so that you can see how these updates continue to contribute to a whole-house color palette that feels fresh, cohesive, and calming—three words that perfectly sum up my goals for 2017.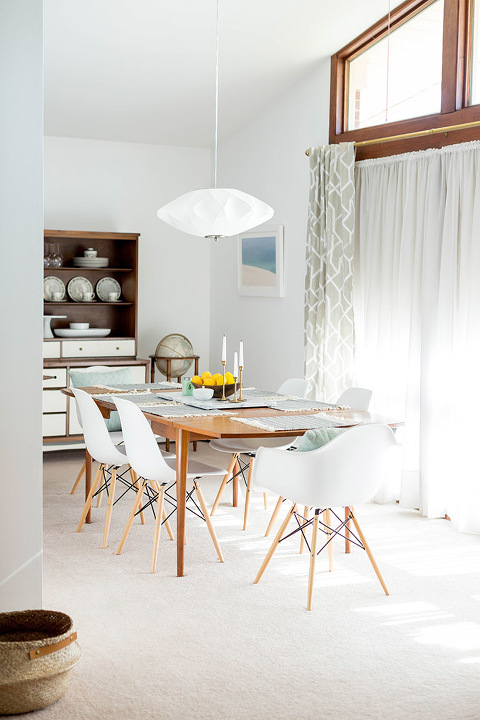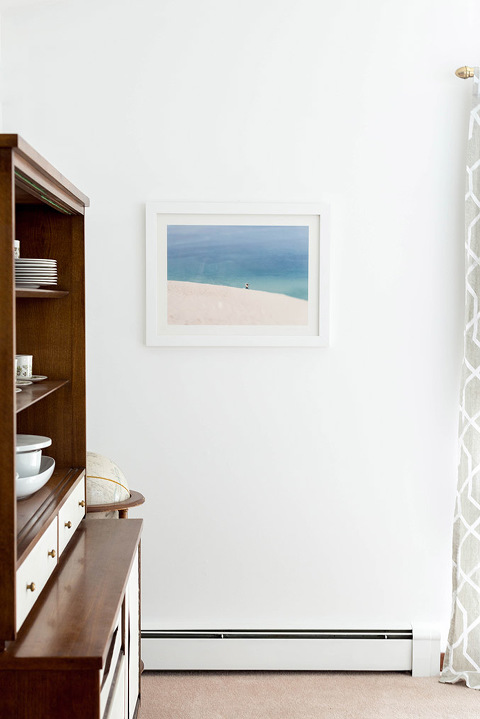 The main driving force behind this makeover, of course, was new art. Before, I chose pieces that really ran the gamete in terms of color. I went wild with abstracts done in yellow, pink, orange, and green. I hoarded bold landscapes, portraits, photographs, and collages that sported practically any shade under the sun, and the collection ultimately gave our home a sort of playful energy and excitement. I loved it (and I still appreciate it), but I was ready to tone things way down and embrace a more minimalist, classic palette.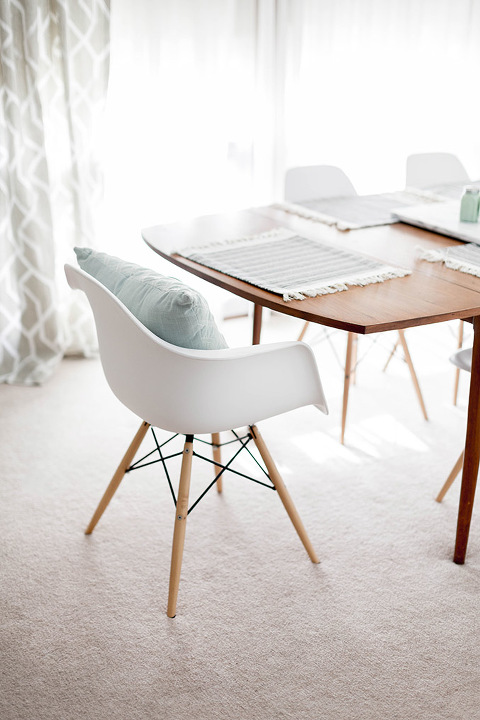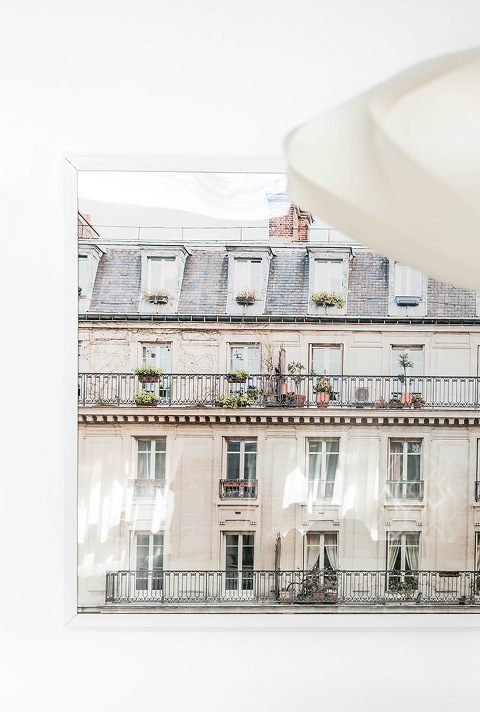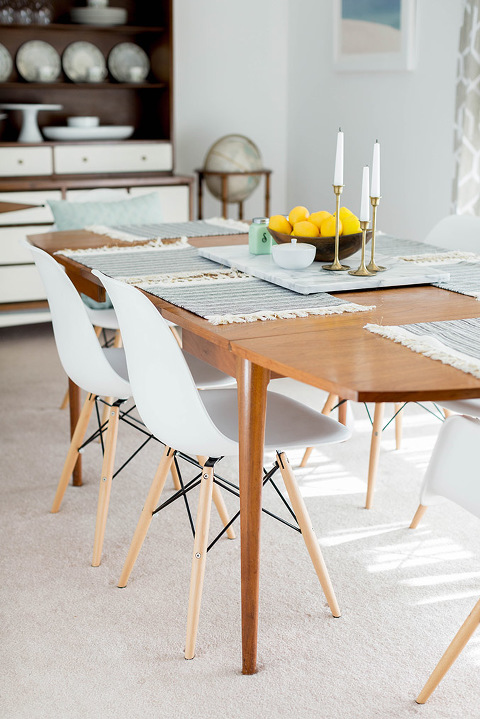 The first step in the makeover was to place all of our old art in storage (spoiler: most of it is piled neatly under the bed in our master bedroom), and then I spent a few days scouring the options on Minted. My goal was to choose pieces that fit a soothing palette of blue, gray, white, black, and cream.
But color wasn't the only thing I needed to pay attention to in order to nail that spa-like vibe. I also needed to consider subject and shape. Heavily patterned art just wouldn't work for this makeover. Instead, I needed to choose prints that were pared-down in terms of composition and focus.
In the end, I ordered a large-scale-yet-neutral-toned photograph of Paris (Days in Paris), a shy portrait (Linger), a simple abstract (Distant Island Pier), a leafy line drawing (Wild Radish), and a quirky black and white horse portrait (Presence). I filled in where necessary with a few pieces that we already had, but the overall idea was art with loose paint strokes and neutral undertones.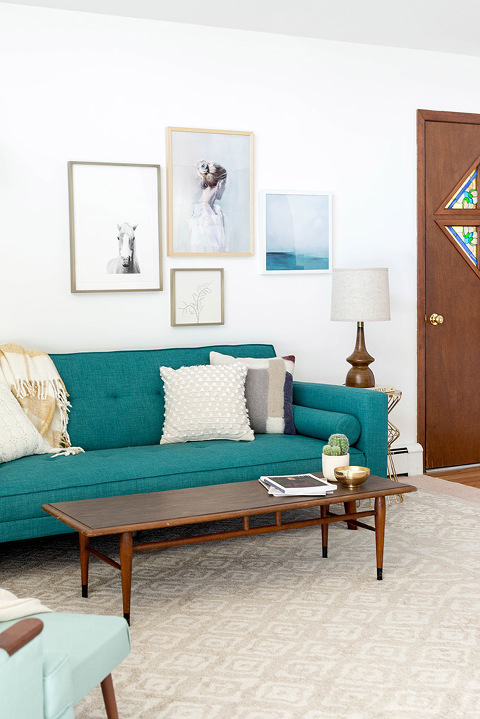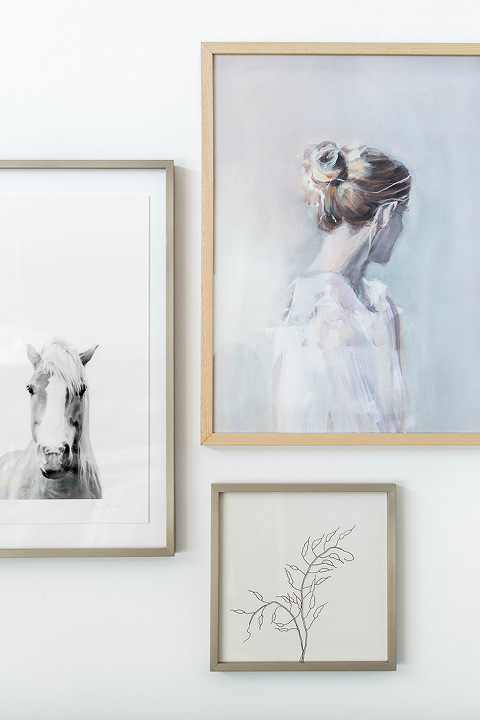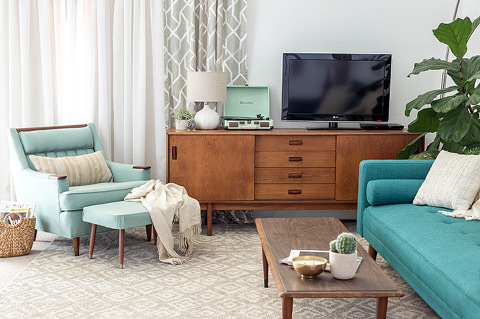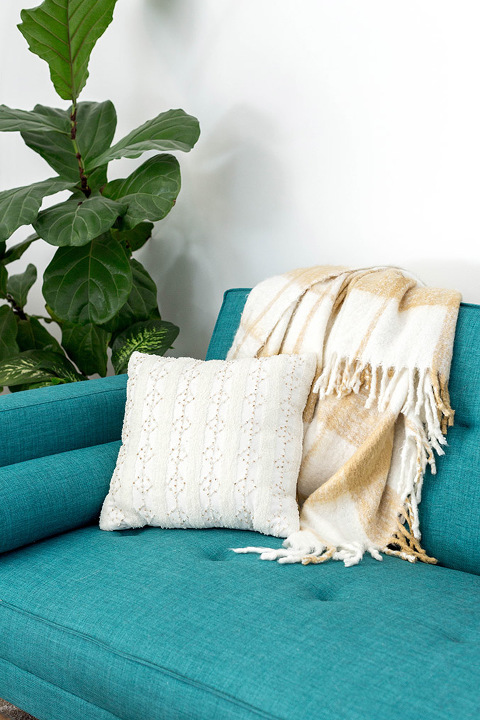 Although new art is certainly an investment in its own right, it's incredible how much impact a new collection can have on the look of your space. If I had chosen to go the full nine yards with all new furniture, rugs, lighting, and accents instead of just using what we already had, this makeover would have costs thousands. But by using nothing but new art and a few new pillows and blankets in the same neutral blue color scheme, I was able to stay well within our meager budget. Right now we are still looking for furniture in Denver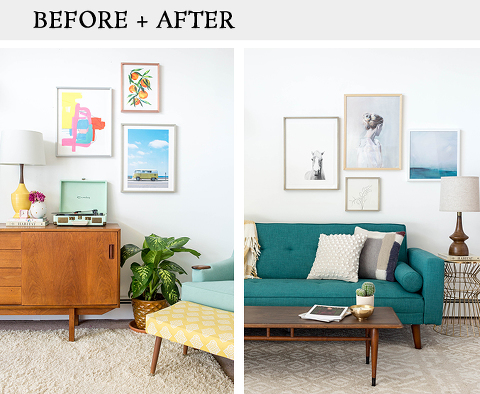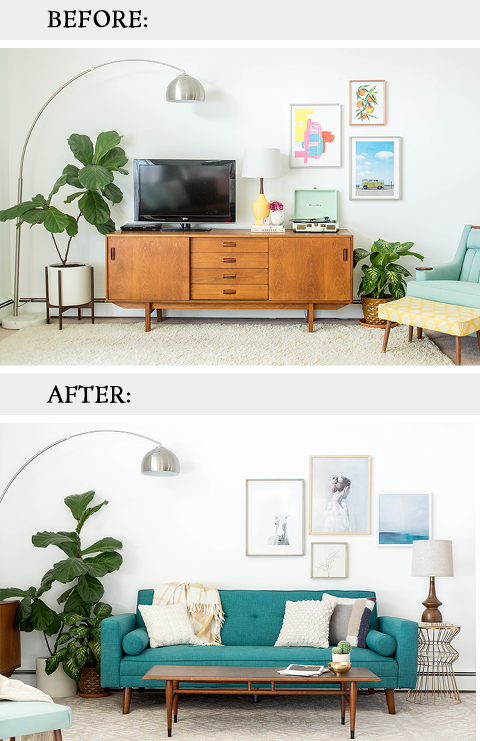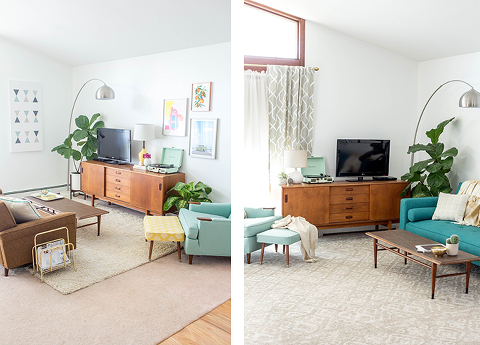 The other wonderful thing is that this process can theoretically happen in just one day or one weekend! I dare you to try taking your existing art off the wall and experiment with new pieces that suit your current aesthetic. You might be surprised to find what you're drawn to, and just how invigorating new art can be as you enjoy your space with fresh eyes. Give the concept a shot, and don't forget to let me know what type of art or color scheme you're loving this new year in the comments below!