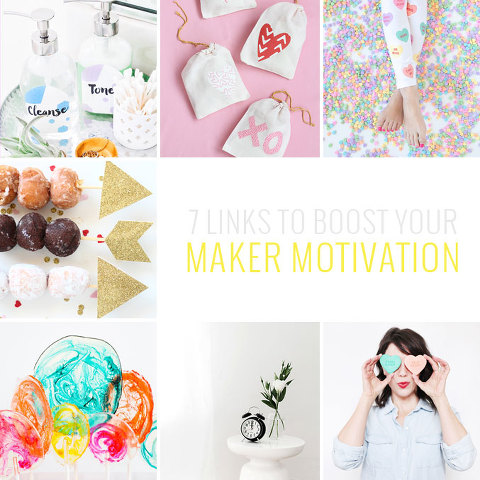 Who's ready for some snow!? If you're on the east coast like us, I hope that your bread cabinet is well stocked and that there's an extra jug of milk in the fridge because we're gearing up for one epic snow storm. They're calling for over a foot of snow (if not two!) here in Waynesboro, so John and I have plans to stay in either PJs or snow pants all weekend long to properly enjoy the occasion.
What do you have planned for the weekend? Any fun projects you're hoping to cross off your list? Maybe an interested Netflix series to binge on? We haven't jumped on the bandwagon for  "Making a Murderer" yet, but maybe now's my chance. In case you're feeling crafty, here are the seven DIY links that caught my attention from the past week. Judging from the lineup, I think it's safe to say that I'm suffering from a classic case of chronic sweet tooth right about now.
7 DIY Links To Boost Your Maker Motivation
And in case you missed some of the fun content that went live right here on DGD, click back to see our new DIY built-in flagstone fire pit, a quick review of the 'Photo Styling 101' e-course from The Crafted Life, the inspiration behind our mid-century sunroom design project, and the final reveal of said sunroom design project. Got a fun link of your own to share? Drop it in the comments!
Get daily maker inspiration on Pinterest