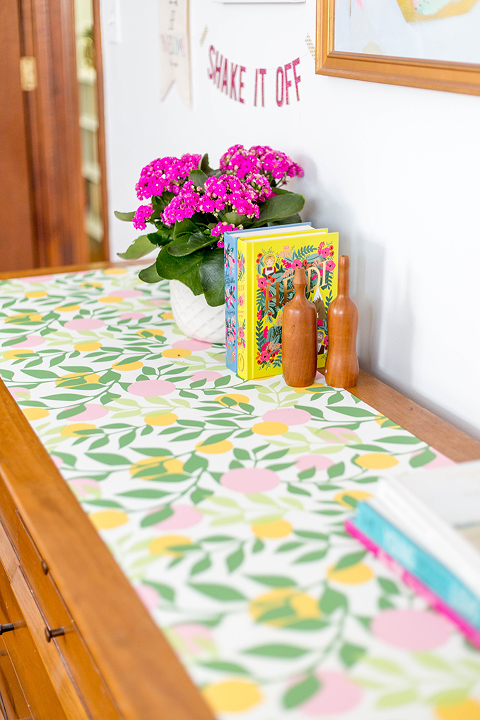 As you probably know by now, I love change—especially when it comes to the design of our home. I'm constantly tweaking things here and there, and can never really settle on one look before deciding that it's time to change things up. So wallpaper and I have a bit of a timid relationship. I waited almost three years in our last house before finally deciding once and for all that I loved a certain pattern enough to adhere it to the wall for the long haul, but I haven't had the heart yet to add it to our current home. It's just so permanent!
Happily, I've been able to get my "fix," if you will, with rolls of removable wallpaper. I'm still head over heels for the patterns from This Little Street and Spoonflower. You've already seen me put the "Blooms" pattern to use on our made-over record cabinet, but it was time for something fresh, so I used a new pattern—"Spring"— to give life to a hand-me-down dresser. Call me coincidental, but I can't help but think that this project was the perfect way to officially kick off the new spring season.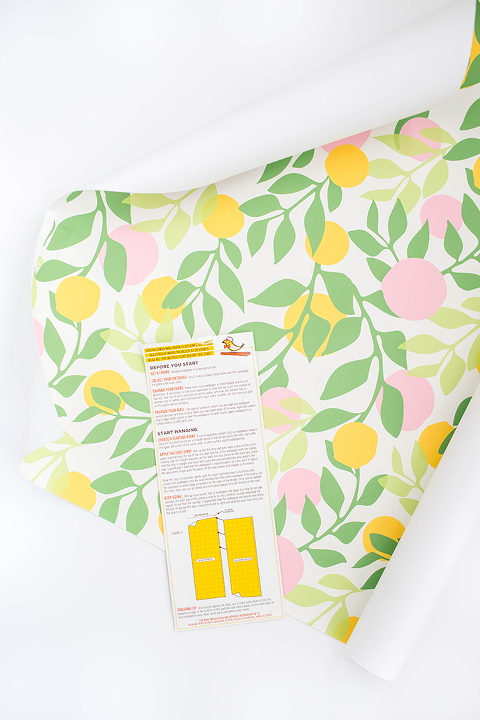 To make over your own dresser tabletop, start by unwrapping and unrolling your wallpaper on a flat surface. Spoonflower wallpaper comes with handy instructions, so that made the process a super straightforward one to tackle on my own in just one hour.
For the majority of cases, you'll then want to measure your dresser tabletop carefully, and transfer those measurements to the back of your overturned wallpaper roll using a straightedge, measuring tape, and pencil. Then, you'll slowly cut the wallpaper out before adhering it to your dresser tabletop.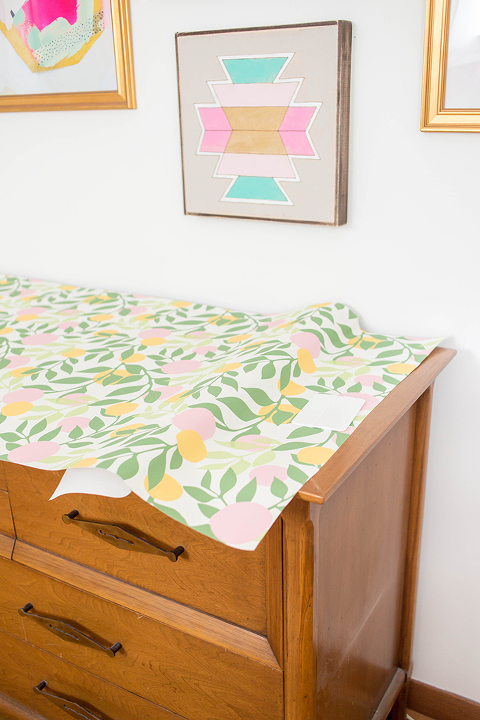 For me though, things went a bit differently. You see, our dresser actually sports a thin hairline groove all along the tabletop, about three inches in from the edge. This made the process an exceptionally simple one, in that I just had to adhere the unaltered roll of wallpaper to the dresser, sticky side down, and then I trimmed away the excess using a razor blade pushed gently through the paper into the groove. That said, you can easily get the same look by measuring, marking, and then trimming with scissors.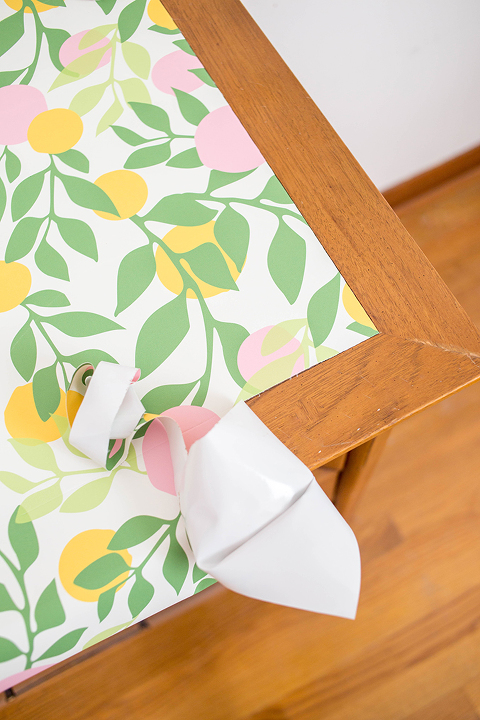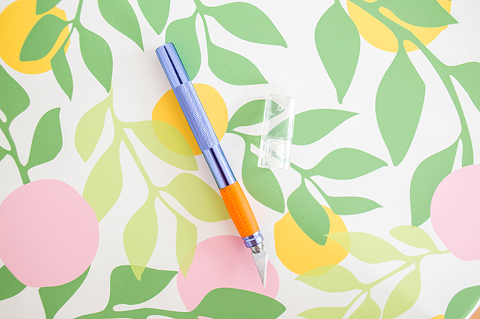 To adhere the wallpaper to the tabletop, just peel back the paper by about six inches, and then press the edge of the wallpaper to the tabletop so that it's even against the surface on all sides. Then, use a credit card or other stiff piece of plastic to press the wallpaper firmly to the dresser, working out any bubbles that may crop up along the way.
Once that first section is attached, peel another six inches of backer paper away from underneath, and repeat the pressing step. Continue in this manner until you reach the end of the tabletop and trimmed wallpaper scrap, and then peel off the remainder of the backer paper and press the rest of the wallpaper into place. Work out any remaining bubbles, and you're done!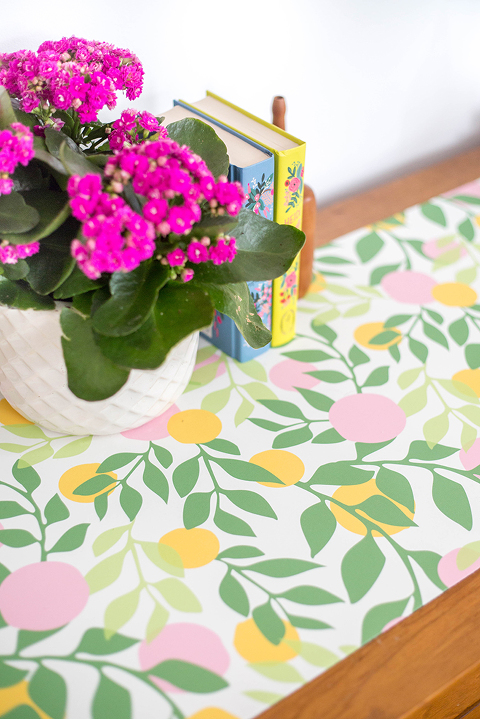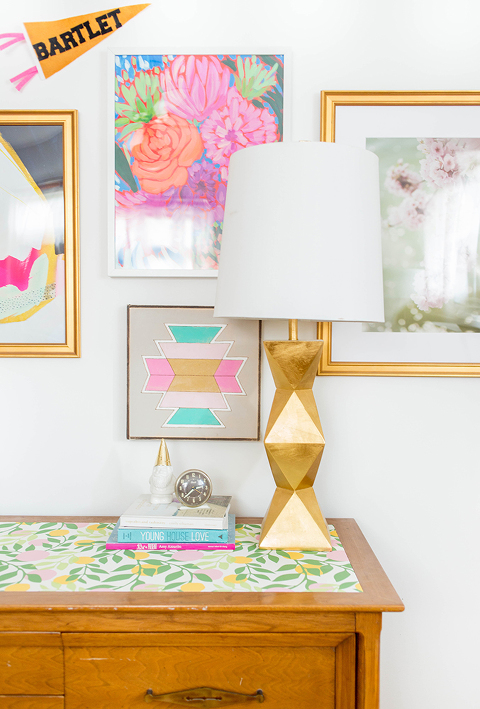 My absolute favorite thing about this type of wallpaper from Spoonflower is that it's removable and reposition-able. There were definitely a few moments when my wallpaper got a little wonky while I was laying it down, but I just had to slowly peel it back a few inches and relay it to get it just right. Unlike with traditional wallpaper that you have to glue, I can reposition or remove this with ease whenever I want! It's the perfect antidote for my chronically changing attitude, but for now, I am most definitely going to love this pretty pastel dresser tabletop with all my heart.