With summer just about in full swing over here in Virginia, John and I have been itching to head out into the sun for some fun this season. Since this is our very first summertime spent in our new town, we're excited to see what Waynesboro has to offer in terms of outdoor entertainment and cultural activities. But since I've been traveling quite a bit this season and my pocket book is feeling pretty hollow, my priority is to keep our summer events as budget-friendly as possible.
First up on my list? To host a simple and inexpensive fire pit party right here at the house! To bring my visions for this colorful and casual fête to life, I partnered with the folks over at duraflame®, and I'm sharing all of the photos, tips, and a cocktail recipe, too, with you below.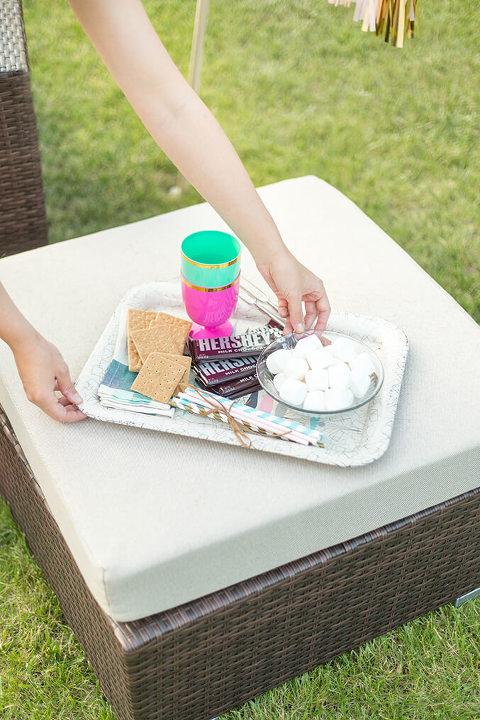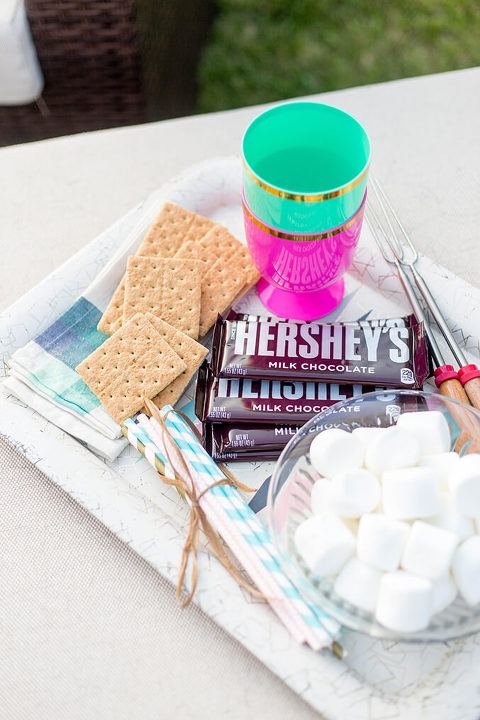 First of all, the setting. As you may have seen earlier this season, we spent a weekend building our own fire pit in the back yard, and have really enjoyed this little outdoor oasis. In case you didn't know, this house is our first single family home since saying sayonara to our townhouse, and it's also our first back yard to speak of.
Before, our townhouse looked out over a parking lot, but now we have an entire yard full of grass to run around in. What a luxury! So our DIY fire pit was an absolute must our first season in the new house, and we couldn't recommend the project more—it really was so much easier than we expected to put together.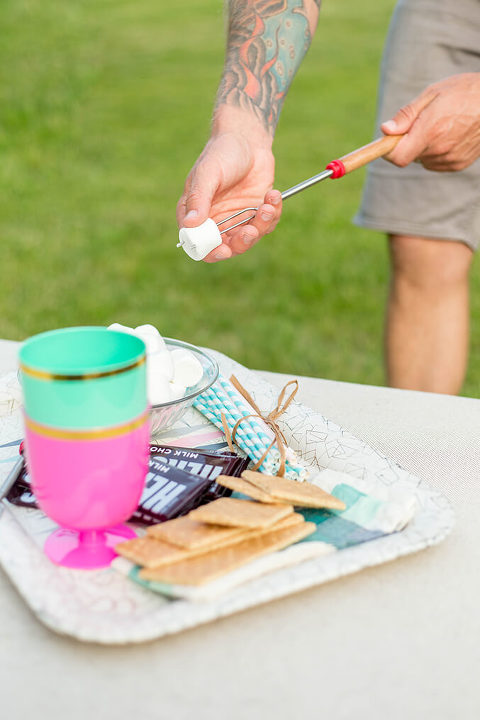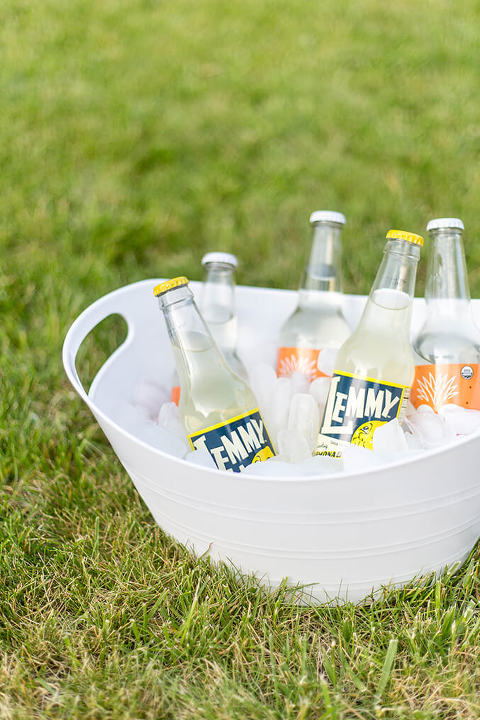 With our fire pit in place, we needed some seating. For this, we brought our outdoor sectional down and around the house from our sunroom, and situated it right behind the pit to provide our friends and family with lots of places to plop down. If you don't happen to have an outdoor couch or even a fire pit, chances are good that you'll be able to spot sales going on now for plastic or outdoor upholstered seating and fire pits at your local hardware store. It's the perfect time of year to splurge, what with so many options available to suit any style.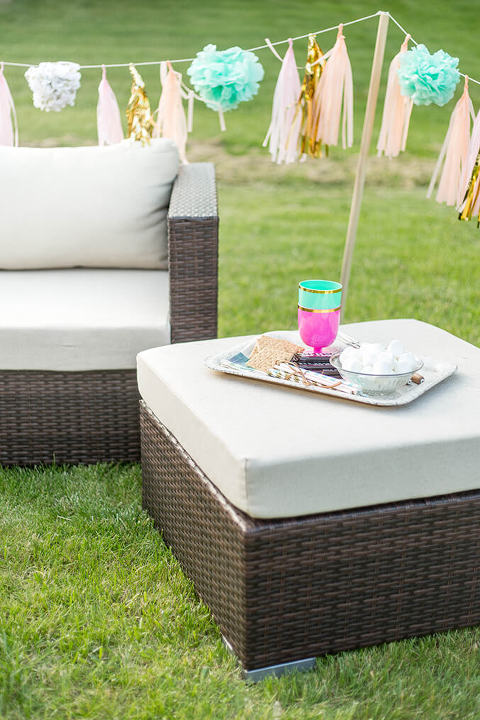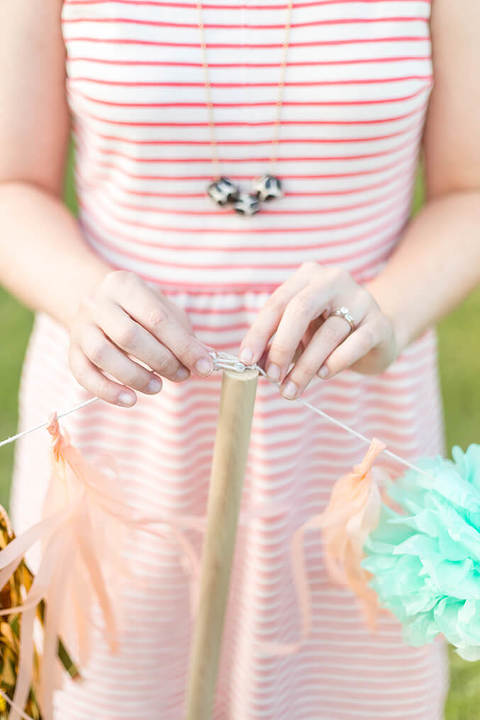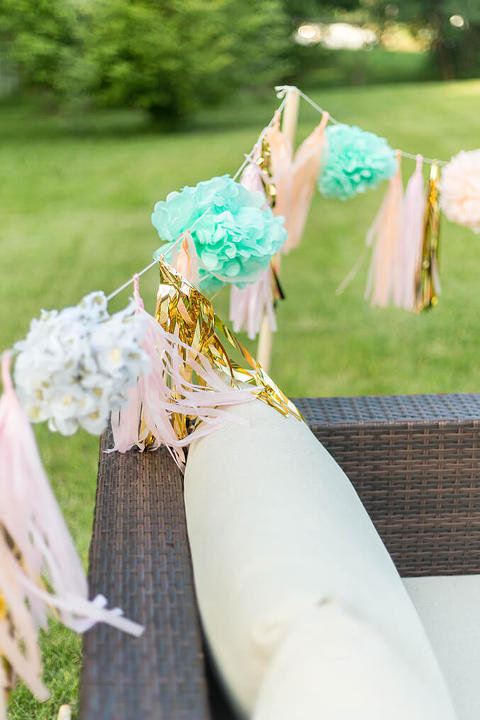 Next up, the decorations. Since our fire pit party was slated for late in the evening with only a bit of time to enjoy the sunshine, I didn't want to put too much effort into the décor. The point of the gathering, after all, was to catch up with family and friends over marshmallows and conversation, so the decorations didn't need to be extravagant.
So I started by adding store-bought tissue paper garlands to two pieces of cut twine, and then I looped the ends of the twine over screws drilled into the tops of three dowel rods. To finish, I dug small holes in the earth behind our outdoor couch, and then pounded the dowels into the holes. With the dirt pushed back into place around the bottom of the dowels, I was done! I didn't even have to cut the dowels since they were already the perfect height (about 4 feet) to sit right above the top of our sectional.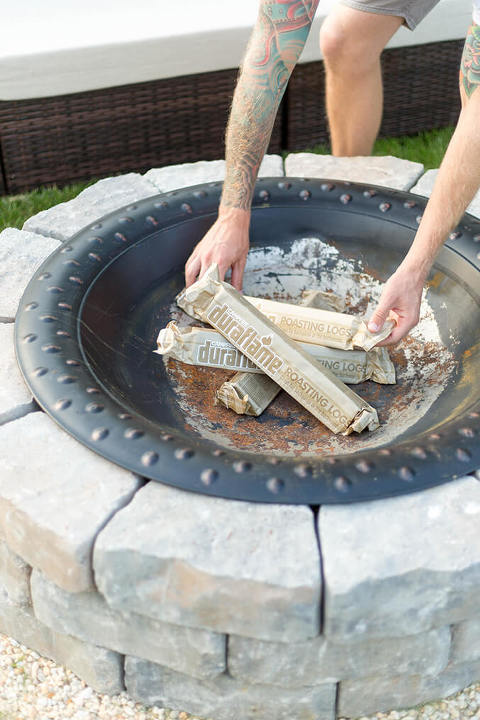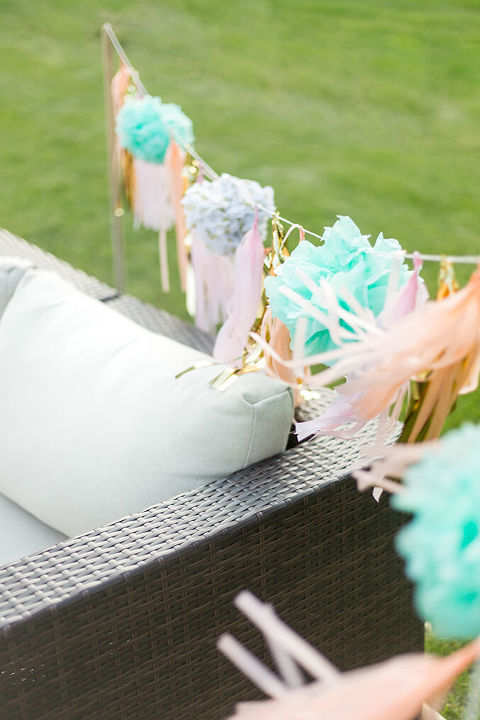 The star of this summertime show though was our set of duraflame® Campfire Roasting Logs. Since our lot is tree-less, we always have to hit the hardware store for a bundle of wood. Happily this time though, we skipped the step of lugging bulky wood home from the store in lieu of our slim Campfire Roasting Logs.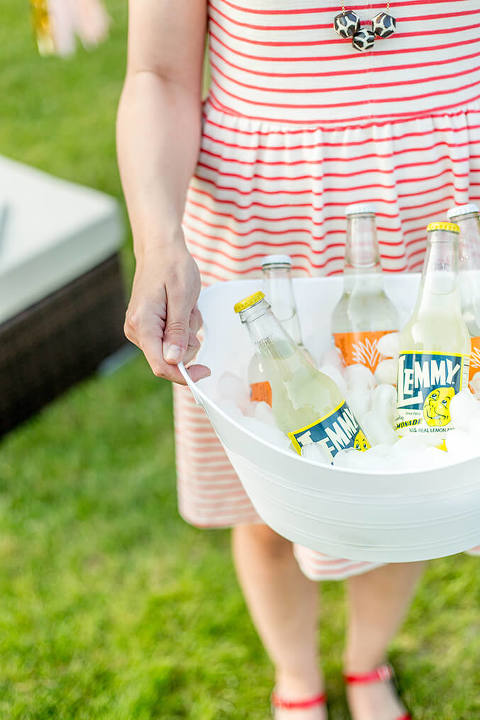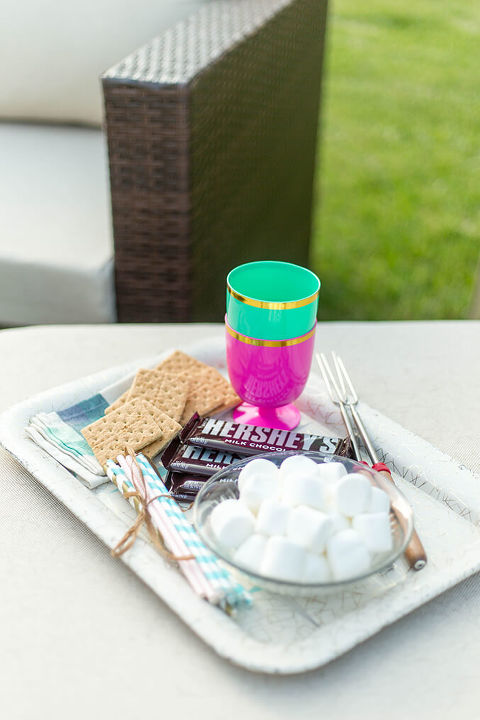 We just plopped three duraflame® logs down into our fire pit bowl, lit the papered ends, and watched our fire take shape. These photos show the flames just as they were getting started, but we had a roaring fire in no time. The logs offer low emissions, they're lightweight, and the hearty flames and glowing embers provided the perfect foundation over which to roast our marshmallows. I think we've found our new favorite fire pit burning method here, folks, and I'm not just saying that!
Scroll on for the perfect fireside cocktail to serve at your own festive fire pit party, and then tell me in the comments: what types of seasonal activities are you most looking forward to this summer?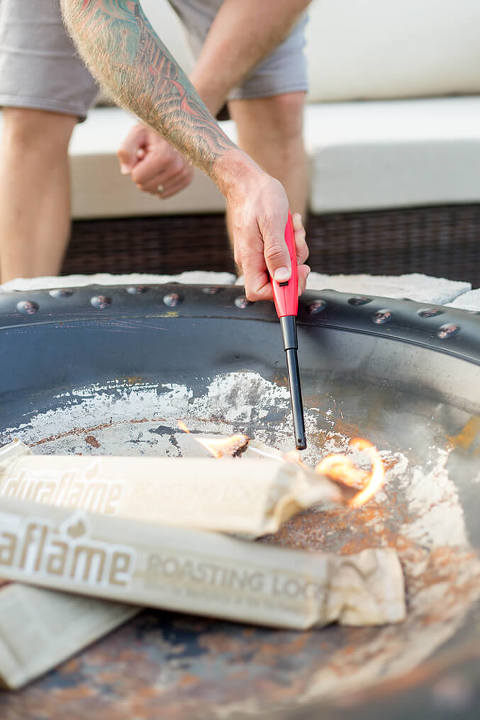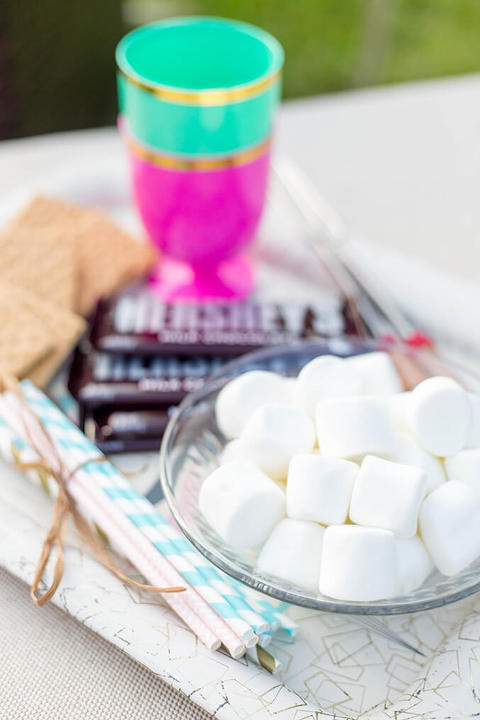 Cranberry Lemonade Spritzer
2 oz. cranberry juice
2 oz. lemonade
2 oz. vodka
2 oz. club soda
Lemon rounds
Combine the cranberry juice, lemonade, and vodka in a cocktail shaker along with ice. Shake well and then strain the drink into a cocktail glass. Top with club soda, and garnish with lemon rounds. Cheers!