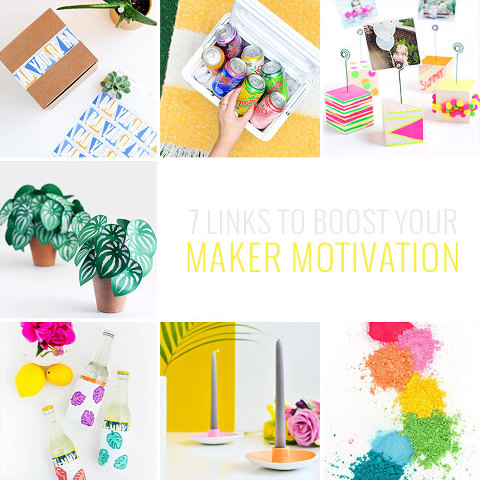 I feel like I say this just about every Friday now that I've made it a point to get a little more real with you guys in these end-of-the-week link roundup posts, but seriously…this week was a doozie. It was my first full one back in the office since the beginning of May, and I decided to put my head down and muscle my way through a ton of priorities and looming deadlines.
Did I get it all done? Nope. Not even close. But despite the fact that my to-do list is still a million miles long, I have lots of really exciting projects and updates to share with you this summer (including a full home tour coming at the end of the month!). In case crafting is your own personal way of blowing off steam, here are seven cool projects that have caught my eye so far this month. Which would you try?
7 DIY Links To Boost Your Maker Motivation
And in case you missed some of the fun content that went live right here on DGD, click back to see my 2016 Father's Day gift guide, the DIY can covers you see above, a breakdown on how to host a festive fire pit party this summer, and a review of my new favorite coffee table magazine, Spoonful. Got a fun link of your own to share? Drop it in the comments!
Get daily maker inspiration on Pinterest