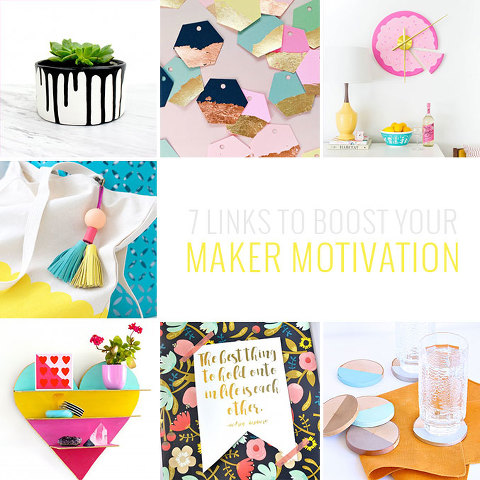 I'm going to keep this post short and sweet because it has been a doozy of a week, and I'm ready to close up shop early to enjoy the weekend. Here's the long and short of it: a spontaneously purchased vintage console from last weekend ultimately spurred an equally rushed collection of Craigslist ads to get rid of our overflow items. Suffice it to say that juggling furniture showings and sales the last few days, while thrilling and lucrative, has put me on edge. I love my routine, so I'm excited for things to settle back down to normal soon.
For those of you on the opposite end of the spectrum who have energy to spare, here are seven DIY projects that are guaranteed to add some pep and pattern to your weekend! Which one do you have your eye on? I'm head over heels for those two-toned Hexagon Gift Tags myself.
7 DIY Links To Boost Your Maker Motivation
And in case you missed some of the fun content that went live right here on DGD, click back to read My Secrets to Pulling Off A Perfectly Planned Week, a quick review of Lauren Conrad's book, Celebrate, my 5 Multipurpose Uses For Your Guest Room, and a tutorial for DIY 3D Pop-Up Flower Cupcake Box Toppers. Got a fun link of your own to share? Drop it in the comments!
Get daily maker inspiration on Pinterest