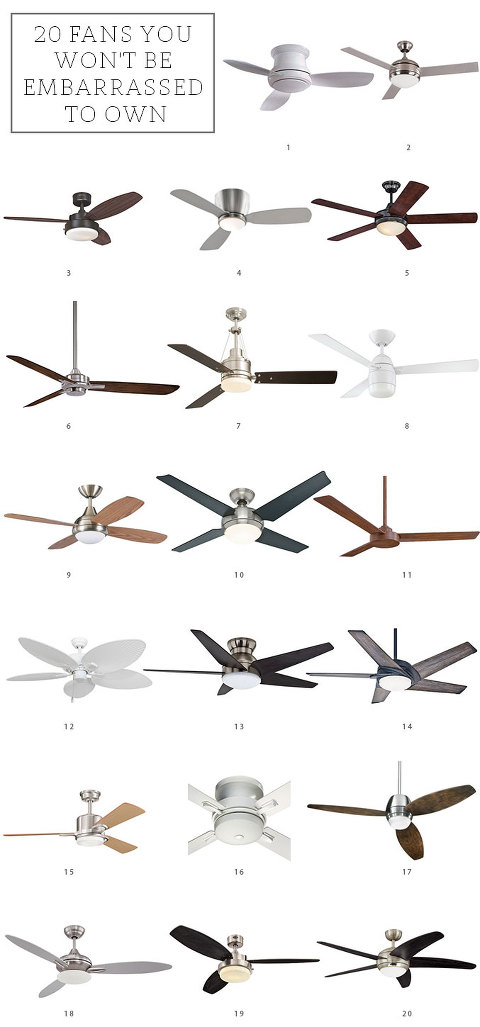 Now, I know not everyone is a big fan of, well…fans, but hear me out! These combo light and air circulation fixtures are practically nothing like they used to be. These days, ceiling fans can be just as much a focal point in your made-over space as a cool thrifted floor lamp or statement piece of art.
In case you don't believe me or if you need a little more convincing before officially joining me on Team Fan, I rounded up 20 gorgeous options for your own ceiling. I tend to gravitate towards fixtures with retro, mid-century inspired details, like sleek-lined wood finish blades and a round globe with squared-off edges (think: a layer cake), but I've also included a few traditional options, plus a couple of wilder, more contemporary fans, too.
I personally own the first one on the list (it's installed in my office), and I looooooove it. A bright white fan with fewer thicker-but-shorter blades is a great way to get the functionality of a fan without making it a focal point in your room. I know ceiling fans have a bad rap and certainly some rooms can't quite handle this chunky type of fixture, but I'm telling you…in the right room and with the right fan style/silhouette, it can be a show-stopper in all the right ways. Which one is your favorite from the list?