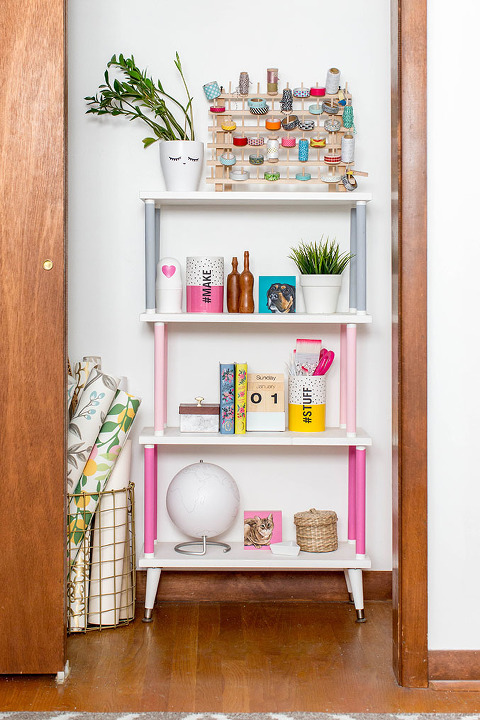 It's so thrilling to be able to say that we've lived in our new house for a full year as of this past October—and it's also thrilling to think back on the incredible amount of work we've done over the course of those 365 (plus) days. We've made over our kitchen with new counters and tile, repainted just about every single room, installed new laminate flooring in the basement, and changed out upwards of seven light fixtures and fans. We've certainly been busy little bees, but now we're moving on to those smaller, not-so-obvious to-do list items that weren't prioritized our first year in.  
Case in point, the purple closet in my office. I actually remember our realtor pointing it out during that first walk-through waaaaaay back when, and although I certainly sneered at the banged up lavender finish at the time, I also thought that it wasn't too big of a deal since we could quite literally close the door on the issue if we ended up buying the house. Well, our one year anniversary came and went and I was officially fed up with that ugly inherited purple paint!
So today, I'm teaming up with ScotchBlue™ to clean up our closet once and for all. Throughout the process of working on this project, I managed to pick up a few tight space painting tricks that I can't wait to share. Scroll on for the big before and after reveal, plus you'll learn how I tackled the job with just two multi-purpose masking products!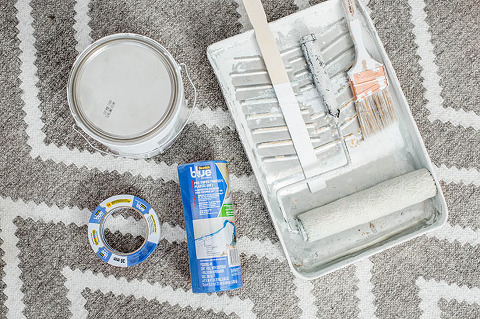 Screw driver

Spackling

supplies

Sandpaper

Shop vacuum

Step ladder

Paint

Paint tray

Angled paint brush

Roller and handle
Note: Follow all ScotchBlue™ Painter's Plastic package instructions for proper surface cleaning and prep, adhesion, and removal.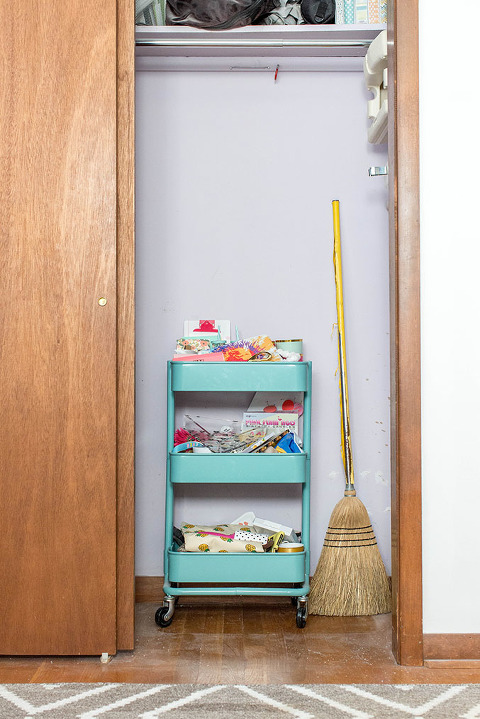 Step 1:
Start by completely cleaning out your closet. It turned out that I had been in such denial over the state of this closet, that there were items and boxes in there that I hadn't touched since moving day! I ended up tossing most of it, and the rest was moved temporarily into other rooms until the project was done.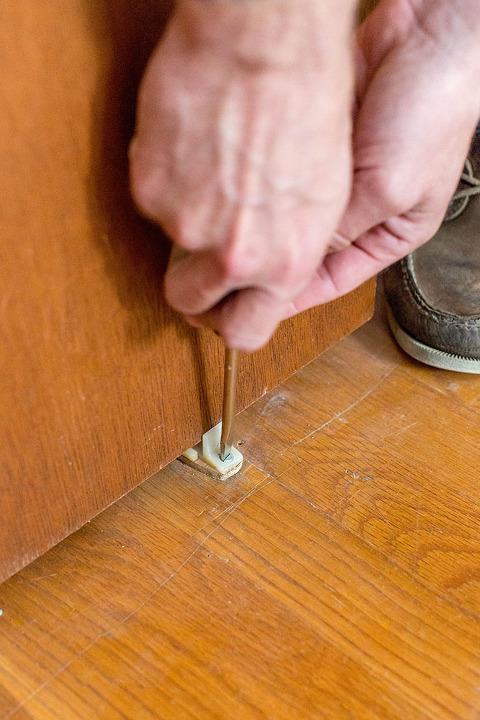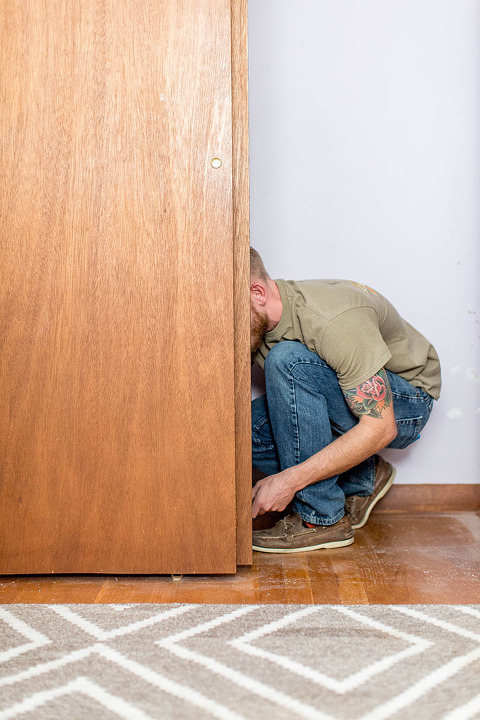 Step 2:
Aside from masking, this is the most important step—no joke. Before doing anything else, take the extra time to completely remove your closet doors. When painting a tight space, extra mobility is key to not only do a good job, but also to prevent you from having to contort yourself into tricky positions to paint a certain constricted area. Save yourself time and injury by removing your closet's doors before moving on.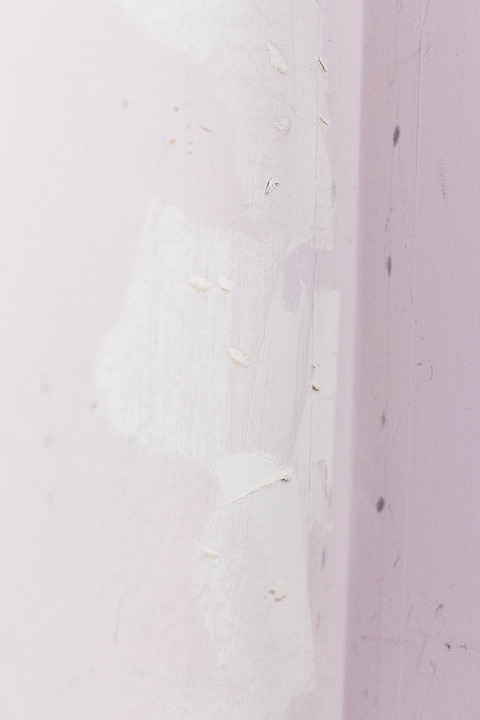 Step 3:
Next, fill the holes and scratches in your interior closet walls with spackling paste to ensure an even surface and allow to dry completely before sanding.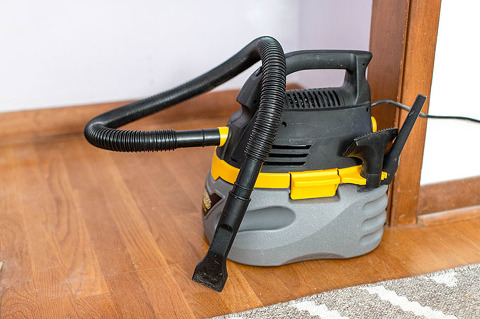 Step 4:
Fire up a high powered shop vacuum to clean up the debris left behind.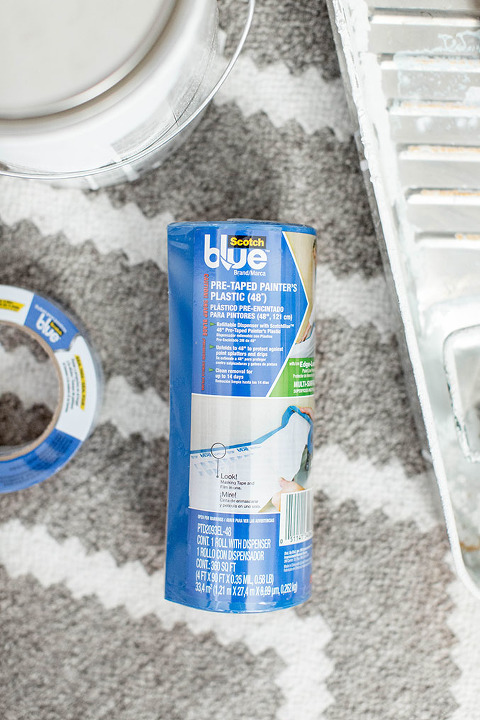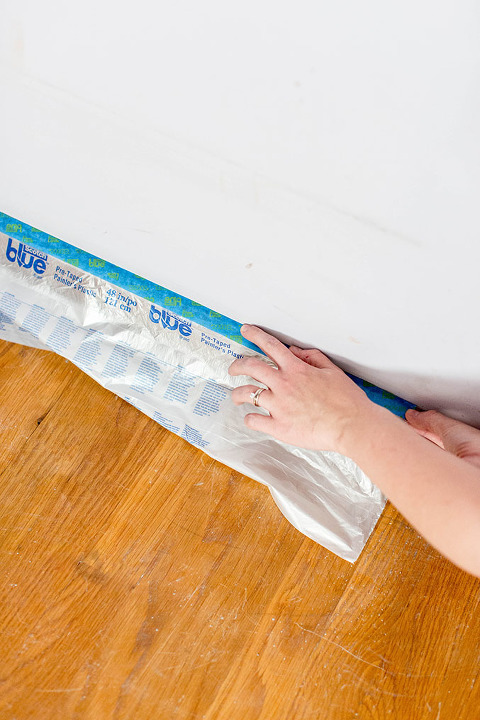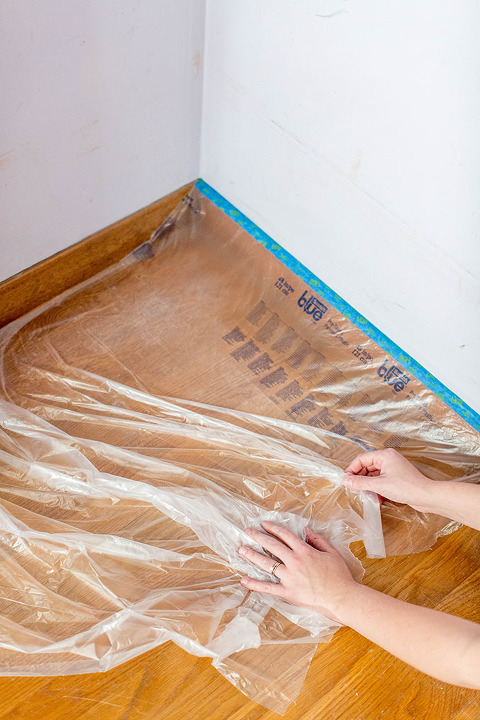 Step 5:
Next, unroll a few feet of ScotchBlue™ Pre-Taped Painter's Plastic, tear it off using the built-in cut-off blade and lay it along the top of your floor trim and molding, making sure not to stretch the tape in the process. Continue pulling off lengths of the pre-taped plastic a few feet at a time to cover all of the trim work in your closet. With the tape portion securely in place, reach up behind to unfold the attached plastic against the floor below.
The best part about this two-in-one product is that it protects your floor from spills and drips without having to pull out nasty drop cloths. I was so glad to not worry about splattering paint during the painting phase, of which there was a lot since it was tight space without much maneuverability. ScotchBlue™ Pre-Taped Painter's Plastic comes ready to go with their ScotchBlue™ Painter's Tape with Edge-Lock Paint Line protector, so I knew I'd maintain a super sharp paint line where the trim met the wall, too.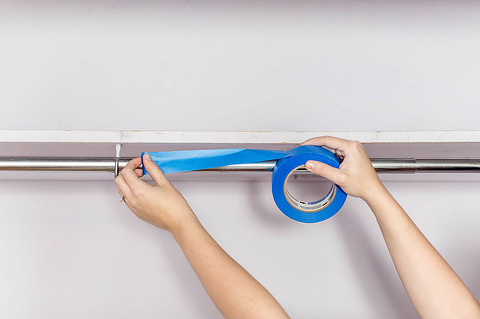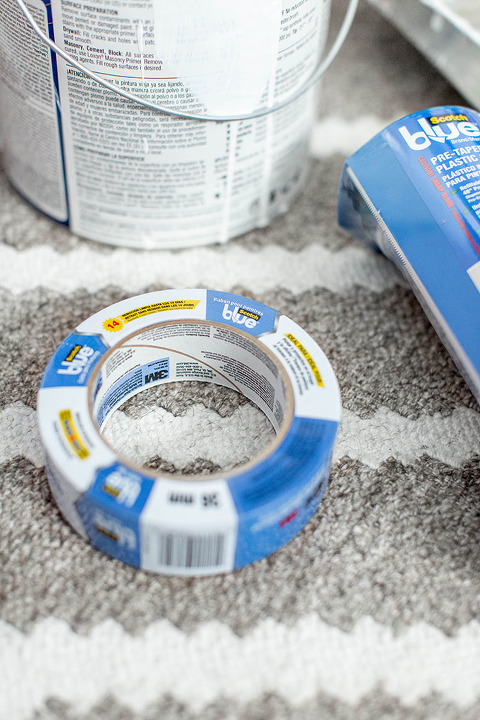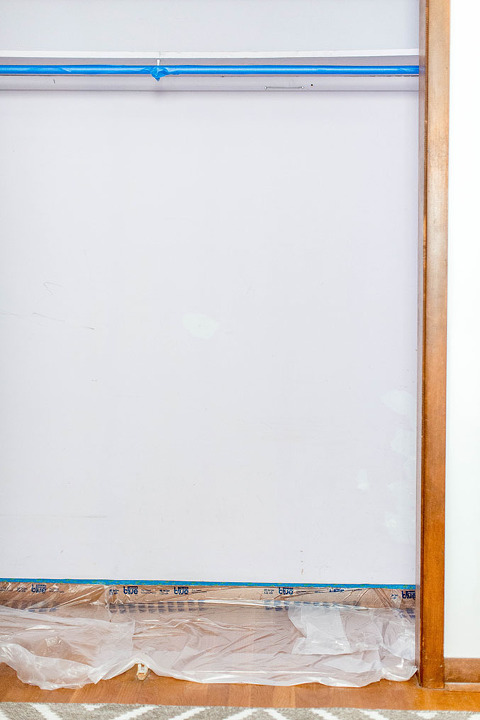 Step 6:
Now to mask the other areas of the closet. Since I had decided to repaint the purple ceiling and shelf bright white as well, I didn't need to tape those off, but I did decide to mask off the chrome hanging bar using a roll of ScotchBlue™ ORIGINAL Painter's Tape. It was a no-brainer because I knew it would give those same pro results as on drywall surfaces.
When using this type of painter's tape in your own closet, unroll a few feet at a time, and lay the tape along your pencil lines, trim, or metallic finishes. Next, run your fingertips or a clean, dry putty knife over all length of the painter's tape to ensure proper adhesion.
Step 7:
Stir your paint well, and then pour it into a metal or plastic paint tray. Then, use an angled paint brush to cut in around all corners and tight edges.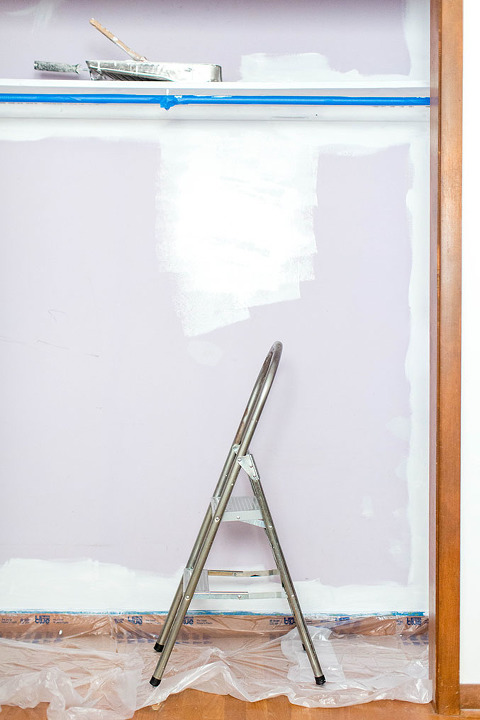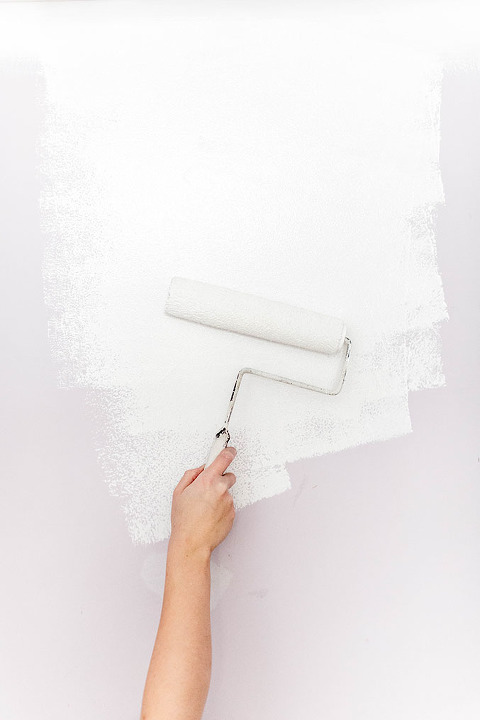 Step 8:
Add a roller to its handle, and coat it with paint from the tray, then roll it across the rest of the wallboard in your closet. It's best to do this while the paint from Step 7 is still wet so that you can smooth out all areas of the painted drywall. Allow the paint to dry for 1-2 hours, and then repeat steps 7-8 until you can no longer see the original finish or color beneath. It took three coats to get our closet back to bright white.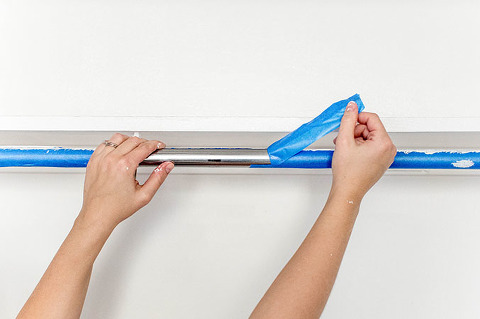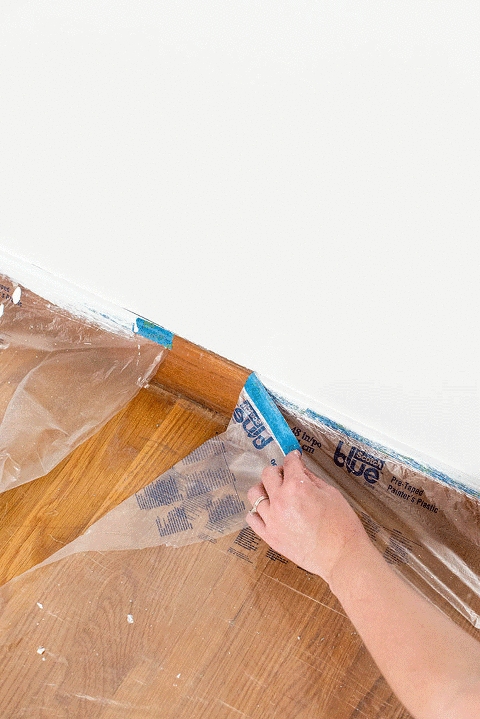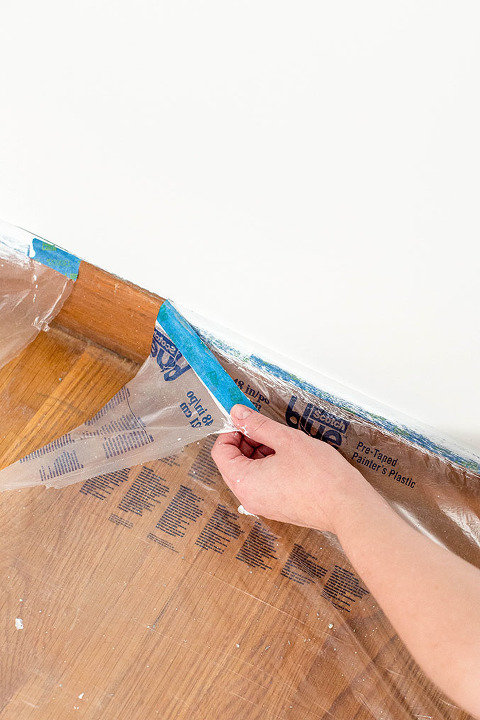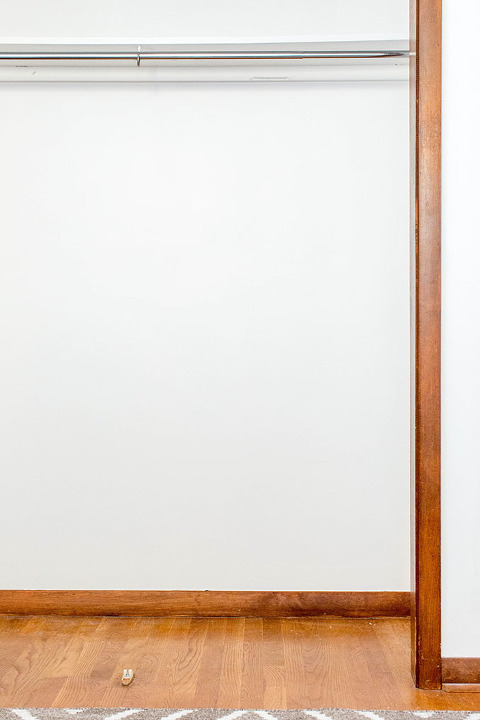 Step 9:
Once you're satisfied with the paint application and the paint is dry to the touch, peel off the tape slowly, peeling backwards at a 45-degree angle. For best results, pull the tape back onto itself as shown above.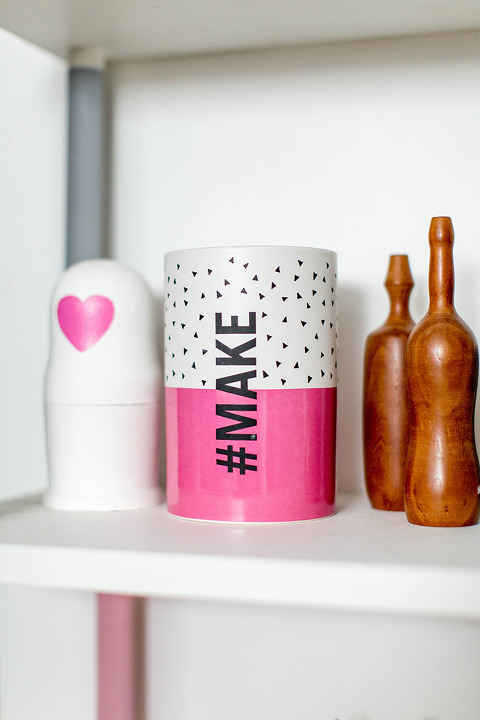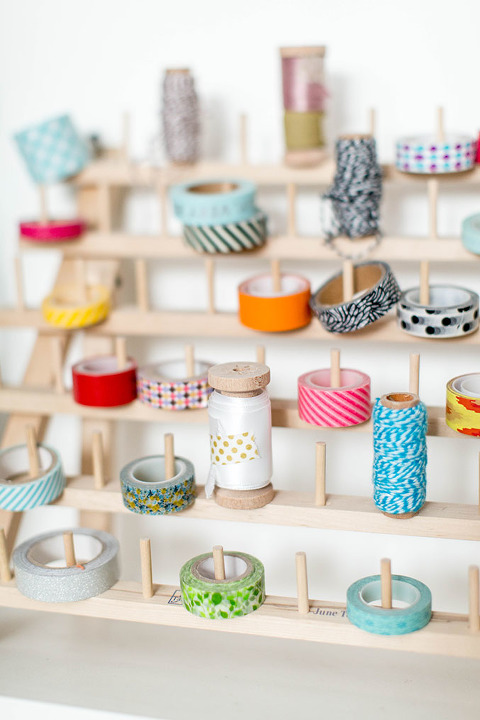 Step 10:
To finish, allow the paint to fully dry overnight, and then reattach the doors and refill the closet with everything that you took out in Step 1.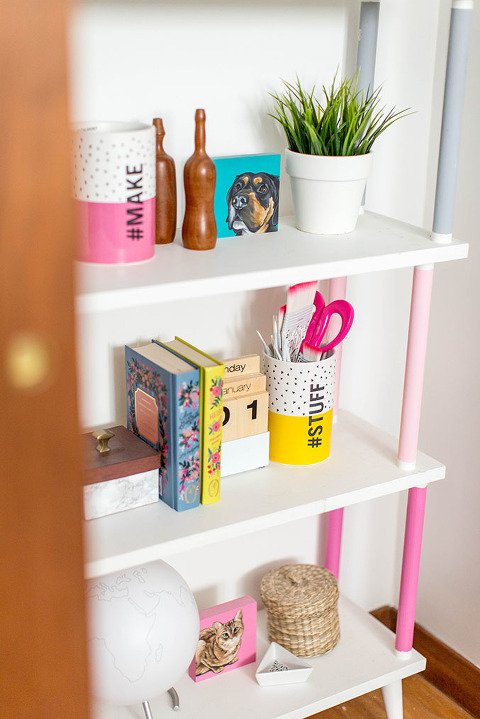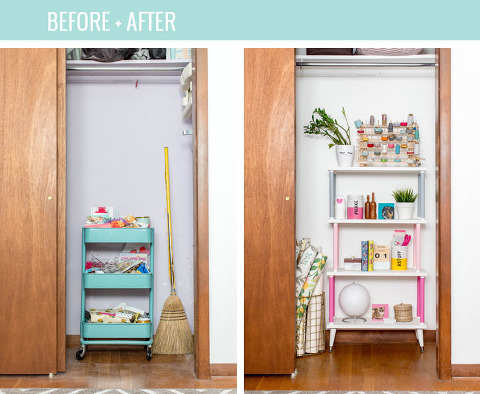 As you can see from the Before/After above, the difference bright white paint makes is pretty awesome. The original closet just looked dirty and, in fact, it was dirty because I hated the color so much and hardly ever even opened the door.
Now, with the new fresh finish, I'm putting the closet to work with more functional storage shelves and floor baskets. It makes me wish that I had done this project ages ago, but luckily we have another inherited closet (this time in bright yellow) that's calling my name. Time to grab my ScotchBlue™ Product supplies and cross off yet another lingering to-do off my homeowner's project list!