I'm the first to admit that baking isn't really my thing. I can do it, but I just feel like I'd rather prioritize other projects (think: hanging new art in the bathroom, painting the sunroom, hitting the antique store to find the perfect vintage desk for my office). So, instead of spending an hour or two over measuring cups and canisters of flour and sugar, I tend to be a regular at the bakery section at our local grocery store.
The only problem with that mentality is that you do give up a certain level of control. I'm pretty stubborn about my aesthetic, and tend to want things to look a very certain way, so having to pick pre-baked cakes off the shelf at the grocery store is a struggle for me. Oftentimes, I just make it work and choose the simplest white-frosted cake I can find (unfortunately, it's usually the most expensive of the bunch), but I recently had the idea to do a little bit of DIYing to a pre-baked cake in order to make it worthy of our next soiree.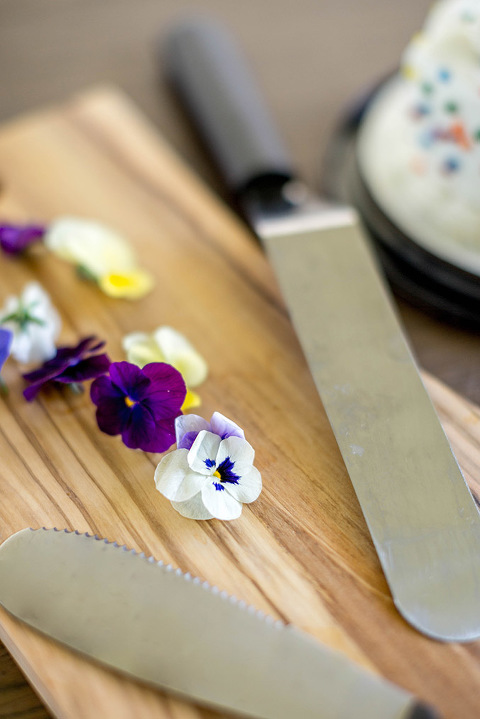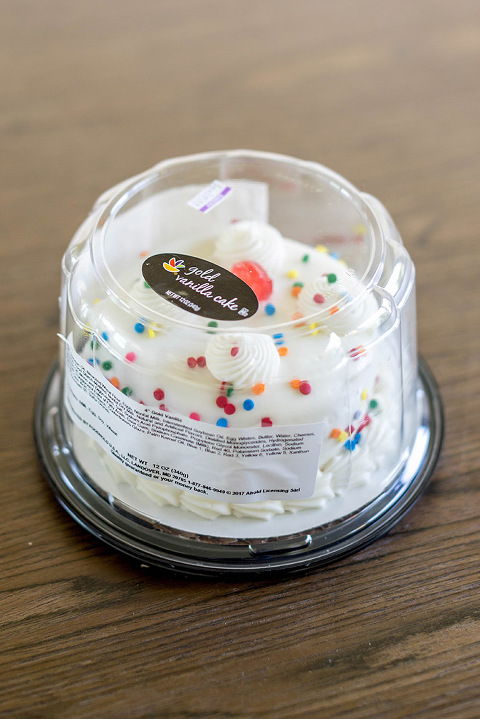 The idea was to pick up a clearance cake from the bakery, and then transform it into a Pinterest-worthy masterpiece using edible flowers. I ordered a 50-count box of pastel Viola blooms from this online shop, and then (not so) patiently waited for the flowers to arrive. After they did, I immediately tucked the flowers away in the fridge to keep them as fresh as possible for as long as possible (they should last about a week if kept cold), and then hit the bakery in search of the perfect cake.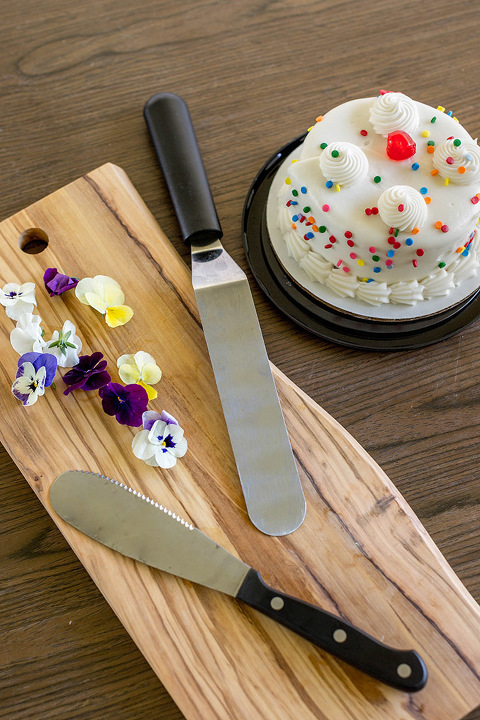 Although I'm sure many of you will think the original cake was cute as could be, it personally wasn't really my style. The bright sprinkles and frosted peaks were a little too whimsical for me, but the $5 clearance price tag was perfect. So I whisked it home, and then set it on my work table to get it looking more like the pretty pastry I had in my mind.
The inspiration was a "naked cake" type look, with just subtle swipes of frosting around the edges, so I used a flat knife to remove most of the original frosting from the cake (which, don't worry, didn't go to waste as John scarfed it up quickly from the sidelines), and then stepped back to survey the results. Although a little bare looking on its own, the simplified silhouette was just what I was hoping for. Plus, I knew it wasn't done yet.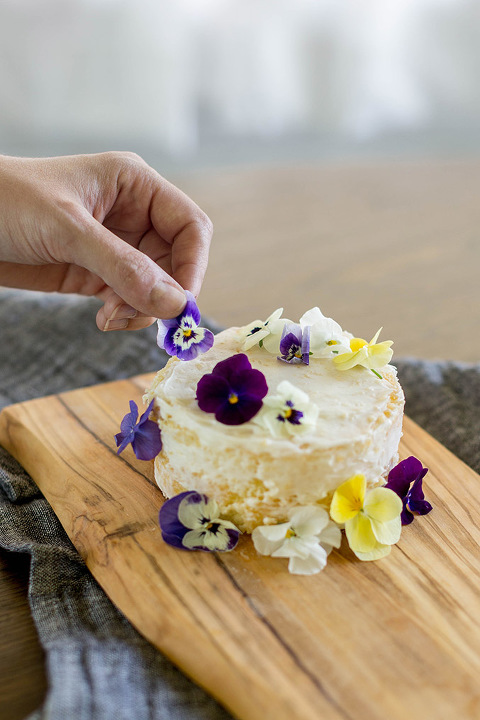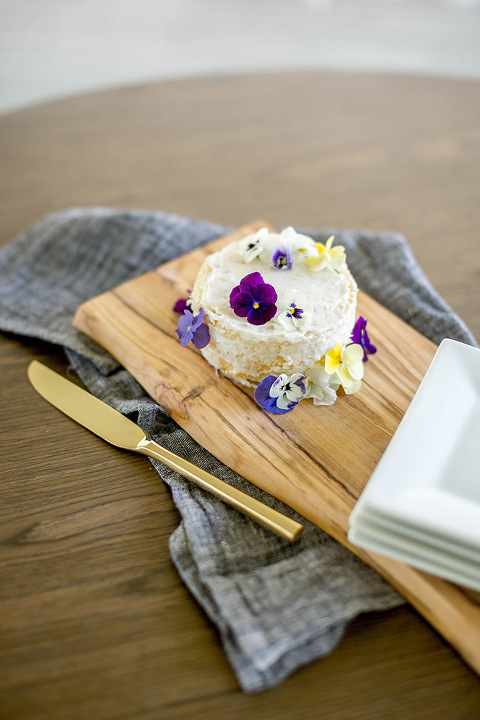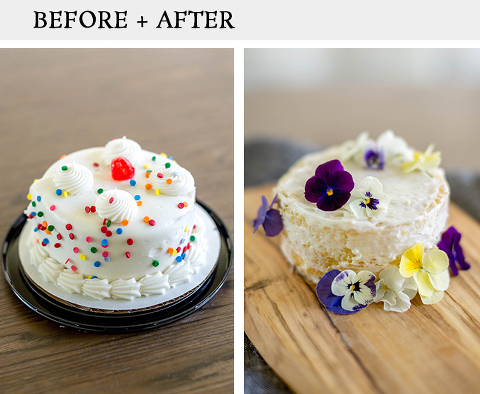 The final step was to decorate the now-naked cake with a handful of the pretty edible flowers I had ordered. In this case, less is more, but you really can't mess it up. To create the look you see above and below, I gently pressed the flowers onto the cake form, allowing the light frosted finish to "grab" the petals and keep everything in place. I situated a few of the prettiest blooms on top, then added a small asymmetrical border around the bottom edge. There was no rhyme or reason to my design—I just kept adding the edible flowers until I felt like it looked done.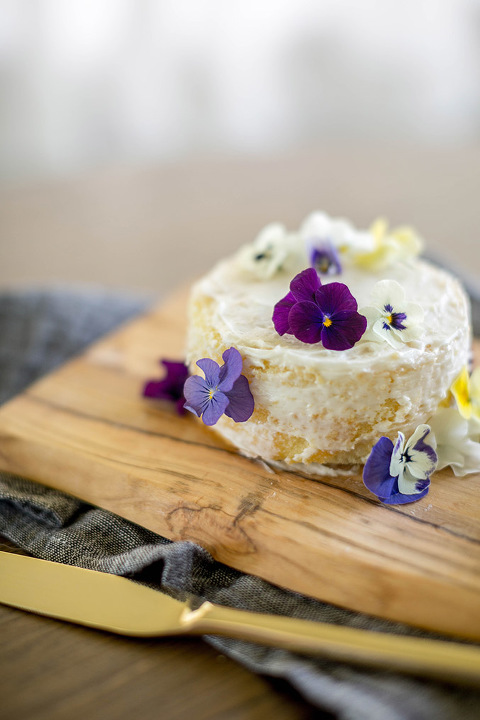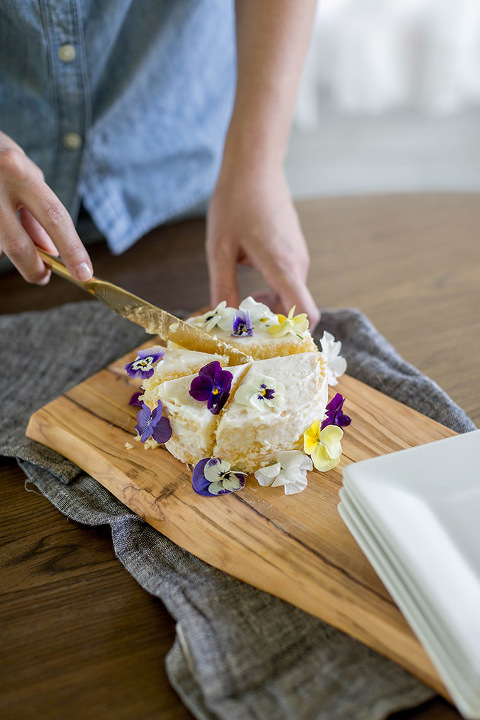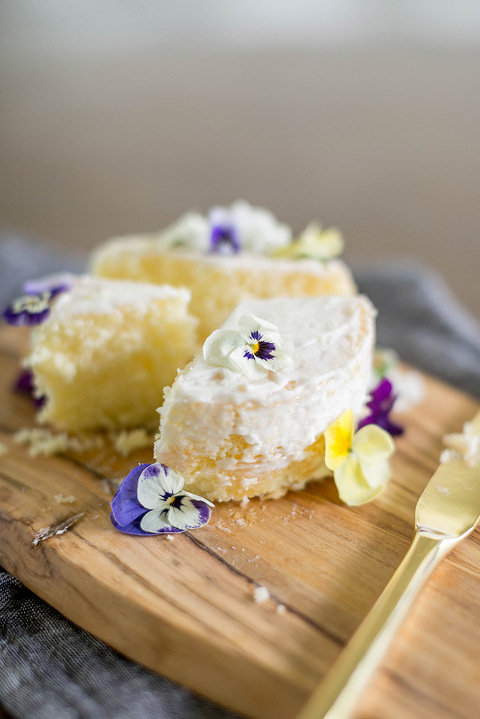 I think the finished cake feels just a little more mature than the original, store-bought look. It's the perfect semi-DIYed treat to serve at a girl's night in or even Sunday morning brunch with friends. And to those of you wondering how a cake actually tastes with edible flowers, I can honestly say that it's delicious. These particular Viola blooms added a super delicate crunch to the cake, and the sweet, herby flavor of the flowers themselves gave it a sort of fruit cake vibe. I think this new pastry process might just be my new brunch-time go-to.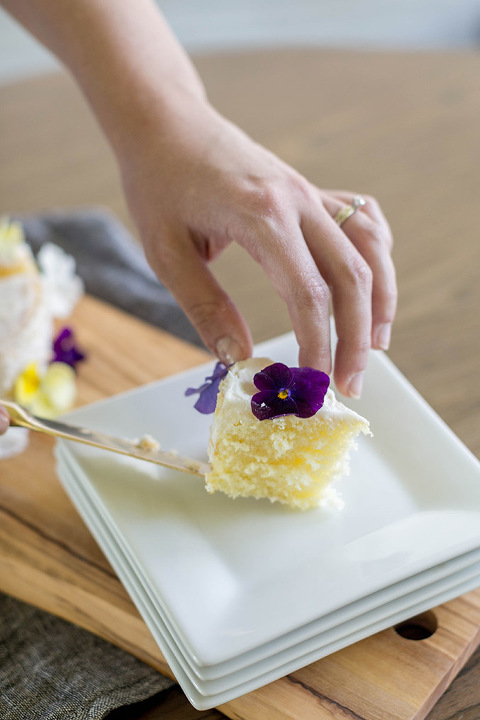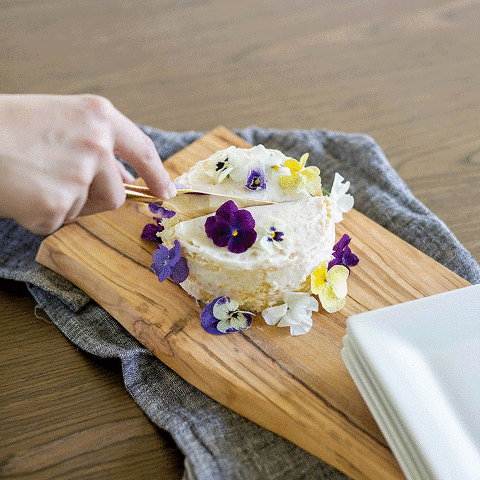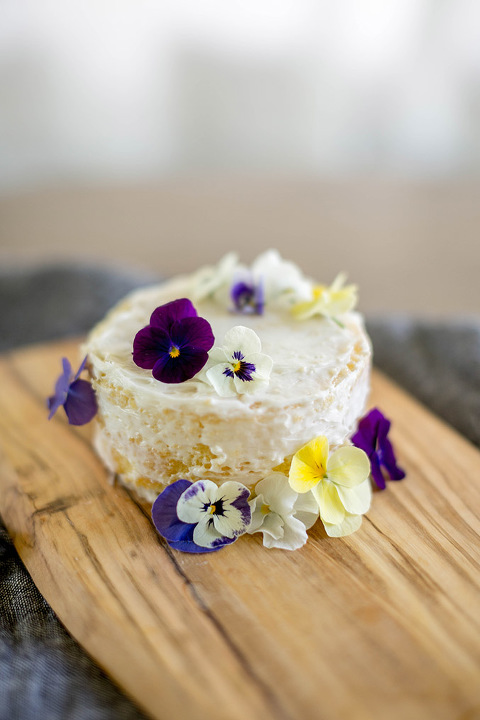 So, what do you think? I know it's not for everyone. In fact, John thought I was nuts when I first explained the concept to him, but once it was done and he had a chance to try it for himself, he admitted that it was kind of a cool transformation.
The only thing I will say is that the edible flowers ended up costing a little more than I would have liked once shipping was factored in. So, I think if I did this again, I would try growing my own blooms for the project. The good news, though, is that I figured out several other ways to make the most of the leftover flowers (of which there were many), so stay tuned for more DIYs to offset this one later this month. I can't wait to share!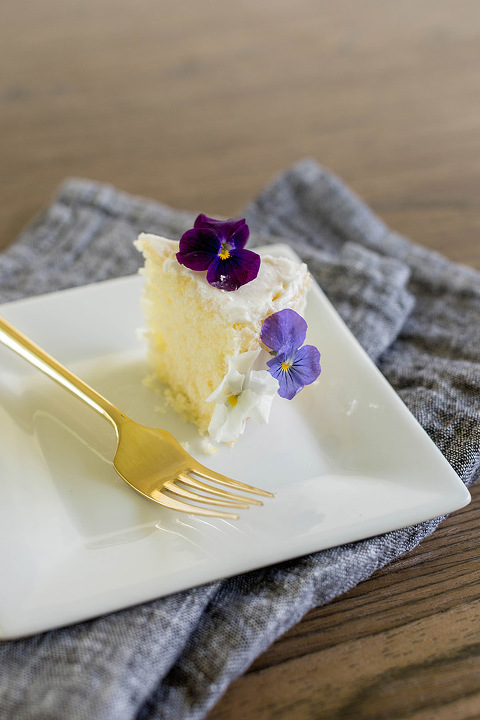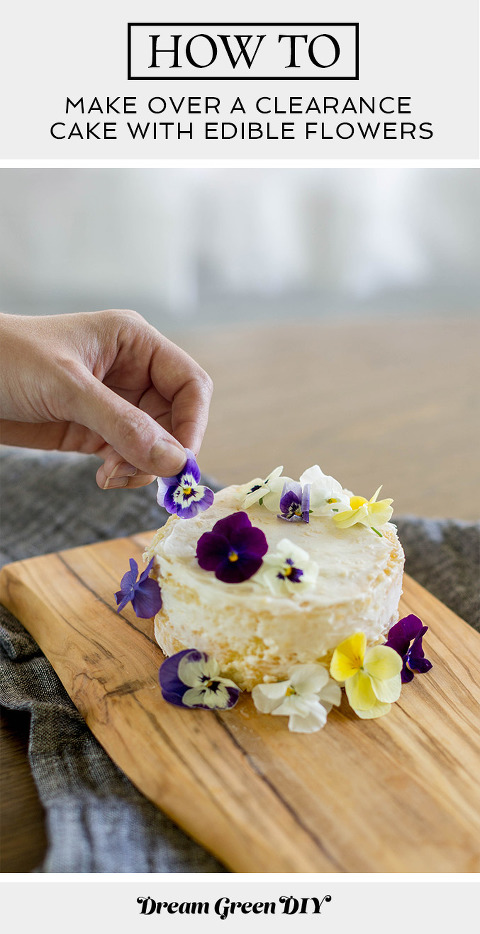 P.S. Have you voted for our space in this year's Design Dash hosted by La-Z-Boy yet?! See the room I made over with my Glitter Guide teammate, Caitlin Kruse, here. Each vote enters you for a chance to win $15,000 to put towards a room of your OWN, so don't wait!
SaveSave
SaveSave
SaveSaveSaveSave
SaveSaveSaveSave
SaveSave