I don't know if it's just the imminent changing of the seasons or what, but I'm feeling the major urge to move things around and tone things down in our home. I've been on a reorganization kick lately, too, which means that I'm taking huge car loads to charity, and our trash can and recycling hauls have been overflowing. It's funny because I feel like we sort of just got settled in our house now that it's been almost two years since we moved in, but I'm already itching to tweak a few major things.
Case in point our downstairs family room. My friend and photographer Carrie Coleman came over to the house a couple of months ago to shoot an updated home tour (more on that next month!), and she captured the current state of things to a "T" above and below. I love the tufted details and the pattern play between textiles and upholstered pieces, but in my quest to neutralize our decor, I want to take things down a few pegs.
I'm working with Interior Define to replace our existing couch with something a little easier on the eyes (and a little more "loung-y," too!), but I need your help deciding how to bring the rest of the room together from there.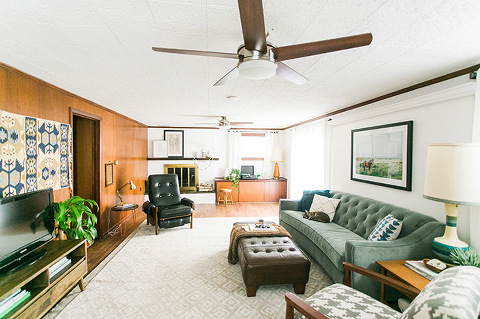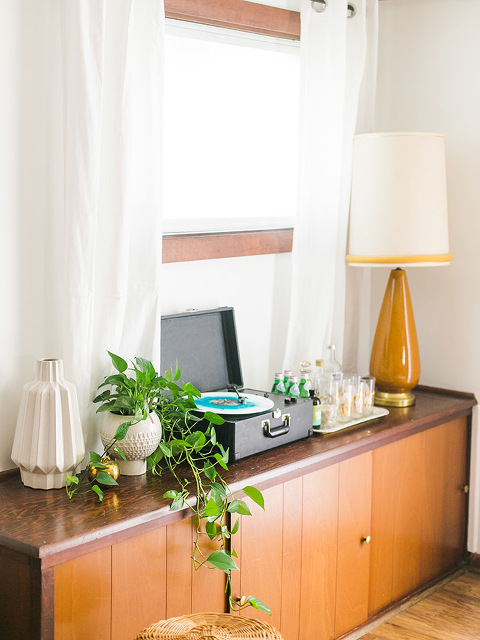 Below, you'll see two options that I came up with. I don't want to have to change everything because (a) our budget is tight, and (b) I don't want to waste what we already own. In the two mood boards below, you'll see that I've included our existing flooring and rug, but the coffee table, art, lamps and end tables are all new ideas. Our existing mid-century recliner and the side chair will probably stay, as will the entertainment center, and plants/accessories.
Sadly, our oversized tufted leather ottoman won't work with the new couch since we chose a sectional. Instead, I'm on the hunt for a round table to fill the space and offer a place to rest drinks, but that won't stop the flow to the couch.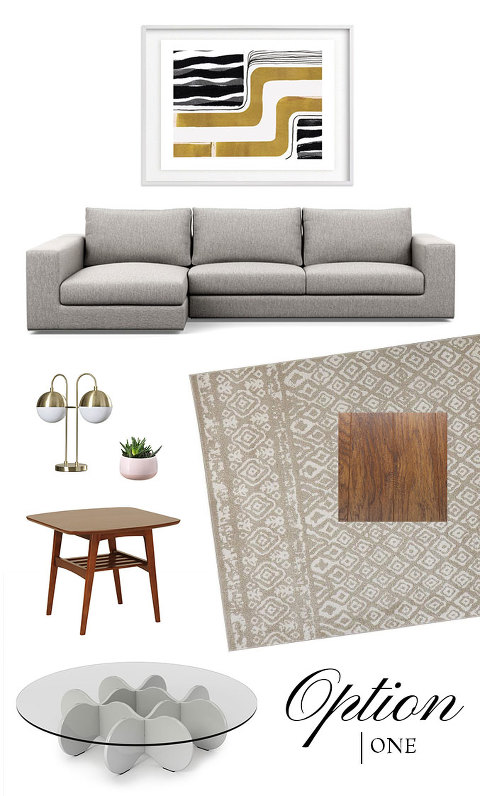 You'll probably notice that Option One is a little more pulled-back than Option Two, what with a single piece of art instead of a gallery wall. The sculptural coffee table in Option One's mood board is certainly a focal point, but I think the white and glass surfaces help the table blend into the background juuuuust enough so that it doesn't steal the show from that pretty sectional.
On the other hand, I love how the gallery wall in Option Two brings just a hint of color into the space without overwhelming things. Since I brought so much hypothetical color into the room through art, I chose a white end table to balance out the palette. A mid-century inspired round wood coffee table then grounds the space, while a bold black lamp punches up the masculinity just a tad.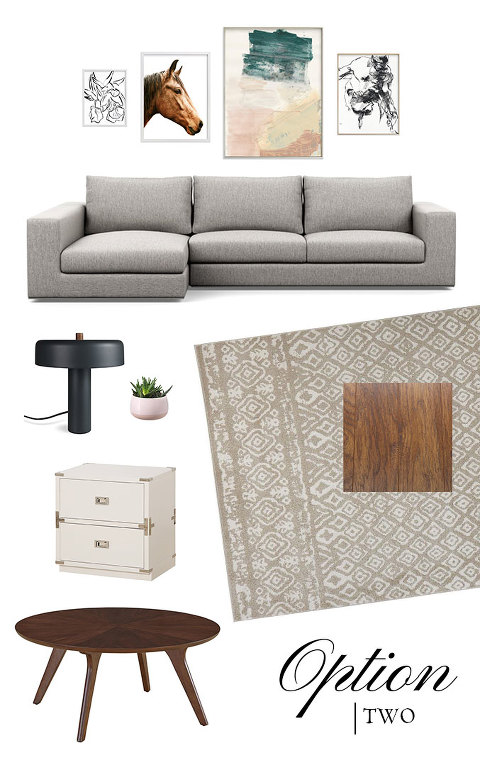 So, which one would you choose? Oh, and before I go, Interior Define is hosting their annual 15% off sale now through September 20, which is huge since their prices are already really affordable. Check out the options here, and don't forget that you can get free swatches so that you can touch and feel the fabrics in person before you buy!
Now, go ahead and leave your vote for decor options in the comments below, and don't be afraid to tell me how you'd mix the two together if you can visualize a third option! I can't wait to hear what you guys think.