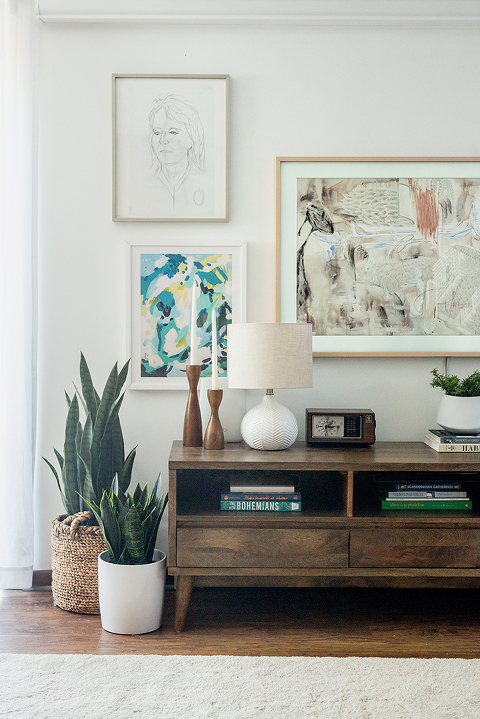 By now it's probably pretty safe to assume that you've heard of the Samsung Frame TV. This revolutionary piece of equipment has taken the design world by storm, and for good reason. I talked about adding our own Frame TV to the house last year here in case you missed it and want more technical details, but this TV is the first of its kind to blend in completely with its surroundings thanks to the built-in art mode. With the touch of a button you can transform that tell-tale black box into a softly lit piece of digital art.
I should mention that this blog post isn't sponsored in any way. I just wanted to share a quick updated review of the TV now that we've had the chance to enjoy it for seven months. If you remember, we had yet to hang the television up on the wall, so you can consider this "Phase 2" of the integration into our family room from a design standpoint, too.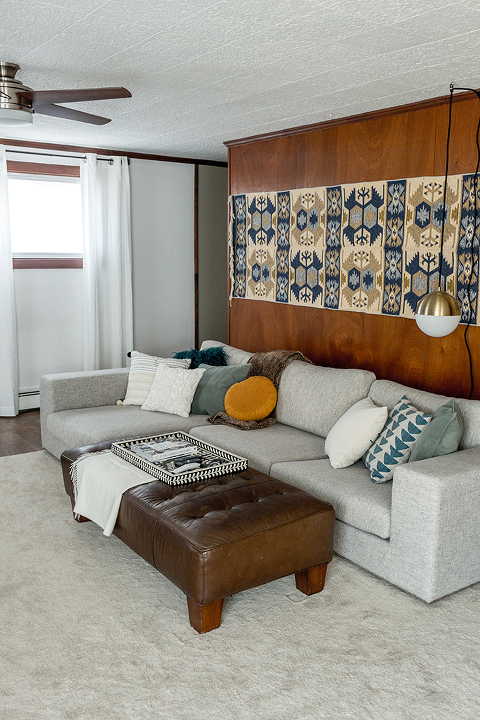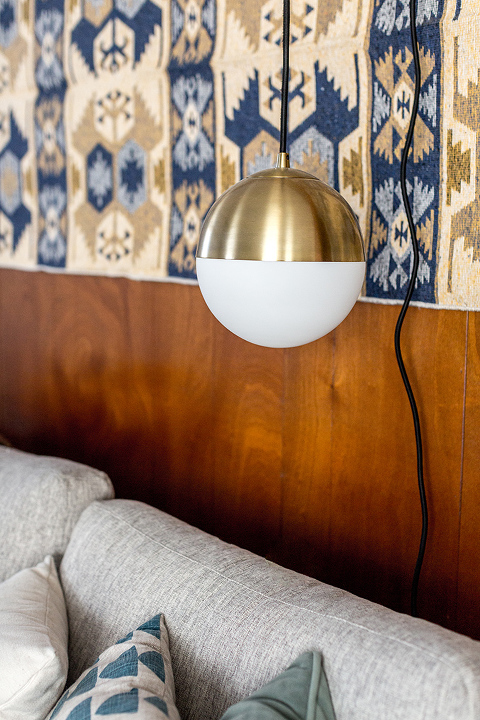 When we first received the TV, John and I had a little trouble finding the perfect spot for it up on the wall. Until that point, we had never actually hung a television in any of our homes, so we were a little anxious about installing it somewhere in a much more permanent way. So, we started by resting the Frame on our television console in the family room using the included stand.
Fast forward six months and we were still every bit as in love with the TV as we were when we first unpacked it. The art mode is super realistic (guests love seeing it in person when they visit!), and the picture quality is so nice that we actually stopped using the projector we used to watch TVs and movies on. Every night we found ourselves gravitating toward the sectional in our family room to watch the Frame, so we ultimately decided it was time to really commit and hang the thing up on the wall once and for all.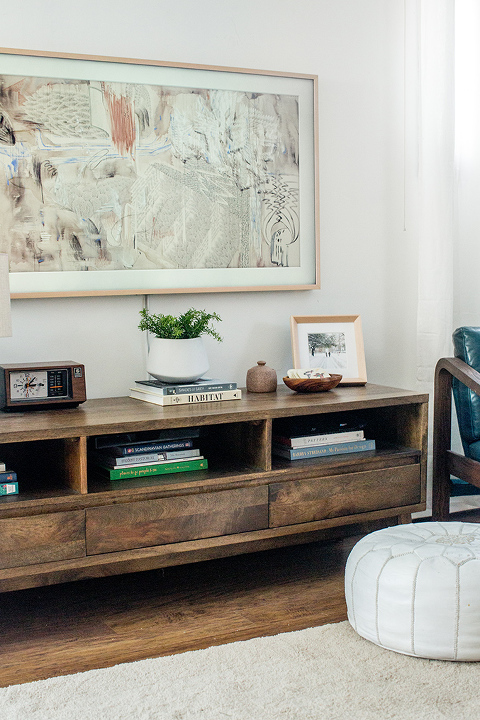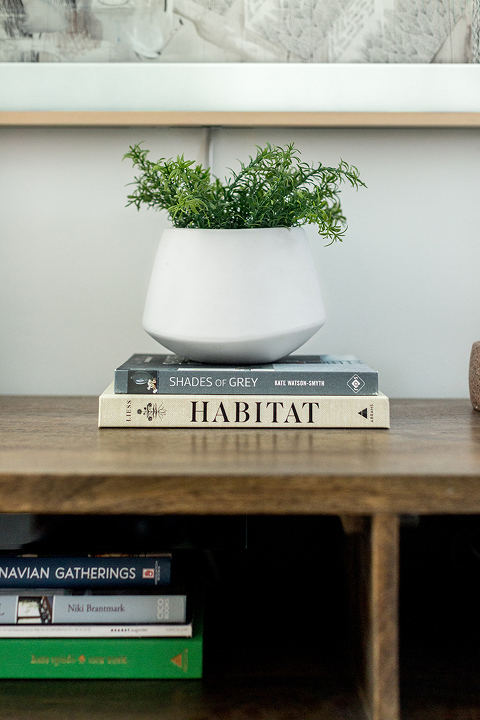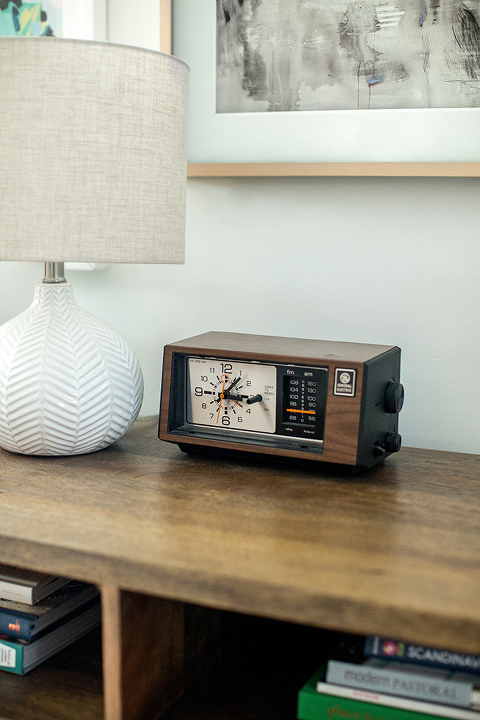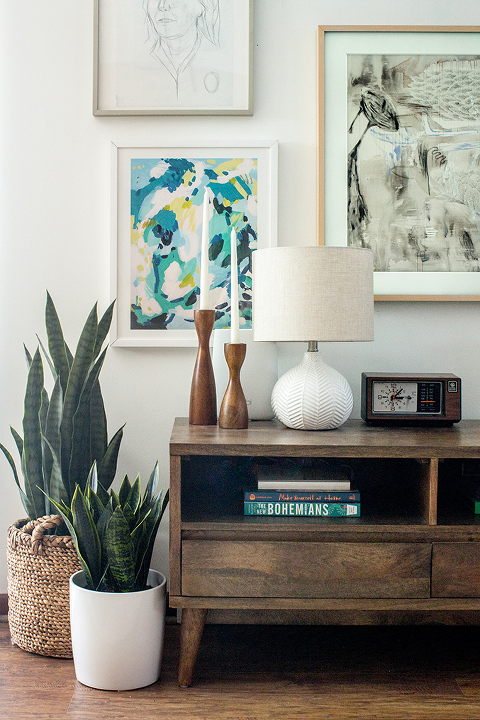 The main issue, though, was arrangement. We couldn't hang the TV up on the paneled wall where it sat on the wood console because the paneling actually sports a bank of dated mirrors that we had to cover with a vintage rug. This meant we needed to flip the entire space around, putting the sectional couch against the paneled wall, and the cabinet and TV on the blank white wall opposite.
We were unsure about how the 10-foot sectional would look against the 10-foot paneled wall, but it turns out that the end-to-end look suits the space (you can get a pretty good sense of what I mean in the second photo from the top of this post). While this meant we couldn't use end tables, the extra large tufted ottoman does the trick of supporting our feet, water glasses, and remotes, and an inexpensive hanging pendant solved the issue of lighting.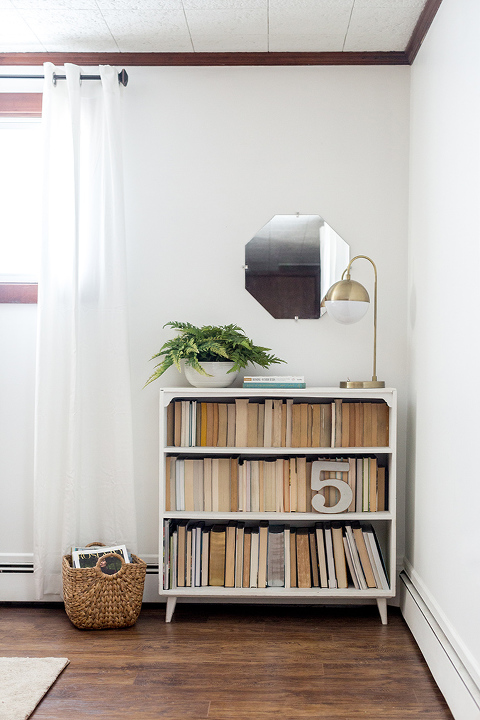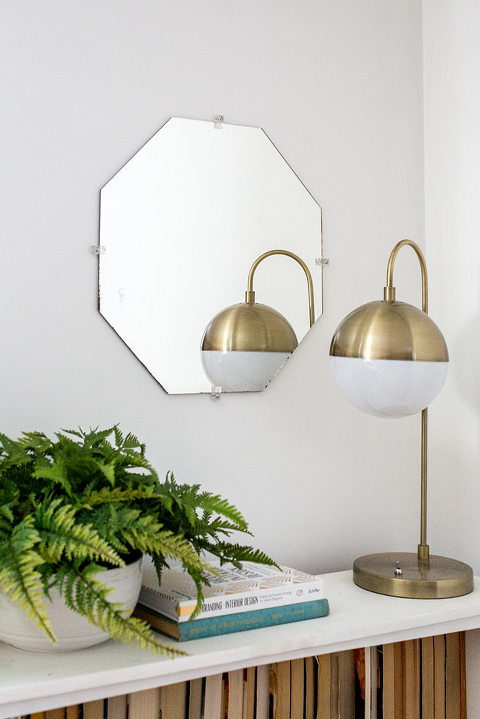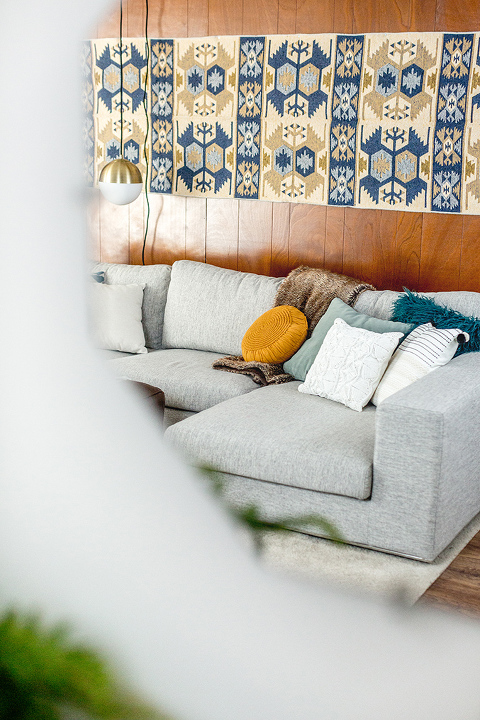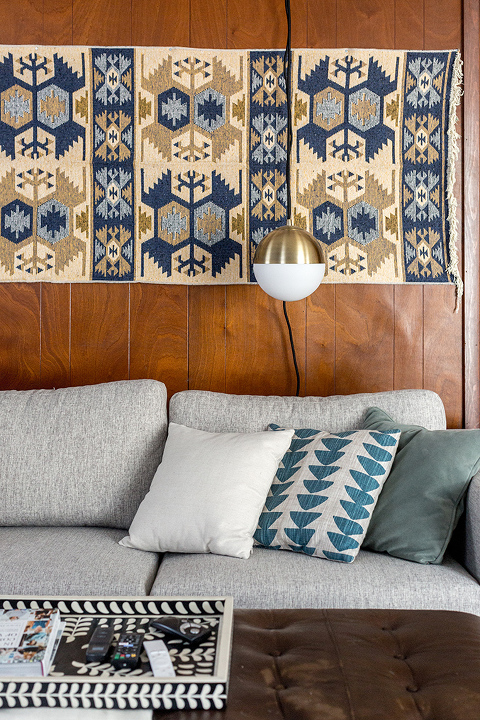 As for the TV? It took us a few days to gather all of the correct tools (and energy) to get the thing up on the wall, but up it went and we couldn't be more in love. The no-gap wall mount that came with the Frame allows it to sit flush against the wall, and the one thin cable is pretty discreet coming down from the TV to the power box and outlet. I situated a leafy potted plant in front of the wire to hide it a little more, and now you can barely see it.
You more observant folks might have noticed a new addition to the television itself. After about four months or so, I decided to spring for the walnut wood finish frame to customize the look of our TV, making it look even more like a real piece of art. The frame comes in four pieces and snaps magnetically right to the existing frame of the TV for a seamless finish.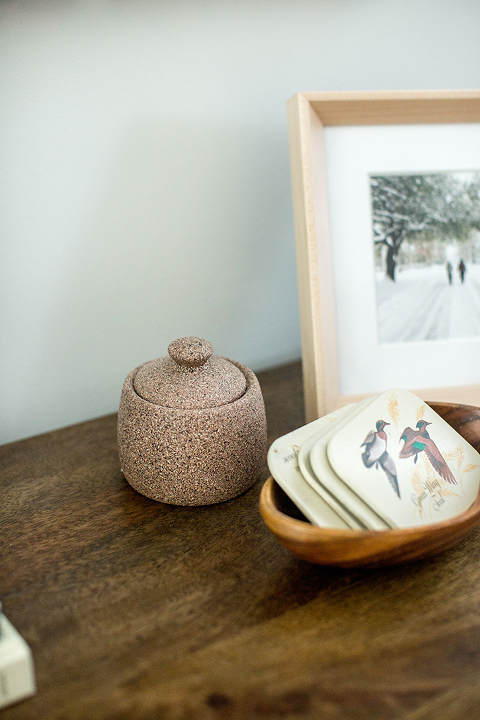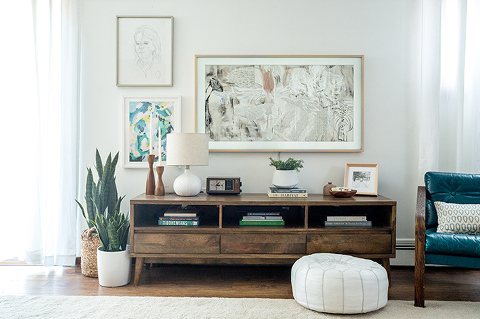 Now to address today's main blog post topic: how to hide your TV in a gallery wall. This is another one of those themes that interior designers love to talk about right now, but since I've had the chance to try it out for myself, I'm hooked. I think the main thing to really consider here is placement, though, and it's not something I hear often in other "How To Hide Your TV…" type posts out there.
Rather than hanging your wall-mounted TV right front and center in your gallery wall, test out a more inconspicuous spot on the wall. A giant flatscreen TV smack dab in the middle of a grouping of smaller framed pieces is going to look like, well…a giant flatscreen TV smack dab in the middle of smaller framed pieces. Instead, shift the TV off to the side and maybe a little lower than your other frames. This makes the gallery collection feel more organic without impeding your ability to watch TV.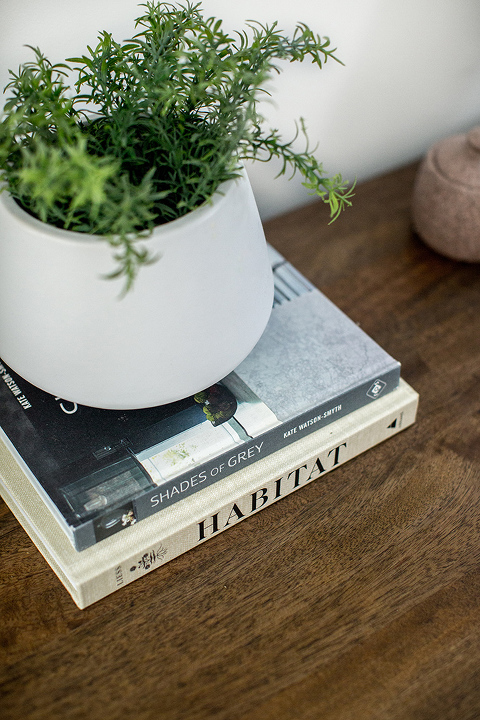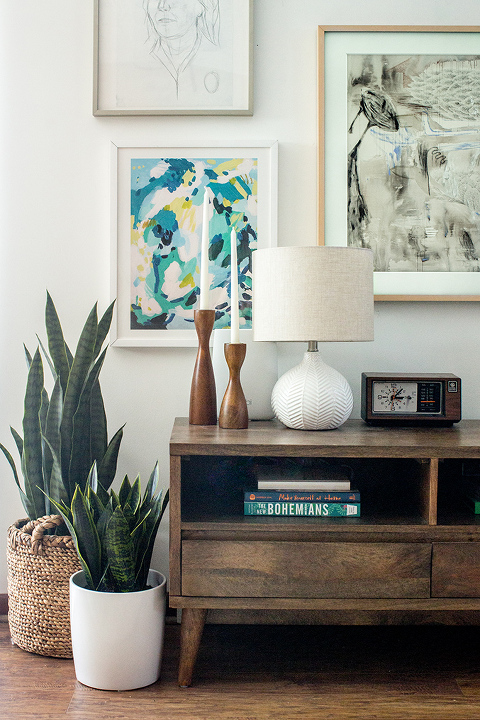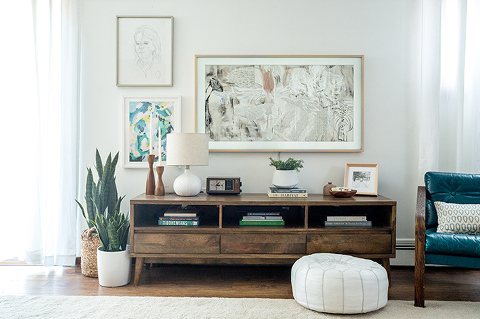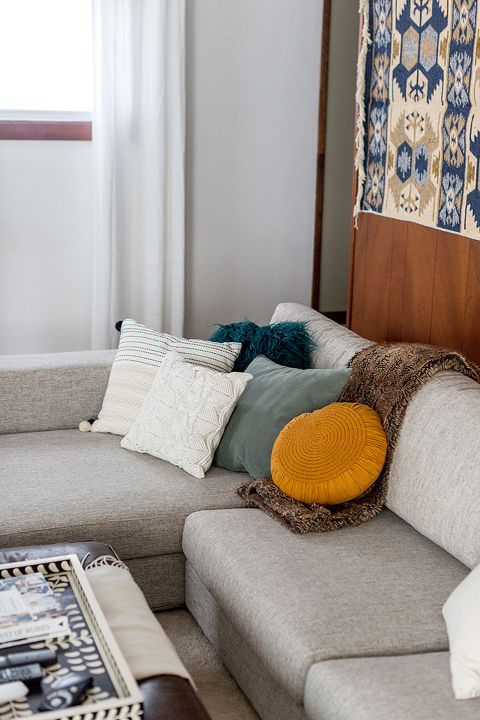 If you'll notice in the pictures in today's post, we intentionally hung our TV off center on the wall so that, whether it's in art mode or streaming live TV, it doesn't feel like a big box next to a couple of tiny pieces of art. I think the off-kilter arrangement camouflages the real purpose of the gallery wall better. This arrangement also gave us a little more room for art off to the left since the wall space isn't gigantic between the sliding door and window.
My suggestion (and what we did ourselves) is break out some painters tape, get acquainted with the measurements of both your art and TV, then play around with temporary squares and rectangles up on the wall. This allows you to test out different arrangements without having to rehang anything in case you don't like the look. Place your tape, step back to consider how things look, and make sure that the grouping feels balanced. Try sitting on your couch to confirm comfortable TV-viewing, too.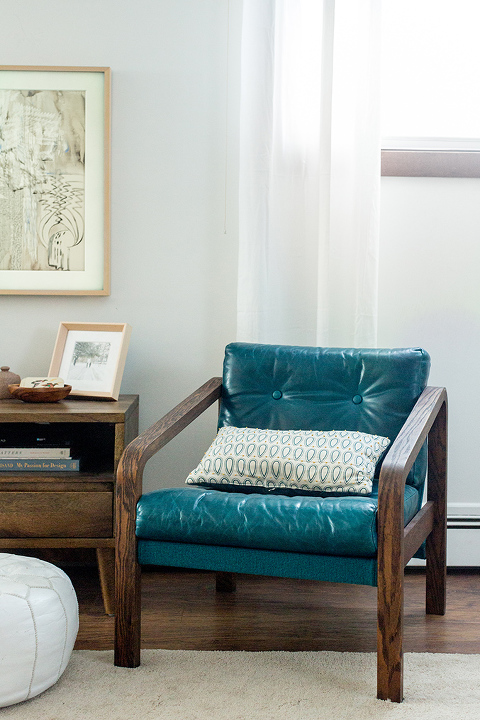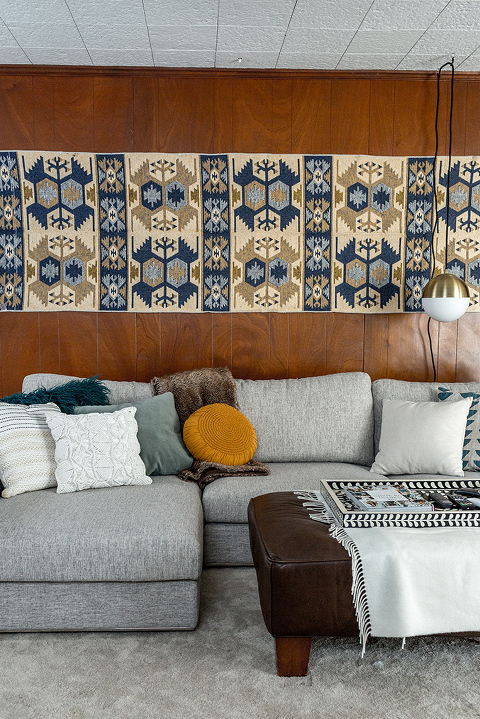 Have you ever hung a TV up on the wall before? I'm dying to know how it went. And I'm also curious to know if you've given in to the draw of this crazy-cool TV. I couldn't possibly recommend it enough (again, no one's twisting my arm to say that), and I'm so excited that Samsung finally came out with a slightly smaller and more affordable option. Feel free to leave any technical questions, design thoughts, and final opinions in the comments below!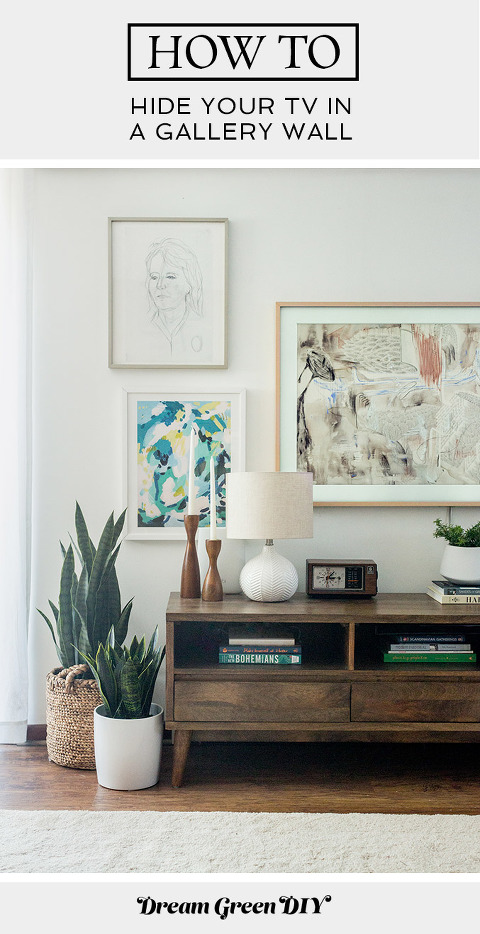 *I earn a small percentage from purchases made by the affiliate links above. Affiliate links are not sponsored. You can rest assured that I would never recommend a product that we don't use and love ourselves!
**Don't forget to sign up for the Dream Green DIY newsletter! The next issue hits everyone's inboxes this Wednesday, and includes a super thrilling business announcement that I'm ONLY telling my newsletter subscribers for now. You can sign up to get on the newsletter email list here.