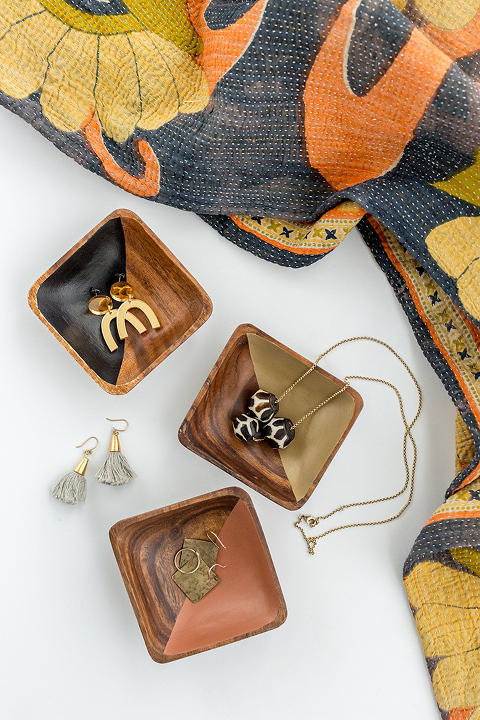 Today, I'm teaming up for another home décor project in collaboration with Tuesday Morning (see our holiday-themed styling story here!). If you're new to the brand, each store carries a huge selection of discounted home goods and accessories from all sorts of brands and designer names. We're talking unique, handpicked items from all over the world—a fact that ended up directly inspiring the global DIY project you're about to see.
I tend to go into any home goods shopping excursion with at least a general idea of what I'm going for. I'm currently working on a big spring makeover project (more on that tomorrow), so I made sure to have a mood board of inspiration images and dream products ready to reference on my phone as I headed into our local Tuesday Morning.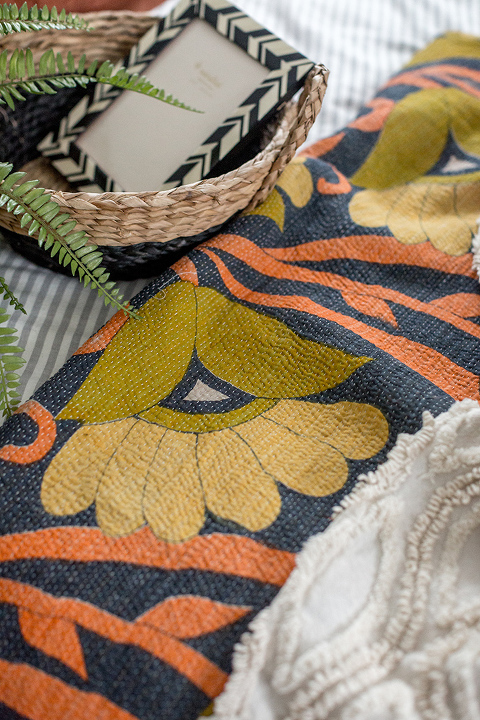 With my mood board close at hand, I started pulling together a cart's worth of accessories all within the warm, earthy color palette I had planned. Then, I paused for a moment (right there in the aisle!) to take stock of all the pieces I had grabbed. As I looked through all of the things I had chosen, I immediately picked up on an eclectic Moroccan theme. Without really meaning to, I had grabbed a pretty intentional-looking collection of wood toned pieces, hand-stitched textiles, and lots of accents in a rust and evergreen color palette.
My eyes kept going back specifically to a trio of mini wood cups that I had grabbed on a whim from the kitchen aisle (each priced in-store for $2.99, compared to $6 full price). I felt like they needed just a hint of color to help them fit within the rest of what I had chosen, so I made a pitstop in the crafting aisle to stock up on paint and brushes.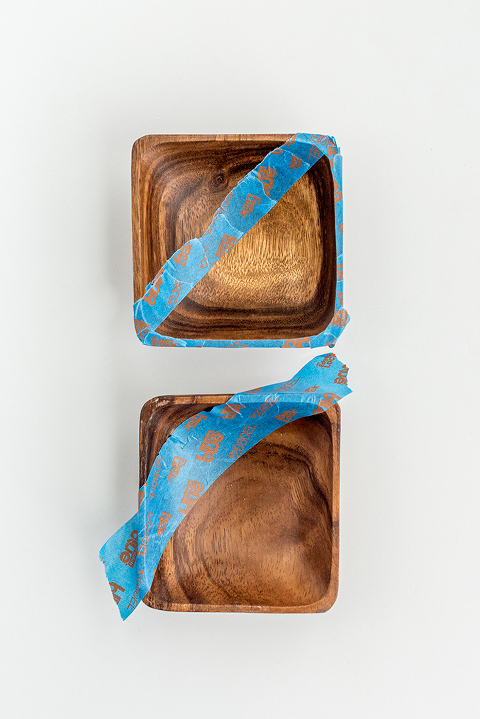 Once home, I grabbed a roll of painter's tape that I already had in my toolbox, and then I got to work masking off the areas I wanted to paint on the wood cups. The photo above is a demonstration of what to do with your painter's tape and what not to do with your painter's tape.
Rather than using one long piece of tape to mask off half the cup (as seen on the bottom cup), use lots of tiny pieces of torn tape (as seen on the upper cup). This method allows you to have more control over the line down the center. See how the cup toward the bottom of the photo is curved way out to the side, whereas the line on the upper cup is much straighter and cuts the cup right down the middle in a diagonal line? The only way to control that line is with smaller pieces of tape.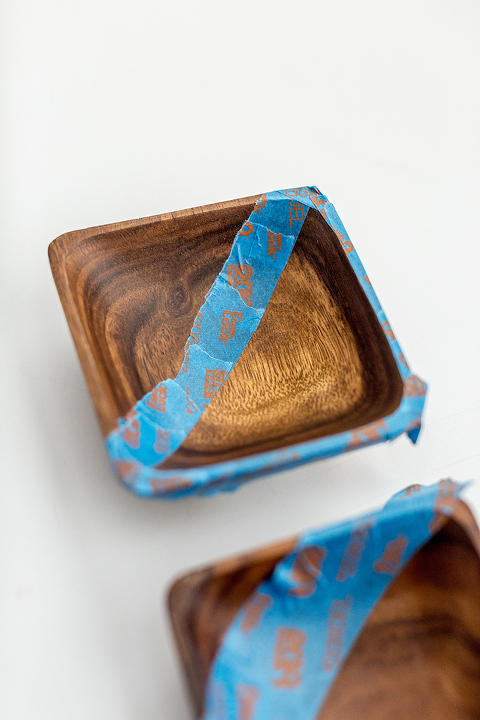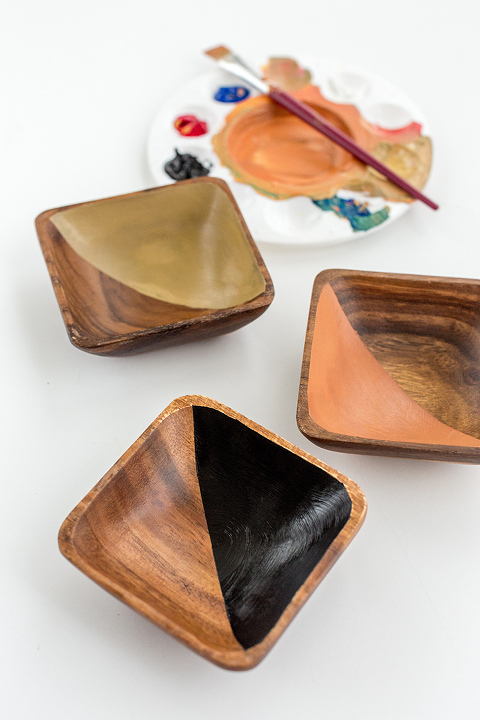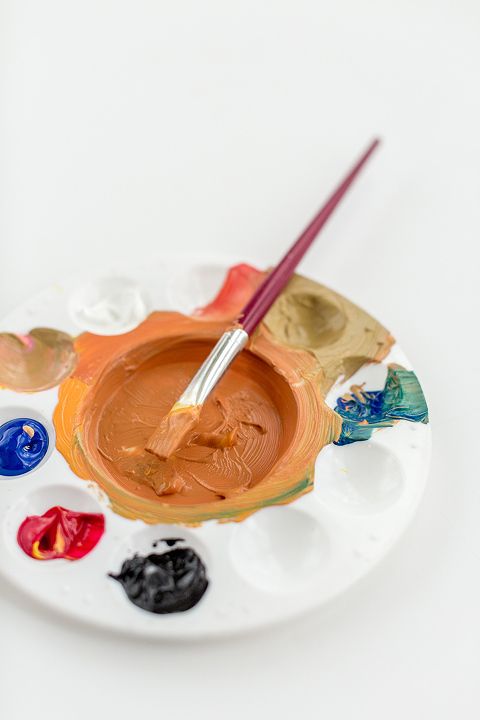 Next, I mixed acrylic paint in three colors—orange, olive green, and a striking solid black—to match the throw blanket from India that I bought at Tuesday Morning (snagged for $29.99, compared to $99.99!). I painted each of the three cups using the colors, making sure to rinse and dry my paint brush between each coat and each color. In the end, I did two coats, allowing the cups to dry for 30 minutes in between each layer of paint.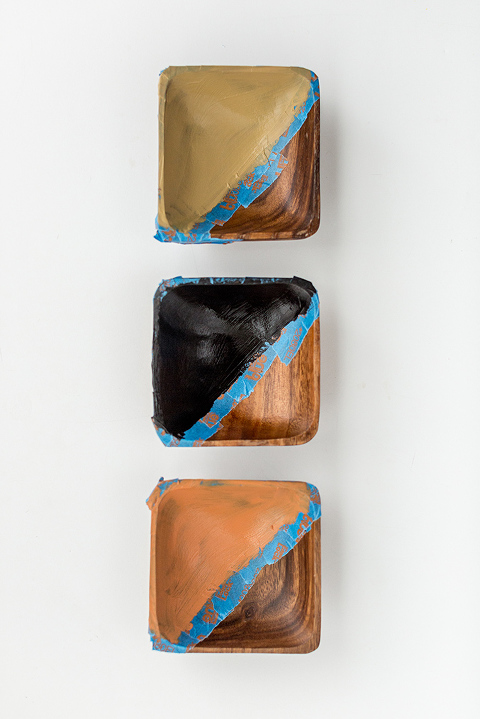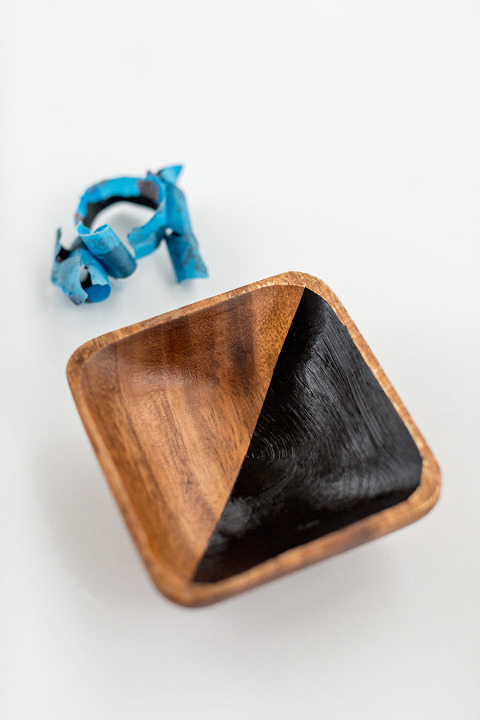 As soon as the final coat of paint had been brushed on, I went ahead and removed the painter's tape. It's important to peel back the tape while the paint is still wet to avoid peeling the dried paint off with the tape. After that, I was all done and ready to fill the cups with jewelry.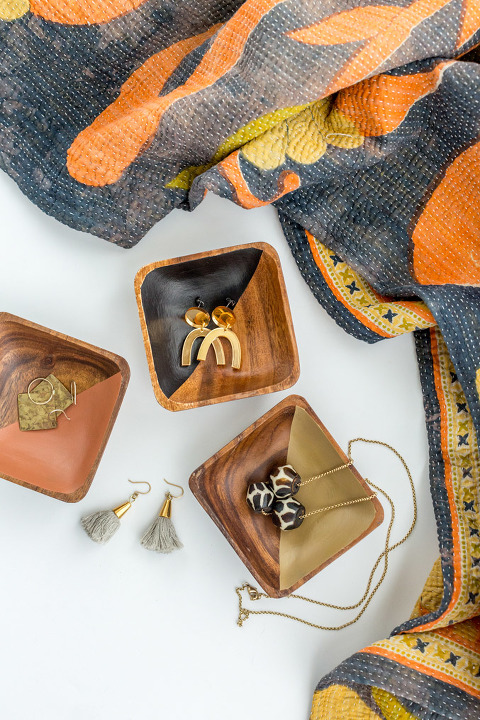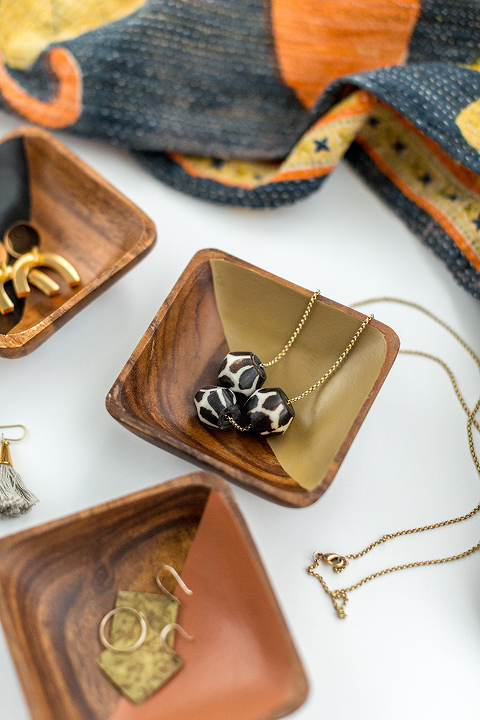 So, what do you think of my global DIY painted cups? I love that they were directly inspired by the handmade Indian blanket I chose—stay tuned for lots more behind this room makeover in the coming weeks.
My favorite part about shopping at Tuesday Morning is that the store carries a massive variety of pieces to choose from, so you can easily go into the store and handpick the pieces that speak to you, and you alone. Tell me in the comments below what colors you would have chosen for this painted wood DIY craft.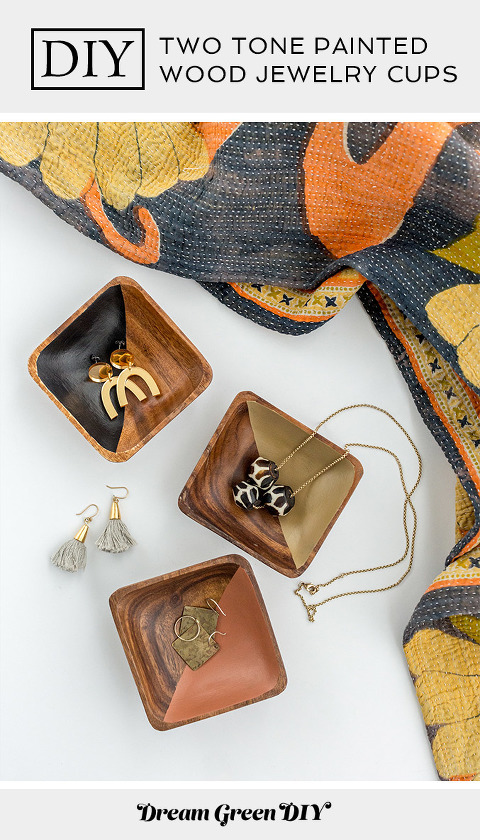 *All of the jewelry I chose to display in today's post came from small business owners, as per my spring challenge. The large gold statement earrings are from Sarah Hearts, the ring is by Virginie Millefiori, the square earrings are from Darling Boutique by a designer called Dinosaur Toes, and both the tassel earrings and beaded necklace are from Natalie Borton.