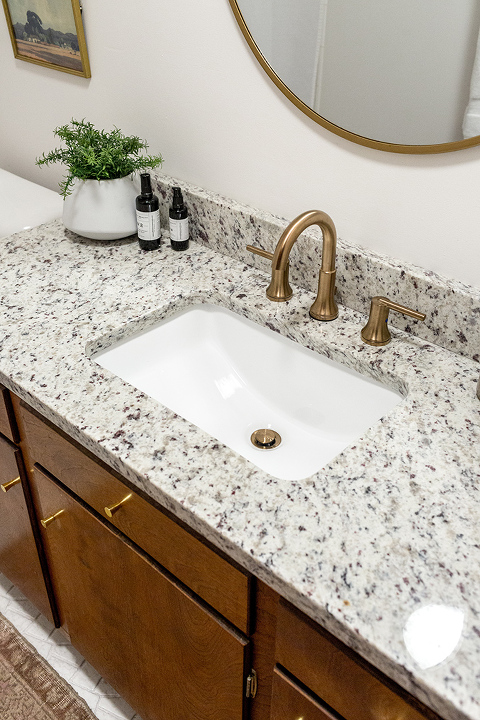 Before moving into this single family home, you might remember that we lived in a townhouse. Since that first house was more of a starter home, we didn't feel like it was right to splurge on brand new stone counters at the time, so we decided to just live with the older formica counters. When we upgraded to our new-to-us retro ranch, though, we knew it was finally time for stone.
After weighing the options and doing our research on local contractors, we ultimately decided to go with granite. I think, in my head, I envisioned something more along the lines of crisp white marble, but that's just not realistic with our cooking lifestyle, so granite it was. Happily, we found out that granite is just perfect for us, and really succeeds in upping the ante in our home. It instantly updated all three spaces where we had it installed (the kitchen, the hall bathroom downstairs, and the main bathroom upstairs), plus it came within budget. We spaced out our granite upgrades over the course of the past two and half years, so we didn't have to eat too drastically into our home renovation budget all at once.
Now that we've had the chance to live through the process of choosing our granite pattern and style—not to mention experiencing what goes into maintaining the surface post-install—I figured it was the perfect time to share our review of granite. Scroll on for a list of the things we kept in mind, including what we wish we had known going into the process.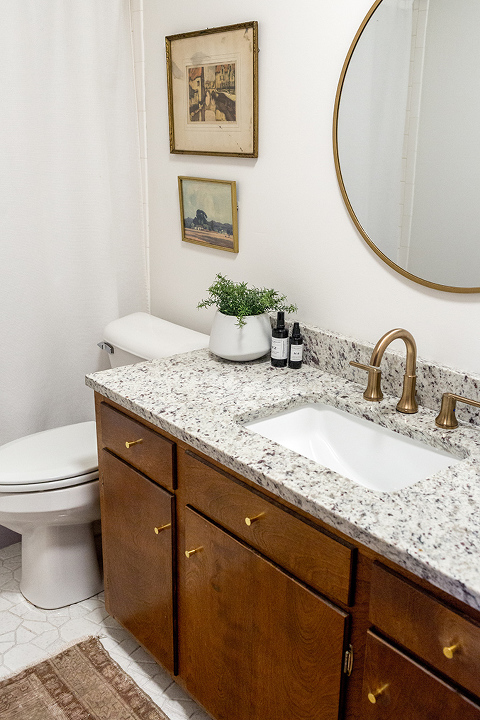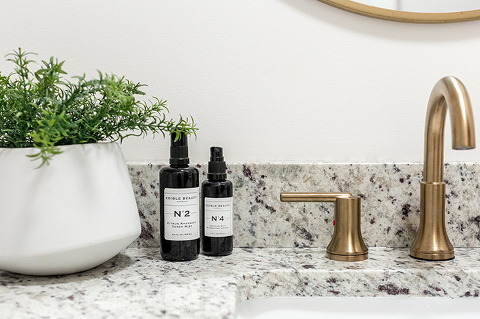 What To Consider Before Going Granite
1. Coloration: First things first, you need to settle on the look you're going for. As I mentioned before, I really wanted marble, but that just wasn't in budget or worth the hassle. So, instead, I asked our contractor for samples of granite that felt similar to the white and gray look of marble. Because I went into the project with a general idea of what I wanted, I was able to quickly hone in on a granite style that felt in line with my dream space. Our granite counters all sport the same white base with gray flecks, and I couldn't love it more.
2. Sink Style: As you saw in our recent upstairs bathroom reveal, the sink is a key piece of the puzzle when choosing your granite (or any countertop), especially in a bathroom. In the kitchen, it's pretty much a given that you're going to go with a rectangular sink, but you can get really playful in the bathroom. Rather than going with the standard round vanity sink, consider the option of a modern rectangular under-mount vessel. We have a round sink downstairs, but sprang last-minute for a squared-off shape in the bathroom upstairs, and it's easily our favorite detail in the entire room. My point is that you should ask your own granite contractor about different sink styles they offer because the answer could open up a world of design possibilities that you might not have considered before.
3. Corners: Another place to get creative is with the corners. I was absolutely adamant about having sharp corners on our granite counters (in all three rooms we put it in) despite our contractor's very vocal opinion to the contrary. He, apparently, had never heard of anyone wanting squared-off corners, but I really wanted to avoid that pronounced round curve. Our goal was to create a super sleek, modern space, so sharp corners were key, and I'm so glad we fought for it. While we were told that the inner corners (like around the sink, and at the 90-degree angle in the kitchen) all had to be a little rounded because of the process of cutting granite, the sharp outside corner details make the kitchen, in particular, feel really contemporary and fresh. If you're hoping for the same look, don't forget to mention the customization to your contractor. I think round corners are more "the norm" in the world of granite, so speak up if you want a different look.
4. Edging: Of course, we can't talk about the corners without considering the edge profile of your granite slab, too. As with the corners, we asked for sharp edges on our own granite counters. They aren't dangerously sharp—the edges and corners are all "eased" and softened to a certain degree—but we opted to forgo the option of beveled or ultra rounded edges. Ask your own contractor for the range of options, though, because you might find yourself drawn to a particular look that could set the style for the entire room.
5. Maintenance: While it's certainly easier to maintain than marble, we found out that granite does come with its own set of requirements to keep it looking its best. We have to use a sealer compound on the granite in our kitchen to help prevent stains from building up, and you can learn more about the process of sealing your own granite here. If you don't want to have to do it yourself, you can always enlist the help of your granite contractor. Before realizing that sealing is a pretty simple project, I had asked our own contractor if they did annual sealing for clients. He said that he definitely did it from time to time, but that he thought it was simple enough for most homeowners to tackle on their own. He was right!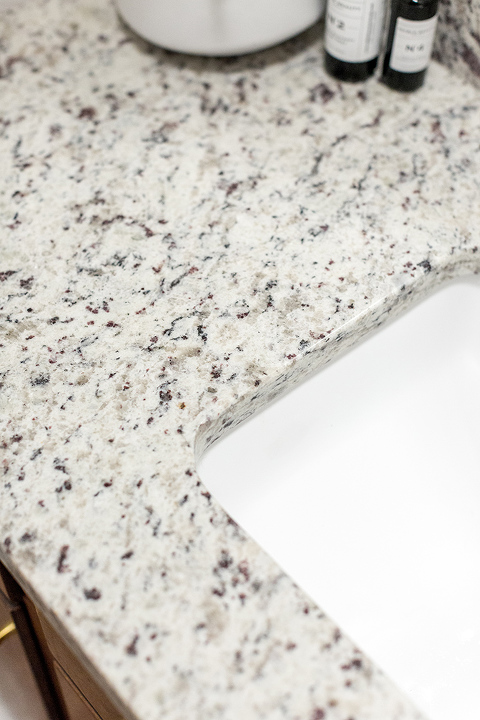 Do you have granite in your own home? Did I forget to include a key consideration in my list above? Of course, there are things like sink material (ie. ceramic, stainless steel, etc.) and faucet style, too, but most of it comes down to personal preference and the aesthetic of your home. Do you think granite is "done" in terms of trends, or do you see it having a resurgence? I'd love to know your thoughts on granite as a countertop option, so leave your reactions in the comments below!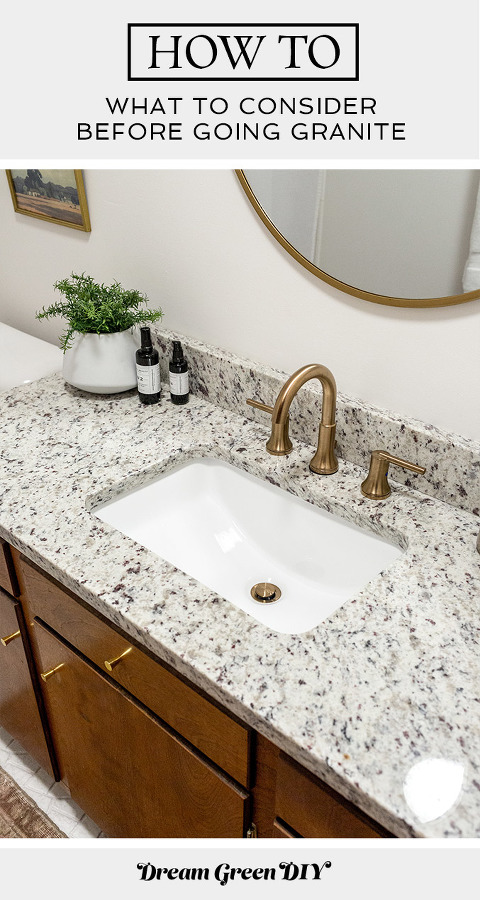 *I earn a small percentage from purchases made by the affiliate links above. Affiliate links are not sponsored. You can rest assured that I would NEVER recommend a product that we don't use and love ourselves!