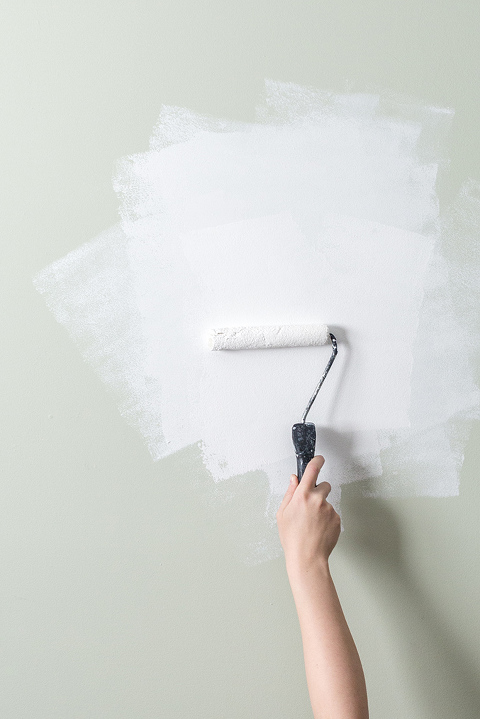 Week 1 | Week 2 | Week 3 | Week 4 | Week 5 | Week 6
Hello, and welcome to 'Week 3' of the One Room Challenge (catch up here if you missed my project introduction, and here for the design plan). I can't believe we're already halfway through the 6-week timeline for this project, but I'm excited to say that we are somehow right on track. Today, I wanted to share the exciting mid-way point: the room's fresh coat of new paint.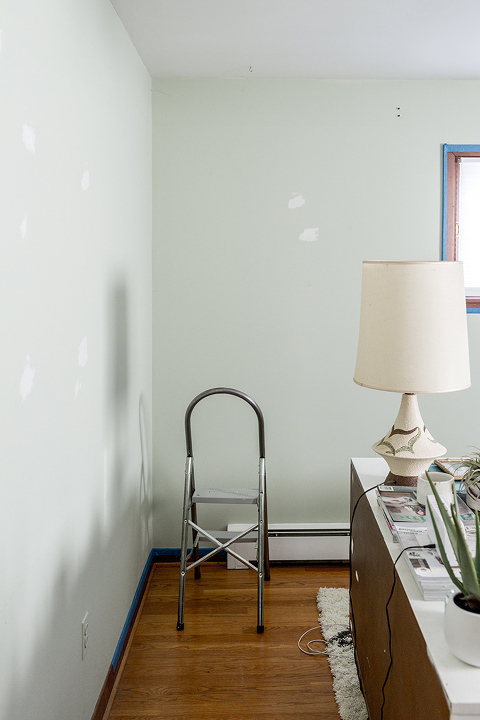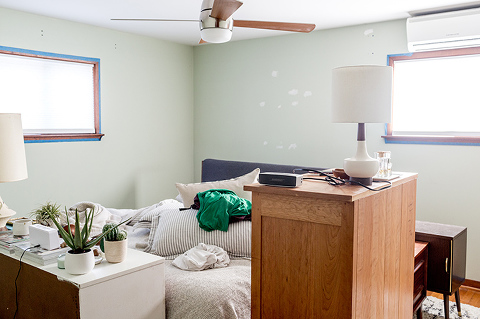 As I explained in this post (and probably countless other times—sorry to be a broken record), we absolutely loved the original paint on the walls, but the bluish green color was a total mystery to us since the previous homeowners didn't leave any extra paint behind and no information about the name either.
I had peppered the walls with dozens of holes from pieces of art that I had hung and then changed my mind about, but there was really no way for me to seamlessly patch and repaint those holes without having any color information on the existing minty green paint. Enough was finally enough, and this season's ORC event offered the perfect excuse to try something new. Well, I say "new" but I'm pretty sure you can guess what paint color I decided on…Yup! White!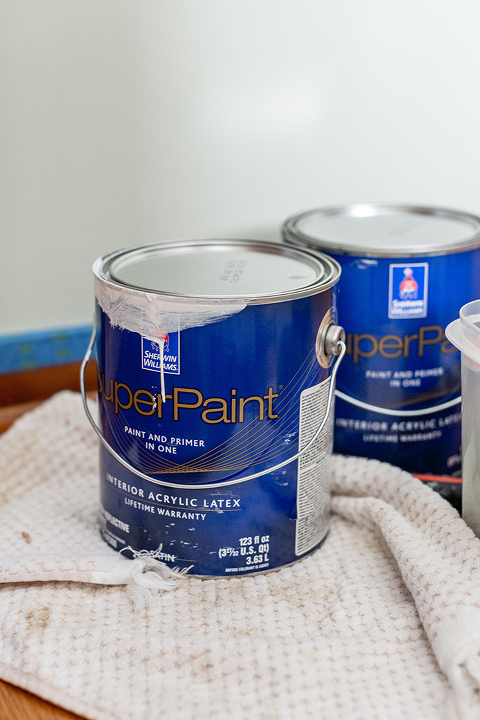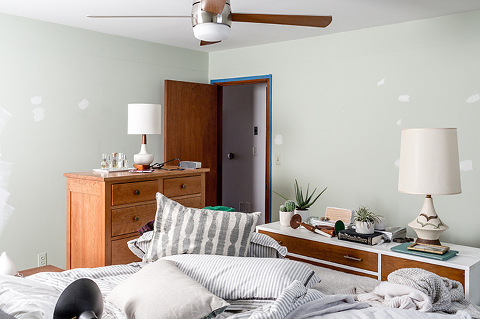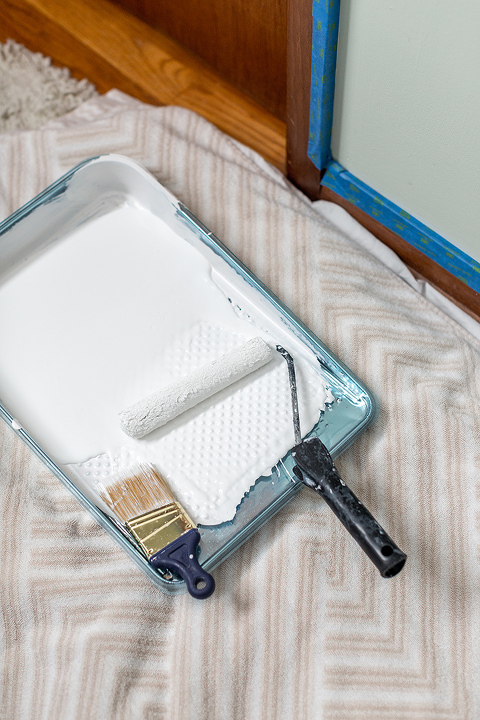 First, I patched and sanded all of the holes I had put in the wall since we moved in back in 2015 (I wasn't exaggerating when I said there were dozens, as you can see from the tiny dots of white all over the walls in these progress photos), and then I gave three out of the four walls a couple coats of "High Reflective White" paint from Sherwin Williams—the same color we've painted every room in our house, other than the bathrooms.
As for the fourth wall? That got its very own extra special paint treatment, which I'm hoping to be able to share next week if all goes well. In the end, this room will receive a total of four different paints: the white you see here in today's post, an almost-black color, and two shades of rich chocolatey brown. Curious to see how those colors could possibly work together in a chic way? Check back for an update next week.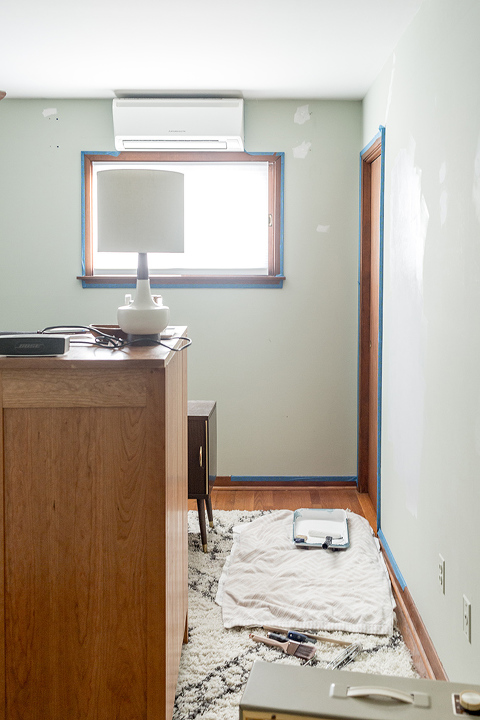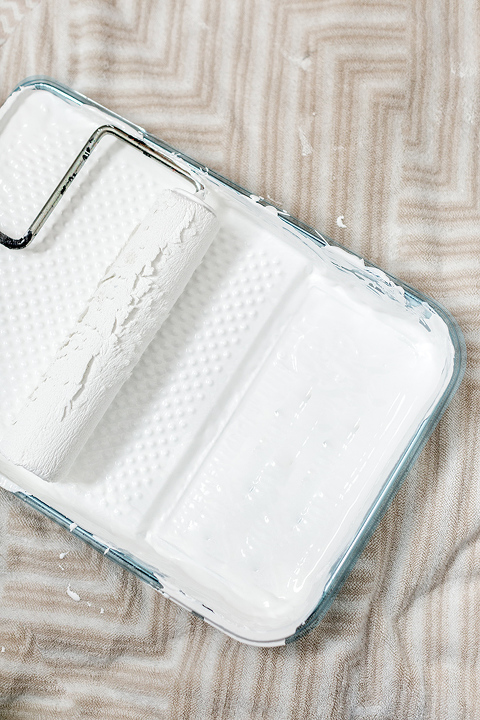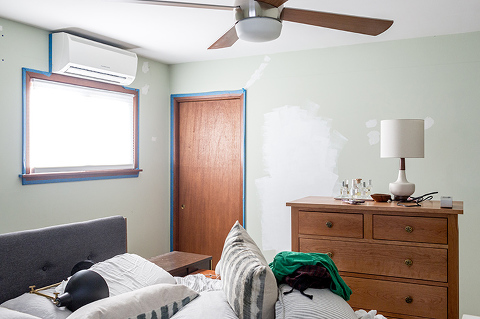 So far, though, we're loving how the fresh white paint color helps this typically dim room feel extra bright, even in the afternoons when the sun is on the complete opposite side of the house. The white paint will also help put more emphasis on the new color palette I'm going to establish with the accessories. I'll tell the full story about our plan for those colorful decorative accents in next week's update, but you can get a general idea ahead of time here.
Feel free to leave your own ideas and opinions about our progress in the comments below, and then hop over to the One Room Challenge event website hosted by Linda, of Calling It Home, for even more design inspiration!