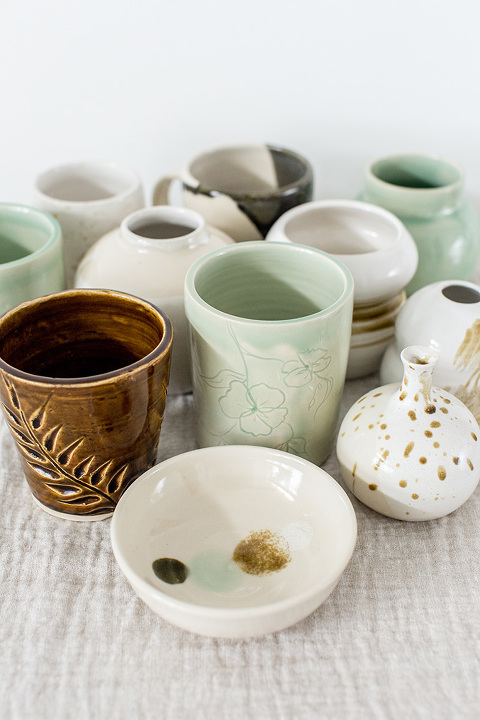 Wow. I can hardly believe I'm even able to type "my fourth pottery class" into a blog post title. I literally came home from my first class at Make Waynesboro clay studio with tears in my eyes because I thought I was simply that bad at it, so to find myself (eight months later!) still doing it each and every week feels like a major accomplishment. That's not at all to say that I think I've completely mastered this art. I have a long, long way to go. But the fact that I can make any shape period is worthy of celebration in my book.
Anyway, today I wanted to share my latest batch of work, including one of my all-time favorite pieces and my least favorite piece, too. I'd also love to entice you into scrolling all the way to the bottom of this post because I have a really exciting pottery-related announcement to make—two of them, actually! I hope you enjoy.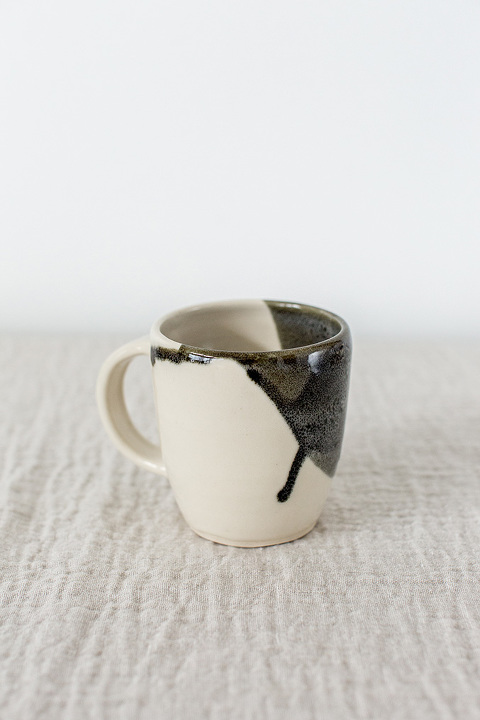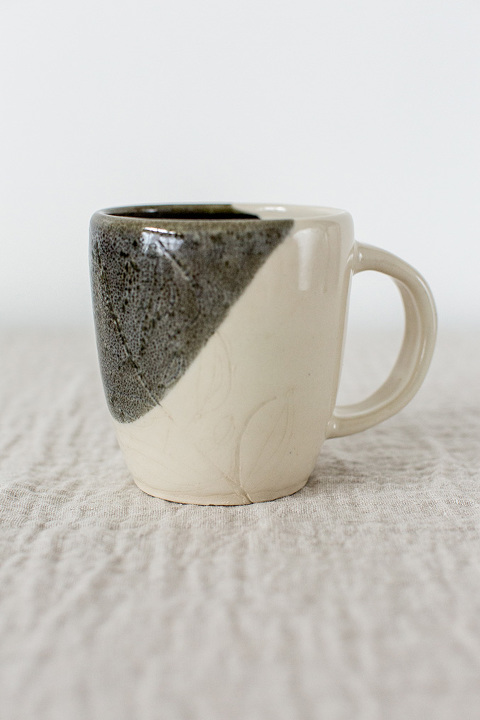 First up, I have two new mugs to add to my collection. These two are the only ones I've made since January that actually hold a full cup of coffee, so that's pretty thrilling in and of itself. I now keep the brown one on my shelf at the pottery studio for sips in between work. The two-tone mug is my current go-to at home. If you look closely, you'll see a subtle leaf design that I had carved into the clay before glazing. I wish I hadn't bothered with the leafy lines, though, because I really like the drippy glaze by itself. You can't win 'em all, can you?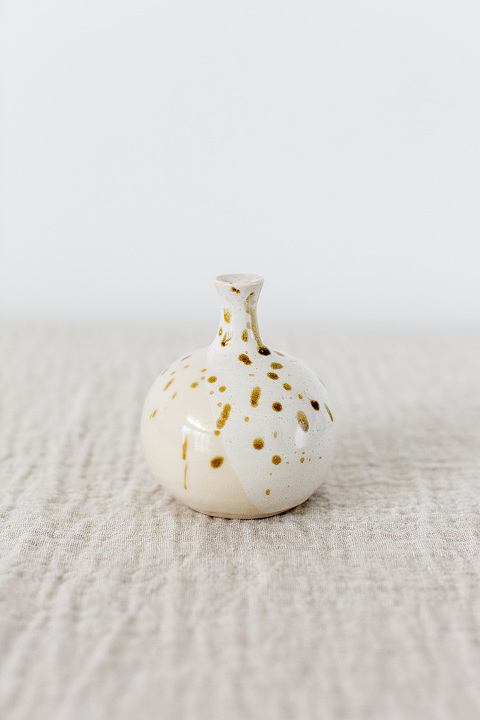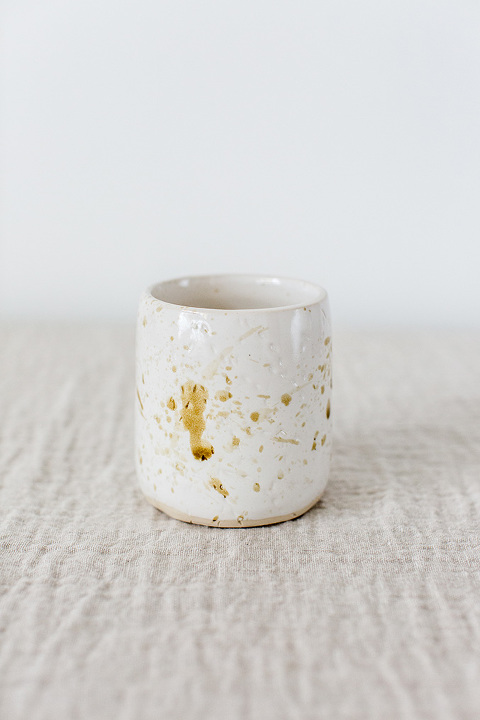 A couple of new splattered pieces also made the cut—one thin-necked bottle and a plain cup. To be quite honest, I hate the way the cup came out. It also has a subtle leafy pattern drawn into the clay, but you can't see it because I overdid on the glaze splatters. It's still functional, but I'm embarrassed to even show it to you, so let's just move on, shall we?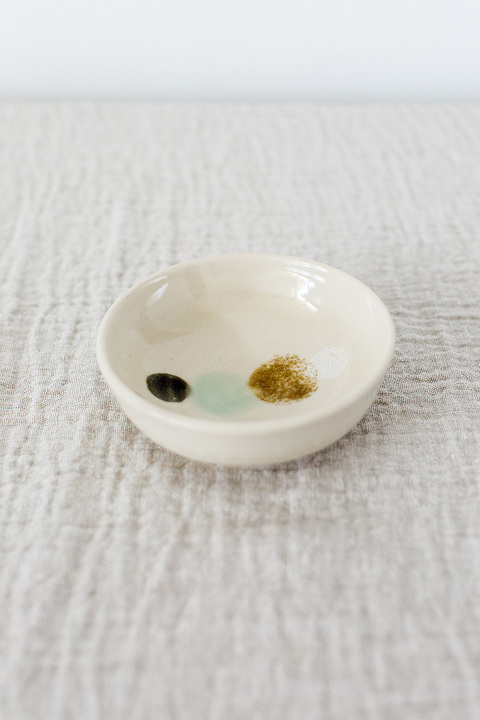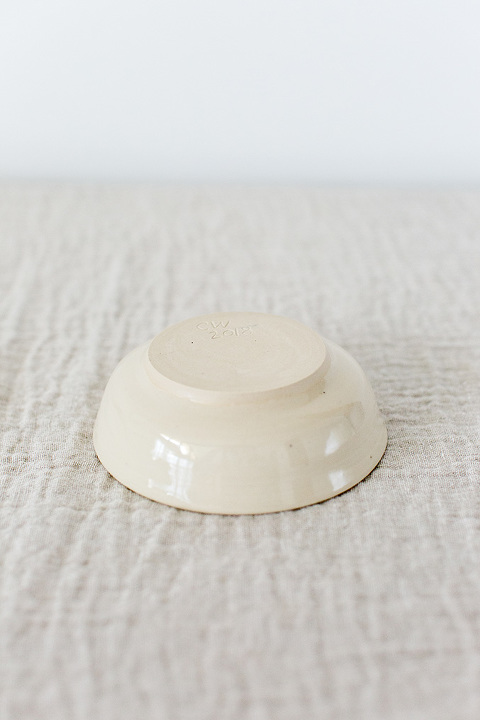 For some reason, I tend to default to bottles, vases, and cups when I sit down to a pottery wheel, so I don't make many bowls. That said, I like the way this little one came out, so maybe I need to commit to making more this season. You might recognize the colorful glaze circles design from a cup I made in my last batch of finished pottery.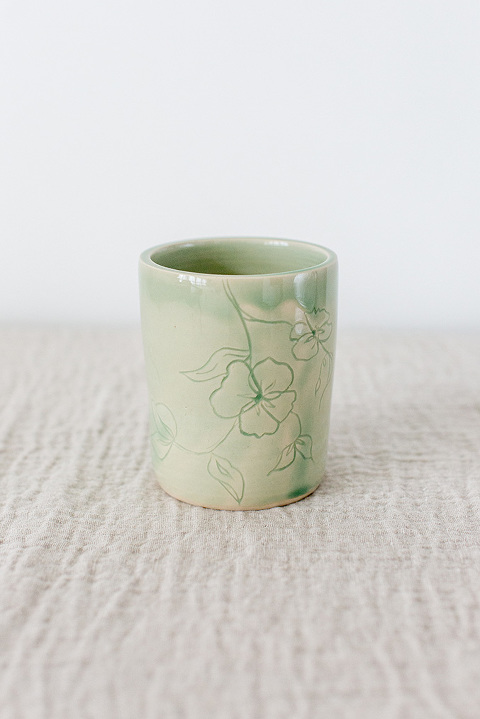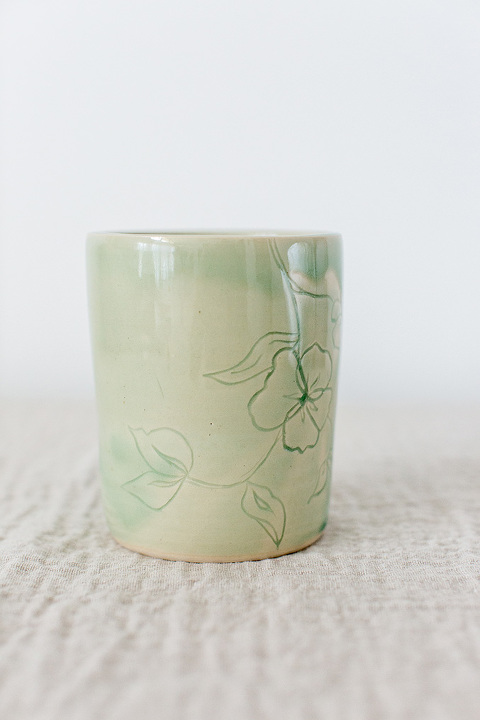 The minty green floral cup you see above is probably the one piece I'm most excited about thus far. It's not particularly unique and the shape isn't all that complicated, but there's something about the color and the organic petaled stems that "get" me. I think it probably has a lot to do with the fact that I focused on drawing back in art school, so the idea of drawing on top of clay is sort of like the best of my two favorite worlds: my old art school drawing days, and my new pottery lifestyle.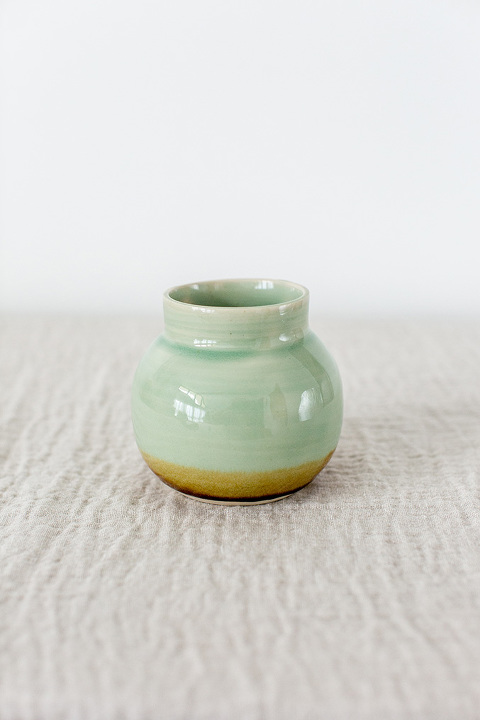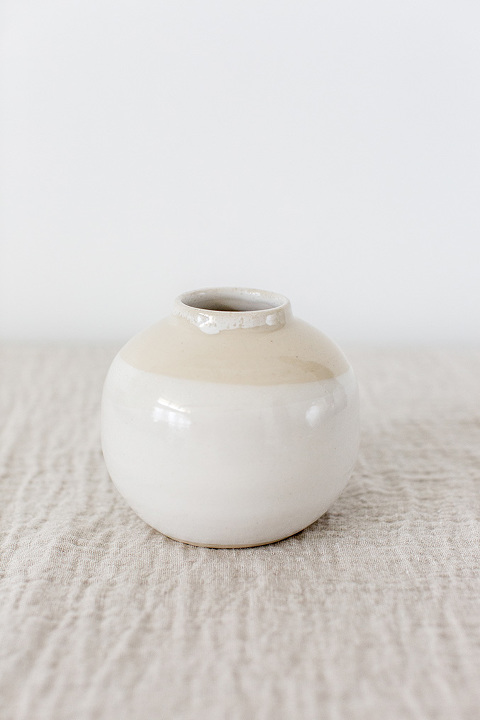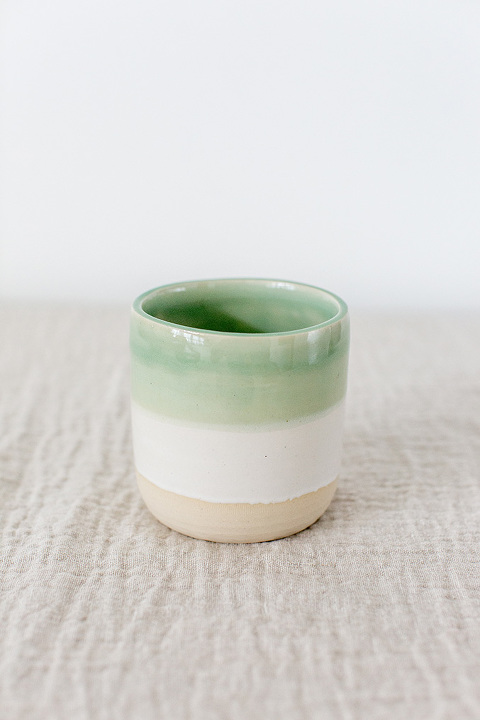 This go around I also experimented a bit with really simplified pieces, in both their colors and forms. The three pieces you see pictured above are a few other favorites of mine. They'll be hard to part with if (when?) I open a shop to sell my pottery.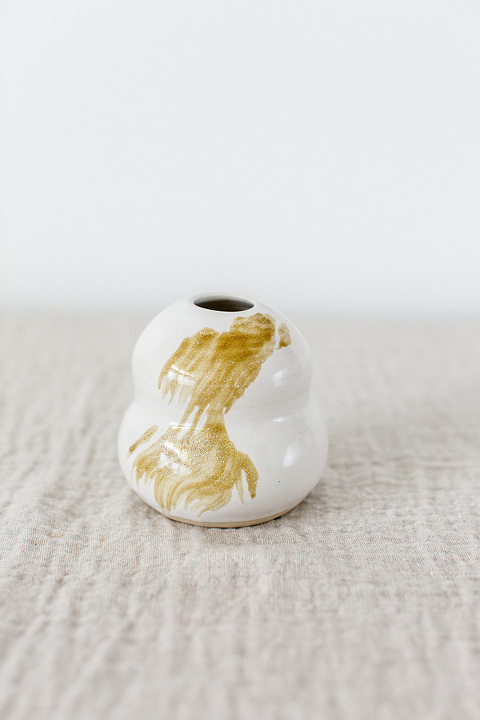 Now, about that double-belly shape…I've been desperate to make a really solid curvy bottle at the wheel, but had the hardest time making my vision come to life. The piece you see just below was my first attempt, while the piece above was my second. Click here to see the shape I'm going for, but essentially it's a wide bottle with a tight area in the middle (giving it that "double-bellied" shape) and a tall neck. As you can see, I didn't get even close to a tall neck, but the extra curvy silhouette is at least starting to form up. Stay tuned as I keep at it!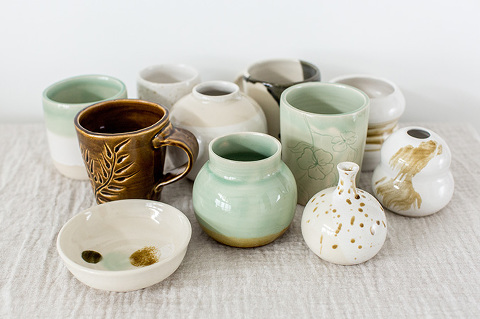 So, about those announcements. First, I'm excited to share that I'm now a full-time member of the studio and go in about three times a week for a few hours each time. And, second, I'm also now working as a studio assistant for the owners, which means that I help keep things tidy around the studio and assist with things like firing and other little projects here and there. I'm absolutely over the moon to have the opportunity to learn anything and everything I can, so these two things feel like major steps in the right direction.
I'm really grateful to the studio owners for putting their trust in me (not to mention, putting up with my over-enthusaism), and I also can't thank you guys enough for your support. Your encouragement means the world, and I can't wait to share more about the shop I hope to open online soon so you can snap up these pieces for your own home. Now tell me in the comments below: which piece if your favorite?