Back in the day, I was all about looks when it came to furniture in my office. I started with a too-small desk (like this) that looked petite and cute, but didn't have enough realistic storage for all of my office supplies. After that, I decided to upgrade to a pair of desks that spanned the entire width of my office, but I went with cheap drawer-less pieces because I didn't like how heavy storage-friendly desks looked. I also made do with trendy ghost chairs that really weren't comfortable, but, boy, were they cute in a photograph! Lesson learned.
Nowadays, everything that I use in my office is functional, first and foremost. I have a giant desk that has room to spare in the drawers, and I also use a desk chair that actually supports my back when I'm working all day long at the computer—how novel, right?! Scroll on for 12 cool-but-comfy desk chairs that I would feel confident parking myself in for an 8-hour work day.
12 Cool-But-Comfy Office Desk Chairs
1. Aida High-Back Leather Desk Chair
2. Ergonomic Home Office Chair with Lumbar Support
4. Rothenberg Upholstered Home Office Chair
5. White Leather Executive Swivel Chair
7. Baxton Studio Bruce Modern Office Chair
8. Ergonomic Office Chair with Armrest
11. Contemporary Executive Chair
12. Dandor Swivel Executive Leather Office Chair
Of course, I can't exactly vouch for the real-life comfort of these chairs since I haven't physically sat in every single one, but I tried my best to curate a collection of chairs that look extra plush and most have high back support, too. A lot of them are actually described as ergonomic, which also makes me feel more confident about the comfort level. If you have an office chair brand or a specific option that you use and love every work day, please share the info in a comment below so we can all follow suit!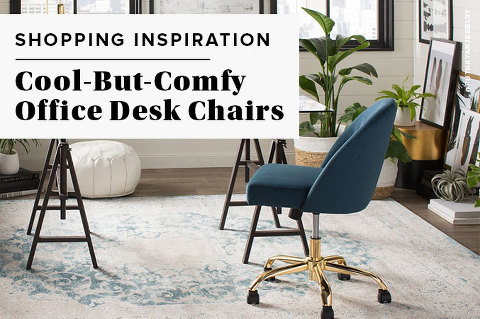 *I earn a small percentage from purchases made using the affiliate links above. Affiliate links are not sponsored. Rest assured that I never recommend products we wouldn't use or don't already love ourselves.