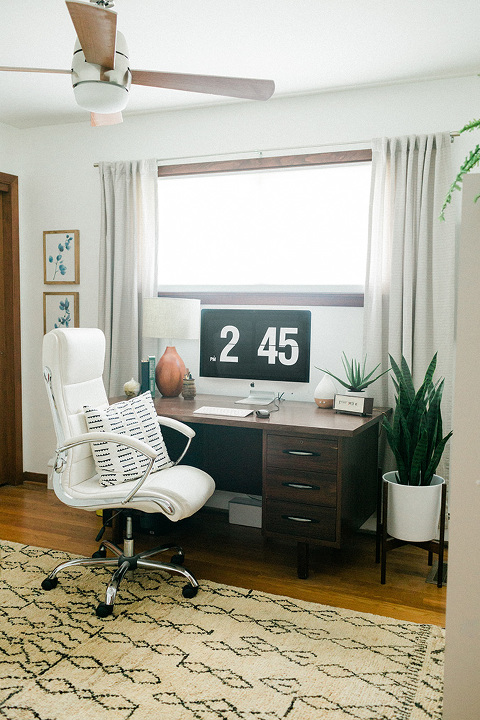 Just another friendly little reminder to vote for Dream Green DIY in this year's Design Blog Awards with Domino Magazine! DGD is one of five finalists in the crafting category, and you can vote once a day (no account required) now through September 23. Thank you so much for your support!
Last week I wrote all about why we decided to switch the guest room with the office, and today, as promised, I'm back to share a longer tour of the first updated space: my home office. It might be a smaller room, but the newly arranged office feels like it fits the space better. After all, you don't need much to have a functional working office—just a computer, desk, chair, a couple of storage cabinets, and you're golden. Keep scrolling to see more details in my refreshed home office, plus you'll hear a few of my thoughts on how I maximize storage in a pint-sized office space.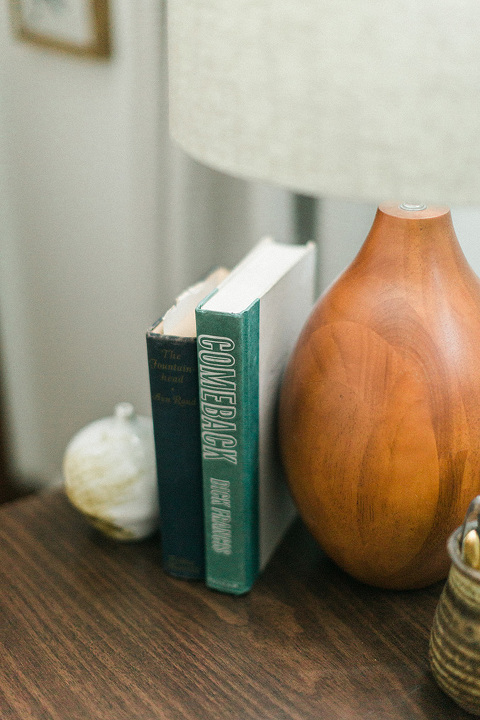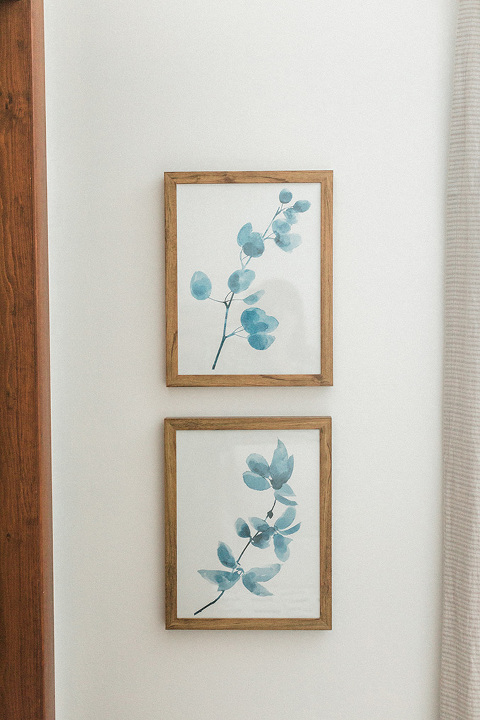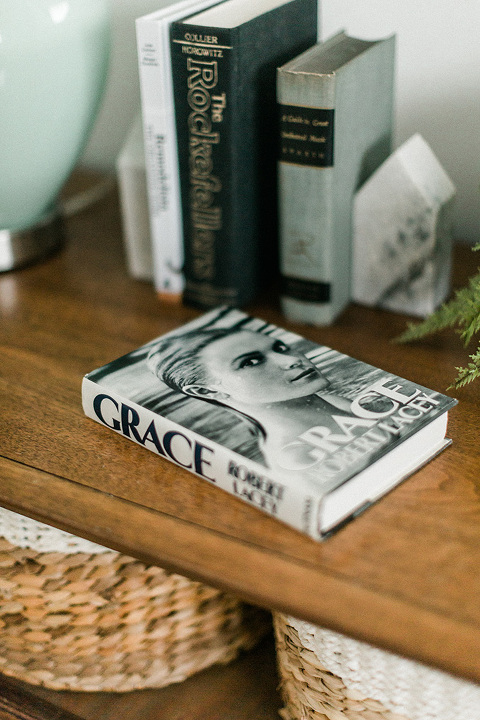 Since I started implementing a whole house color palette in terms of the décor and art I bring into our home, the switch between rooms was even easier than I expected it to be. I was able to leave up most of the art from the original guest room set-up because it all fit so well with the blue/green/wood tone accents I pulled in from my old office.
One piece of furniture I decided to leave in place from the old guest room arrangement was the double open shelf cabinet. It just fit the wall so well by the closet doors, and nothing else I had quite suited that little swatch of wall, so it didn't budge. Instead of using it to store linens, though, I switched them out for all of my displaced office supplies from the old room. Things like extra scissors, ribbon, pens, and markers are now all housed in the two-tone baskets I keep on the top shelf of the open cabinet. A big bright table lamp, some books, and a plant help give the top of the cabinet some pretty flair so it's not just functional.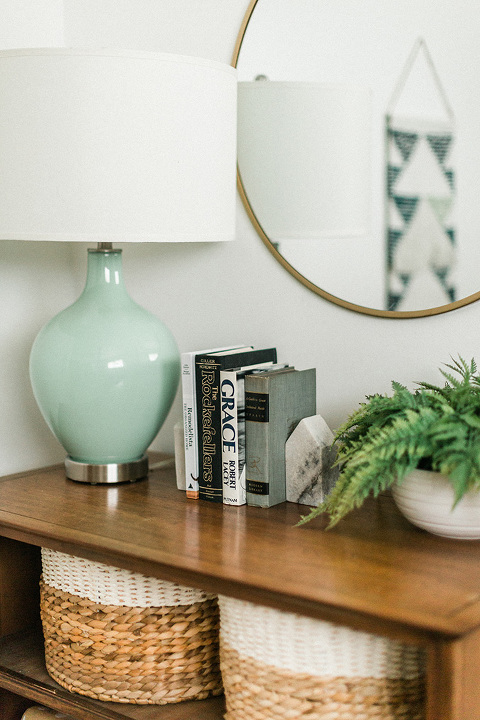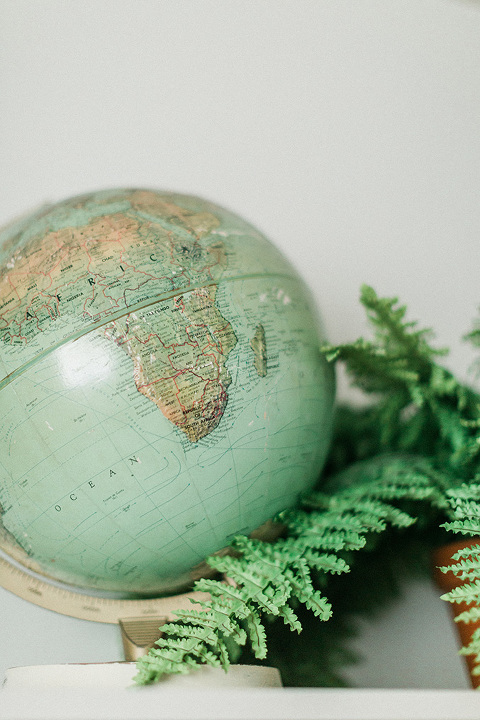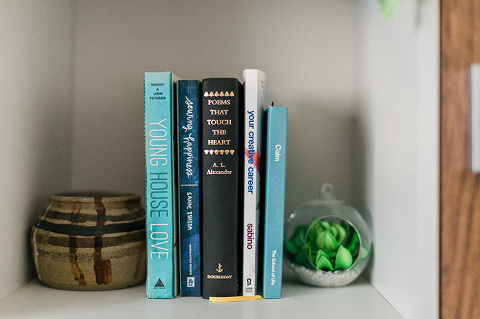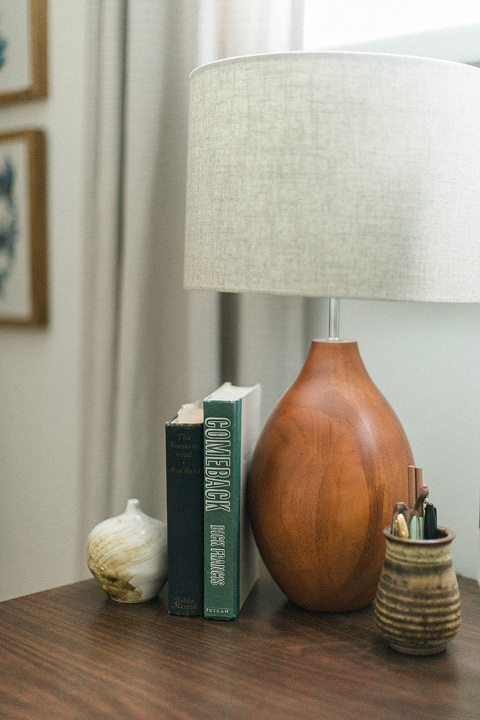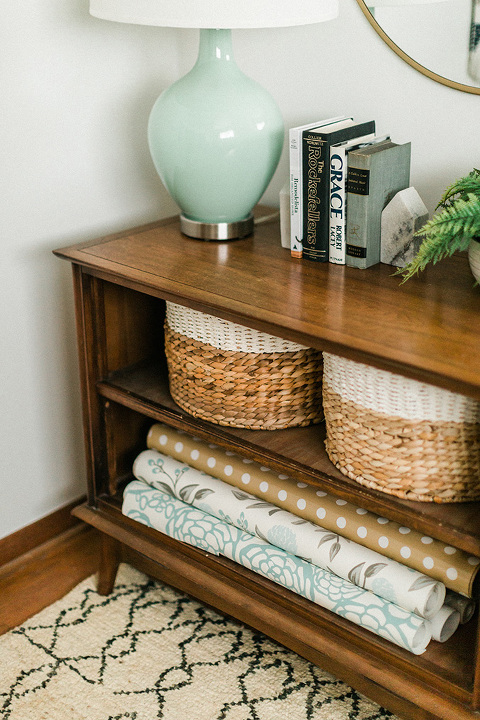 After moving the rest of our guest linens to the other room, I had space on the bottom shelf of the cabinet to pile up all of the extra wrapping paper and wallpaper that I've been hoarding. Truth be told, I think I'm actually going to get rid of all that patterned paper. I bought most of it when we lived in our old house, and it has moved from corner to corner without any real purpose. I think I'm saving it for some dream project that I haven't even thought of yet, but it might be time to admit to myself that the project doesn't really exist. I feel like passing it along to someone who will actually use it. If you'd like to purchase the rolls from me, shoot me a message!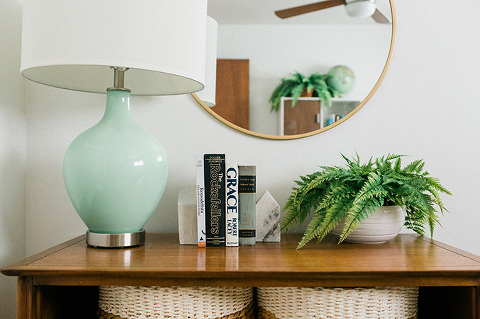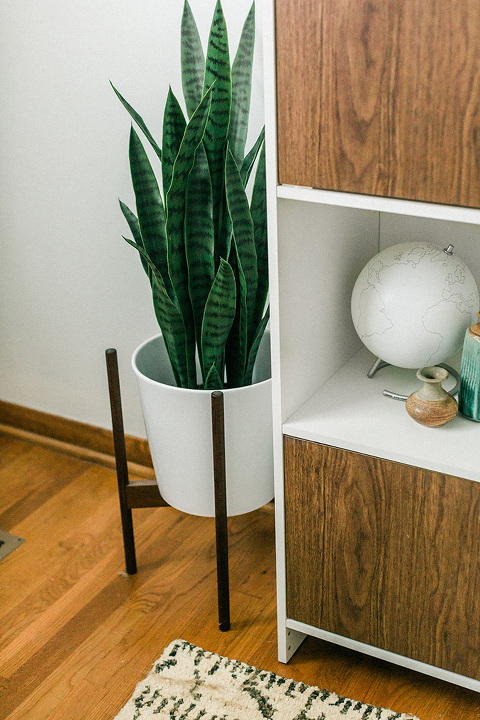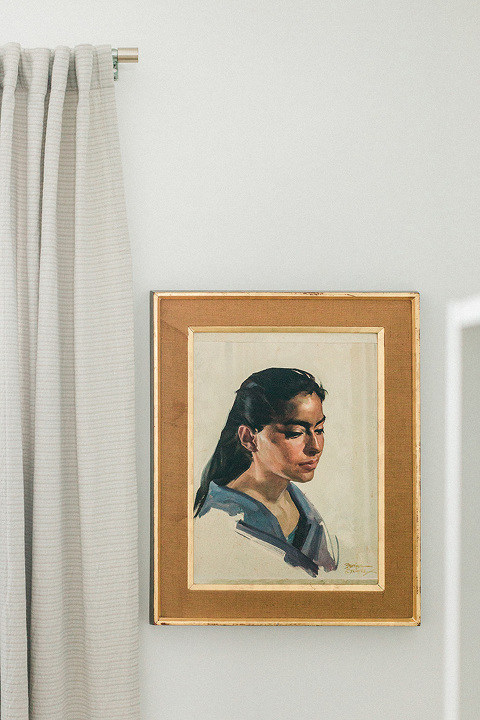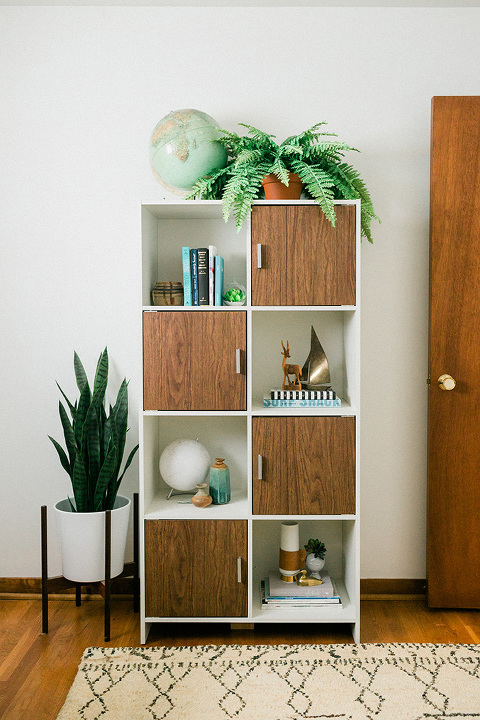 As for other storage areas in my office, there's, of course, my desk. That hunky piece of vintage furniture holds all of the obvious things like important files and paperwork, cords, and business cards. Just to the side of the desk I arranged my tall cubby cabinet, which used to live in my old office, if you remember.
I've actually parred my desk supplies and styling props way down, but things like extra cables and even a small pile of books and magazines that the blog has been featured in all still need a place to land. The closed sections of the tall cabinet are perfect for tucking all of those items away, while I keep a few of my favorite decorative objects on display in the open shelves.
After all that, I still have a little room to spare in all three storage cabinets I mentioned (the low open shelf cabinet, the desk, and tall cubby cabinet), but my hope is that I can keep the baskets and drawers a little on the empty side all the time. There's practically nothing worse than trying to open an over-stuffed drawer or throwing a cabinet door wide only to have five teetering things fall out at you. I like knowing that my office plays host only to the essentials, that way it's a pretty calming space for me to work in.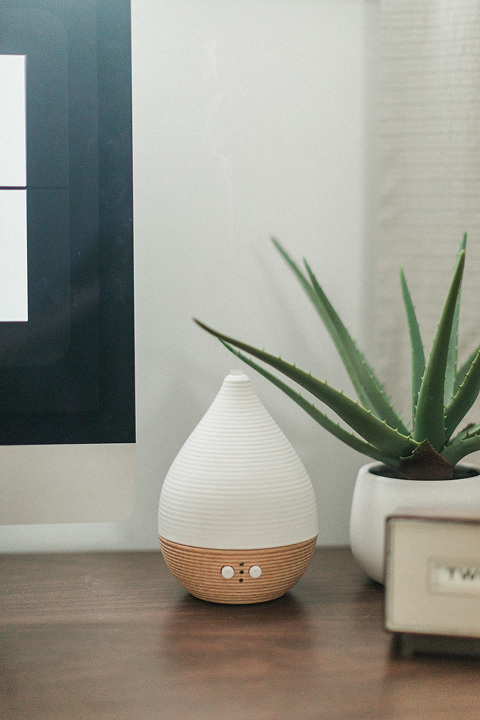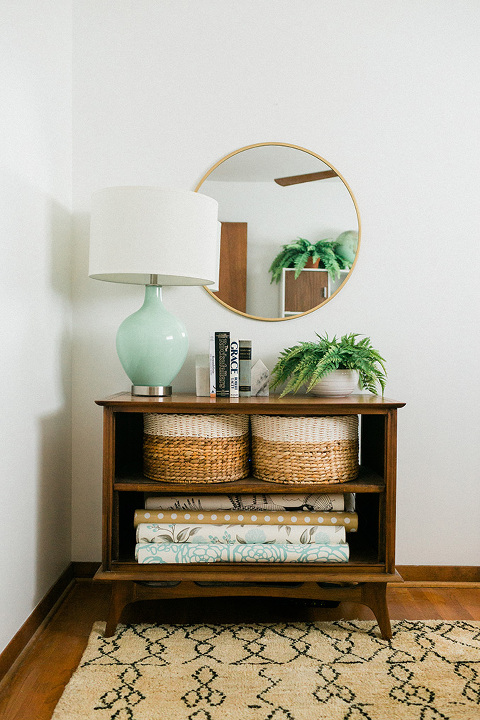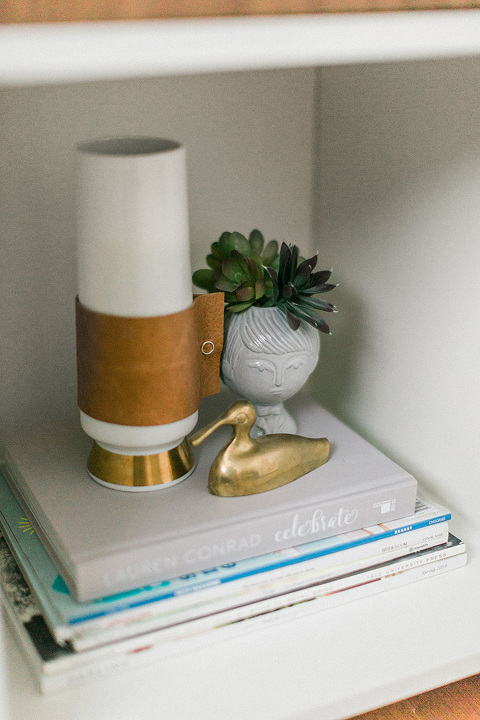 Do you have any questions about storage? I'd love to know, so leave them in the comments. And if you have office organization tips of your own to share, do tell. As with most things "organization," I think one of the cornerstones of a good system is editing down to just the things you use on a daily basis. I've been super cut throat the last year or two, and I can't tell you how much stress it has saved me to have fewer things. Oh, and if you're wondering what I keep in the closet? It's where the cat litter lives. That's "real life" living for ya, but it works!