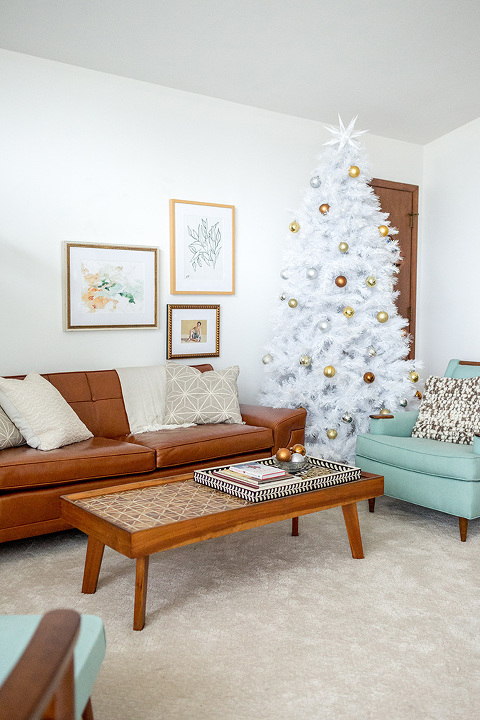 Well, all I can say for myself is this: I really did try not to use so many photos in this post. I just couldn't edit the collection down any more. This room is so festive and happy to me, which more than warrants a barrage of photographic evidence—at least in my opinion. I hope you guys don't mind. My advice? Click "play" on some holiday tunes, grab a second cup of coffee (bonus points for the peppermint-flavored kind!), and settle in to soak up our full Christmas living room tour—22 photos and all.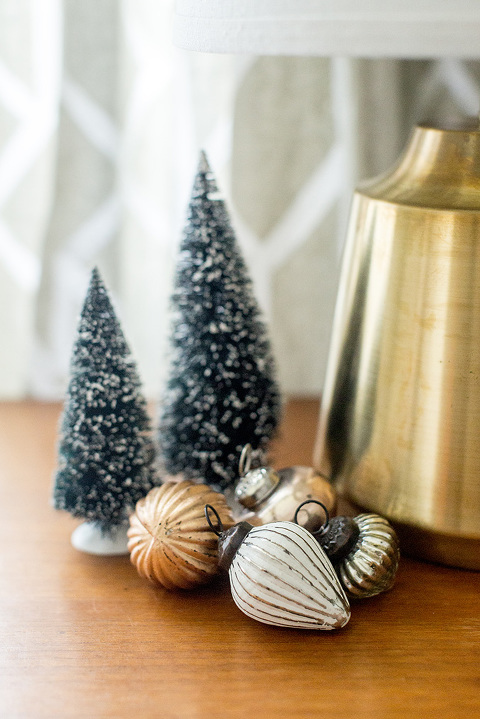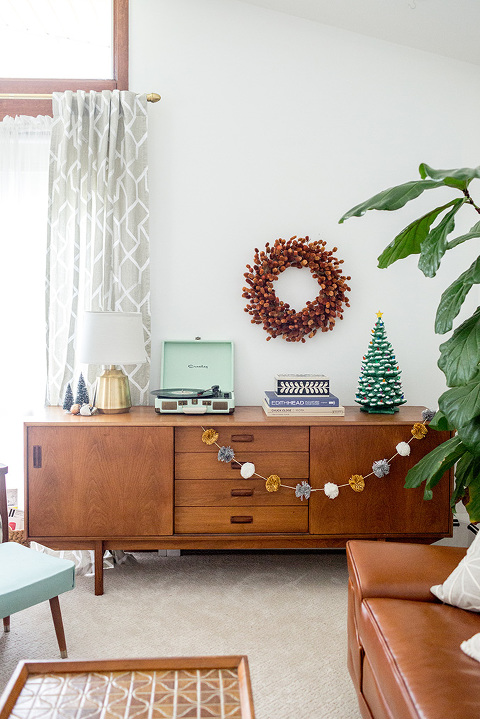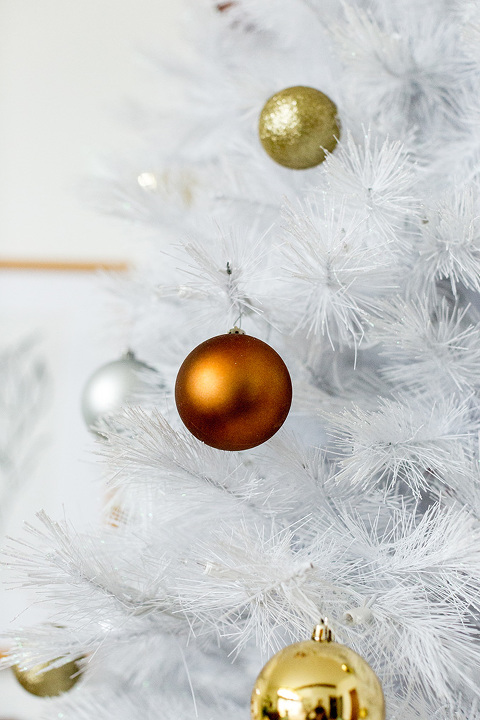 While the furniture arrangement stayed largely the same this year in comparison to last year, the color palette is practically on the complete opposite end of the spectrum. We went from hot pink and minty blue holiday décor, to a softer, more neutral collection of colors.
Our new earthy art acted as the main source of inspiration for the new palette, as well as our existing leather couch. Alongside those pieces, our old collection of pink and blue ornaments just felt a little out of place. So, I quickly ran out to Target and spent $20 on a set of "rusty" round ornaments to use instead. I was able to combine the new rust-colored balls with our existing set of gold and silver ones from years gone by to fill our white tree with warmth and shimmer.
It just goes to show that you don't have to spend a fortune year after year on new ornaments to suit your evolving tastes. Just supplement and combine what you already own to remix the look.
Learn more about our earth tone gallery wall here, including 19 other prints to inspire your own neutral art collection.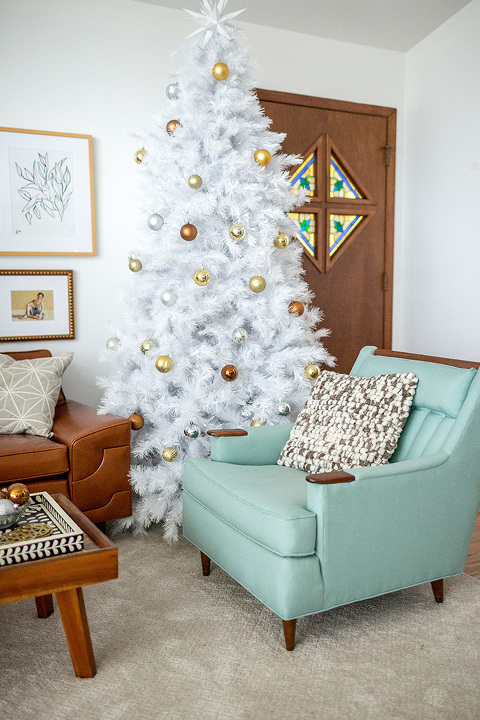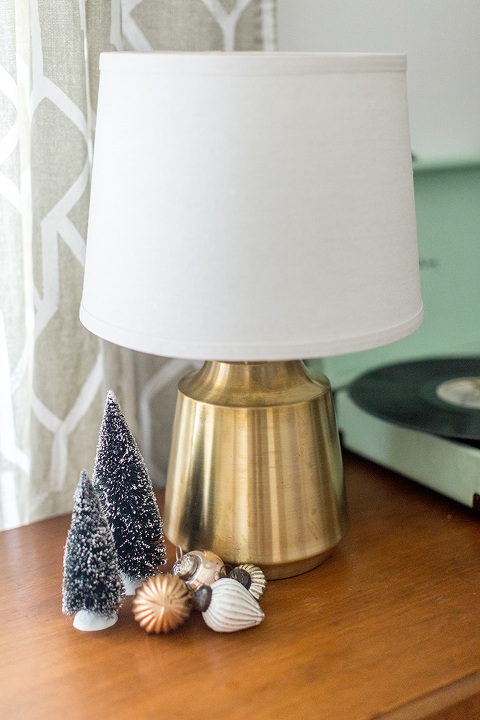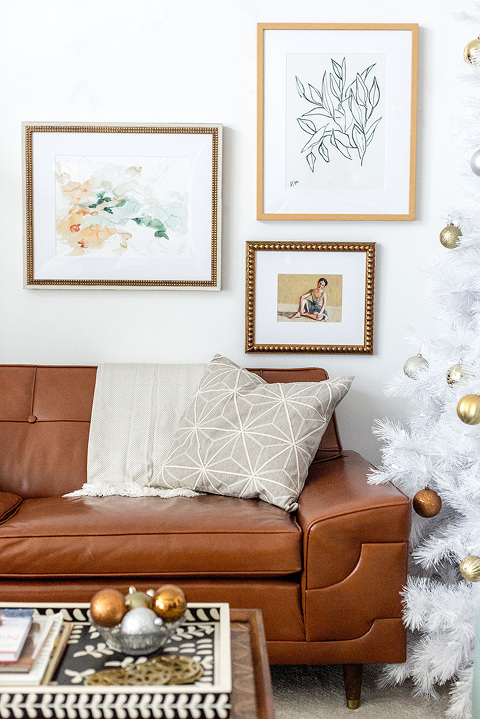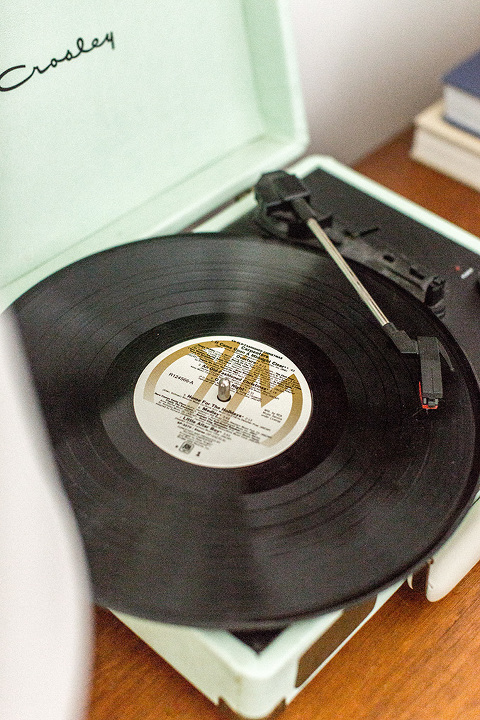 Earlier this week, I explained how my sister and I went on a mini shopping spree at Tuesday Morning, and how impressed we were by all that we were able to find (and afford). This was a shop I hadn't been to since my days in high school, but it turns out that the brand has an awesome décor collection up for grabs. We had to edit our haul down quite a bit before lugging our carts up to the cash register because there were so many good picks to be had.
Watch the video embedded above to find out what we bought for the living room and how you can make a lot of the pieces work well beyond Christmas, too. By the way, while the post on Wednesday was sponsored by Tuesday Morning, this one here today is not. I was just that impressed and couldn't help but spread the love into a second day.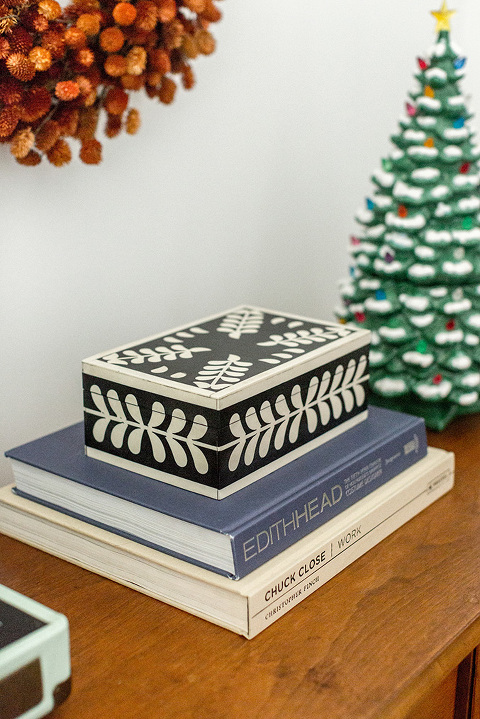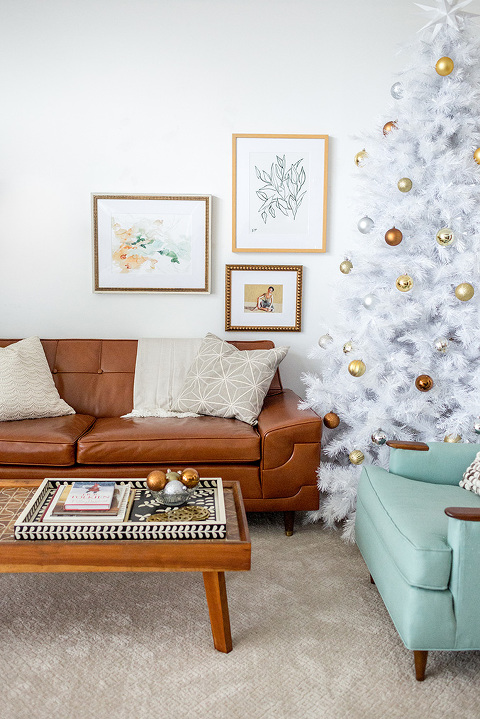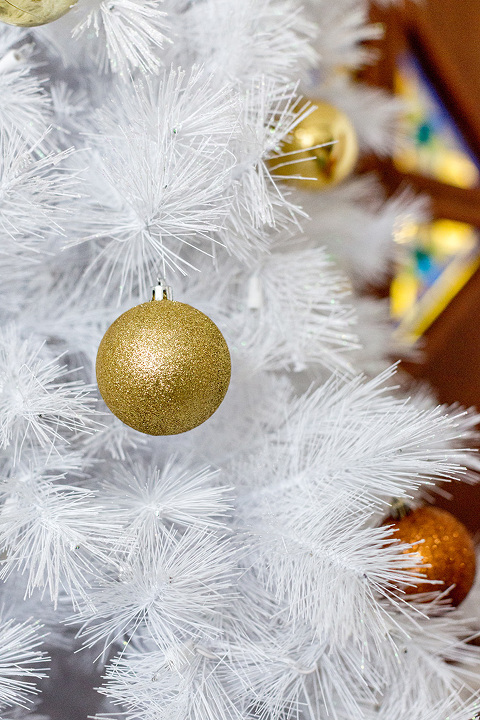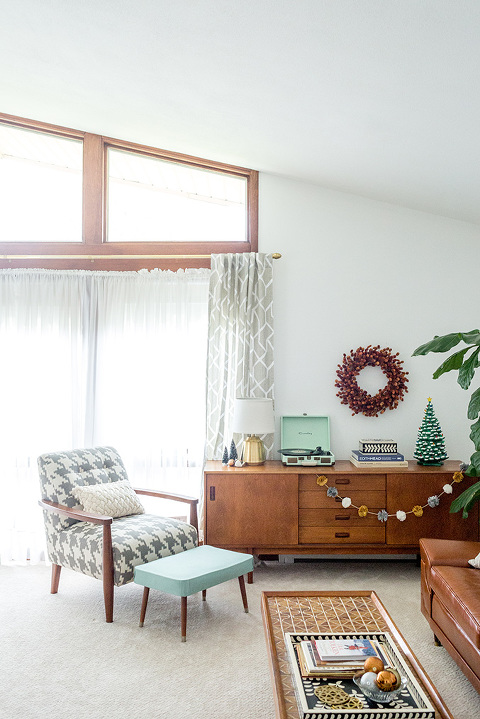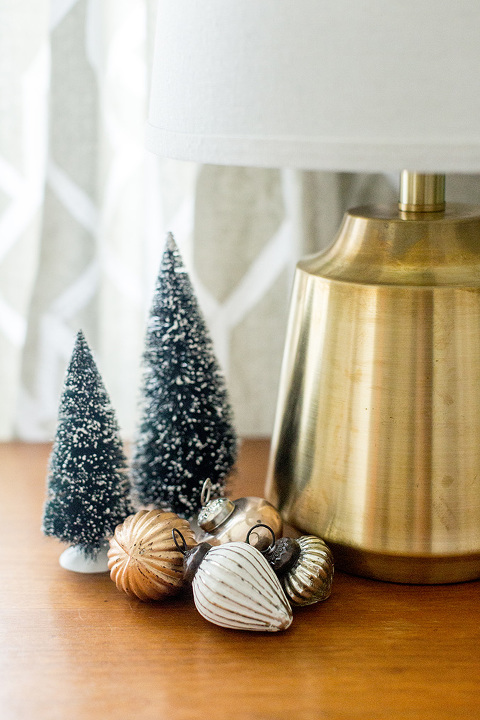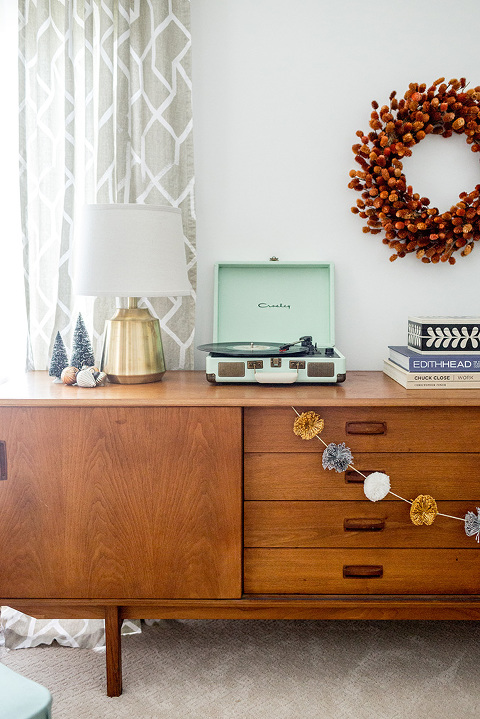 I'm still well into purging mode right now, and am resistant about bringing anything new into our home unless I have a firm place in mind for it. Because of that mindset, I worked hard to style the space with as few traditional Christmas accessories as I could. Those little things add up so quickly and end up wreaking havoc on our basement storage system the rest of the year, so a lot of what you see here will probably end up staying out past Christmas.
The only things I plan to put away come December 26 are the Christmas trees, ornaments, the dried wreath, and our stack of holiday books. Everything else (from the pom-pom garland and artwork, to the new lamp, pillows, tray, and textiles we picked up at Tuesday Morning) will stay right where you see it. By keeping the holiday-themed accents to a minimum, they're going to take up far less room in the basement, and (my favorite part) it will probably take about 25 minutes to clean up once the holidays are over.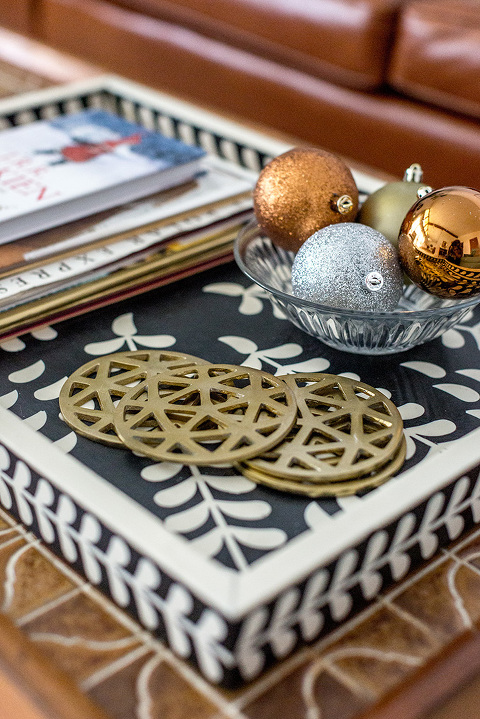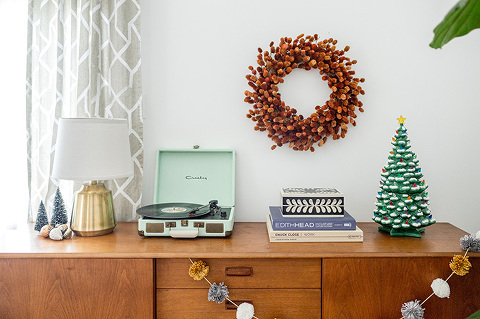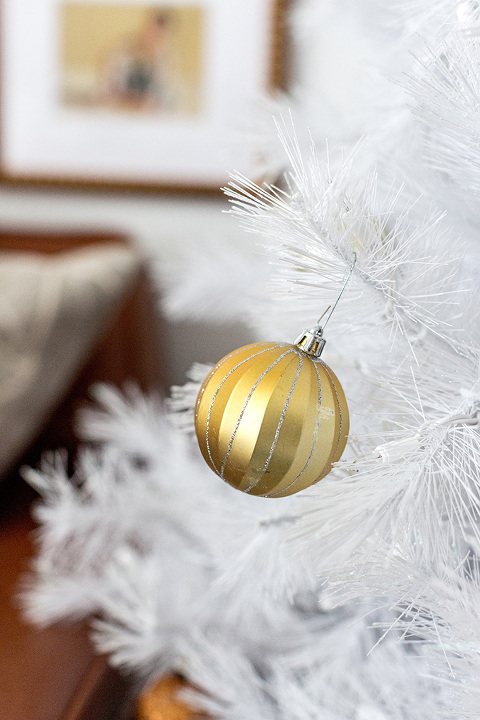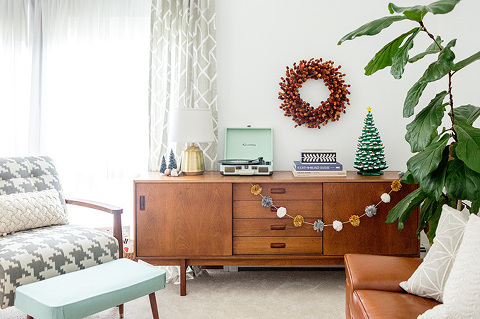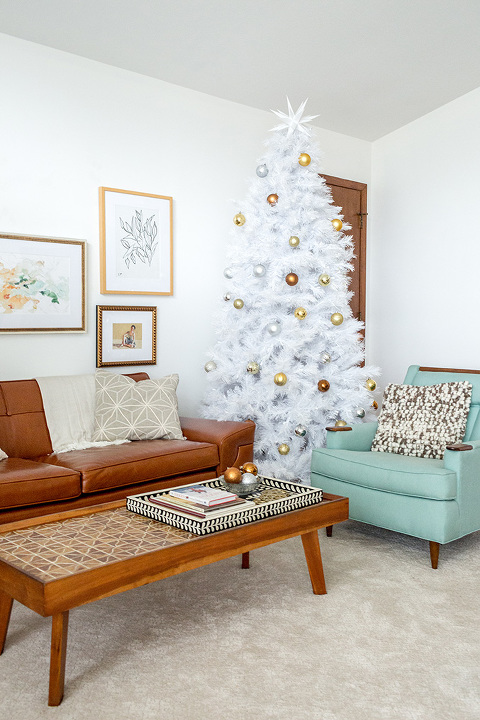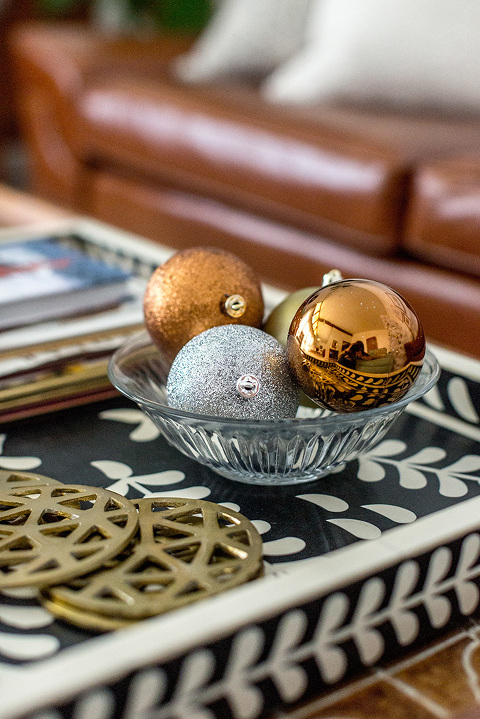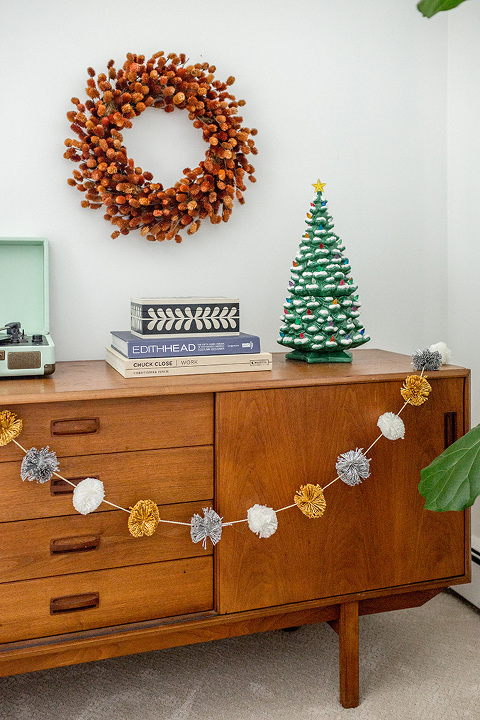 Honestly, after looking through these photos, I feel like it could be even more minimalist. There's just something about that big white Christmas tree that seems to scream, "LOOK AT ME!" am I right? What do you think? Should we have gone even more muted with our holiday decorations?
I think the room falls somewhere in between minimal and glam, which sounds like just about the most ridiculous combination a home could identify with, but I'll simply call this my baby step toward minimalism until the 2018 holiday season rolls around. Tell me: what's your Christmas color palette this year?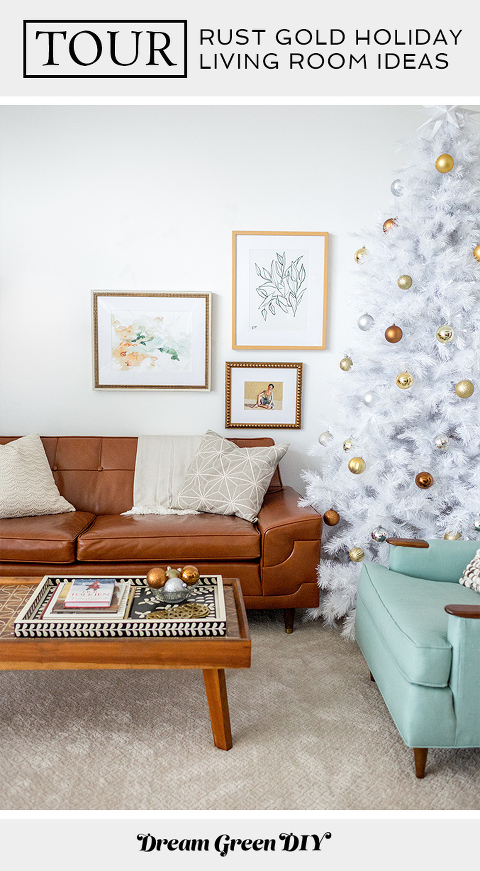 *This story was an in-kind partnership with Tuesday Morning. Though compensation wasn't received, we were given product to style and experience first-hand. All thoughts and opinions are our own. Thank you for supporting the brands that support Dream Green DIY!