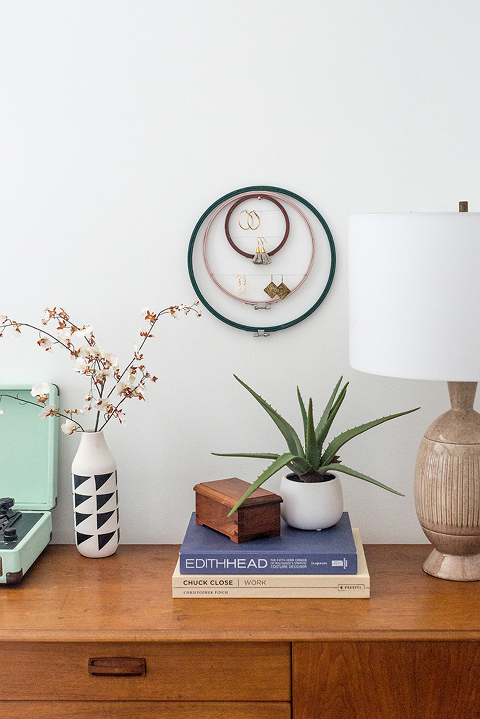 Of all the years I've been blogging (this March marks DGD's eighth anniversary!), I have to say that 2018 was my very favorite. It was one of those years where I felt the creativity coursing through me on overdrive, a fact I credit to my somewhat random start with pottery last January. There's nothing like learning a new skill to take things up a notch, and learning pottery really gave me the extra dose of energy that, I guess, I had been missing in order to come up with fresh ideas here on the blog, too.
To commemorate all of that creative crafting, I thought it would be fun to take a look back at 10 of the most popular projects that published here on Dream Green DIY last year. The posts I list out below are a combination of the most popular in terms of traffic and the ones that really struck my own fancy as I live with the finished products day in and day out. Keep scrolling to see which ones took the "Top 10" prize, and feel free to click back to any of the ones you might have missed or need a refresher on.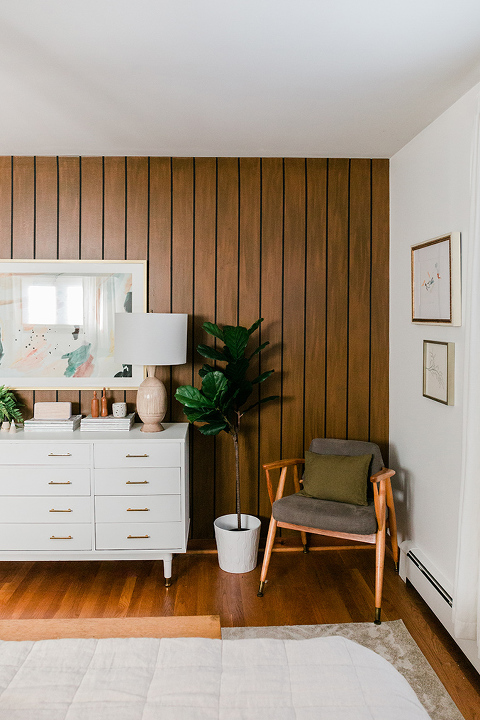 1. DIY Faux Mid-Century Paneling Using Paint: Frankly, I still can't believe this project actually worked! And it seems like a lot of you agree that the results are pretty darn cool. It's my all-time favorite project of the year, and I'm definitely planning to reuse the technique in another room of our house, only this time I'll use white paint to get the look of shiplap. Stay tuned.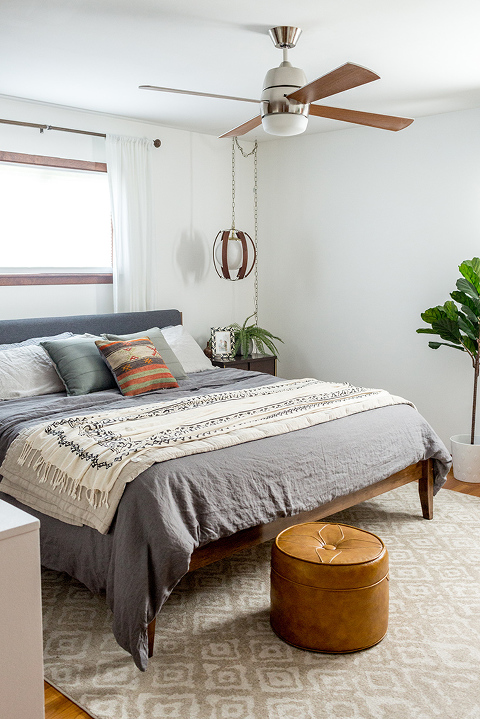 2. My One Room Challenge Reveal: This was my first time taking part in the One Room Challenge, and I had such a blast working on our master bedroom for the design event. Having a timeline really helped me stay on track, and I was able to finish it so much faster than had I just been working at my own leisurely pace. Should I do it again this new year? Let me know in the comments if there's a room in our house that you think could use a refresh—I promise not to be offended!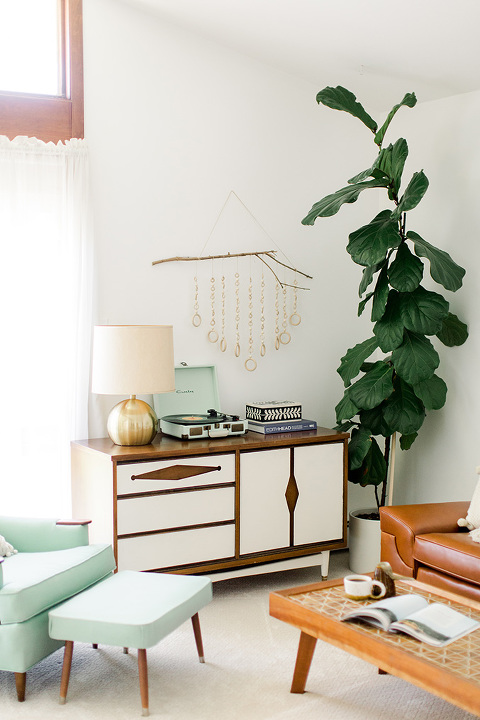 3. Our Home Tour Now Live On Domino.com: Speaking of our home, I'm still pinching myself over the fact that Domino.com featured our 2018 tour. See the story here, which includes lots of photos by my friend Meredith Sledge, plus an interview where I talk about everything from what inspires me during a room makeover project, to what I hope the previous homeowners would think of our renovations. 
4. DIY Wooden Rings Wall Hanging: Another one of the most exciting things to come about from 2018 was a new collaboration with Hunker.com. I started writing monthly craft tutorials for the minimalist-based site, and had so much fun dreaming up new ideas with my editor there. My most-read Hunker craft of the year? This DIY Wooden Rings Wall Hanging, which was actually inspired by a photo spotted in a back issue of Domino Magazine, of all places.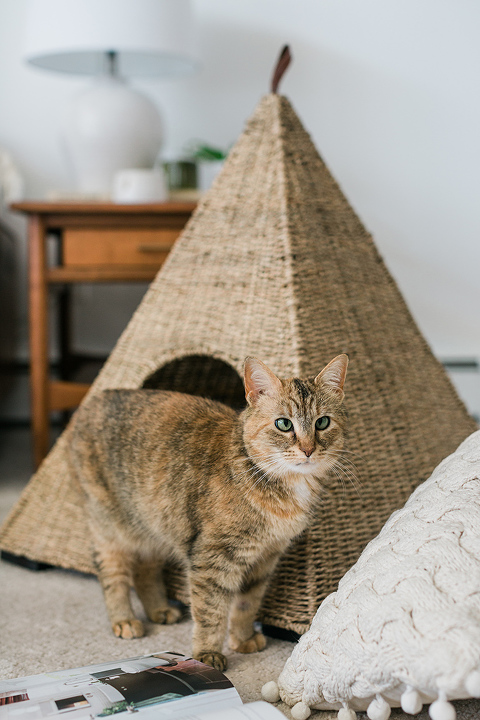 5. How We Keep Our Home Clean With Pets: It might not be the most glamorous topic, but cleaning up after pets is clearly something we're all interested in because this was definitely one of my most popular posts from 2018. Hop back here to find out how we keep our space clean with four pets running around.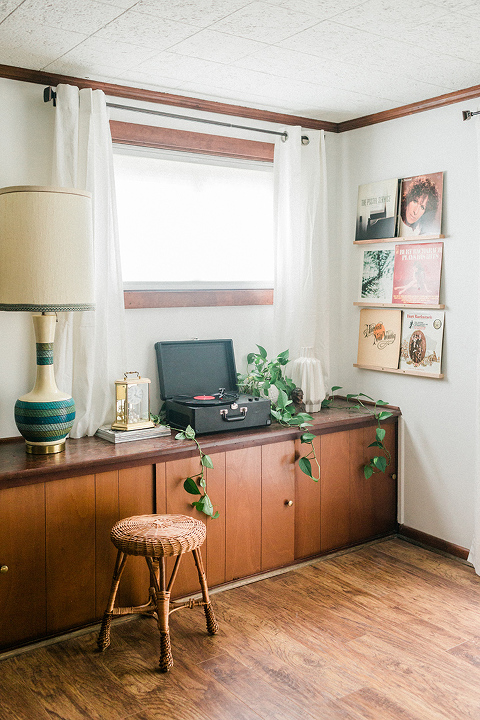 6. DIY Vinyl Records Shelf Display: I'm notorious for getting an idea in my mind for a home project, only to whip it together on my own while John's not looking. That project for me last year was our new set of vinyl records shelves in the family room. I'm so glad I went for it, though, because they have been so fun to change up with new records every other week or so.
7. How To Make A Macramé Wall Hanging: I promise I'm not exaggerating when I say that I was astonished at just how easy it really is to macrame. I thought it was going to be a multi-day (maybe even a multi-week) project, but I was able to pull it off from start to finish in just a couple of hours. See the tutorial to try it out for yourself here.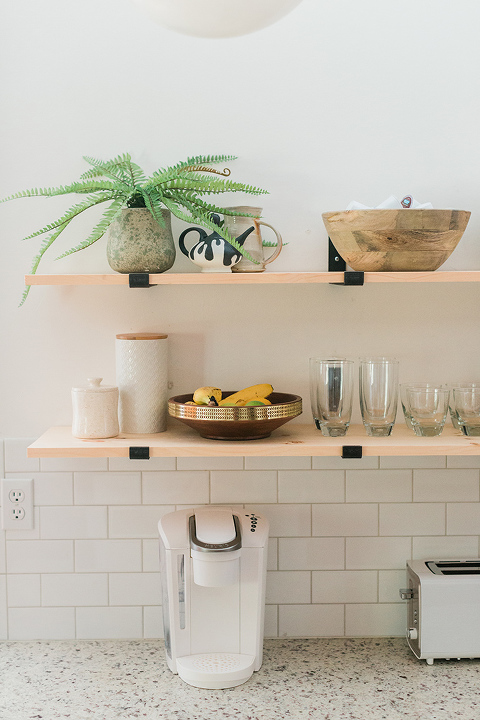 8. Our Functional Kitchen Décor Secrets: If you're feeling the itch to declutter now that we're into a new year, this post is the perfect one for you. It's packed with functional décor ideas, and even though it's all geared toward a kitchen, you can probably adapt the tips for just about any room in your house.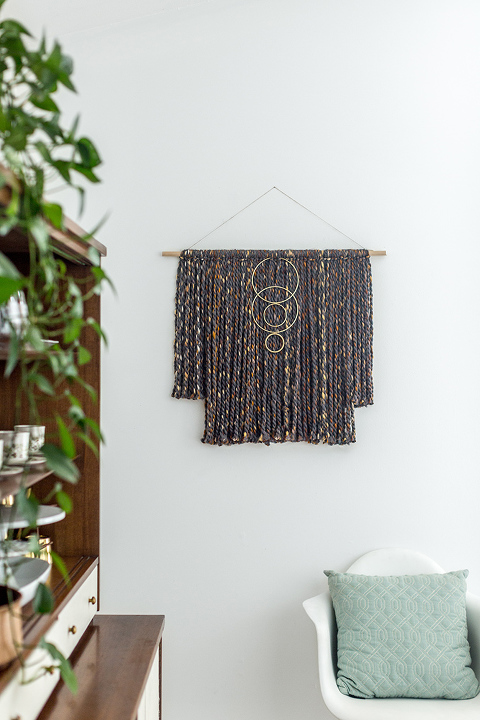 9. DIY Yarn Wall Hanging With Brass Rings: This is the perfect DIY craft to work on when you have a free afternoon this month. It only requires a few supplies, but boasts lots of high impact style when complete. I also love that you could change up the yarn to completely customize the look. What color yarn would you use?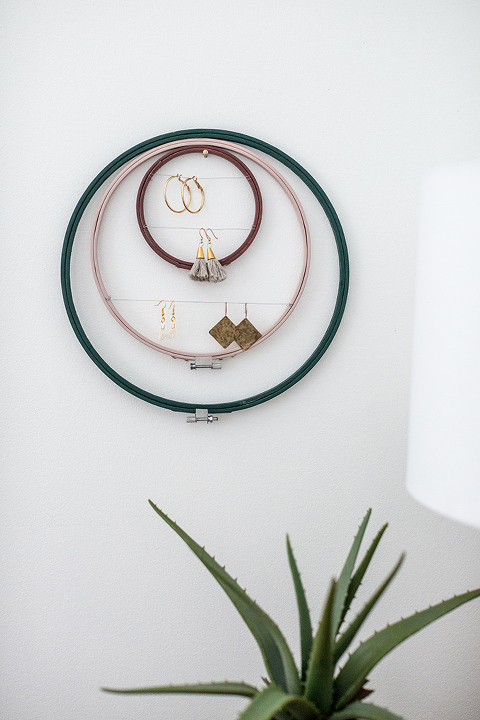 10. DIY Embroidery Hoop Earring Holder: Finally, this is one of my favorite projects from my work for Oriental Trading last year. It was so cool to see just how many of you gave the tutorial a shot in your own homes, too!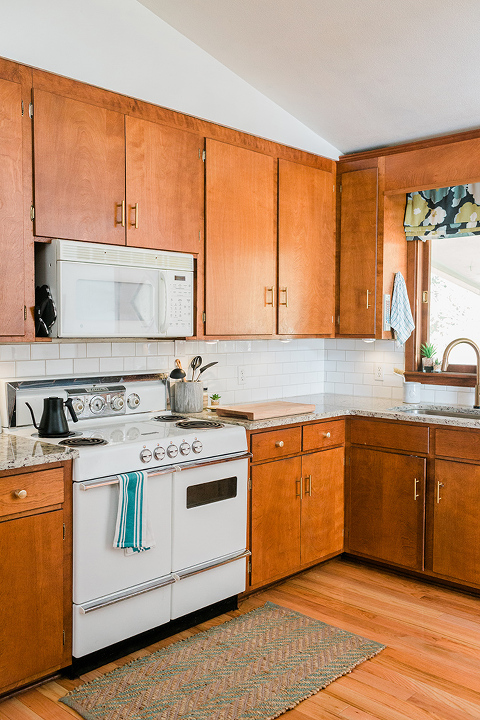 Did I miss a past DGD post or project that you fell particularly hard for in 2018? Do tell in the comments below, and feel free to click here for a great big walk down memory lane. That page holds each and every one of my DIY projects going back years and years, so you'll find plenty of creative inspiration to carry you through the rest of winter. HINT: If you scroll back far enough, you can see exactly where I transitioned from pastel DIYs, to my current more minimalist, earth-toned projects!