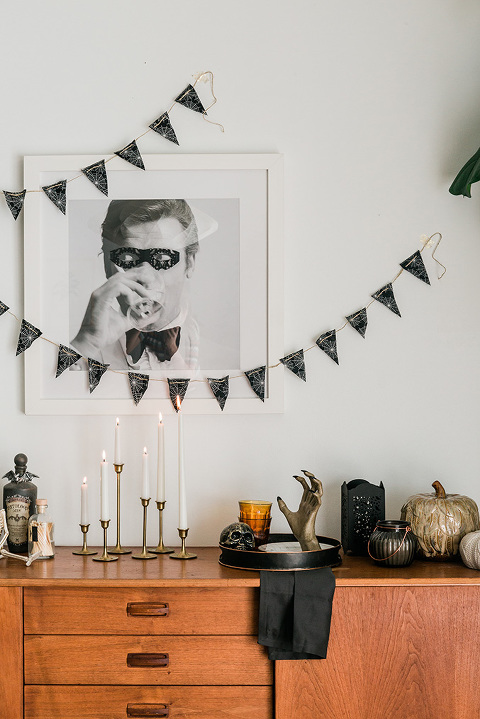 *This post was sponsored by Tuesday Morning
First, a question: have you guys ever heard of "Falloween"? I must be living under a rock because I didn't know this concept existed until a few days ago, but as soon as I heard the term I knew that it was just the kind of Halloween inspiration I had been missing. The truth is that I've never been all that gungho about decorating for Halloween. I know, I know…What a spoil sport! And I know I've disappointed John for years because this happens to be his all-time favorite holiday.
Well, now that I've discovered Falloween, I finally feel like I've found the motivation I've been unconsciously hunting for when it comes to this spooky style of decorating. Keep scrolling to see how I turned a cart-full of Tuesday Morning finds into the perfect fun, creative Halloween (read: Falloween) spread in our mid-century dining room.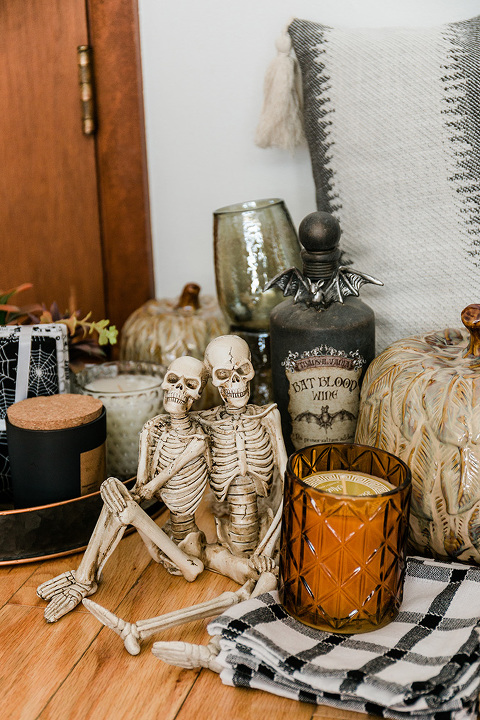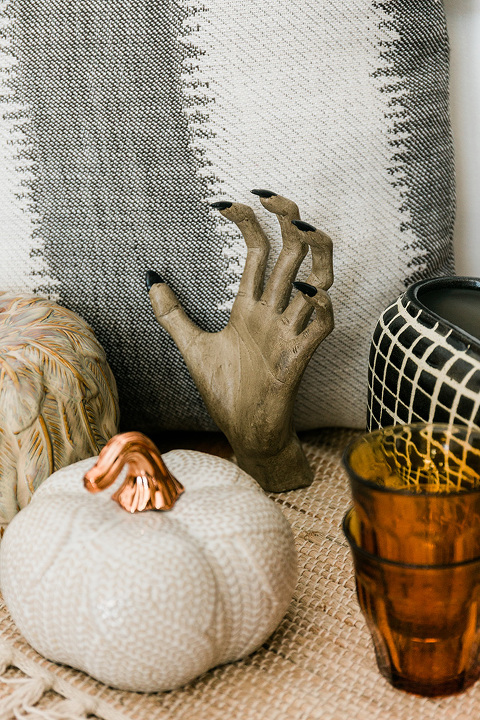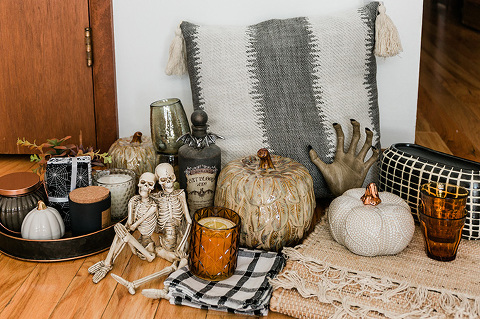 For those of you who are new to the concept of Falloween, my personal interpretation of it is a loose combination of classic fall décor (think: ceramic pumpkins, rustic textures, plaid, earth tones, and candles) alongside the telltale Halloween characters we all know and love, like skeletons, jack-o'-lanterns, and bats.
The great thing about decorating your home for Halloween (or any holiday) is that you have complete control over it. So, think about how you want to bring your own personal style to life during this spooky season. Do you want to go all out with Halloween decorations and sprinkle in just a hint of more traditional fall accents, or do you want to go the other direction and include only a few Halloween pieces alongside a mostly classic autumnal tablescape?
For me, it was definitely going to be the latter. Before I even left the house to head to our closest Tuesday Morning store, I actually put together a quick list of everything I was on the hunt for based on my mental 75%/25% split of fall to Halloween accents. As for my decidedly autumn décor needs, I wrote down things like a black tray, candles, ceramic pumpkins, some sort of rattan table runner, checkered linen napkins, and amber drinking glasses. Then, for Halloween, I added skeletons, novelty linens, and neutral spooky tabletop pieces to my list.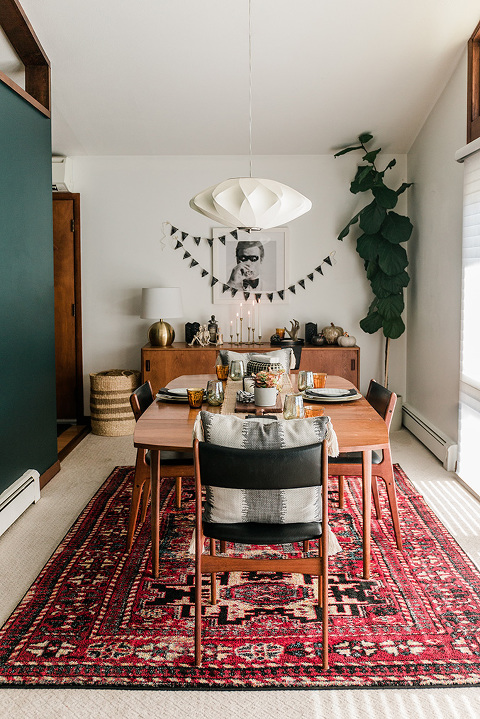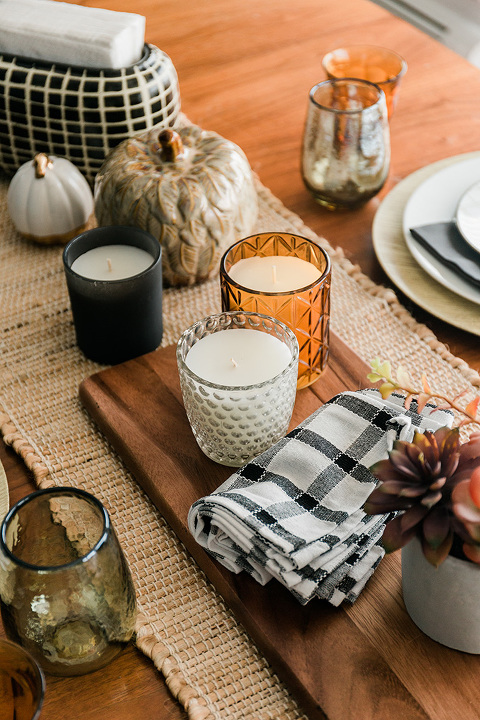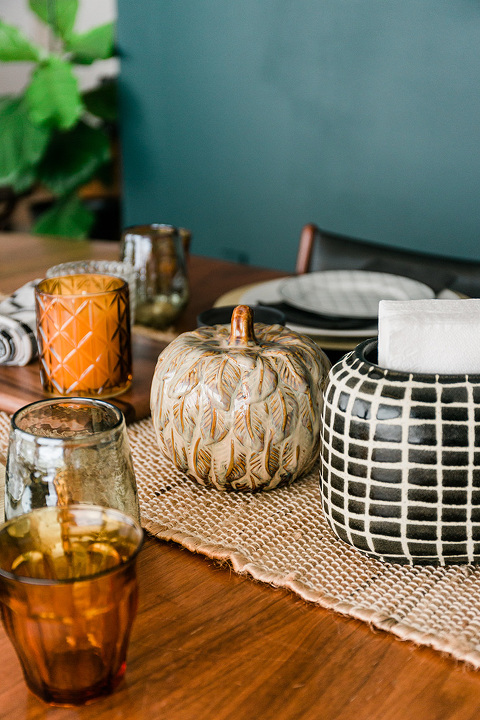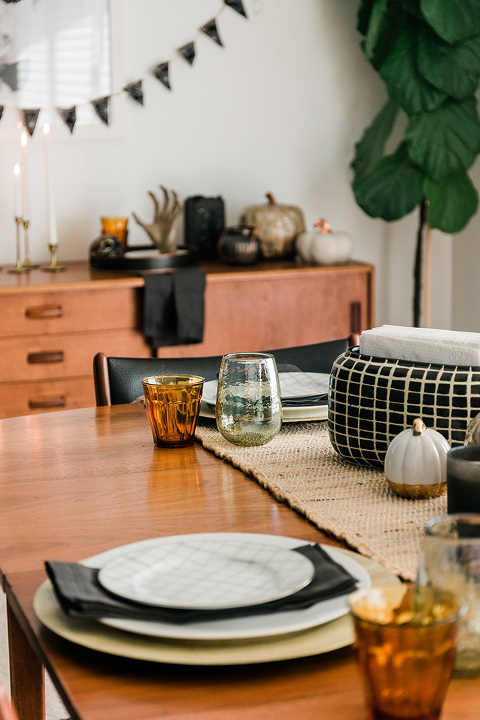 Since I always love getting my family involved when it comes to holiday decorating, I asked John if he wanted to come with me on my shopping trip. Typically, he prefers to let me do my thing when I shop for décor, but this time he was excited to come along.
He was practically giddy as we wandered the store aisles, and I quickly got into the Halloween spirit alongside him as he started filling our cart with cool décor. You guys know I'm a big, big fan of this store when it comes to filling out a room makeover, and their collection of upscale, name-brand products (at ridiculously low prices) get even better when you're specifically on the hunt of holiday décor.
I had a budget of $250 to work with and managed to come away with tons of classic accents that I know we'll be able to use for years in all sorts of different ways—whether we decorate our dining room for Halloween again, or maybe our family room and fireplace mantel. The best part about Tuesday Morning, in my opinion, is that you're bound to come away with totally unique finds since their stores are packed with limited availability pieces. You never know what you're going to find, but you can always count on good savings. I know I'm not the only one who's on a tight budget here!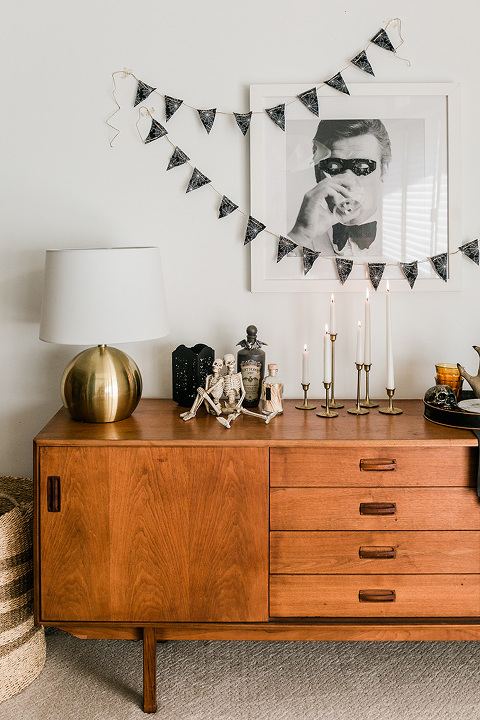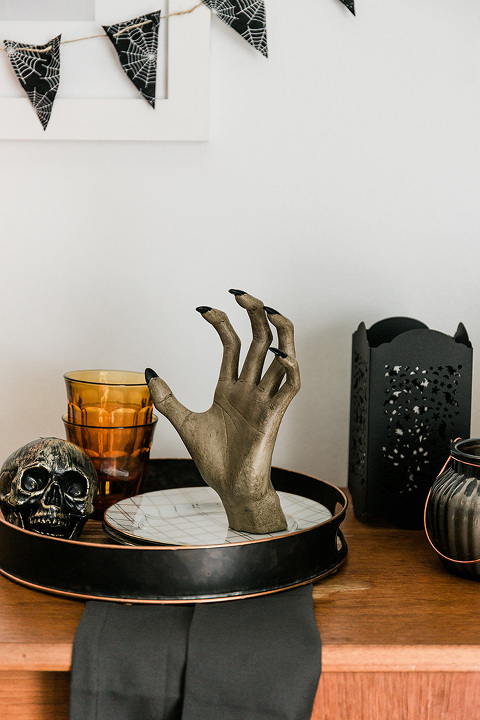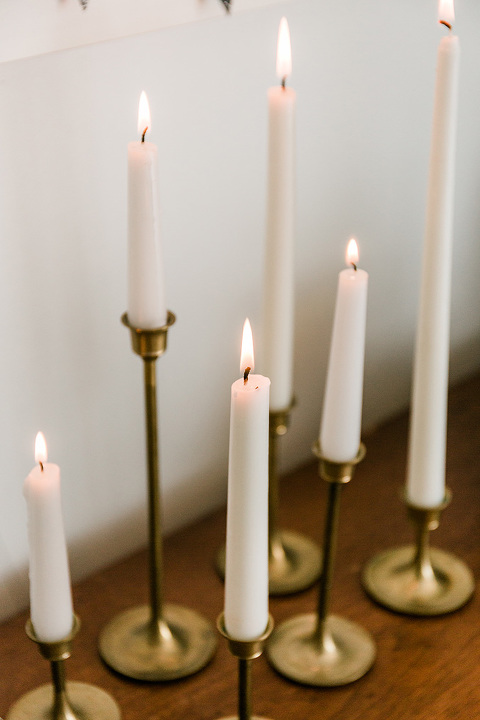 After we got home and had all of our bags unpacked, I immediately jumped into decorating. Like with shopping, John usually leaves this type of thing up to me and me alone, but this time he was right be my side tweaking little arrangements and vignettes until everything with juuuuuuust right.
We set up the dining room table for a mini dinner party with mostly fall-themed decorative accents, like a woven table runner (priced in-store at $14.99, compared to $39.99 retail), a set of gorgeous $8 amber glasses that would have otherwise cost $24 at full price, and a huge Acacia serving board ($14.99 Tuesday Morning cost, $29.99 retail value). We also layered in a few ceramic pumpkins, glass candles in telltale "Falloween" earth tones, and I even found a way to work in faux greenery thanks to the autumnal-colored succulents I found at the store for just $7.99 (compared to $14.99).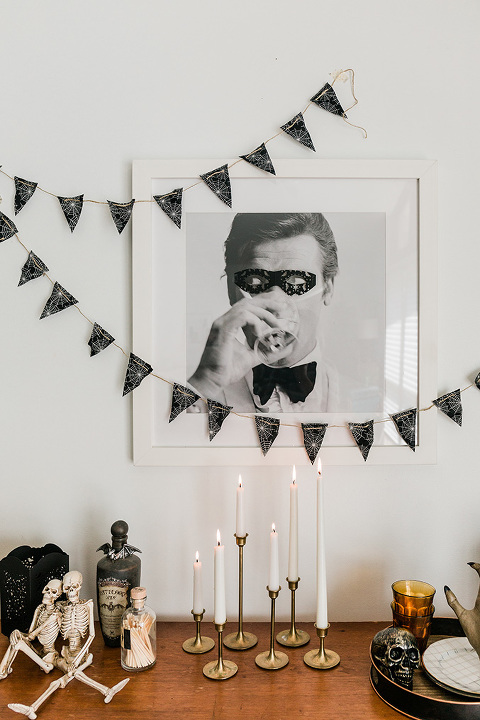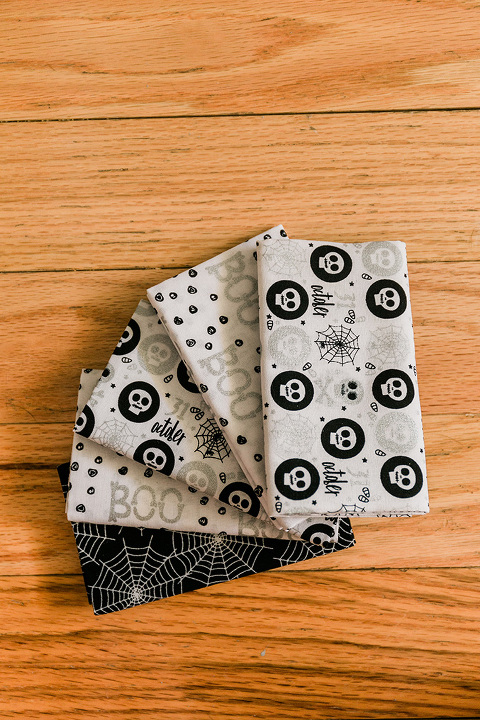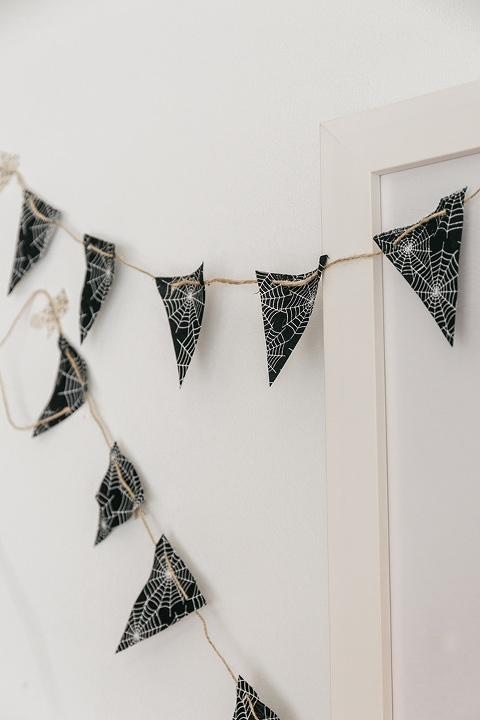 The buffet in our dining room is where we had a little more fun with traditional Halloween accents. I set up some paper luminaries that I found in the crafting aisle, and then I took one of the extra sheets of paper from the pack to make a DIY mask for the portrait we kept hung up on the wall. We pulled our vintage candleholder collection out of the hutch to add a soft glow, and flanked the candles on either side with some more fun finds: a skeleton couple (marked down from $24.99 to $14.99), a bottle of novelty "Bat Blood Wine" that cost less than $10, and a witch hand we found for $7.99 (compared to $12.99).
My personal favorite part of the Halloween buffet that we styled is the DIY bunting. Right before we headed to the checkout counter, I found a set of holiday-themed fabric samples. I tossed them right into the cart because I knew I could come up with something to make out of them for our dining room makeover, and I ultimately decided on a banner to go over the buffet. I cut one of the fabric swatches into tons of tiny flags, snipped small holes into the top two corners, and strung twine through them to make the banner. Then, I hung them up on the wall using washi tape. The whole project took me less than an hour to make, and I'll be able to use it year after year. Not bad for a $4.49 fabric find!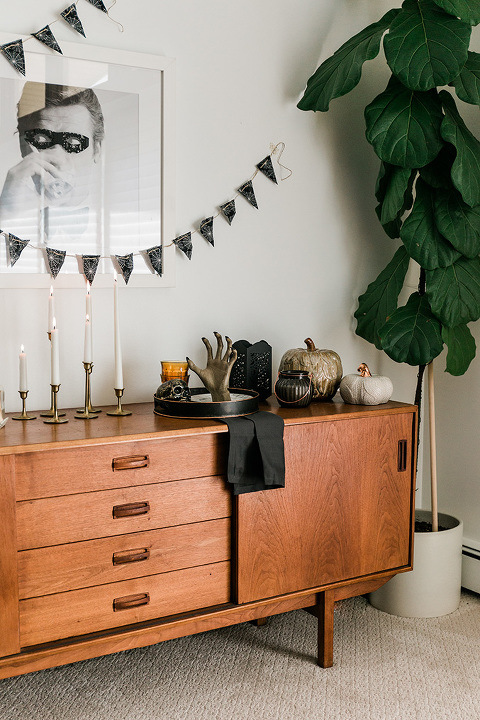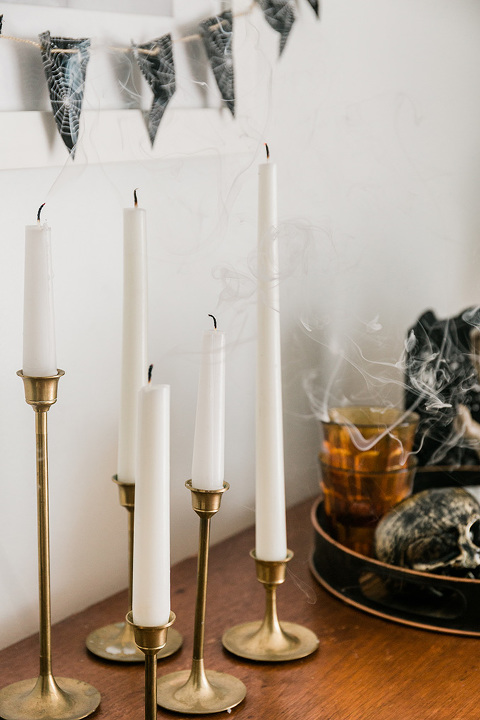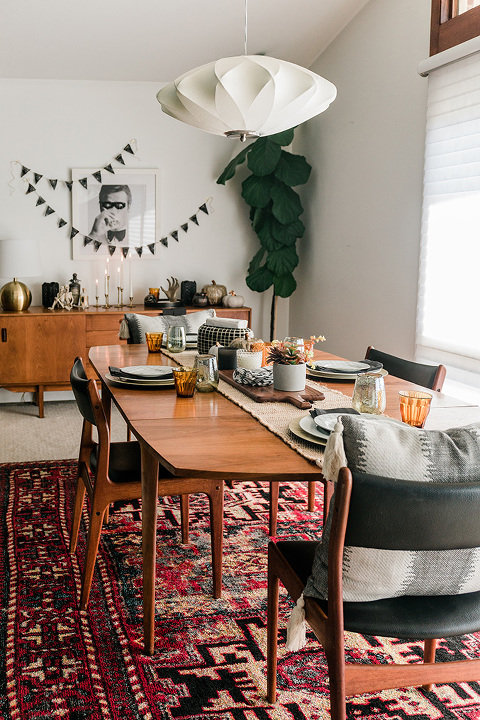 I'm officially a Halloween décor convert thanks to my discovery of the Falloween theme. Have you tried this look in your own home? One of my favorite things about this setup is that, when Halloween is over, all I have to do is tuck away the spiderweb fabric banner, skeletons, luminaries, novelty wine bottle, and witch hand to be left with all fall-friendly décor that can stay up through winter.
I'm actually especially excited about the soft tassel pillows I picked up in-store because I can use them in our living room or family room whenever the mood strikes throughout the year—fall, winter, spring, or summer! Did I mention that they're from Justina Blakeney's Jungalow collection?! I scored them for $14.99 apiece at Tuesday Morning even though they'd cost at least $35 anywhere else.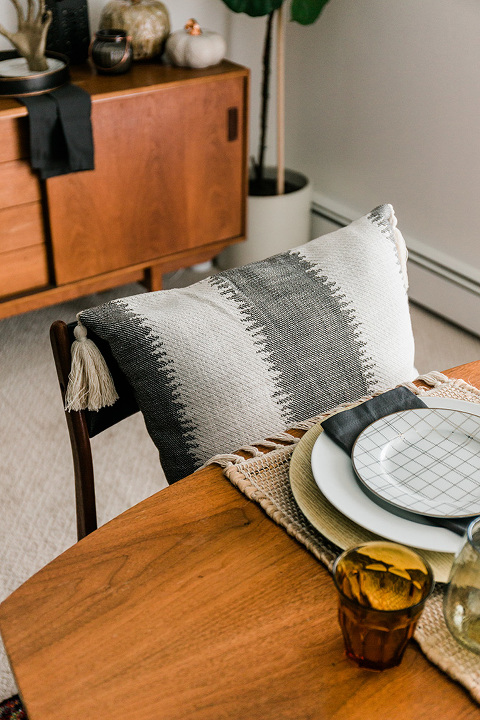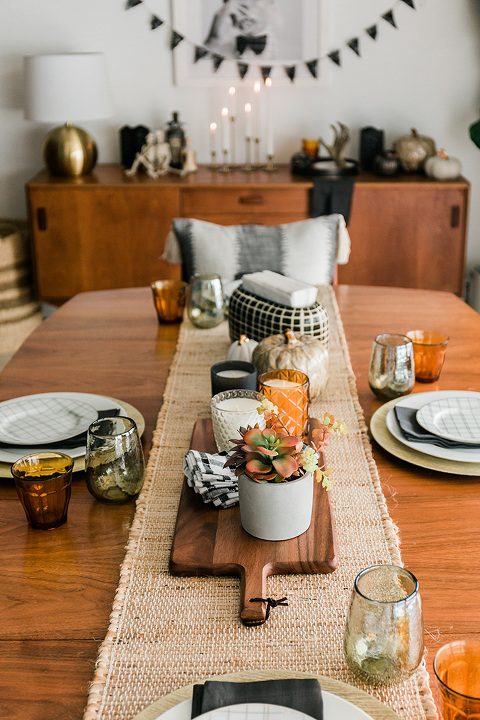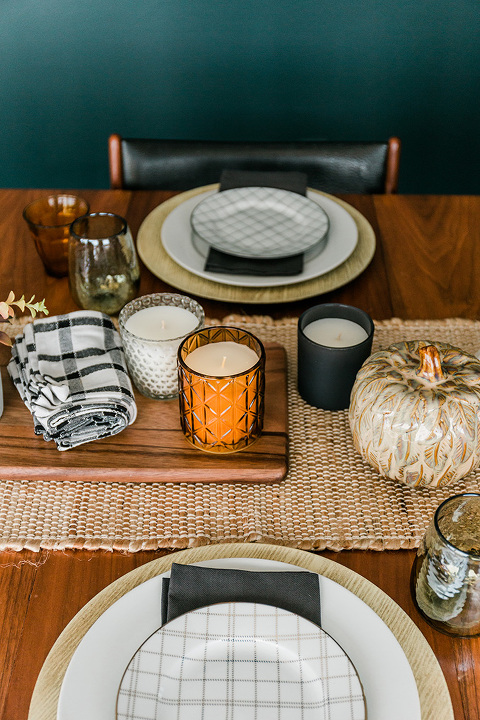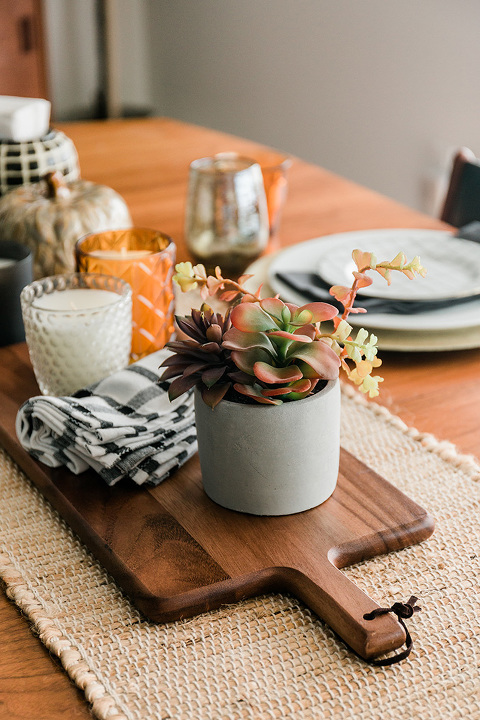 Let me know what your favorite part of our Falloween dining room spread is in the comments below, and make sure you schedule some time to check out your own local Tuesday Morning to prepare for the holiday next month. It really is a one-stop destination for Halloween décor, and you can count on the fact that your setup won't look anything like your friend's because the collections vary so much from store to store (even from day to day). Thirty-five days to go until Halloween! Are you ready?