Week 1 | Week 2 | Week 3 | Week 4 | Week 5 | Week 6
(FYI that links will "go live" one at a time as the event progresses)
Welcome back to our little slice of the Fall 2019 One Room Challenge event! If you're just tuning in, click back here to see where this whole project started, but (spoiler!) it's all about our kitchen. We live in a 1960s ranch that hasn't seen all that much renovation over the years. We're only the second owners of the 50+-year-old home, and we're just as dedicated as the first family to celebrating its retro roots. We don't have any plans to gut what is already a beautiful and functional kitchen, but we've always planned to make a few cosmetic improvements as time and budget allowed.
The biggest problem, as you may remember from last week's tale, is lighting. Because the single kitchen window looks out onto a covered carport, and the adjacent dining room windows are largely blocked by a partition wall, we've had to get pretty clever when it comes to maximizing light. Today, I thought I'd talk through our thoughts "out loud" so that you guys can weigh in.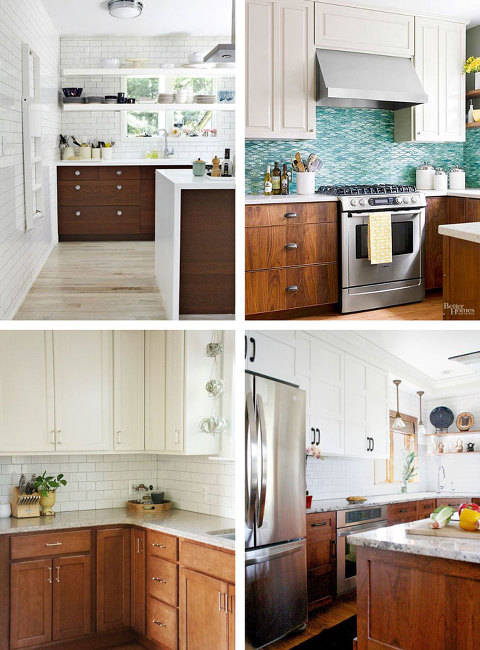 If you've been following along on Instagram, then you're already well aware of the debate I've unintentionally been waging when it comes to our kitchen cabinets. Because we have so little light, it occurred to me earlier this year that, in addition to the upgraded fixture I included in the mood board at the top of this post, we could also try bouncing around the small amount of natural light we do get by painting the cabinets white.
The problem is that, since the day we moved in, I swore up and down to you guys and to myself that I would never paint our gorgeous original cabinets. But I realized this year that I made that proclamation before really having a chance to use the space. Now that we've lived here for four years (our Houseiversary was this past Tuesday!), I realize that something needs to change, and I'm now leaning toward paint as a solution.
Those four inspiration photos you see are a pretty good representation of my vision for the space. I'd love to paint the upper cabinets white to help bounce the light around, and leave the bottom half of the cabinetry the original stained wood. To me, that seems like the perfect compromise—we'll get more light, and we'll still be able to celebrate the beautiful wood grain.
That photo below of Emily Henderson's mid-century kitchen makeover was actually the mental jumping-off point for me. I love the brass accents (just like we have in our kitchen!), and that she was able to make the space so much brighter with white paint. The pop of wood in the cabinetry below retains so much warmth and character.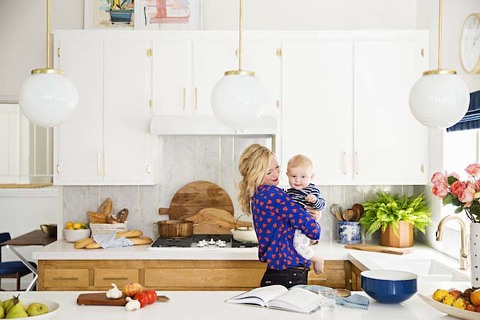 Emily didn't end up keeping her kitchen this way because the lower wood cabinets, sadly, didn't refinish well, but we have a leg up in that sense since ours are already finished and gorgeous. I really strongly believe that I wouldn't regret going the paint route, but I'm getting a lot of pushback publically whenever I bring the idea up, so I wanted to create a space (this post) where we could all talk freely and openly about the pros and cons of paint.
If you'd like more proof that this look is worth considering for our retro space, check out this video that I just recently came across on YouTube. I love watching House & Home videos during my lunch break, and when I randomly clicked on this one to find a kitchen full of white and wood cabinetry, I remember shouting "Yes!" (full mouth and all) and pumping my fist in the air. I've gotten a huge amount of flack on Instagram since introducing this idea to the public, so seeing yet another designer showing off the look makes me feel almost validated in the decision.
The truth is that I do feel a little icky about painting over such gorgeous wood, especially knowing that it's original. I would never, ever consider doing this unless I felt like it would make a big difference in the look, feel, and functionality of our dim, dark space.
I'm still not 100% decided, so feel free to leave your thoughts and opinions in the comments below! I definitely don't mind hearing your constructive criticism, I just ask that you frame your comments kindly since this decision has really been weighing on my mind. Thanks, everybody! Couldn't do this without you. Oh, and make sure you visit the One Room Challenge event website hosted by Linda, of Calling It Home, for more design inspiration and other project updates.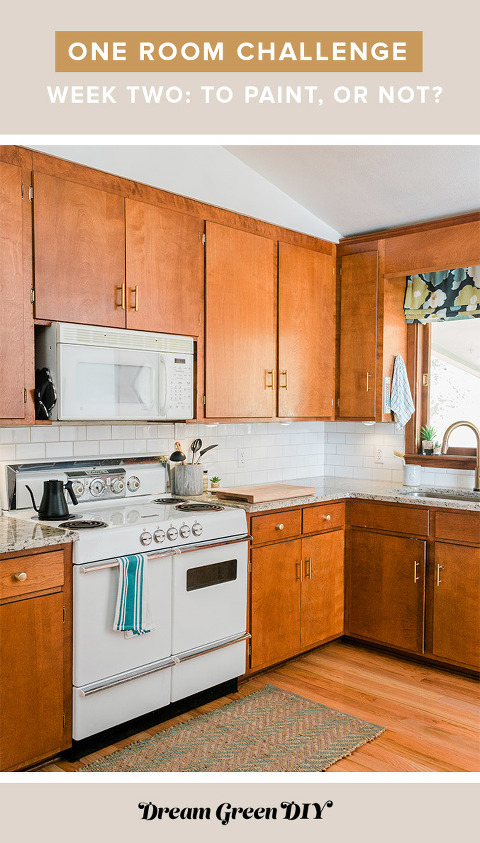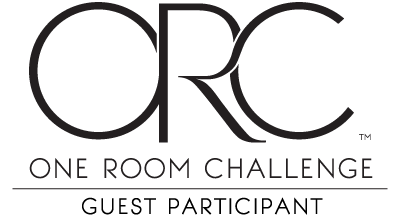 *I earn a small percentage from purchases made using the affiliate links above. Affiliate links are not sponsored. Rest assured that I never recommend products we wouldn't use or don't already love ourselves.