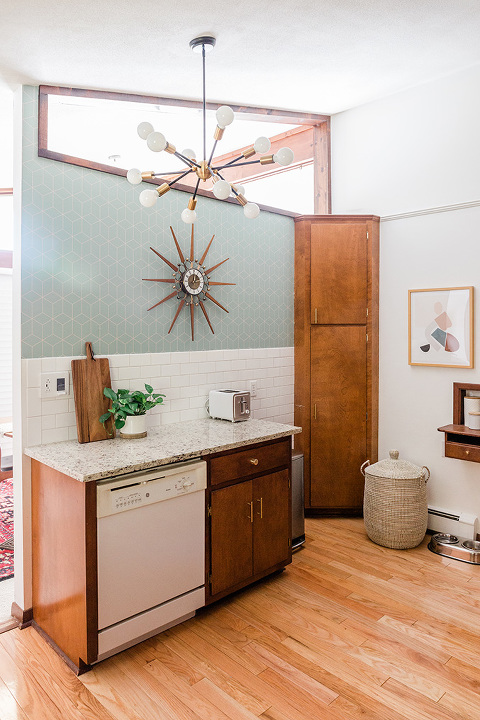 Week 1 | Week 2 | Week 3 | Week 4 | Week 5 | Week 6
Welcome to the official reveal of our retro kitchen makeover for the One Room Challenge! I'm so thrilled to finally be able to welcome you into the refreshed space, and like I mentioned last week, I've got a few surprises to unveil.
First of all, let's take a quick walk down memory lane to get reacquainted with the goals for this project. Number one, we wanted to add more light to the space. Number two? Well, I guess there really was just the one main goal, wasn't there? That is to say there was one to begin with, but as the project progressed, I stumbled upon some unexpected successes that changed the entire course of the project.
At any rate, if you're just tuning in, you can click back here to see all the "Before" photos, here for our mood board inspiration, and here, here, and here to see the progressive changes we made that all led up to today's final reveal.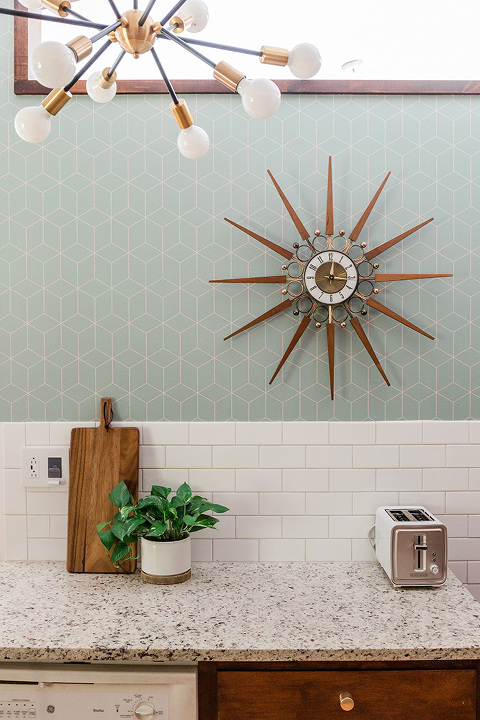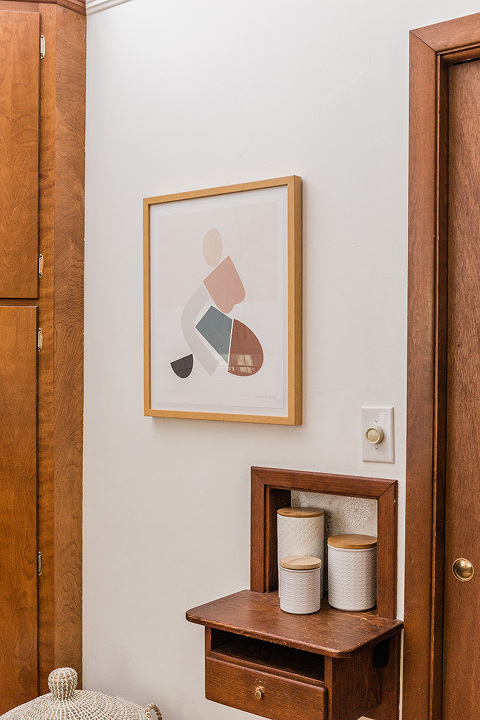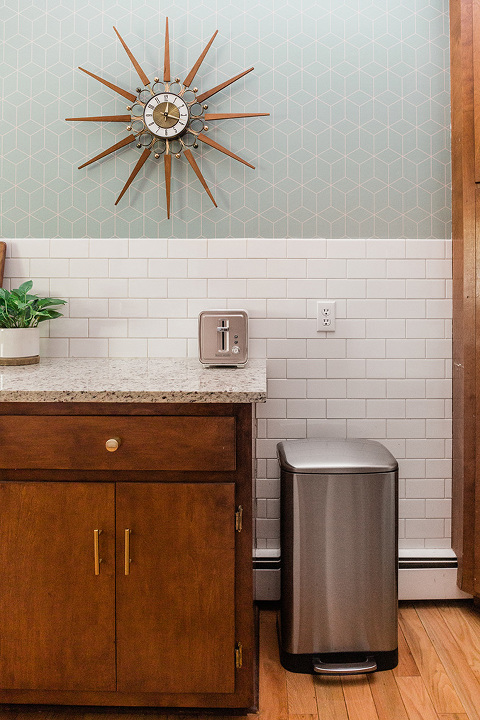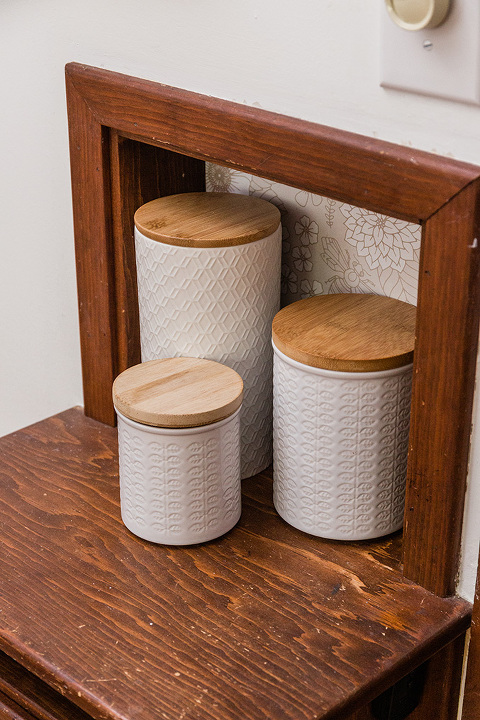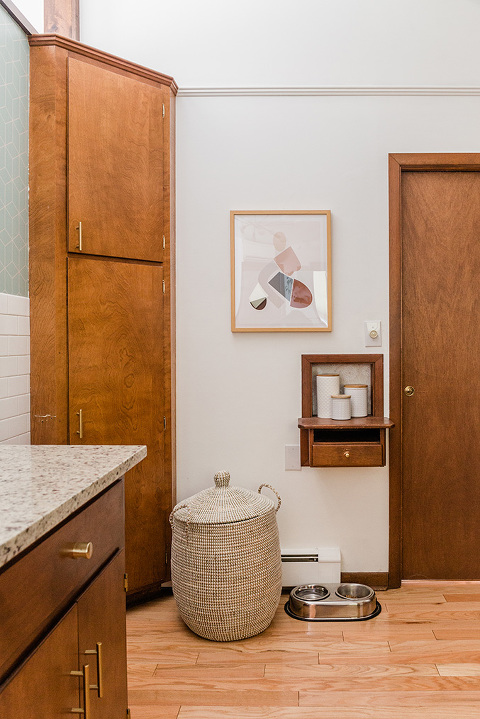 I'm sure the real question on everyone's minds, though, is, "Did the upper cabinets get painted?!" And the answer is…..NOPE! At the very last second I decided that it just didn't feel right, and I loved the original exposed wood grain too much to cover it up.
To be honest, there was a moment there at the end when I was feeling kinda insecure about the whole thing. I had set out at the start of this whole One Room Challenge challenge with the full intent of transforming our kitchen in a big, big way with paint. I worried so much that you guys would be disappointed that the "new" space didn't feel bold enough to warrant the ORC logo.
But the great thing about ORC is that there are no rules about having a "big" or "bigger" reveal, and the space feels completely new thanks to the changes we did make. I truly believe that the room would look beautiful with white upper cabinets, but the new upgraded fixtures largely solved our lack-of-light issue, and the last-minute decision to create a wallpapered feature wall (!!!!!) really sealed the deal for me. The wood cabinets are here to stay!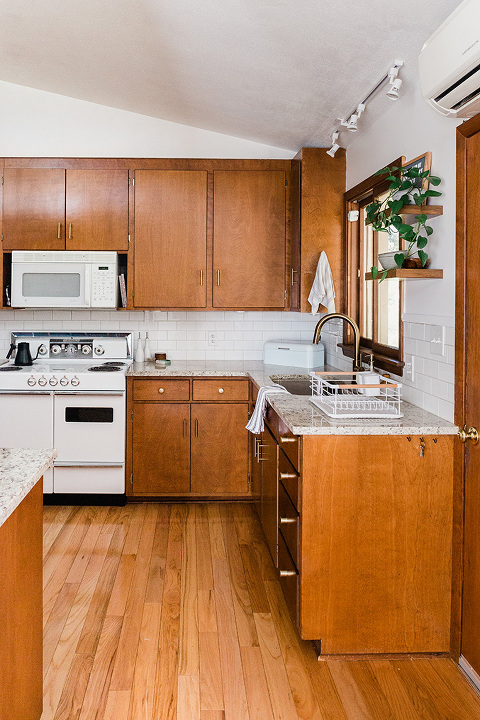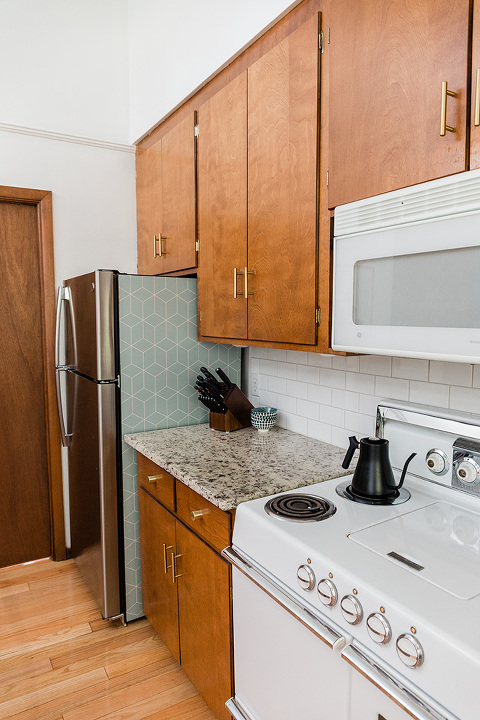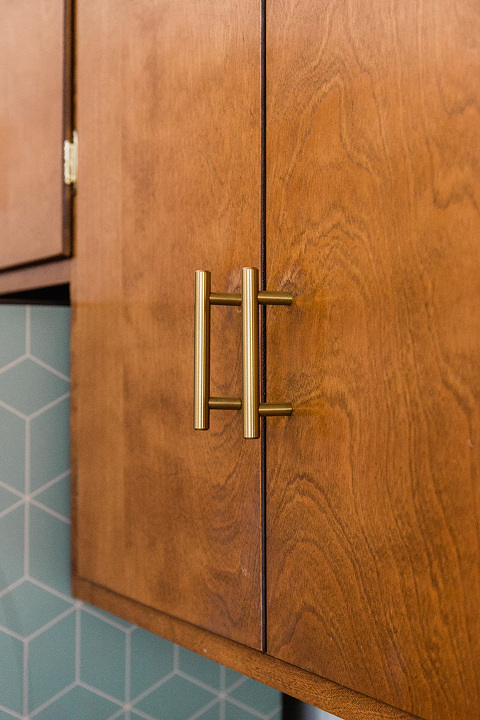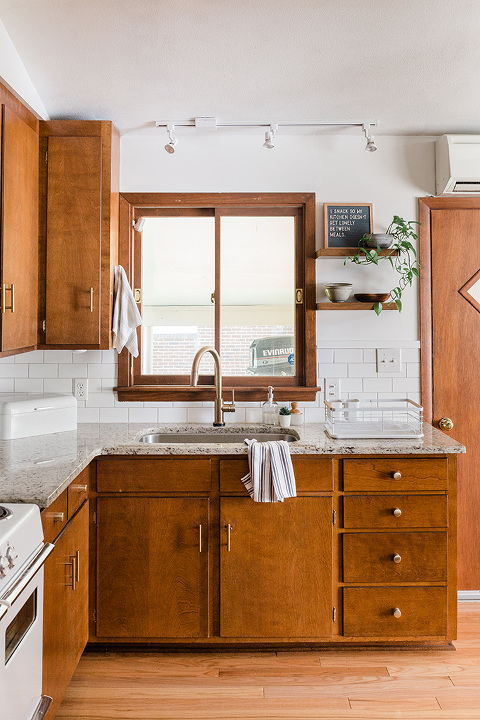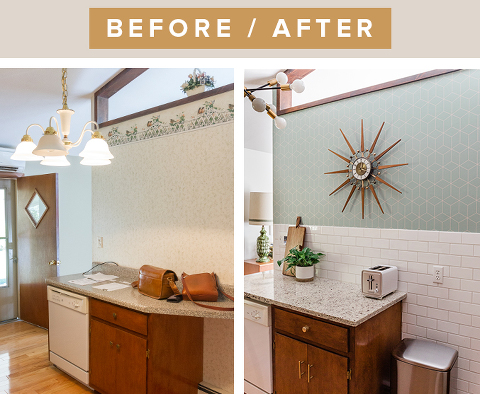 RESOURCES: Wallpaper, kettle, gold cabinet hardware, open shelves, clock (similar), Sputnik light fixture, stainless steel trash can, toaster, kitchen towels, lidded dog food basket, framed print, ceramic jars (similar), kitchen knives, under-cabinet lights, dish drying rack, white bread box, wireless charging outlet, gold faucet, cutting board (similar), oil & vinegar set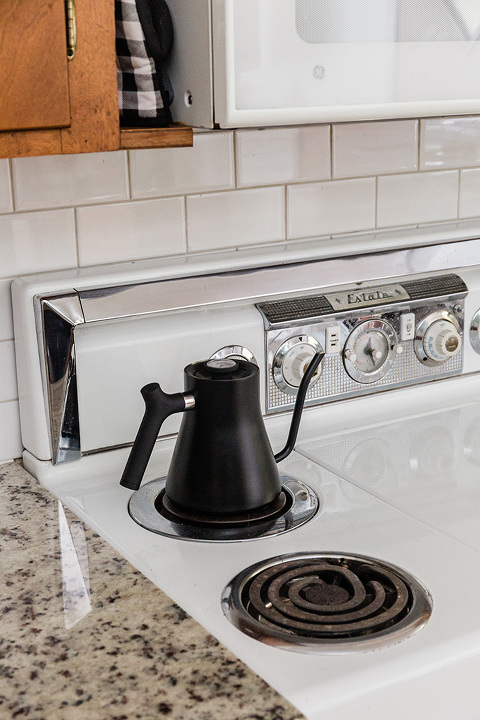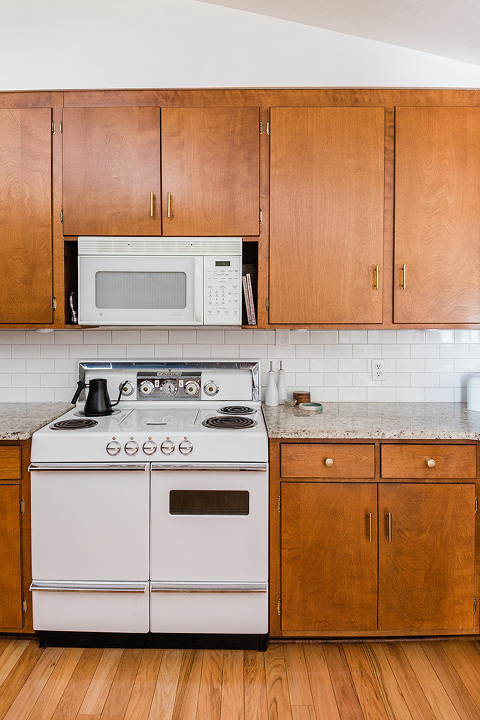 Speaking of that wallpapered feature wall…can you even handle how gorgeous it is?! I used the same "Stacked Cubes" design from Astek Home that I put up in my office closet, and I also went back to the exact same custom light blue/green color. It feels like the perfect fit for our retro mid-century kitchen. The best news of all, though, is that the team added my custom shade of mint to the website so that you guys can shop the look with one click. Grab your favorites from the Astek Home collection (doesn't have to be the pattern we used!) with an exclusive 20% discount using code 'DGDIY' now through the end of the year.
It's actually funny how I happened upon the decision to wallpaper. I had just put up the two new open shelves over by the sink, and ultimately decided that the two larger open shelves that we had on the adjacent wall looked too redundant with the shelves by the sink, so I took those down. After that, I was left with a large blank white wall, and while it was nice and bright, it also looked a little boring.
I've been feeling the itch to get back to my colorful ways lately, especially after the success of our dark blue/green feature wall in the dining room. The moment I stepped back after that summertime project to survey the results, I knew we had finally nailed that space. It felt classic with just a hint of edge, and sooooo "John and me."
So, when I stood back to see the kitchen as a whole after taking down the old open shelves and saw that big white wall, I immediately started thinking about how to add back a bit of personality and color. That's when it hit me that we could wallpaper the wall.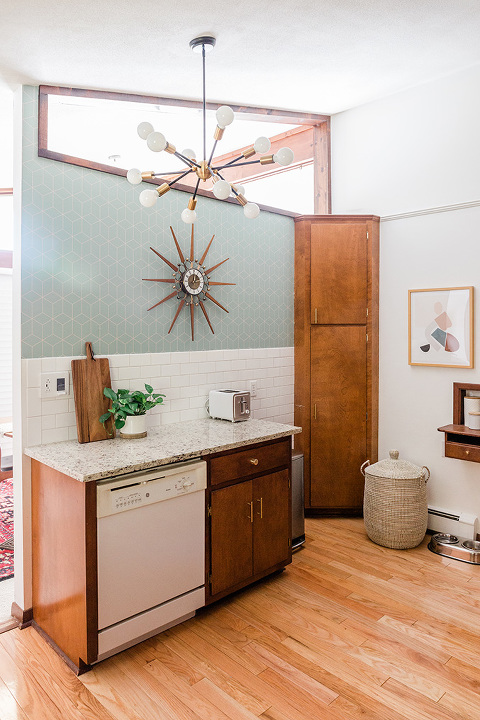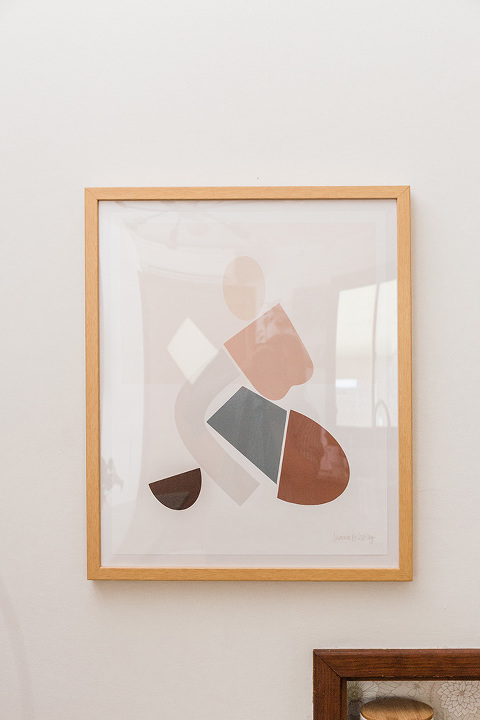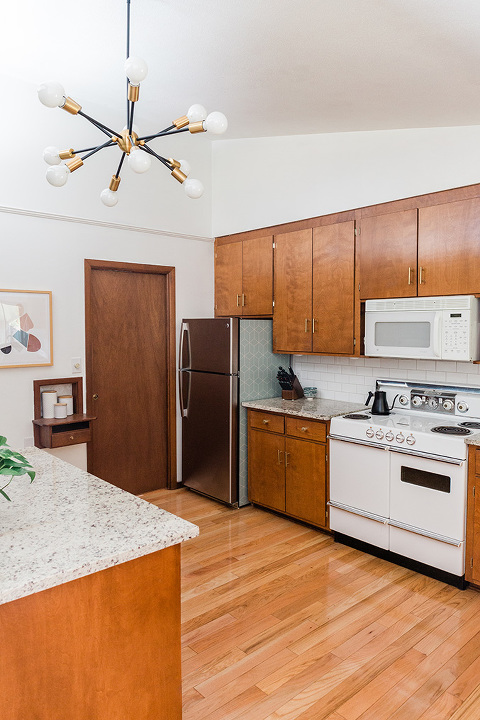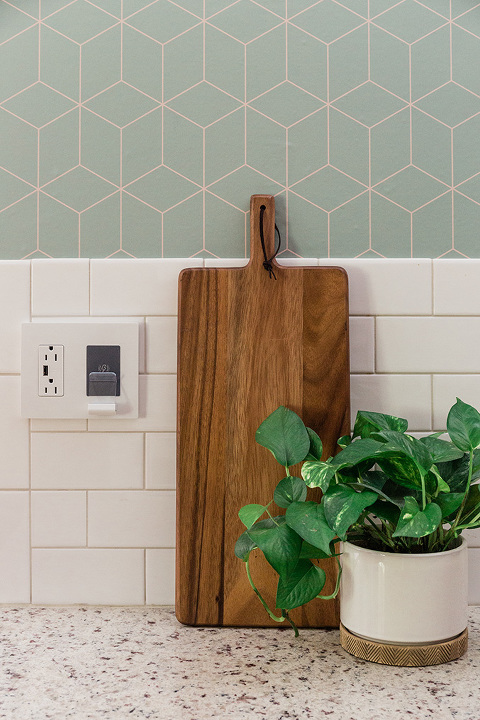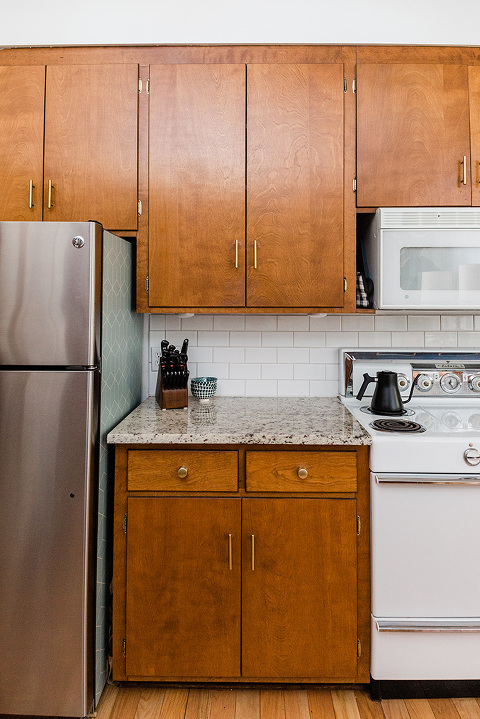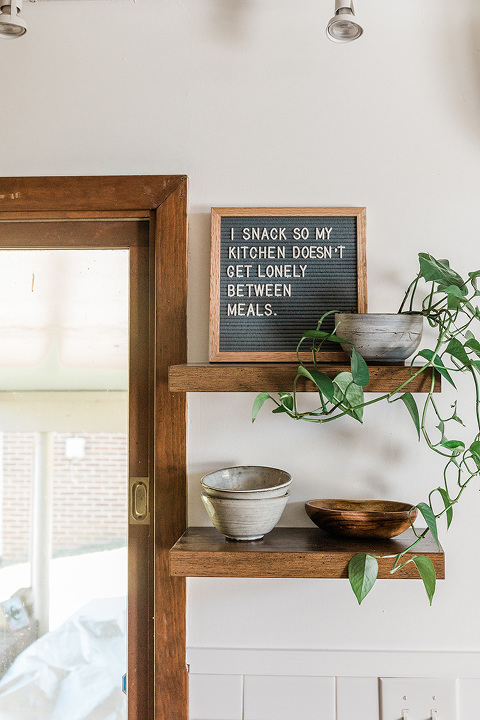 I ran to the basement where I had a few remnants of wallpaper from the office closet makeover, stuck the scraps up on the kitchen wall, and it was like the lightbulb had finally turned on in my head. That was also actually the moment when I realized that maybe (just maybe!) I could let go of my fixation on painting the cabinets. The new wallpaper feature wall might be just the thing to balance the space, make it feel properly "made-over," and would make the room finally feel like us.
Luckily, the Astek Home team loved my vision, too, and they very kindly sent us the paper we needed to turn that bland white wall into the show-stopping focal point the kitchen lacked. It took less than two hours for me to put the new wallcovering up on my own, and I even had enough to makeover the refrigerator, too (more on that mini DIY project next week).
I hung our favorite vintage MCM clock up on the new wallpapered feature wall, and that combined with the new Sputnik light fixture was all the convincing I needed to feel like the room was done—no major painting required.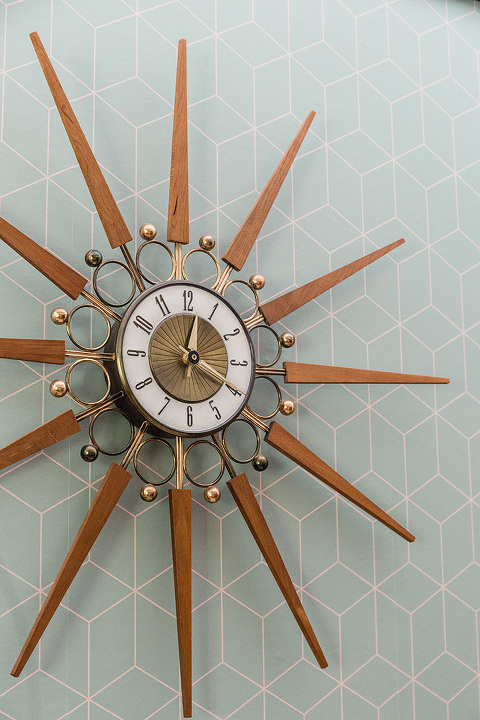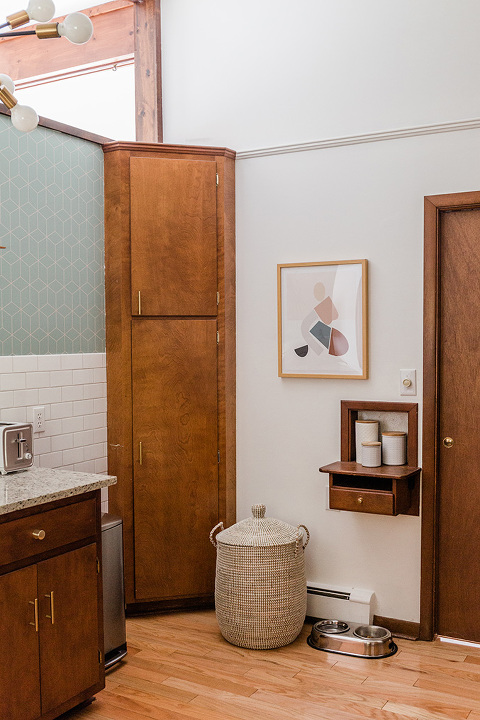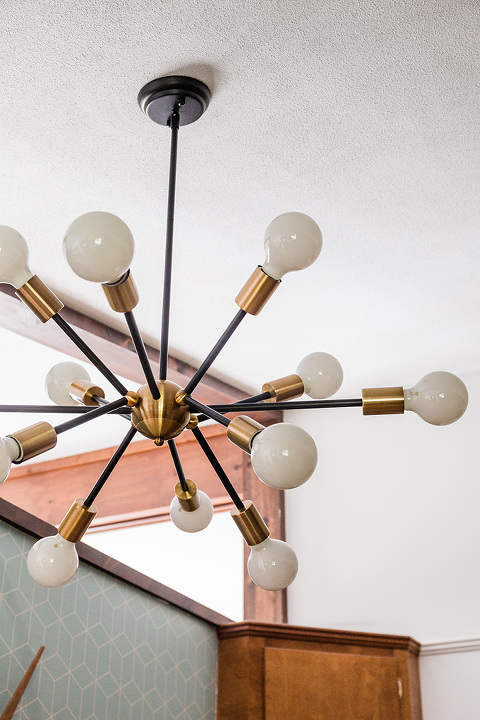 As for the rest of the space, all it took was a small collection of thoughtful, colorful accents to help round everything out. My favorite new accessory in the space is easily that framed print. It's called 'Figure 1' and came from Juniper Print Shop. The artist Shana Blakley is my latest must-follow pick on Instagram—you can check out her other work under the Figure Form brand by clicking that link.
Right below the print, I situated our Serena & Lily lidded basket. We got it in their 'medium' size, and found out that it's perfect for storing the dog's food bag. Before, we kept his food in a functional-but-not-so-pretty plastic container, but this new method of using the basket makes that corner look so much cleaner, and it works well for us, too.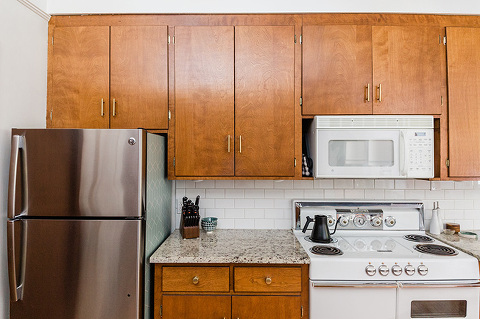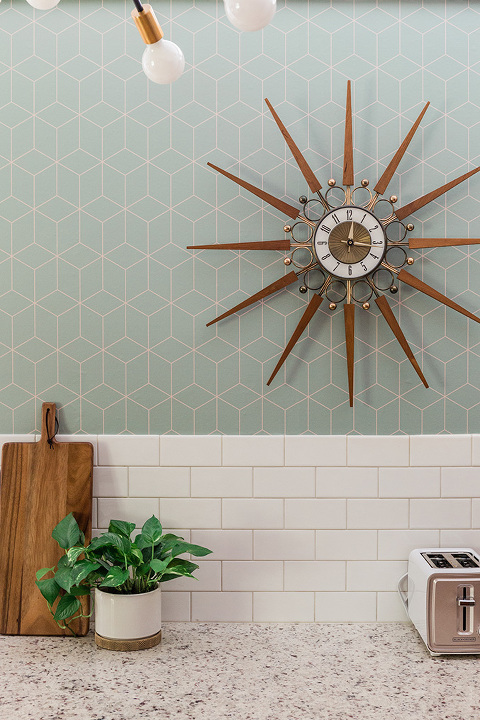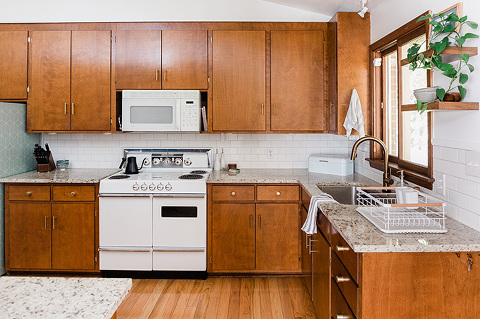 One of my favorite ways to decorate a utilitarian room, like a kitchen, is using pieces you would normally see in rooms like living spaces or bedrooms. It's kind of hard to bring a cozy vibe into a kitchen when so much of the accents are solid surface and have to be functional first and foremost, but if you rethink the myth that you have to use kitchen-themed items for storage, then a whole new world of décor possibilities opens up to you.
For example, besides the new dog food basket, we also use decorative ceramic jars to hold all of our pet treats. Yes, we could just as easily have put the treats bags and boxes in the cabinet within easy reach, but those white wood-topped jars look so much prettier sitting out in the open on the telephone cabinet we have in our kitchen entry. I think sometimes even art ends up being relegated just to spaces like the living room and bedroom, but consider bringing some pretty prints into your kitchen to liven it up!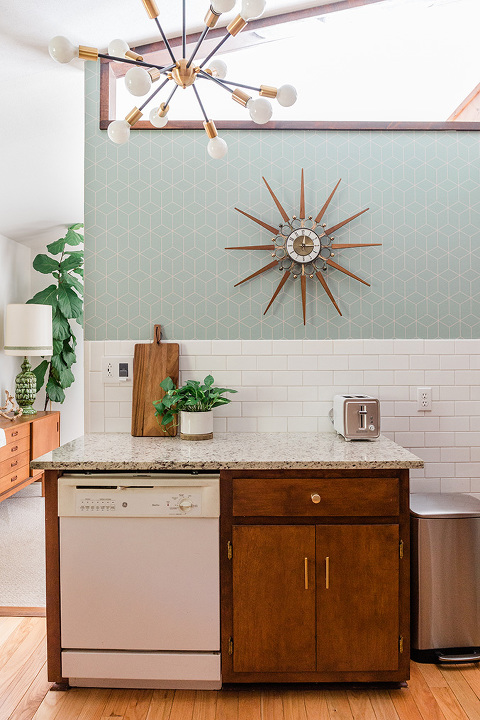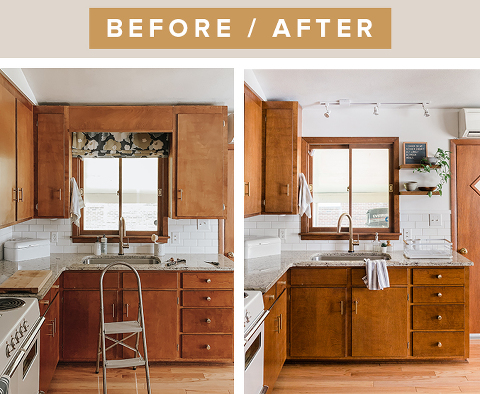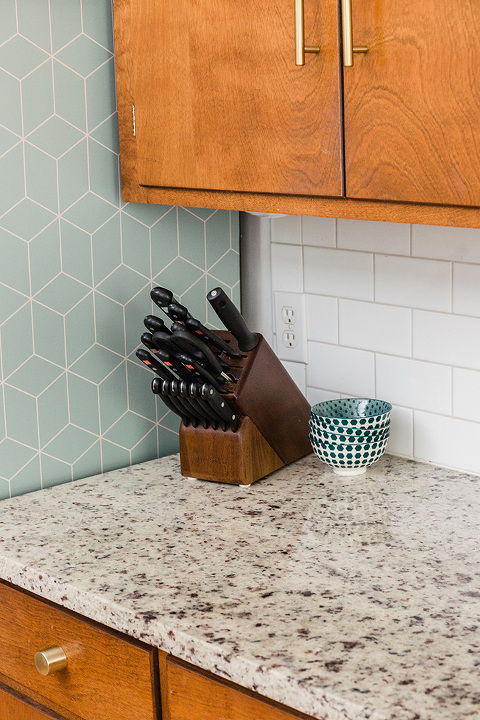 So, there you have it, folks! I hope you've enjoyed following along with this room transformation. It has been so much fun to take on the challenge of a room that needed lots of help, but, honestly, very few of the updates that we ended up doing were planned.
I didn't even think about taking a cabinet down when I was contemplating painting the upper cabinets white, and it never occurred to me that wallpaper could be the perfect alternative to defaulting to paint. But that's just the way I roll with design projects. I have an idea, jump in headfirst, and tend to let things unfold based on my gut instinct. I'm so glad I trusted my intuition throughout these past six weeks because the finished kitchen, while not at all like I envisioned, really is the dream-come-true space I was craving.
Thank you all so much for your comments, suggestions, and support. I truly couldn't have done it without you. Feel free to leave your thoughts on the finished space below, and then pop over to the One Room Challenge event website hosted by Linda, of Calling It Home, to see all of the other ORC reveals!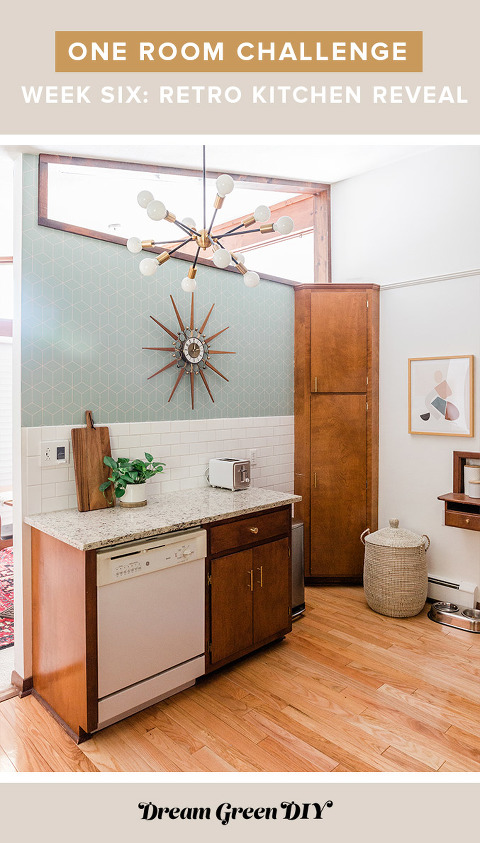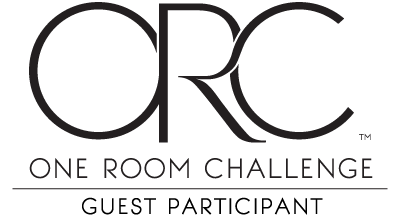 *I earn a small percentage from purchases made using the affiliate links above. Affiliate links are not sponsored. Rest assured that I never recommend products we wouldn't use or don't already love ourselves.