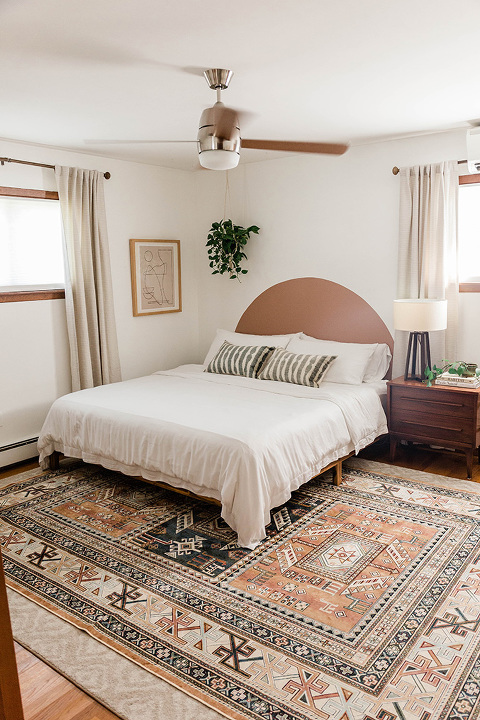 I'm back to share the full explanation of how to make your own DIY painted arch headboard! I shared the full process in action on Instagram a week or two ago and saved the whole thing in a highlight here. Click that link to watch the headboard come to life in video format in case you're more of a visual learner. My explanation text below might be a little confusing, so that video highlight is a great way to put two-and-two together, in my opinion.
I've seen so many people do this same project (I'm definitely not the only one or the first one to try it!), so what I'm about to explain is sort of a combination of a lot of different ideas to arrive at a similar end point. One of my biggest influences for this project was Geneva Vanderzeil, founder of Collective Gen. She did a painted arch headboard on the paneling in her master bedroom, and explained the process here in case you'd like a second opinion on how to do this project. Now, let's dive into my experience below!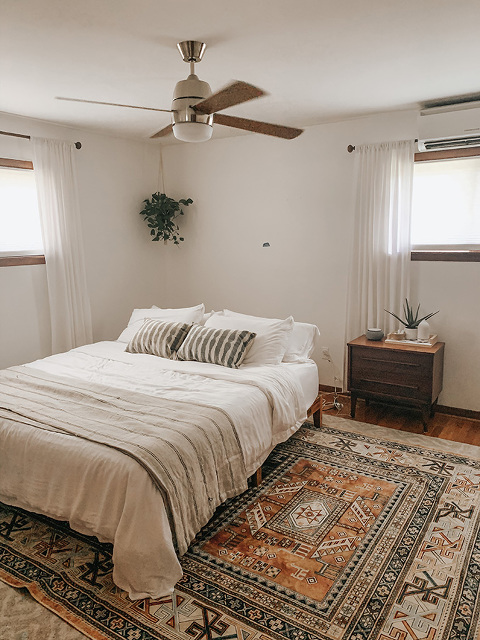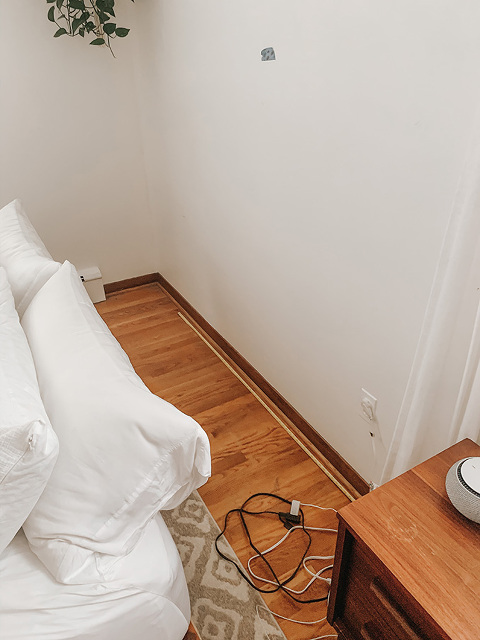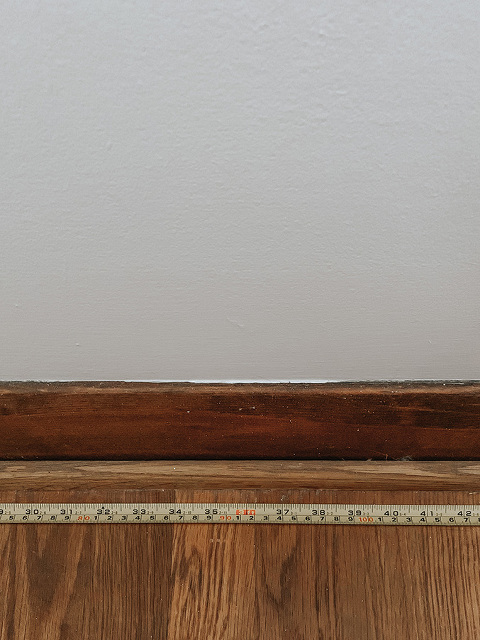 First, before pulling the bed out, I used a pencil to make light marks on the wall on either outside edge of our mattress and bed frame. I also marked the general height I wanted for our arch with a piece of painter's tape pressed on the wall, then John helped me pull the bed far enough out from the wall for me to be able to work behind it.
I laid my measuring tape out on the floor between my outside edge pencil marks and found my center point (at about 3 feet). I also adjusted my arch height painter's tape marker over a bit so it was actually centered. I had just eyeballed the center point with the painter's tape before, so now it was perfectly aligned.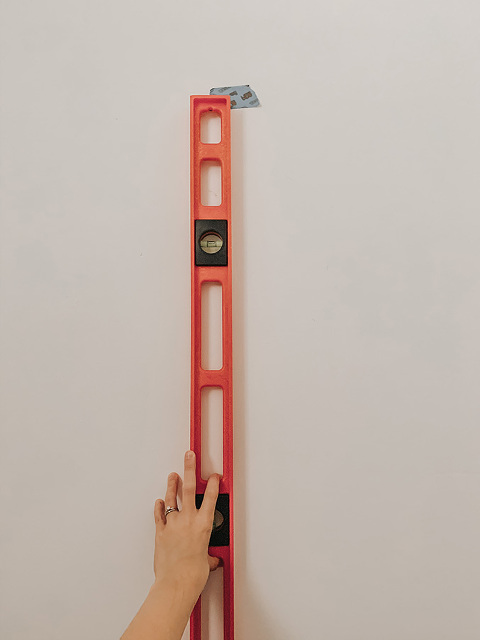 Here's where it gets complicated to explain, and you honestly just need to do it to understand, if that makes sense. In general, to get an arch drawn on your wall, you need to create a giant DIY compass using a nail and piece of string. This is the process for doing so:
Decide on the size of your arch, and cut a piece of string to suit that size with a few extra inches added to it for knotting in step 3 below. (Geneva explains that process better than I do in her post here)
Hold the top of the string up at the highest point of your arch, then tap a small nail into the wall where the bottom of your string hangs loose.
Tie one end of the string to the nail, and tie the other end around a pencil.
Pull the string taut, and draw on the wall allowing the string to create your curve.
I promise it's way harder to read that exclamation than it is to actually do it. Again, I recommend watching my video collection here if you're having trouble visualizing how this works. That way you can see the DIY compass in action.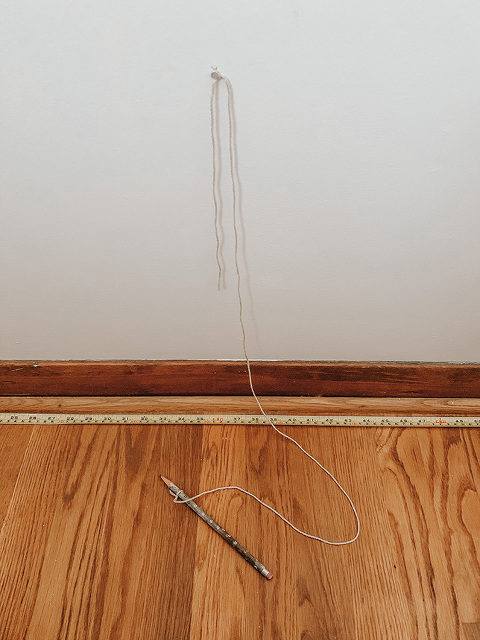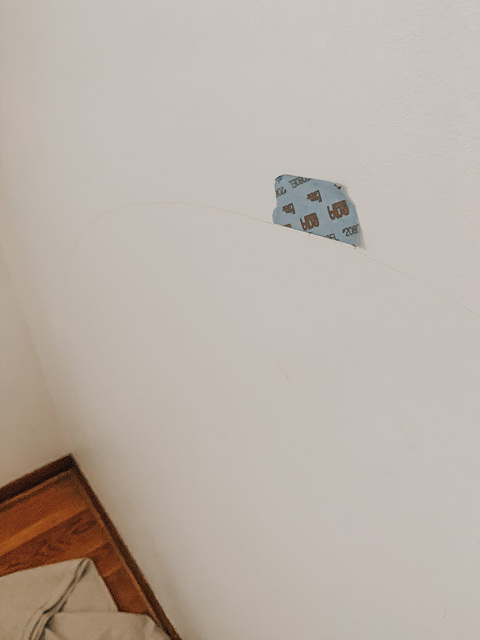 You can see the arch shape drawn lightly in pencil in that photo just above. Here are a couple of quick tips for you. Make sure you tie your string toward the bottom of the pencil so you have less chance of the pencil moving around on you. You'll want this to be as fluid as possible, and the string has to stay taut the entire time to ensure an even curve.
Really, that's the only hard part about this entire project! And that probably just applies to those of you who are like me and don't consider math/geometry your strong suit. You can just free-hand the arch if you want, but I definitely wouldn't recommend it. The DIY compass is as simple as can be once you "get" it!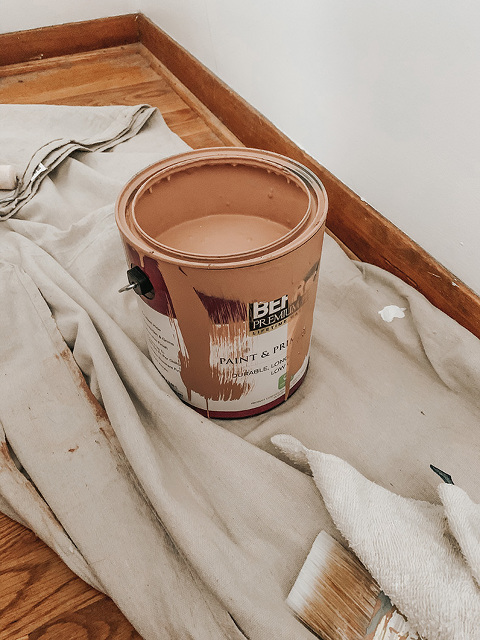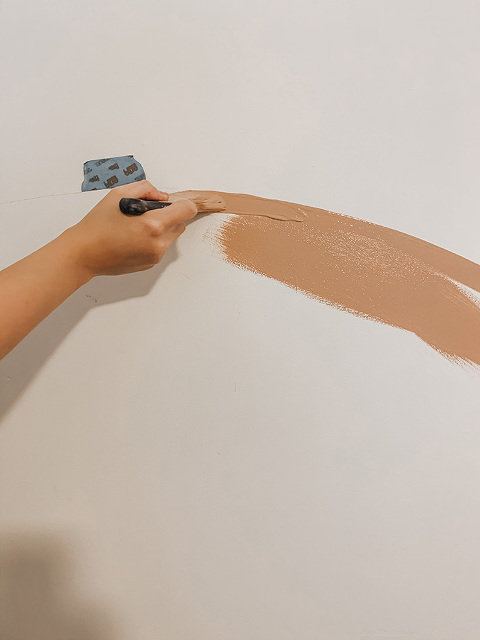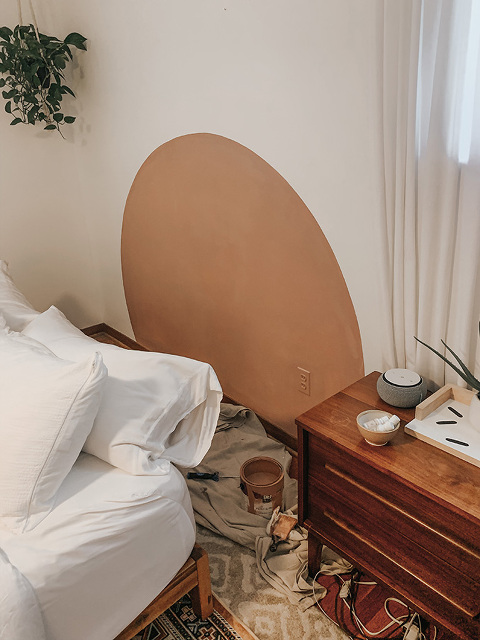 Anyway, next comes paint. Remember when I painted a terra-cotta colored feature wall in our dining room? Well, it turned out to be the perfect shade of peachy orange for our bedroom refresh because it was an almost exact match to the tones in our new rug (see the full room tour with more resource links here). The color, by the way, is "Spiced Brandy" from BEHR paint.
With a steady hand, I dragged my heavily loaded paint brush along the arch pencil line in a strong, smooth motion to coat the outline completely (make sure you paint over your pencil line during this process, by the way, or else you'll have to erase the marks later). After that, you can fill the rest in with your paint roller and more paint.
My one tip here is to be really careful not to roll outside the arch line. I guess I should also mention that this is more of a true "circle" rather than an arch. It'll look like a half circle arch when the bed is covering the bottom curves, as you'll see pictured below after the paint had dried and I had put the room back together.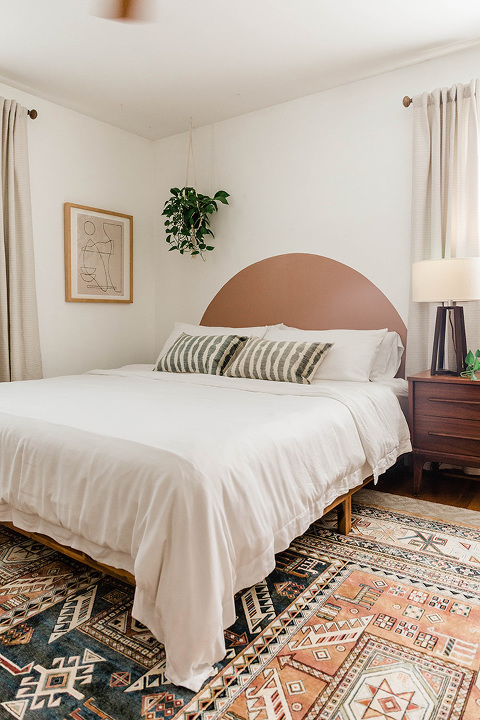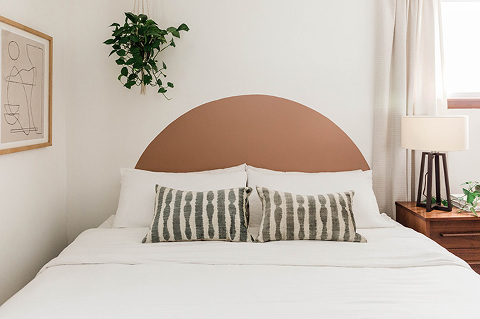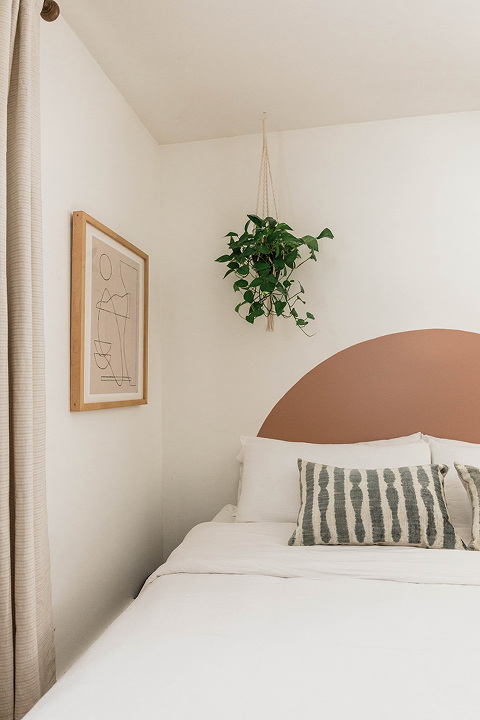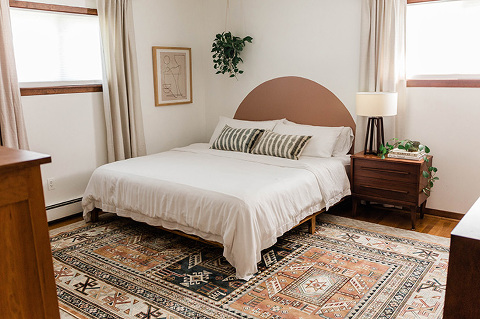 The entire project took two coats of paint and less than two hours from start to finish (including drying time). I actually pulled it all off one random weekday evening, so it's not something you need to do a lot of pre-planning for. It also cost zero dollars since I already had everything I needed on hand.
Would you try this DIY painted arch project in your house? Let me know in the comments below, and, as always, shout if you have any questions about anything I explained above!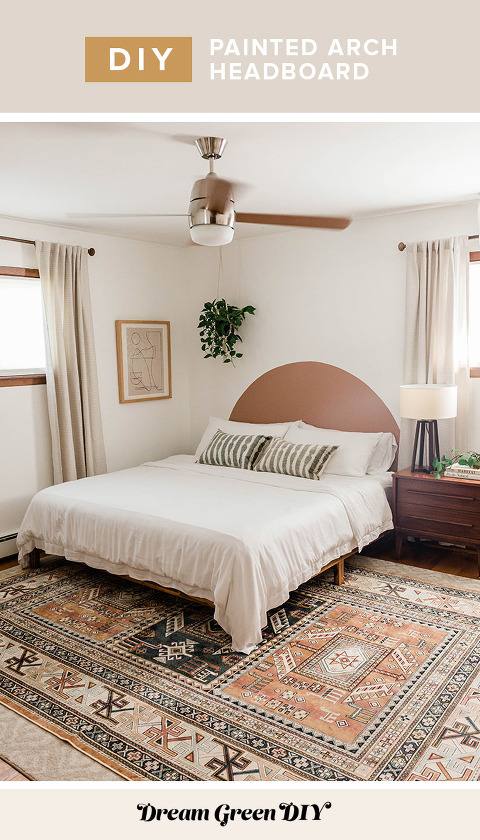 *I earn a small percentage from purchases made using the affiliate links above. Affiliate links are not sponsored. Rest assured that I never recommend products we wouldn't use or don't already love ourselves.