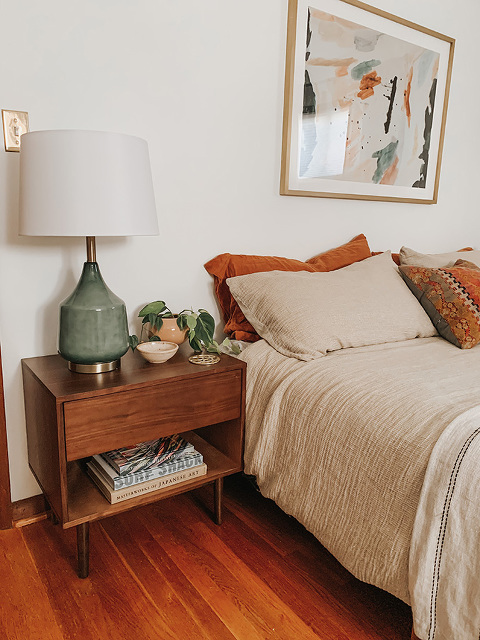 *This post was sponsored by INMOD. All opinions are my own.
I'm back with another INMOD furniture review! Did you catch the first story in this series? As a little refresher, we decided to take a leap of faith last year and ordered a leather chair from this new-to-us company. Although I was a little worried about choosing something sight-unseen and from a brand we had never tried before, I was able to do a fair amount of research ahead of time that made me feel more confident about the chair. You can read my tips for ordering furniture online here in case you missed it the first time around!
In the end, as you might remember, we love our new leather chair, and decided to try another option from the INMOD collection: a pair of Emerson Nightstands to go in our main bedroom. Just like the leather chair, the new tables arrived fast (like, really fast!), and I was able to haul them in and assemble all on my own in under 30 minutes. Well, I did have a little "help" from Tonks the cat, as pictured below…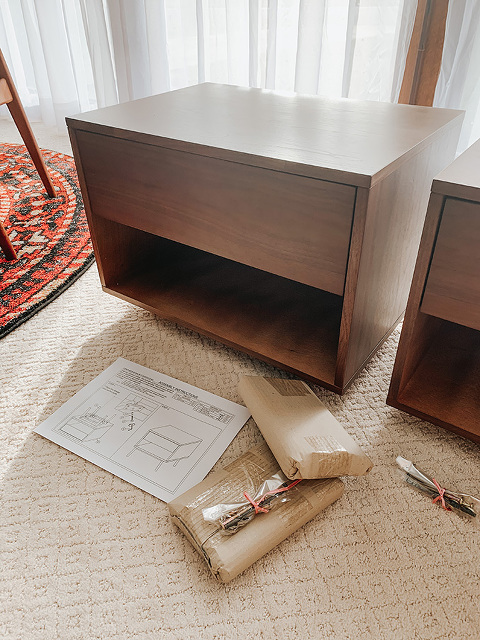 These nightstands come mostly assembled—in other words, you don't have to build them from scratch. There's no fussing with drawer rails or having to put the surround together, like you often have to do with other mail-order furniture companies. The only things I had to "assemble" were the legs, and that took less than 15 minutes per nightstand.
The tables are super sturdy and heavy-duty (I was only just able to move them to the bedroom by myself once put together), and I appreciate that the gorgeous walnut finish goes all the way around the front, top, and sides of each table. They're really high quality, and I'm genuinely super impressed.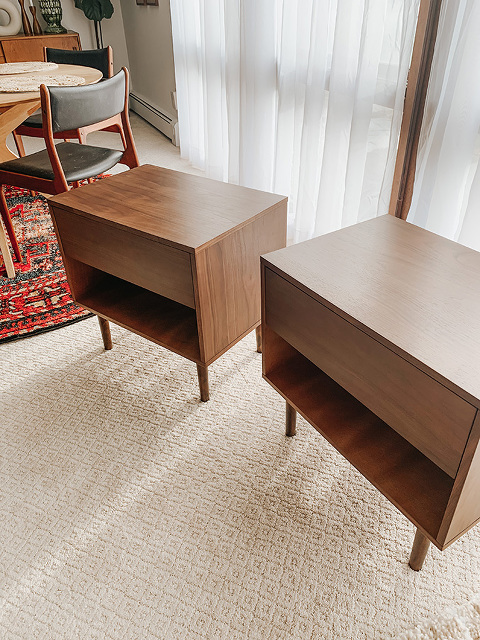 The only modification I made was adding one grippy dot to the bottom of each leg on both side tables (like these that you use for art frames). That way, when I pull the drawer out, the whole table sort of "sticks" to the hardwood floor. Now the table doesn't budge whenever I need to access the drawer contents.
We've been using the nightstands daily for the past few weeks, and continue to love them. Zero complaints! The drawers roll in and out very smoothly, unlike the old vintage nightstand I had been using for the last eight years. I also appreciate the upgrade we made here to two matching side tables. Before we had just the one vintage walnut nightstand, and it was fine, but I love that now we have tabletop space for two lamps and two cups of coffee instead of just one. They're also the perfect height for the lower bed frame we ordered last year!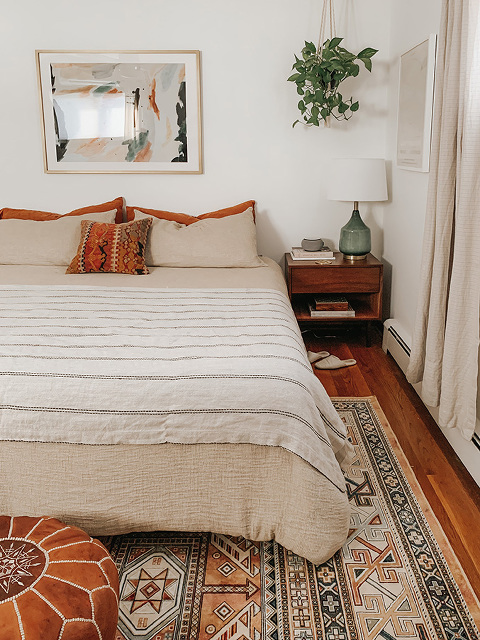 What do you think of our new nightstands? And do you have two matching nightstands in your own bedroom, or just one? I really wish I hadn't waited so long to make the upgrade. The storage and styling possibilities are so much better with two side tables! Check back next week for my tips on how to style matching bedside tables, and if you're able to make the investment to upgrade your bedroom furniture, I honestly couldn't recommend this design more. Now, I'm off to the INMOD website to leave a glowing review so other folks can make the purchase with confidence!