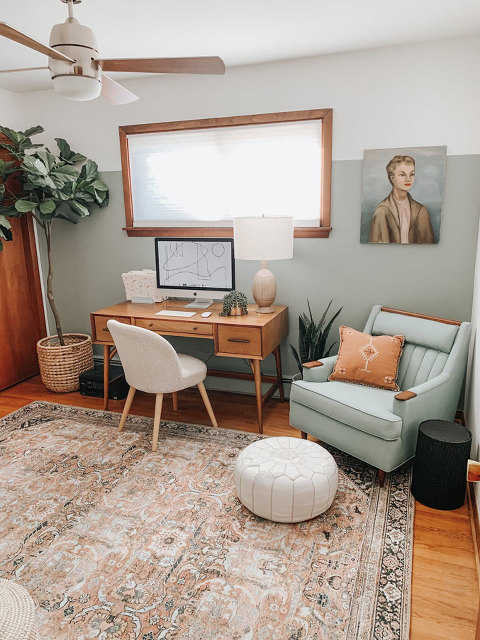 *This post features gifted product from Loloi. Thanks for supporting the brands who help make fresh content possible here on Dream Green DIY!
Before we jump feet-first into today's post, I want to throw things back to late last year when I revealed an office update inspired by a styling and photography job I had booked. It was a last-minute opportunity that I just couldn't refuse because I knew it was really going to push the boundaries of my color scheme up to that point. The job required a very specific color palette, and I had so much fun planning out the space to match the brand's needs for the photoshoot, but also my own.
I honestly thought I would do the job and then put the room back the way I had it before, but the punchy new color scheme really spoke to me, and I decided to hold on to it a little longer. I ended up leaving it just as you saw it in this old post through the end of the year, but ultimately, I decided to tone things down to suit my favorite natural earth tones.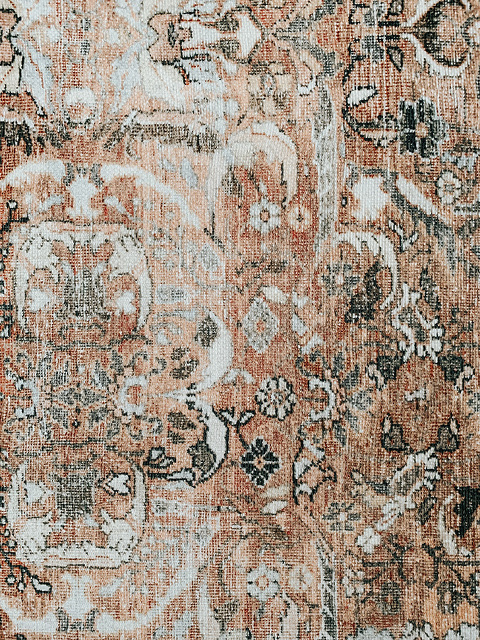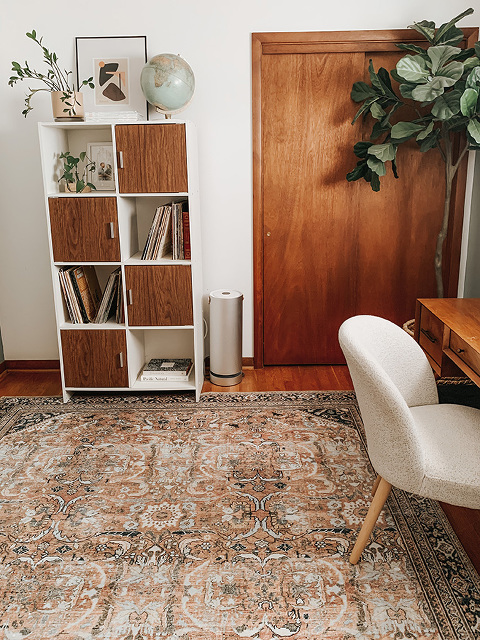 This time the new look was inspired by a new-to-me Loloi rug. I love using a rug as a room's focal point when designing a space because it makes my job so much easier. Starting with a rug means that I have an established color palette right from the get-go, and I can use it to help define the artwork, furniture, and lighting from there. It's always nice to kick off a room makeover with a narrow focus so that you eliminate design paralysis before it even has a chance to manifest.
I chose the Loloi II WYN-02 Wynter Auburn/Multi rug in the 7′-6″ X 9′-6″ size to act as my office inspiration. I wanted a pretty stark contrast to the old rug that had been in the room before, and this soft teal and orange rug fit the bill to a "T."
The soft distressed design makes it look so authentically vintage, but the flat printed texture of the rug means its much, much easier to clean than a real vintage rug would have been. My office is in this room, but so is all the cat stuff (think: food/water bowls, litter boxes in the closet). I need this rug to be super easy to vacuum and steam clean, as needed, and this Loloi rug ticks both of those boxes.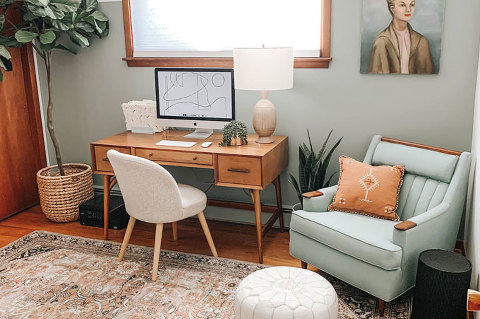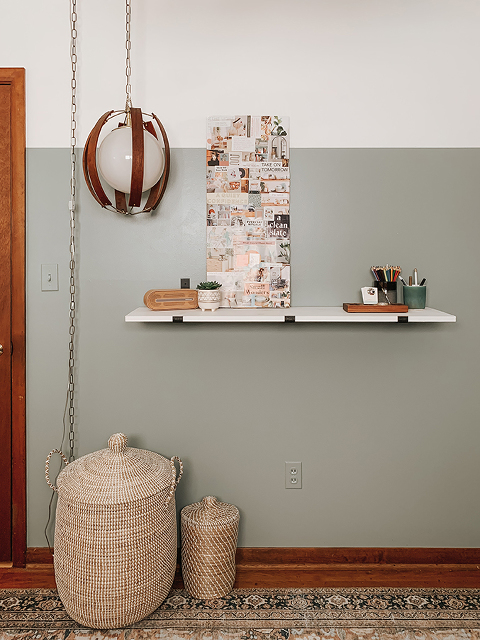 Although I was honestly kind of excited to have another excuse to change up the whole room around my new rug, I didn't need to. After I unrolled it in the space, I realized that the rug actually pulled in almost the extra blue wall color I had painted on the walls previously ("Halcyon Green" from Sherwin Williams, if you're curious), and it even matched the vintage blue armchair I keep in the corner.
The orange tones in the rug also really suit the "Acorn" finish of my desk. The only swap I had to make was the art on the wall above the chair (I used a vintage portrait I've had for almost 10 years), and a new pillow for the chair to pull in more of those muted orange tones from the rug.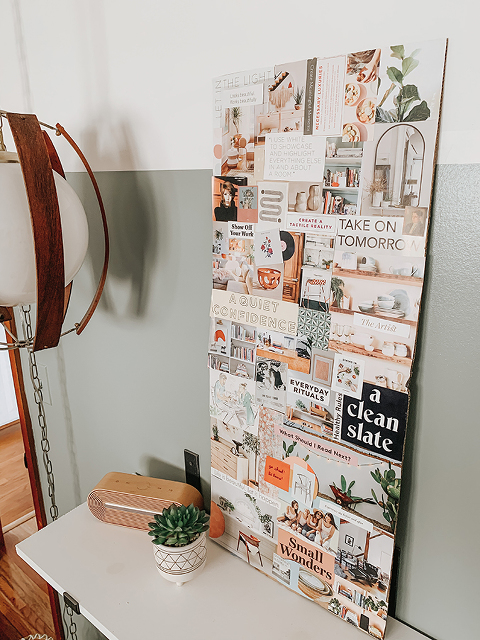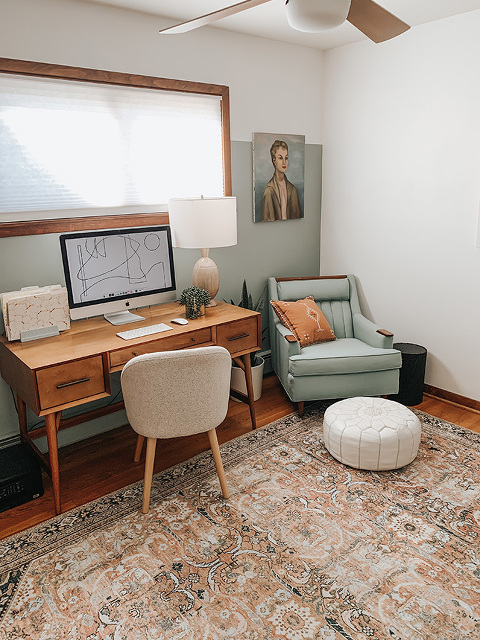 I've been chomping at the bit to share this makeover with all of you because I think it proves that changing your rug can make such a huge difference. So huge, in fact, that it might be the only thing you have to do to give your room a fresh new look.
This is also more proof that working within a whole house color palette is the way to go when ordering new pieces for your house since you can then move things from room to room without having to completely redecorate around them. It helps save time and money. So, what do you think of the new, more subdued look in my office? Leave your thoughts in the comments below!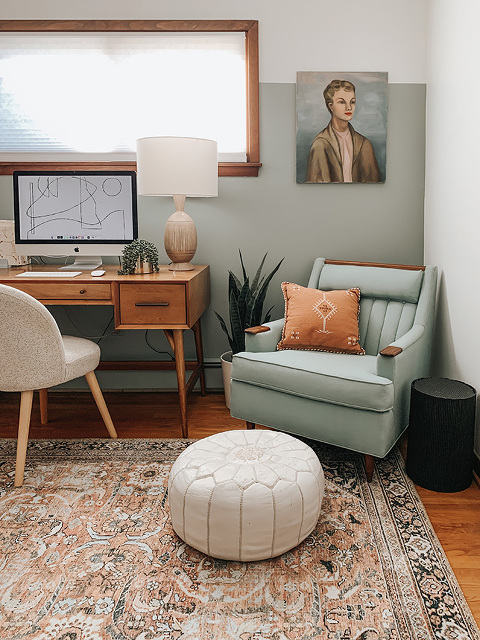 *I earn a small percentage from purchases made using the affiliate links above. Affiliate links are not sponsored. Rest assured that I never recommend products we wouldn't use or don't already love ourselves.