Comparatively, I spent far less on our home last year than I have in the past. John and I are pretty frugal, no matter the situation, but we've done our best to save as much as possible just in case one of us loses our job because of the pandemic. Things are just too uncertain for me to feel like our income is expendable enough for any home purchase idea that pops into my head. So, I've reined things in big time over the last 12 months.
That said, I still treated myself to a handful of very thought-out purchases. It's part of my job, after all, to share ideas and offer real life reviews for handy home gadgets and décor pieces, so I'm rounding up my top 12 home purchases from last year below.
Top 12 Home Purchases From 2020:
1. Wooden Hook Rack: I love how versatile this hook rack is. We have one in both our upstairs and downstairs bathrooms for towels, but it would also work to hold coats or storage baskets if we ever change our minds.
2. Jade Table Lamp: I usually prefer vintage lamps, but when I saw this beautiful Jade table lamp online, I just had to have it. I love it so much I bought a second one!
3. Refrigerator Organizers: The original 1960s cabinets surrounding our refrigerator are pretty tight, so we had to get a super small fridge when we upgraded a couple of years ago. This set of plastic organizers help us make the most of the space we have, and it makes refrigerator cleaning much easier, too.
4. Home Security Camera: I bought one of these wireless security cameras during a Black Friday Sale several years ago, and have been adding to my collection ever since. They are awesome, and I love that you don't have to sign up for a contractual security system to use them.
5. Portable Steam Cleaner: This steam cleaner has gotten stains out of our carpet and rugs that I never thought we'd be rid of. I swear by it.
6. Floating Shelves: Did you catch my DIY floating shelf story last week? These $25 shelves are still available to buy if you want to get the look in your house. I was very pleasantly surprised by the quality of the shelves despite their low price tag.
7. Gold Shower Curtain Rod: Did I need a gold shower curtain rod? No…But does it make me happy? Absolutely! It's one of my favorite little splurges from 2020, and only cost $30, so it didn't break the bank.
8. Black Vanity Faucet: Remember when we made over our downstairs bathroom right at the beginning of a global pandemic? I'm personally trying to forget all of that craziness, but at least I have this gorgeous black faucet to help heal the stress. It works well and looks great—couldn't recommend it more!
9. Bluetooth Turntable: I'm so glad I treated us to an upgraded turntable for our vinyl records last year, especially since I accidentally broke the old cheap one we keep in the basement.
10. Wood Desk: This desk has always been on my list of "Dream Furniture To Own Someday," and I happened to find it last year for under $200 thanks to Facebook Marketplace.
11. Leather Floor Pouf: One of the few big splurges I made last year was this leather floor pouf. It was pricey, but I use it everyday, so it was worth it to me. I appreciate that it comes stuffed (so few poufs seem to these days, which I find to be a real hassle!).
12. TV Cord Concealer: We took the time to hide our TV cables inside the drywall to hide them from view last year, and it was a game-changer. Check out this kit (and my cord-hiding tutorial here) if you've been looking to do the same.
I would honestly buy each and every one of those pieces all over again if something happened to them. In fact, some of them I have rebought (like the table lamp and hook rack—I bought extras for other rooms because I loved them so much). What are some of your own favorite home buys from 2020? This might be too random, but I'm looking to upgrade our mop, so I'd love your recommendations! Do tell in the comments below.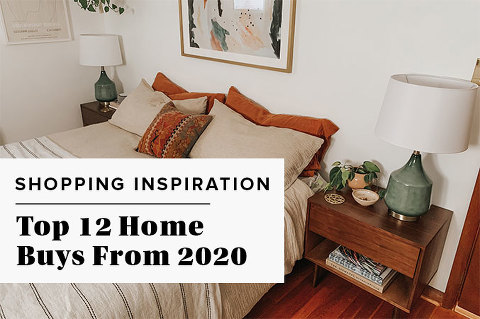 *I earn a small percentage from purchases made using the affiliate links above. Affiliate links are not sponsored. Rest assured that I never recommend products we wouldn't use or don't already love ourselves.