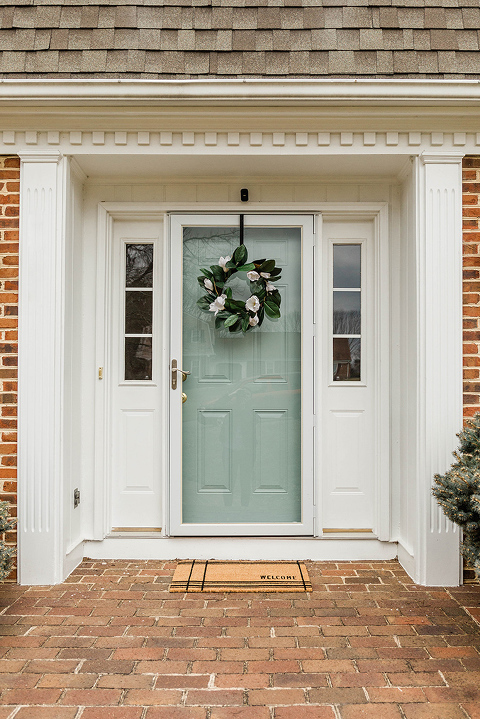 *This post was made possible by House Beautiful.
As I mentioned late last week, we ended up repainting our front door a happy new green/blue color called "Halcyon Green" from Sherwin Williams. It wasn't as spontaneous a decision as it might have seemed when I revealed the new color last week, though! It all started with an email from Home Beautiful in early February.
They reached out asking if I'd like to help film a creative video all about how to repaint a front door. You can see the full video here as well as the article one of their writers put together around the video, and today I thought I'd share a few behind-the-scenes tidbits from the shoot as well as a couple of tips for choosing a new front door paint color if it's on your to-do list this spring.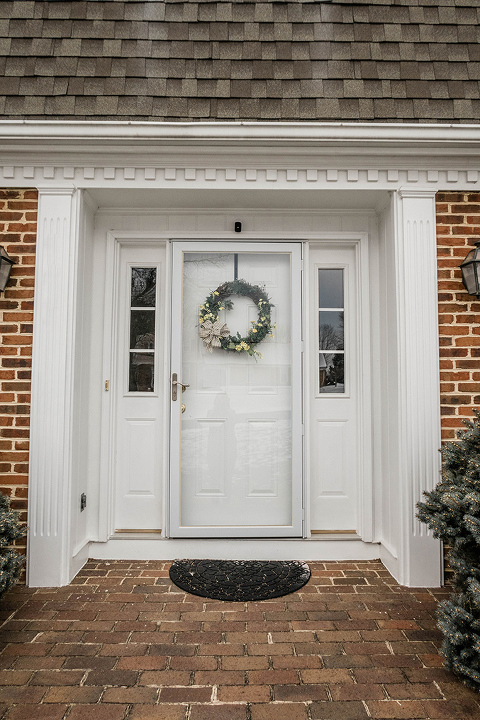 When the House Beautiful team reached out to me about the possibility of working together on a video, they introduced the project with a list of potential topics that we could cover. One item on the list was painting a front door. John and I had already recently replaced and painted our front door, so I didn't think I'd be able to use our own home as a focus for the video (joke's on me since I ended up repainting it anyway, haha), but I knew that my mom had been anxious to paint over her plain white front door. I asked if we could use their house for the shoot, and she and Dad were both game, so I got to work planning.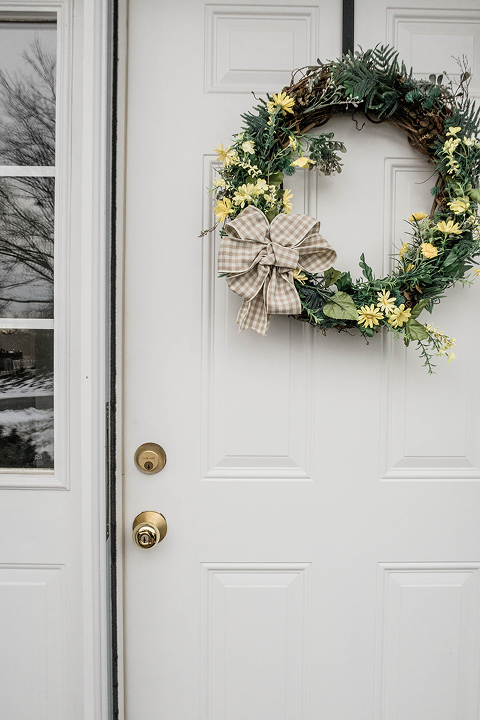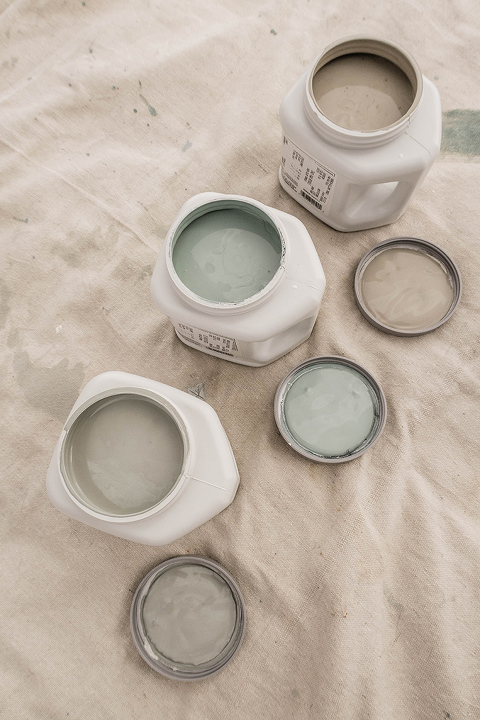 Whenever I get started on a video shoot, I work up a big detailed shot list. It goes all the way through the entire list of shots I need to get in order to have enough to piece together a cohesive story. It includes things like, "(1) Wide straight-on shot of the house with the plain white door before paint. (2) Medium-width overhead shot of the open cans of sample paint colors. (3) Angled close-up of my hand painting the first sample color on the door." etc.
This I send along to the brand or media team for approval, and then I'm able to work off of that for the shoot itself. Having things written down to the tiniest fraction of a detail in the shot list helps me avoid shooting more than I need to, and it also avoids reshoots since the brand knows exactly what to expect and can make edits to the video even before I pick up my camera.
This shoot also required a quick introduction and outro featuring yours truly, so I sent through my script for those two pieces of the video for the team to approve. Once I had their go-ahead, I made myself little print-out "cue cards" from the approved intro/outro copy, and taped those to my video camera, which I had set up in front of our sofa. I'm definitely not very comfortable in front of a camera, but hopefully that doesn't come across too clearly in the final video, haha!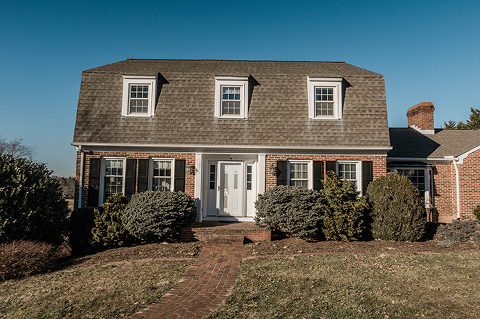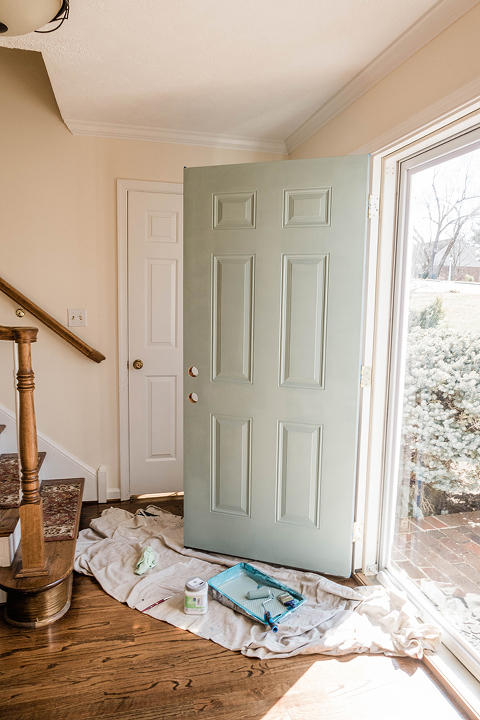 In the end, as you may have guessed, my mom and dad chose "Halcyon Green" for their front door color, and I loved it so much once it was done that I decided we needed to use it at our own house! It's such a bright, happy color, and feels especially appropriate for spring.
In case you've been thinking about repainting your front door, here are a few of the tips I've learned along the way. First, of course, do samples before committing to your final color. I know you've heard this time and time again, but paint colors look wildly different in the store under fluorescent lighting than they will outside on the front of your house. It's also good to grab more than one sample color to choose from. Pick a variety—even one or two that you think will be too bright because you never really can predict how they'll look on your actual front door.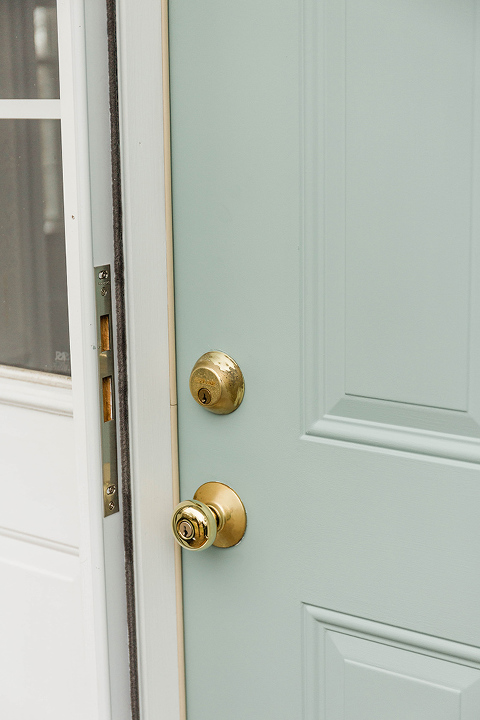 Mom and I decided to try three different colors on their front door: Halcyon Green, Illusive Green, and Fawn Brindle (all from Sherwin Williams since it's close to both of our houses). She had been sure that Fawn Brindle was going to be the one because she had used the same color on bookshelves inside their den, but once we got it on the door outside, the full sun made it feel a little washed out in comparison to the way it came across inside. I had actually suggested Halcyon Green as a complete wild card because I remember loving it in the living room at our old house. Surprisingly, it turned out to be perfect.
If you're looking to choose a front door paint color for your red brick house (like mom and I both were for our respective brick homes), consider choosing something from the green/blue family. Green is a complementary color to red, so it's always going to be a really nice balance to red/orange-colored bricks. I think that's why this color works so well.
My biggest piece of advice is to find a color wheel on the web (like this), and choose something on the opposite side of the wheel from your home's exterior color. If your home is white, then you lucked out and can choose just about anything! But always sample first to be sure, and look at those sample colors throughout the day to see them in different lighting situations.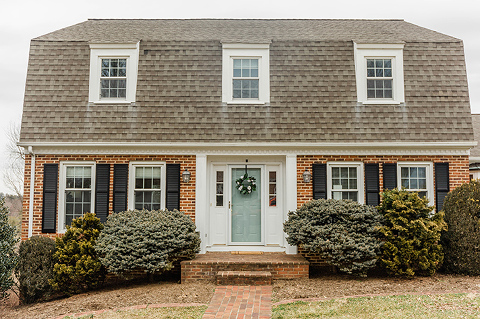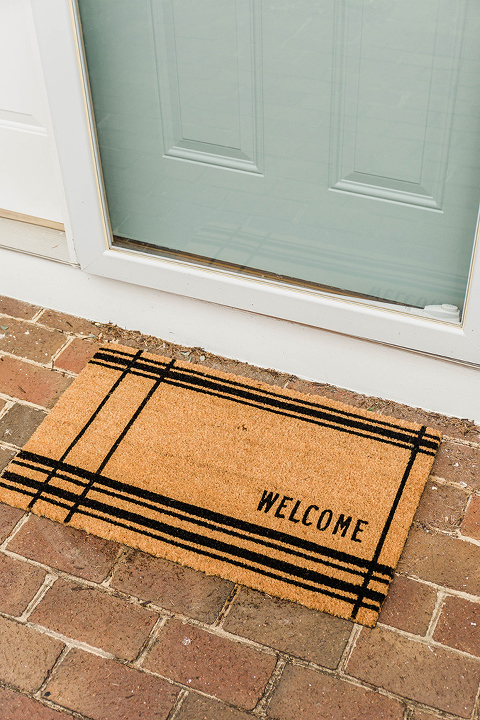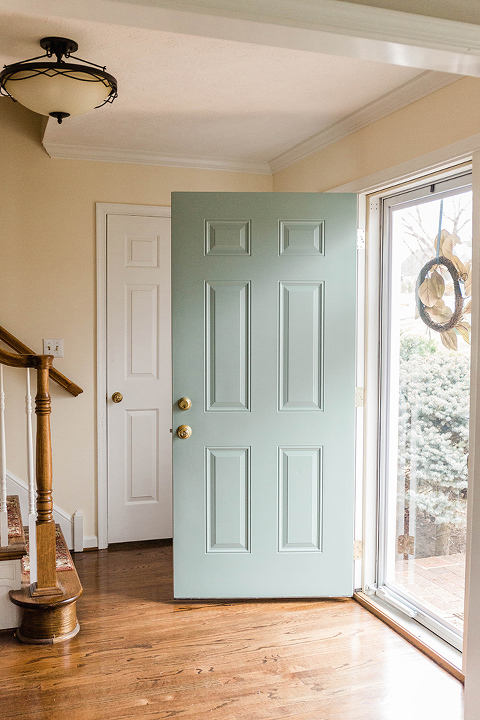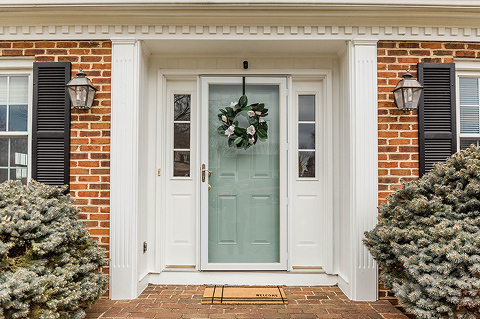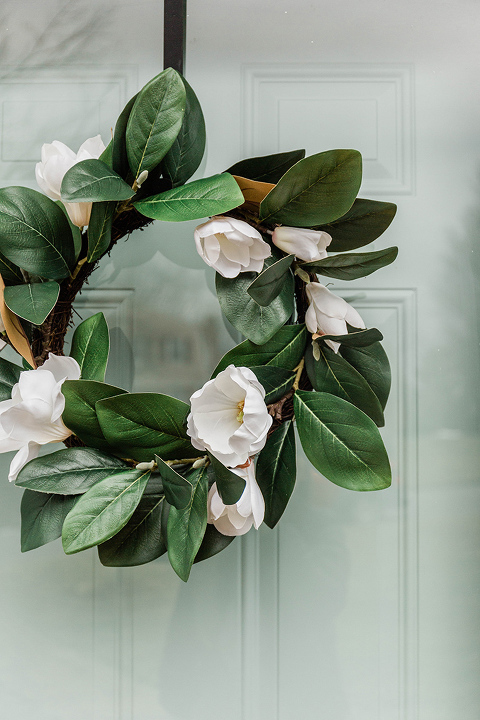 Every time I pull up to my house—or my parents' house—these days I can't help but smile when I see that happy front door color. It's just so welcoming and energizing! When's the last time you painted your front door? If you need help figuring out your game plan for the painting phase itself, make sure you hop through to House Beautiful to watch my video and read the story, which is full of tips and all the supplies you'll need. What front door paint color would you choose for yourself? I'd love to know, so please share in the comments!