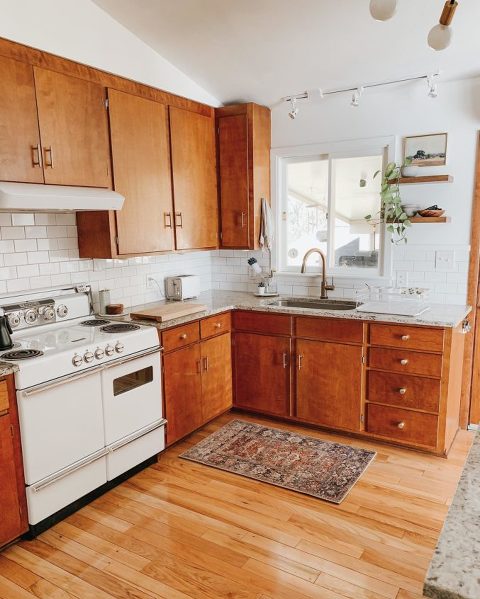 If you've been following along for a while, then you know our kitchen has been an ongoing project since the day we moved in. The very first thing we did in the house five and a half years ago was replace the old formica countertops with granite, and then we installed a subway tile backsplash. Since those major updates, we've put new brass hardware on the cabinets, painted the walls bright white, taken down some cabinetry to let more light in through the single window in the room, and put in lots of new much-brighter lighting to compensate for how dark this room naturally is.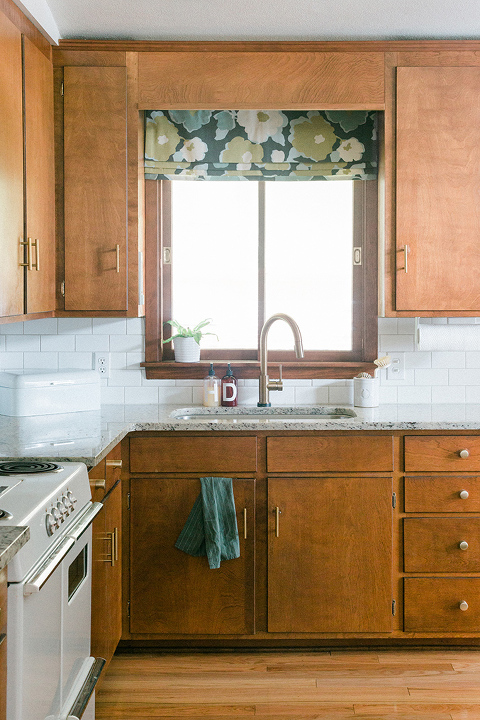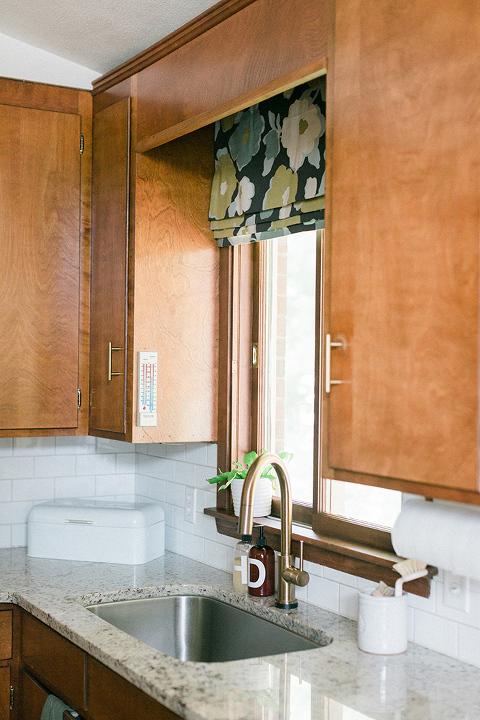 It has come a long way, as you might be able to tell in the progress photos above and below. Those were taken after the countertops and backsplash, but before we had removed the righthand cabinet next to the sink. If you scroll back and forth between the two photos above and the one at the start of this post, I think you can see just how big of a difference it made opening up that area by the sink. Today, I wanted to talk about our most recent update: painting the window trim white.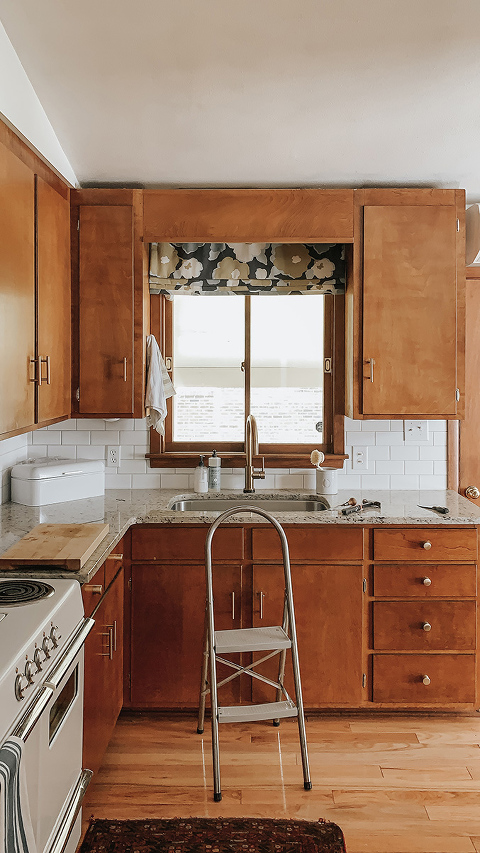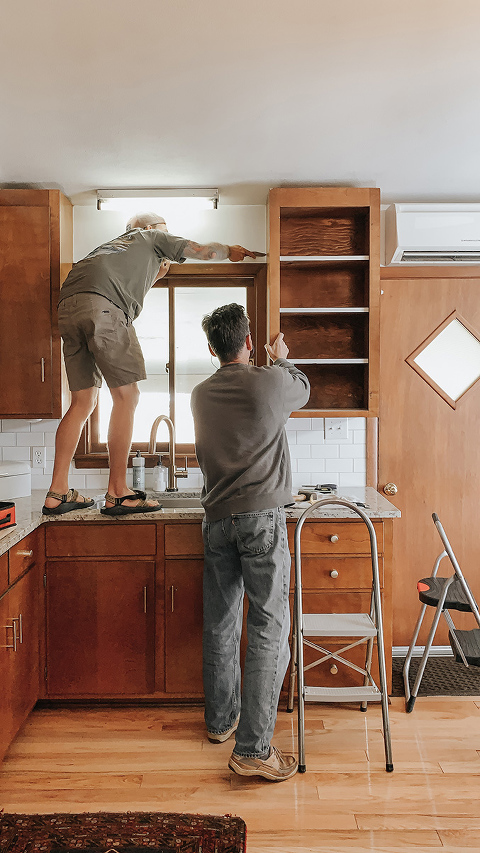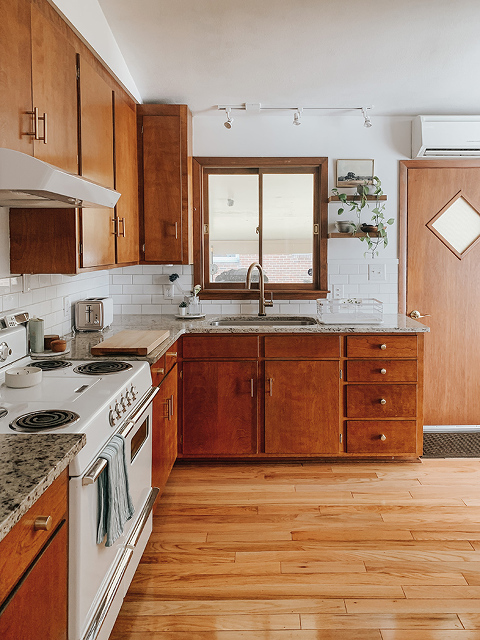 Taking that one cabinet down made a world of difference, but it still felt like I could take this update a step or two further. After staring at the window wall for longer than I'd like to admit, I finally realized that changing the trim to white could end up effectively making that window disappear.
Now, I'm not usually one to want to make windows fade from the focus in a space. I love windows! But this particular window wasn't doing anything particularly special for our kitchen. It looked out to a covered carport that's usually home to John's bulky fly-fishing boat. It's hardly ever a window you want to look out of, but it provides the only natural light to the space. So, I was okay with minimizing attention to this window, and I thought white paint could do that for us.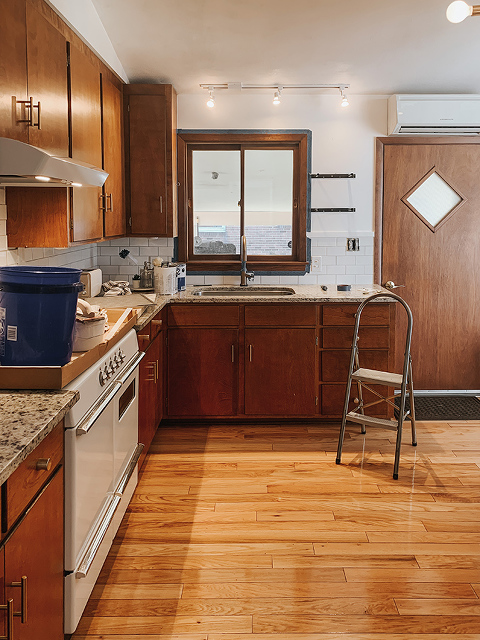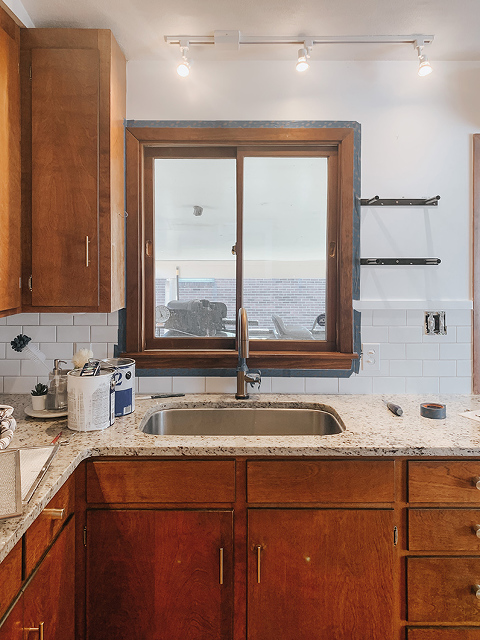 When I brought this idea up on Instagram, the votes were pretty split. We have original stained wood trim and doors throughout our 1960s home that I don't plan to change. A lot of folks were adamant that this window needed to match the others, but I was adamant that, in this case, it was okay to break with tradition.
After mocking up the new white window in Photoshop, I knew in my gut that it was the right thing to do. The mocked-up white paint immediately made that window blend into the background, and it also brightened the space quite a bit, which was a benefit to the project that I hadn't even considered! So, I went for it using the same "High Reflective White" Sherwin Williams paint that we've used in practically every other room in our house.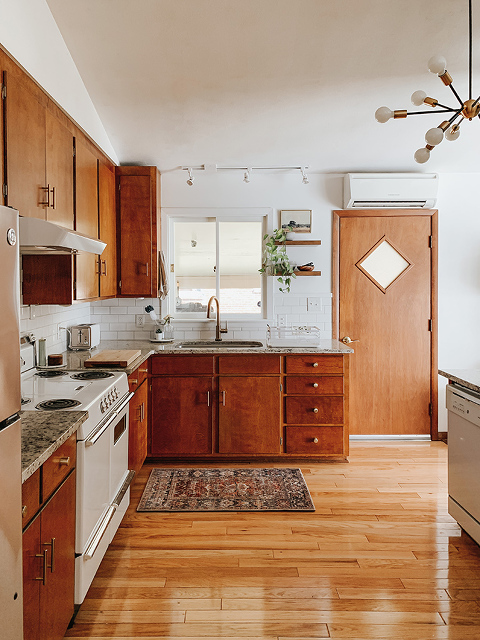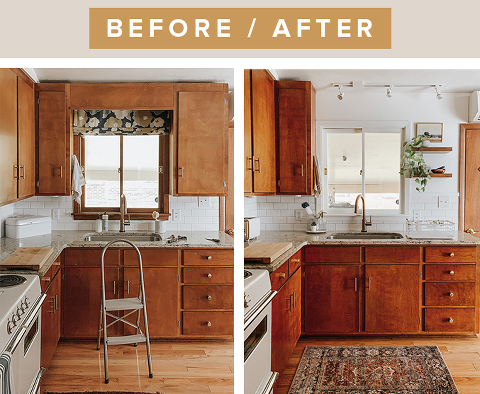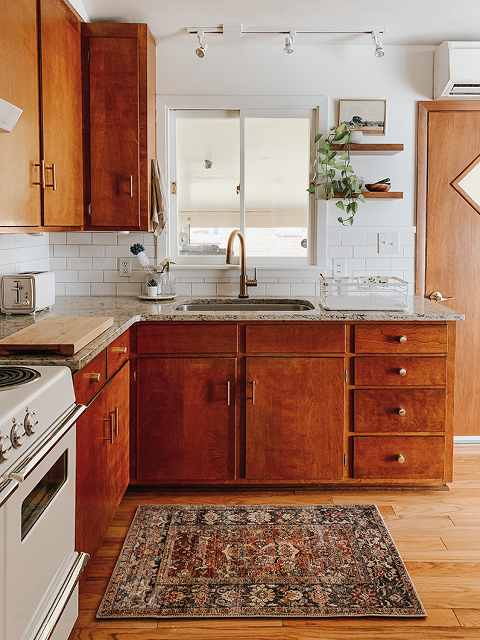 I have never been so blown over by the difference paint can make than after stepping back from this project. I was speechless, and it felt like we had a practically brand new kitchen after painting out just one window's worth of trim. I can't emphasize this enough, guys: go with your instincts! They will rarely steer you wrong.
One thing I kept telling myself at the start of all this is that we plan to replace all the windows in our house in the next decade anyway, so, if I absolutely hated the white trim, I could go back to stained wood whenever we got around to replacing the windows. I'm happy to report that we don't miss that wood trim one bit in this special case, and will definitely be replacing the window with a white energy-efficient one when the time is right.
What do you think? Have I convinced you that painting was the way to go? Let me know in the comments.