Last week I shared a breakdown of all our favorite go-to antique stores around the Waynesboro, Virginia, area where we live, and this week I'm back to show you what I actually scored from those shops! Over the years I've gotten much better at simply window shopping for secondhand finds. I used to feel obligated to buy something at every store we went to, and subsequently ended up taking three or four frenzied carloads of stuff to charity the week before we moved in 2015.
It was a huge learning experience for me, and forced me to realize that I had a shopping addiction. So, now I do my best to appreciate the cool things I find while antiquing, but I don't feel the need to actually buy everything. Instead, I pick the item up, appreciate it for a moment or two, and then put it down for the next person to find. It's pretty rare that I go out with the intent to buy anything these days because our home feels really complete and settled, but I do have a little running list of items that I want to keep a casual eye out for whenever my mom and I go antique store hopping, which is one of our favorite pastimes to do together.
Today is one of those rare stories when I can tell you about a handful of secondhand scores that I intentionally went out looking for, digital list in hand (I use the Notes app on my phone for reference). I spent under $200 on these 10 pieces, but each one feels like such a treasure to me, and has added a thoughtful layer to our home that I love spotting as I move throughout my day.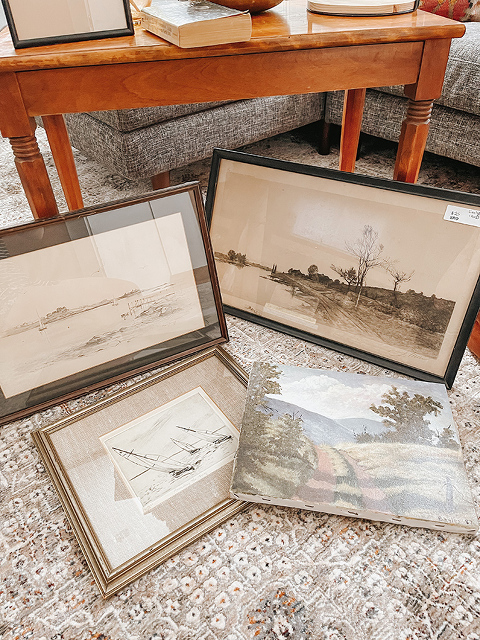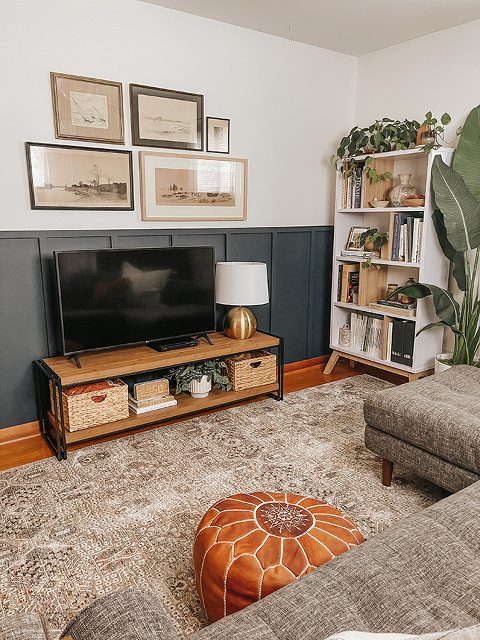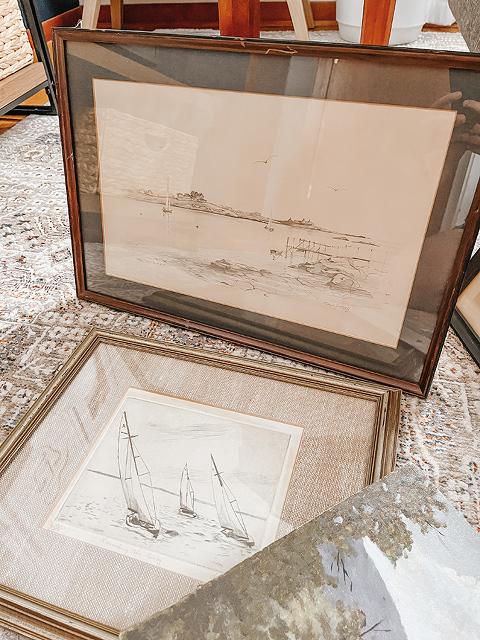 First up is this collection of black and white seaside line drawings. In case you didn't know, I went to school to study art, and my focus was on drawing. It's my absolute favorite medium, and I always, always have to stop and take a closer look at framed drawings whenever I'm out antiquing.
The first piece I picked up on this particular summer 2021 outing was the sailboats you see above. I really adore woven fabric mats, so the custom framing was an instant draw for me, but I also loved the piece of art itself, and thought it would look really nice paired with the seaside line drawing I had purchased from a local antique store a year or so ago and recently had reframed. The boats art piece was listed for just $24, so I decided to go for it. Then, I happened to find three other ocean-themed drawings at different secondhand shops, so it turned into a bit of a collection.
As you see pictured above, I hung all of the new-to-us art in a group above the board-and-batten wall in our lounge along with the older piece I had reframed earlier this year. I made way for this collection by selling off some mass-produced posters I had in that spot before. I thought the posters looked really cool in the space, but I've lately been feeling the urge to curate more unique gallery walls in our home, so I'm passing the reproduction-type art to other homes in order to make room for these more sophisticated vintage collections. I love how it's shaping up, and plan to keep adding to it whenever I happen to come across other seaside drawings.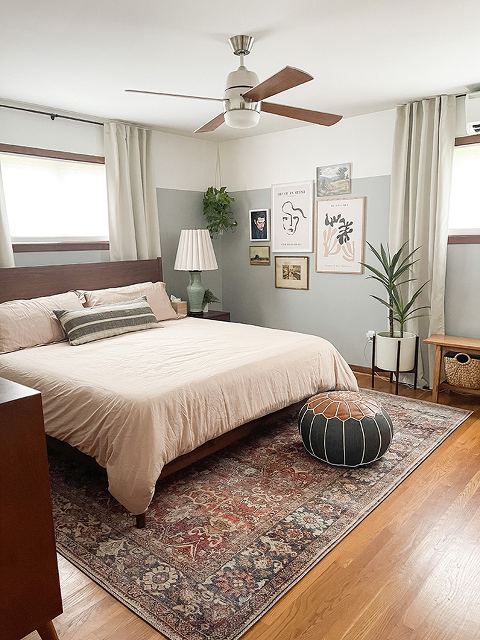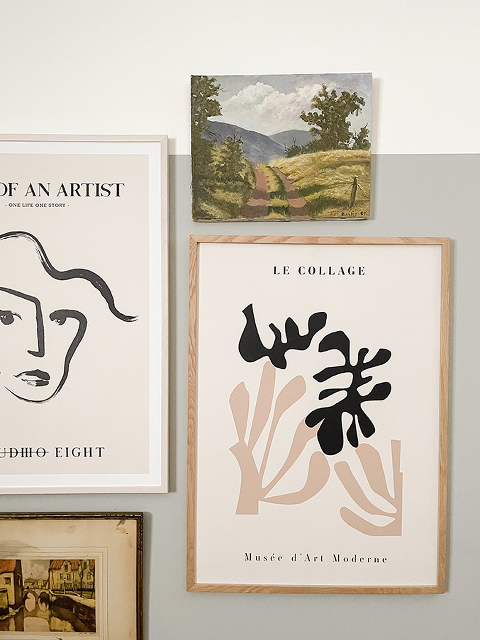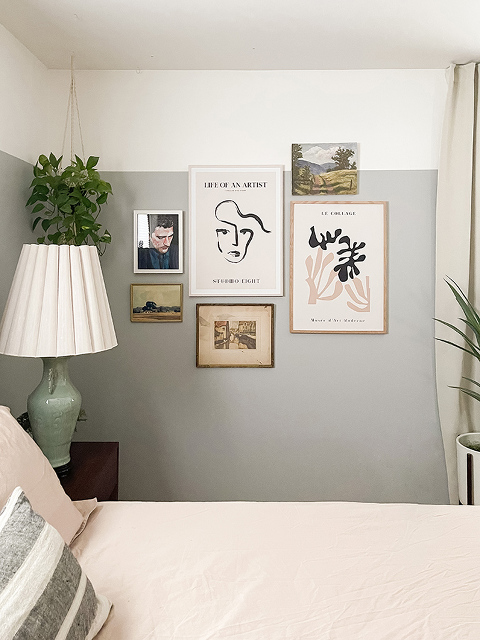 I was feeling pretty inspired by the lounge gallery wall, so I decided to experiment by creating a second one in our bedroom. I used a couple of posters we had in storage, plus some other vintage art I've had for a while. I also included a brand new vintage painting (the little meadow path with clouds and mountains in the background) that I scored for just $10 from a shop in Staunton.
I liked the collection, but, truthfully, the room wasn't feeling totally pulled-together at that point. I ended up making the rash decision to start fresh with the design of our main bedroom, and listed the entire gallery wall for sale on a whim on my Instagram account. I didn't really think it would sell, but it did within just a couple of hours, so my new-to-me little painting almost immediately went to a different home. Bummer!
Its new owner absolutely adored the art work, though, especially together as a group, so it's hard for me to be too disappointed. The person had just moved to the area and was building up her décor resources, so that made the transfer a much happier one for me. I also figured out a way to preserve the vintage pathway painting I had just bought so that we can still keep it in our collection! I'll explain more about that when it arrives.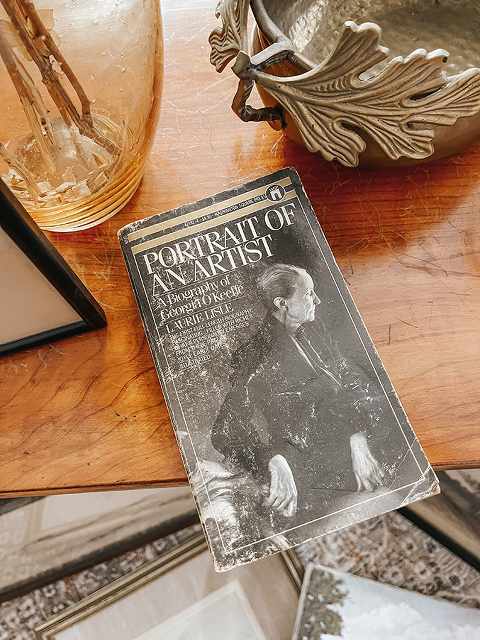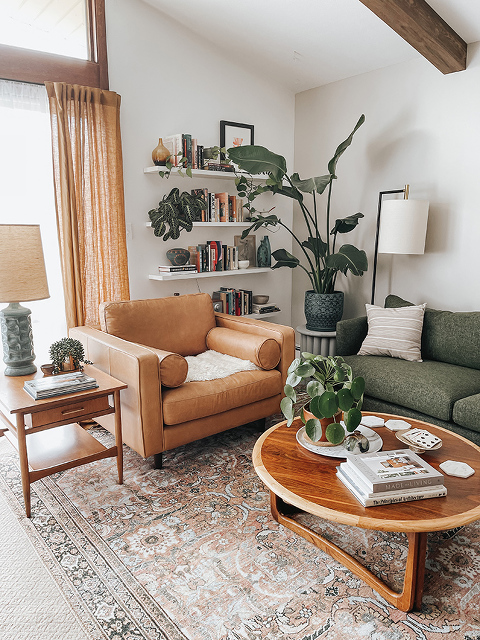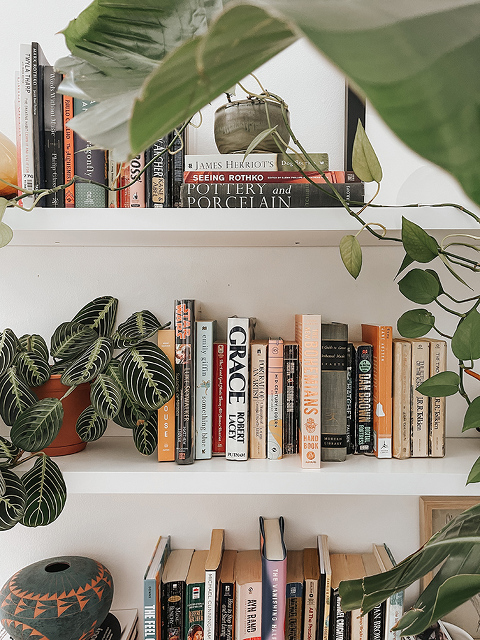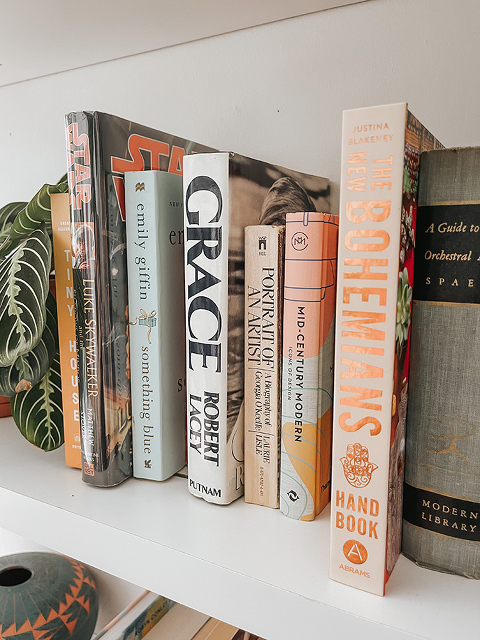 Since making a commitment to read more books this year, I'm constantly looking for new books to add to our floating shelves in the living room. I've gotten so many great novels for only a couple of bucks at thrift stores. In my opinion, books feel like one of those things that you should always prioritize buying secondhand. There are, frankly, too many copies of books in the world, so it's one of my favorite things to buy at used book stores and antique shops. This "new" biography I just bought at Staunton Antiques Center all about Georgia O'Keeffe is already next on my list to read this fall.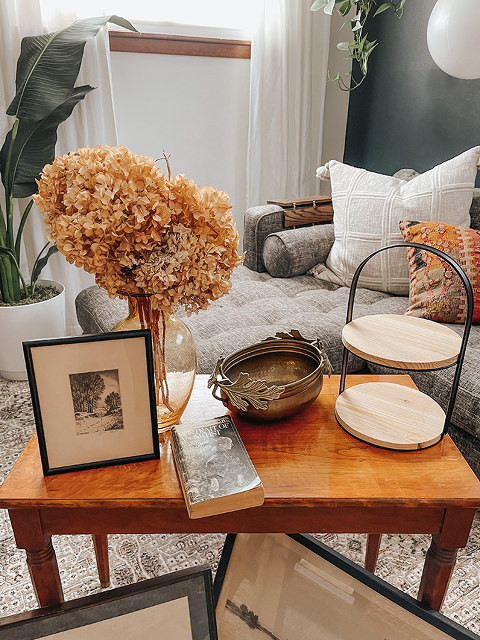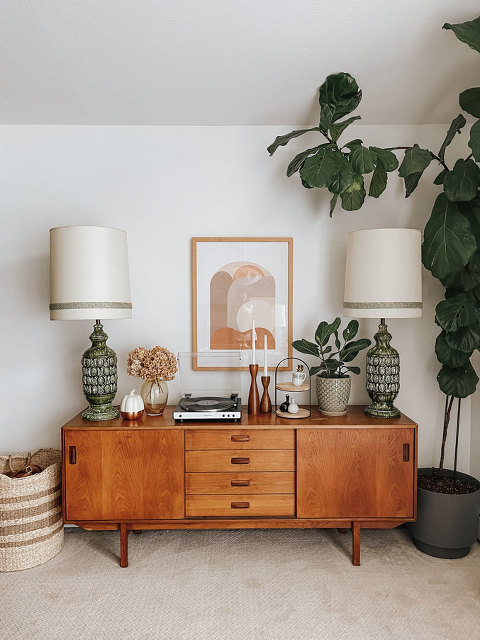 Okay, so what else did I buy secondhand this summer? Well, I decided to add just a few little fall-themed goodies to my décor stash ahead of autumn and fall decorating since the season is just around the corner. I ended up finding a beautiful amber-colored vase at Greenwood Antiques that feels very "fall" to me without looking too obvious—that's my favorite way to decorate seasonally. It cost just $15 and actually came with the dried hydrangeas. I'm not sure that the super delicate flowers will last past this fall/winter, but they're beautiful for now, and I'm sure I can find other fillers for the vase next year.
I grabbed a couple of other loosely fall-themed accents from Stuarts Draft Antique Mall, but I'm going to save that story for next week. I've got a fall decorating post set aside on my calendar where I plan to explain my tips for making your dining room look like fall without going over the top, so stay tuned for that.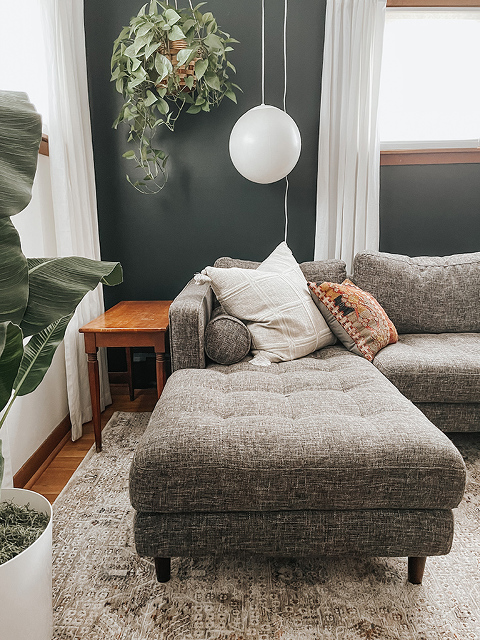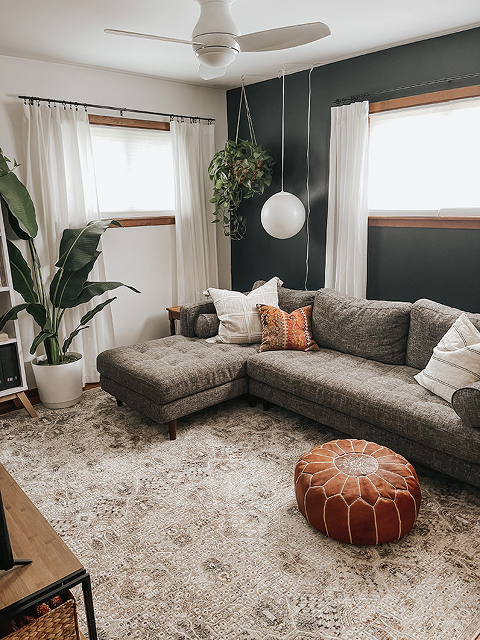 The last item that I found was a $40 wooden piano bench from Circa. I had actually seen it in the shop before and considered it for this awkwardly thin spot between the sofa and wall in our lounge, but I just wasn't sure. I did decide to go for it this fourth visit to the shop, though, because (a) it was still there, (b) it fit my budget, and (c), it really was the perfect dimensions for that tiny corner. I love that it has storage under the lift-up seat, too, so I can easily hide away the remote when we're not using it.
So, there you have it! I think, all told, I spent about $175 on my treasures: the vase with dried flowers, four pieces of vintage framed art, original painting on canvas, the bench, used book, brass leaf bowl, and tiered serving tray (which, again, I'll explain more about next week). I know that's a little high for secondhand shopping, but we tend to prefer going to curated antique stores over true "thrift" shops, so I generally spend a little more when we go secondhand hunting. What's your best vintage find from summer 2021?