*This story was made possible by the generous support of Sauder, and features gifted product for testing purposes. All opinions are my own.
Today's post is part of a mini series I started here showcasing some interior photography and styling I did for Sauder. We've been long-time customers of Sauder's, having added their furniture to our collection here in our current mid-century ranch and also in our previous new-build townhome. We're genuine fans, and I appreciate the team's support so much that I wanted to pay it forward by sharing bonus posts here on my blog to spotlight some of their fabulous furniture items. Keep scrolling to see more photos of our Canton Lane Metal & Wood Coffee Table from Sauder and to learn some of my easy tips for styling a rectangular coffee table, too.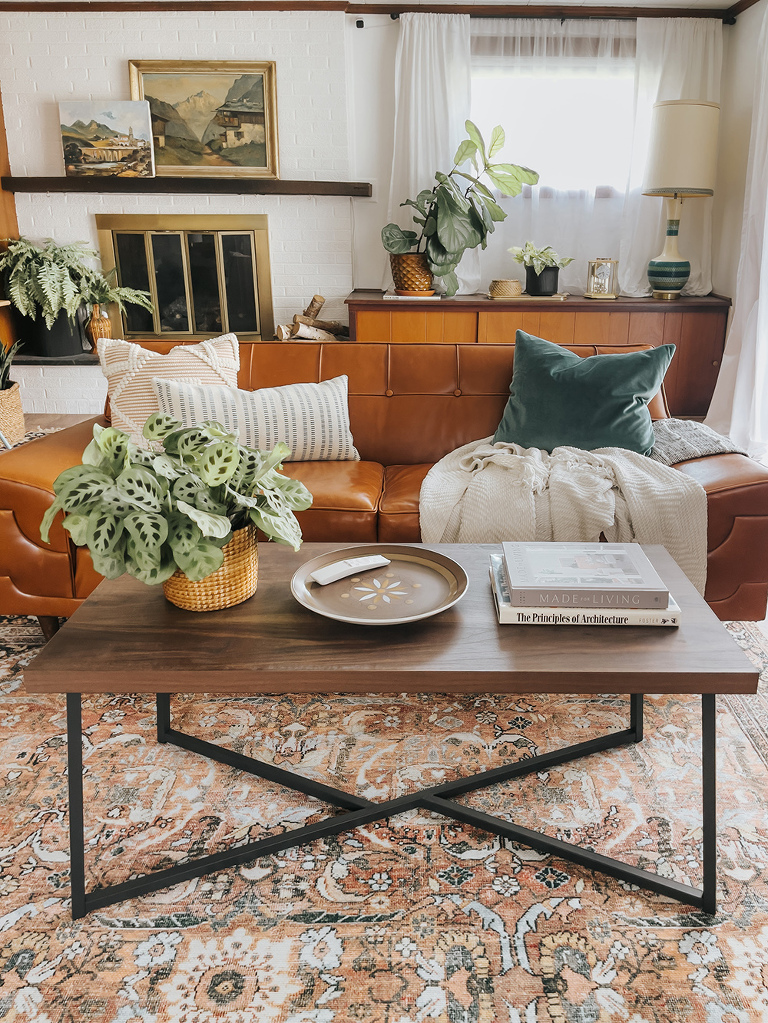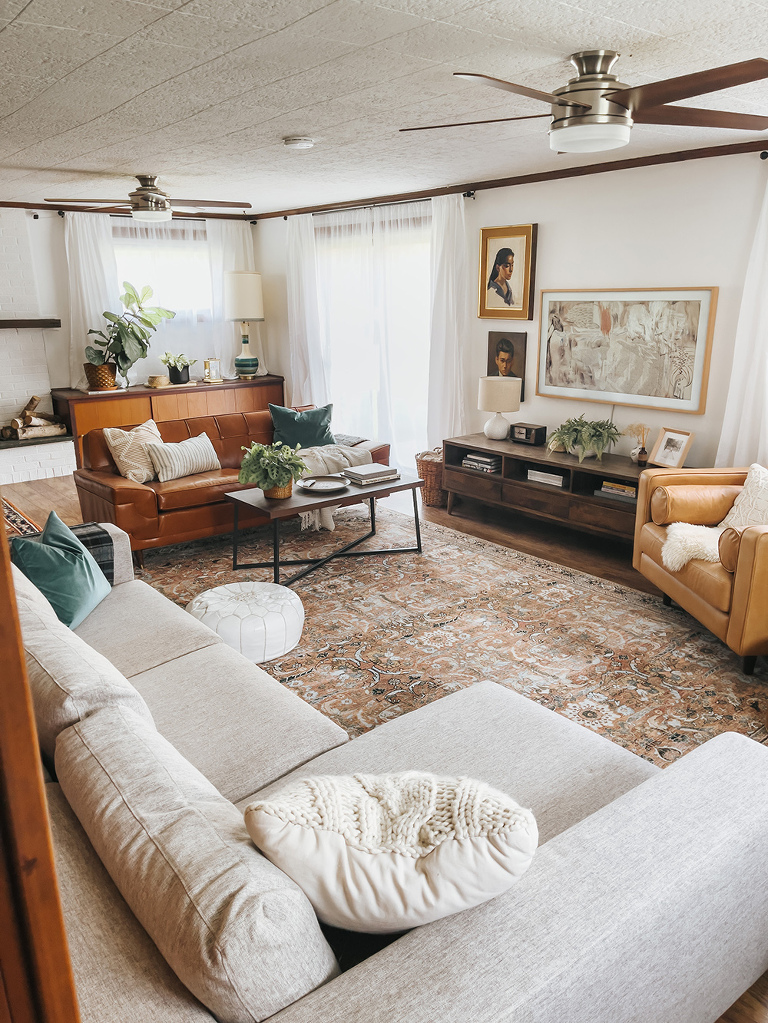 I would actually say that a rectangular coffee table is one of the easiest surfaces to style in a home. At first, I even wondered if it was worth dedicating an entire blog post to the subject, but I'm sure there's someone out there who has been left scratching their heads over this type of tabletop (zero shame in that, by the way!), so I'm going to chat through the formula that has always worked for me.
First of all, I like to break things down into three zones spread equally over the coffee table. This helps fill out the long, skinny space nicely without overcrowding it. No one wants a coffee table so stuffed with stuff that they have no where to set a drink down! Less is definitely more in this case. For this coffee table, I decided to create a trio of focal points, starting with a plant, followed by a retro plate that we use as a remote catcher, and then, finally, a stack of books that we often use as a drink drop zone.
Incorporating round objects, like the plate, helps break up all of the hard straight lines of the coffee table, as does the organic shape of the plant. I never, ever leave out plants in my styling, and that's especially so when it comes to a coffee table. I love the height plants add to an arrangement, and the softer, more asymmetrical lines of the leaves makes the tabletop look more lived-in and inviting.
A tray is also another element that I always make sure to include when styling a coffee table. Rectangular coffee tables tend to have a little less space than a round or square coffee table, so it's important to include some kind of multi-functional object, like a tray, that allows for multiple uses depending on what you're doing at your coffee table. For example, it could be where you drop your remote when you're watching TV, a place for your drink if you don't want to set it right on the wooden tabletop, or a bottle or two of nail polish. A tray is a practical item to have on your coffee table to protect it, but it can also act as décor if you pick one that matches your style, like this decorative ceramic plate I picked up an an antique store.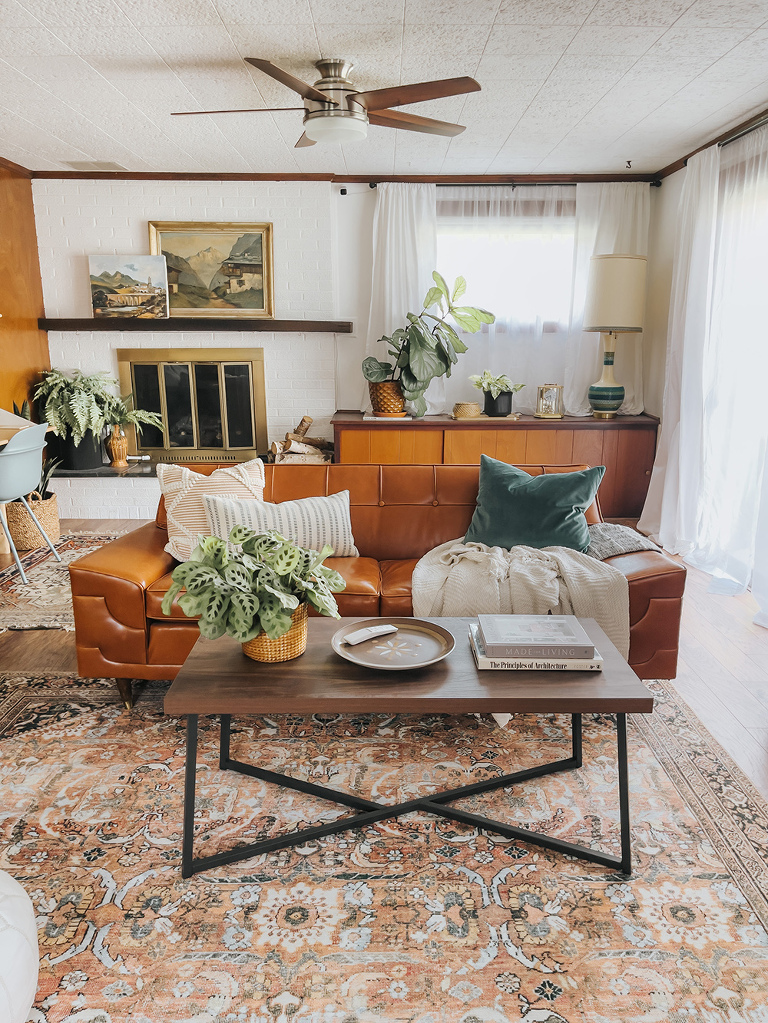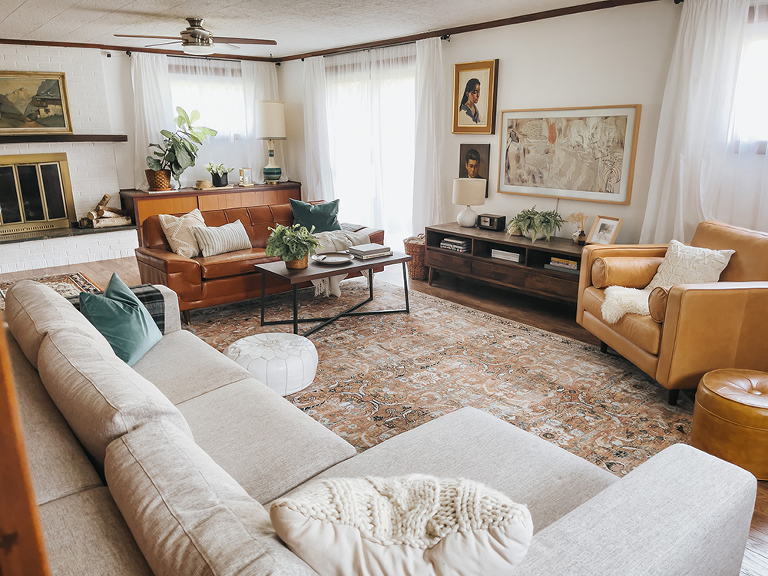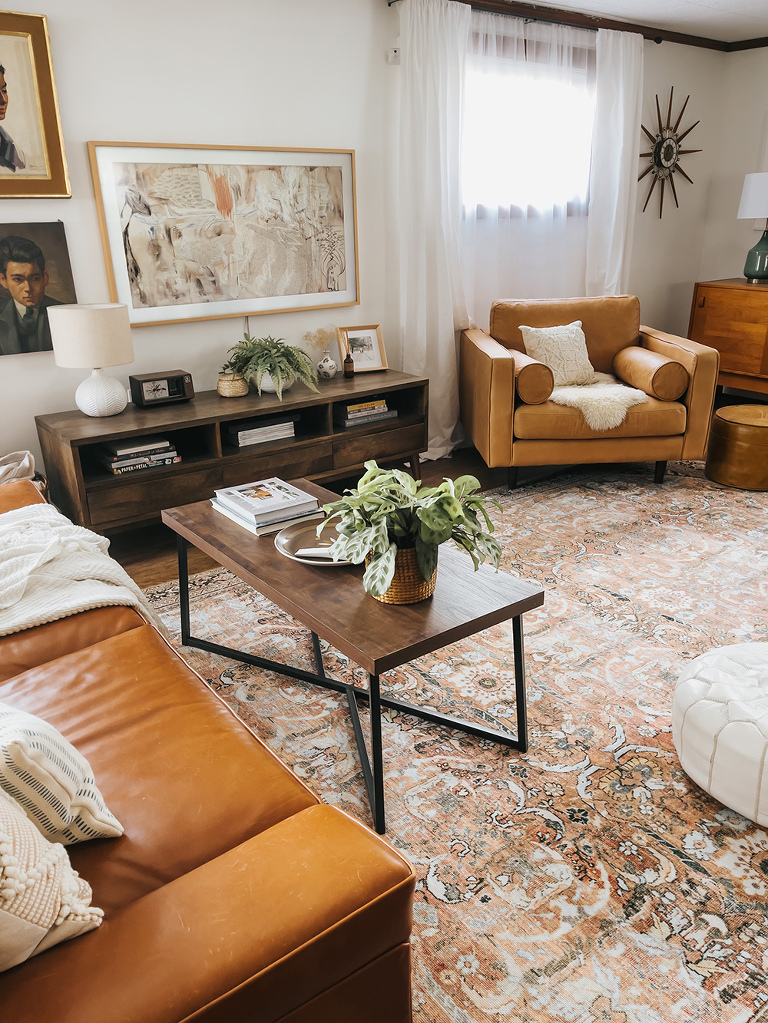 I hope that offers some good direction to head in if you've struggled to style your own rectangular coffee table! I did want to mention that, of course, it's totally cool to leave your coffee table totally blank. We have a beautiful handmade tiled coffee table from the 1970s that we actually keep clear of any styling at all. The tile is just too pretty to cover, so we leave the space wide open. Point being, do whatever works for you and your lifestyle or décor.
I wanted to shout another big thanks to Sauder for giving me the excuse to chat more about modern furniture styling. Click here if you missed the first part of this series where I talk through how to style a square coffee table, click here for tall bookcase styling tips, and here's a link again to the rectangular coffee table seen in today's post. Isn't the black metal base so edgy and cool? I can't stop staring at it!