Today, I'm chatting all about our new dining room! In case you missed the news, my husband and I just moved into a new 1960s ranch. We're slowly making plans for redecorating and (lightly) renovating the house now that we've been moved in for almost a month and have had a chance to get to know the spaces better. Last week I unveiled our plans for the kitchen, and today's post is all about our dining room mood board. Let's get into the details!
New Home Mood Board: Dining Room
1. Right before we moved, I ordered this McGee & Co. area rug. My plan had always been to use it in our new dining room, and, happily, it fits the room perfectly.
2. The hutch you see in the mood board above is a stand in for the new antique cabinet we just recently scored from a semi-local antique store in Charlottesville, Virginia, called Heyday Antiques & Vintage. Keep an eye on my Instagram for a full view of the hutch soon.
3. Speaking of Heyday Antiques & Vintage, I also found our new-to-us dining set there. We ended up selling our last dining set with our old house, so I knew we'd need something new. John really wanted a chunkier farmhouse style table and I wanted tall 1960s chairs. I somehow managed to find exactly that at Heyday! The furniture you see pictured in the mood board isn't identical to the set we bought, but it's pretty close. I'm sure I'll share photos of the actual furniture we got here on the blog soon.
4. As for lighting, we desperately need to replace the current brass fixture. I chose this one because it has a more traditional vibe to fit this slightly formal home, but still has a modern silhouette.
5. We're using these curtain panels all over the house. They're slightly sheer and the perfect creamy gray color with just a hint of texture to them. Not a bad price either!
6. So, let's talk walls. I've been playing around with the idea of putting up my own DIY picture frame moulding all around the dining room. This space definitely has an elevated feel to it because of the existing chair rail, so I thought it might be nice to play that up with even more dimension on the walls. I probably won't do it right away, but it's a project that you might see happen down the line. What are your thoughts on picture frame moulding?
7. Another wall treatment idea I've been considering is one paint color above the chair rail (this white), and a different darker paint color on the bottom (some kind of greige, like "Agreeable Gray"). I might paint it all white to start just because it's quick and I can't stand the current highlighter yellow paint color, but I love the idea of adding some dimension with two different paint colors.
8. I definitely plan on showcasing my vintage Bernard Cathelin painting collection in our new dining room. I have four framed prints that I think will really pop in this space, and add some much-needed color, too.
9. If you took our new house tour, then you know our kitchen is on the small side. One thing that, so far, we haven't found a good place for on the counters is our microwave. We currently have it on a new console from Simpli Home in our dining room. I'm trying really hard to make this look good even though it's a little awkward. I'll let you know how it goes once we get everything all set up.
10. Finally, we're going to fill the room with plants, including Mr. Bean, our coffee tree. The room doesn't get very bright light, so we're planning to keep only low-light-loving plants in this space, like Mr. Bean and several types of pothos plants.
So, what do you think of our plans? You can see what the space looked like when we first moved in by clicking back to our home tour here. If you want to see progress in real time, I would suggest following along with me on Instagram. That's where I share more daily types of updates. Let me know in the comments if you have any design ideas of your own for our retro dining room!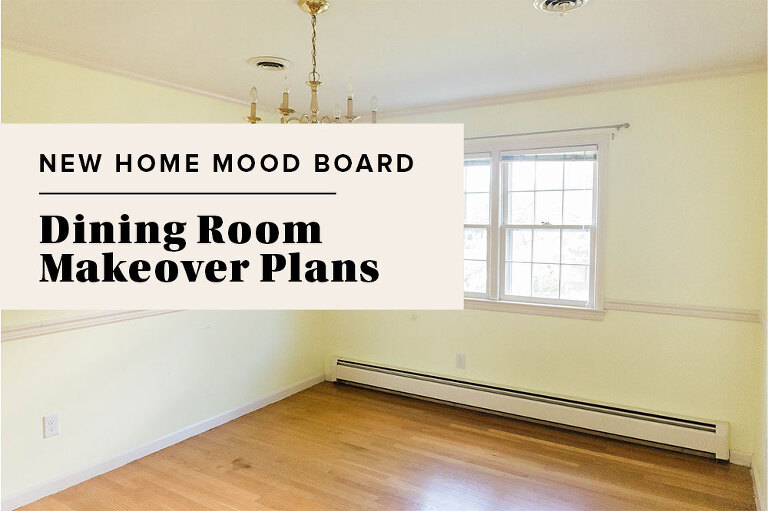 *I earn a small percentage from purchases made using the affiliate links above. Affiliate links are not sponsored. Rest assured that I never recommend products we wouldn't use or don't already love ourselves.