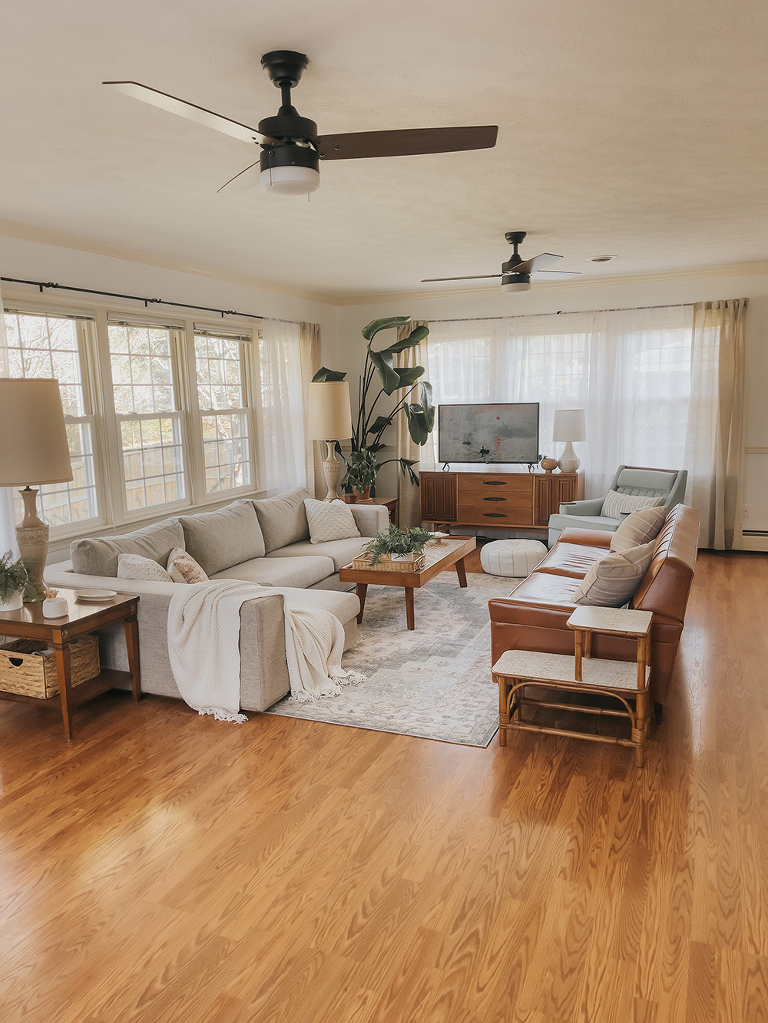 One of the most exciting things about moving into a new house is the fact that you have new spaces to fill. Even if you purchase a home that's similar in size to your old one, there are bound to be nooks and crannies that need some special piece of furniture or décor that has to be unique to that room. Our new home is slightly bigger than our old one, and I also sold a ton of our existing décor before moving, so I had plenty of reason to hit the antique stores after getting settled post-move. Keep scrolling to see the secondhand lighting, furniture, and art that I recently scooped up for our new home. First I'll share photos of the items in store, and then I'll show where they ended up in our home—kind of like a "Where are they now" type of story!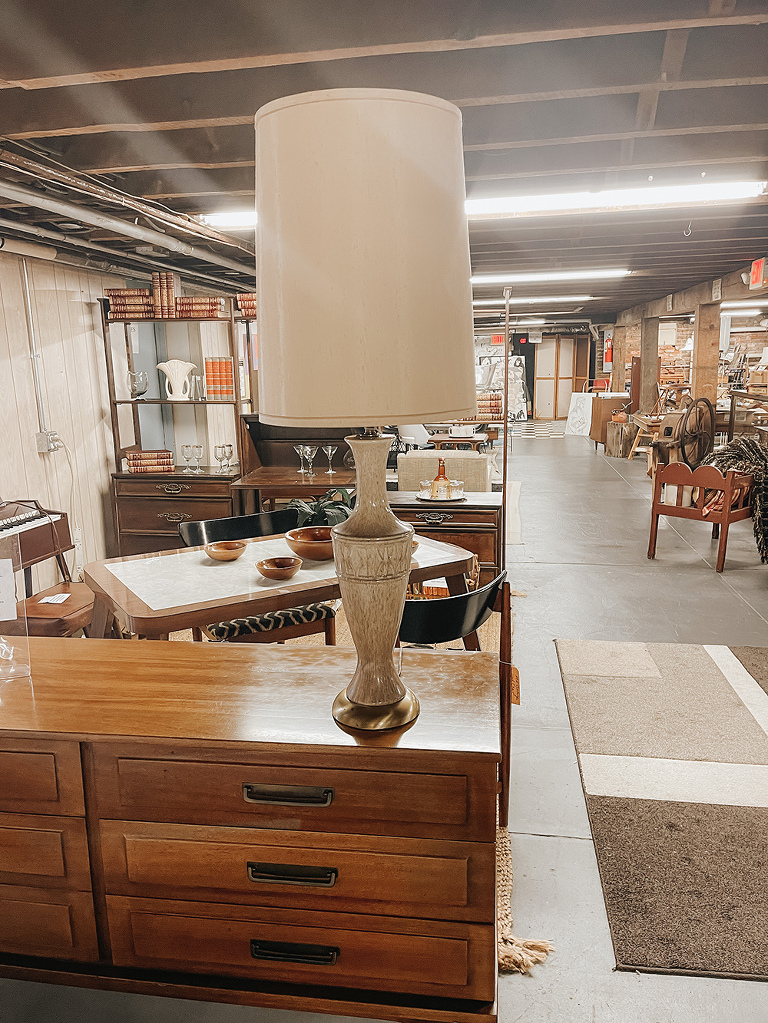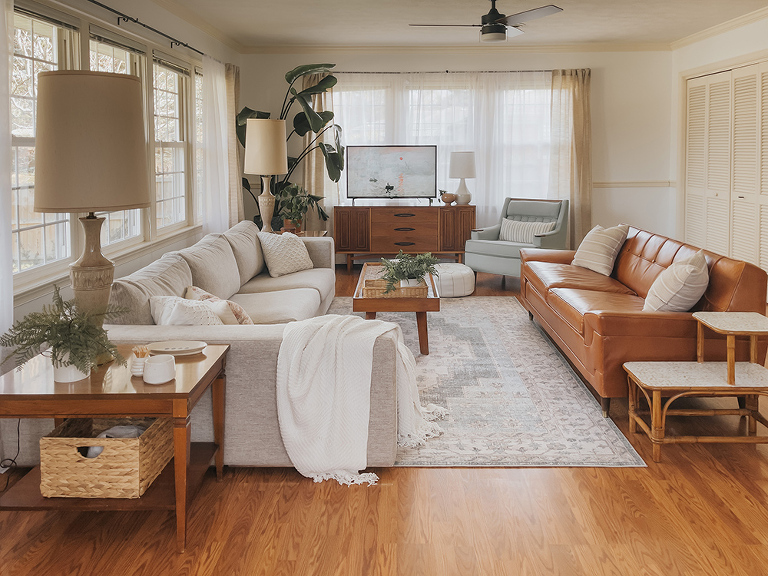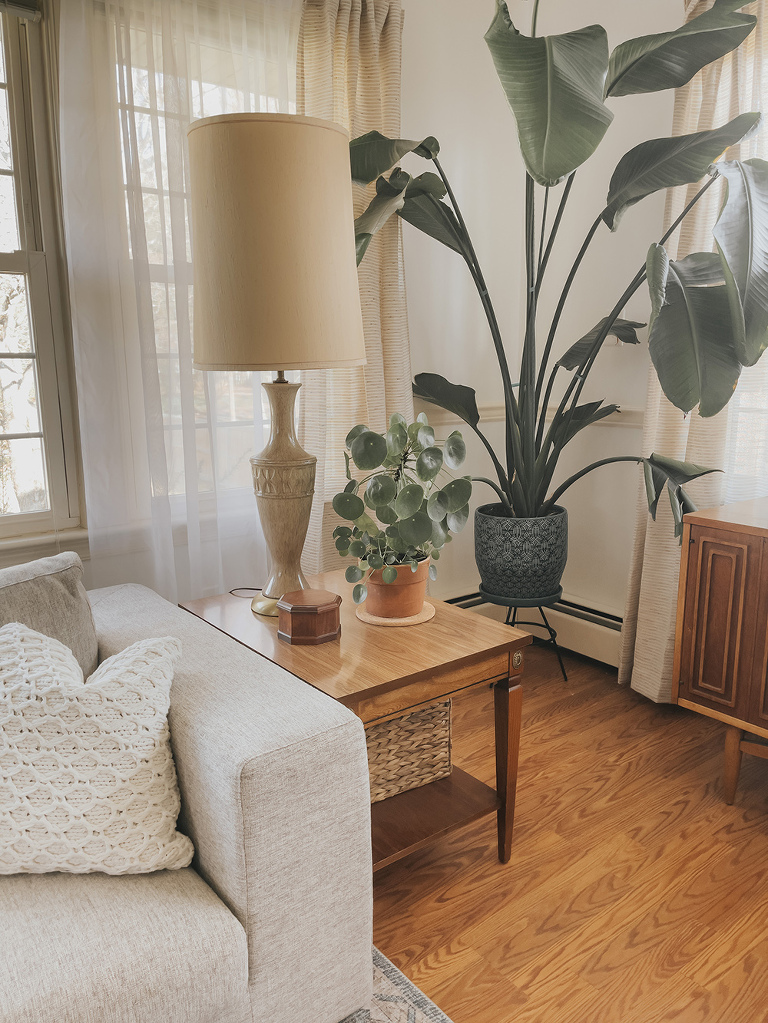 After getting our big gray sectional couch settled in its new space, I realized that I had plenty of room for two side tables—one on either side. I never had the space to do that at our old ranch, so this was really exciting! And, of course, new side tables meant I had the excuse to buy new table lamps, too. I bought the pair of wooden tables you see pictured above for about $40 from Eclectic Retro in Staunton, Virginia, and the matching mid-century ceramic table lamps from Staunton Antiques Center. I really love the height and formal flair these four pieces give the oversized space.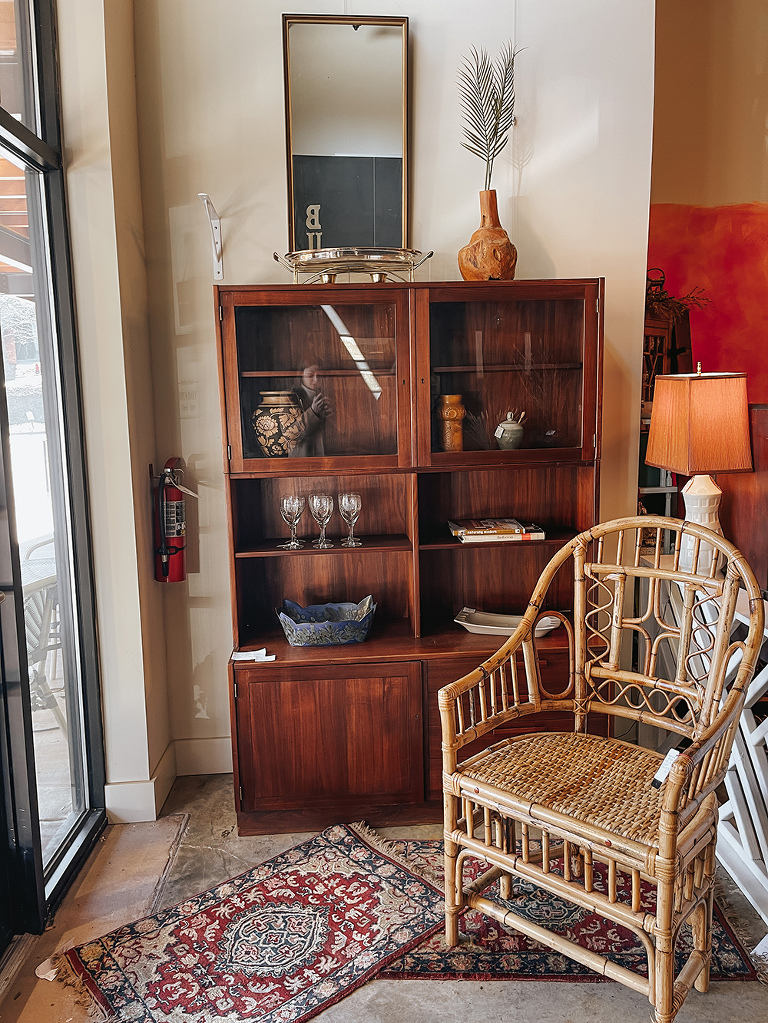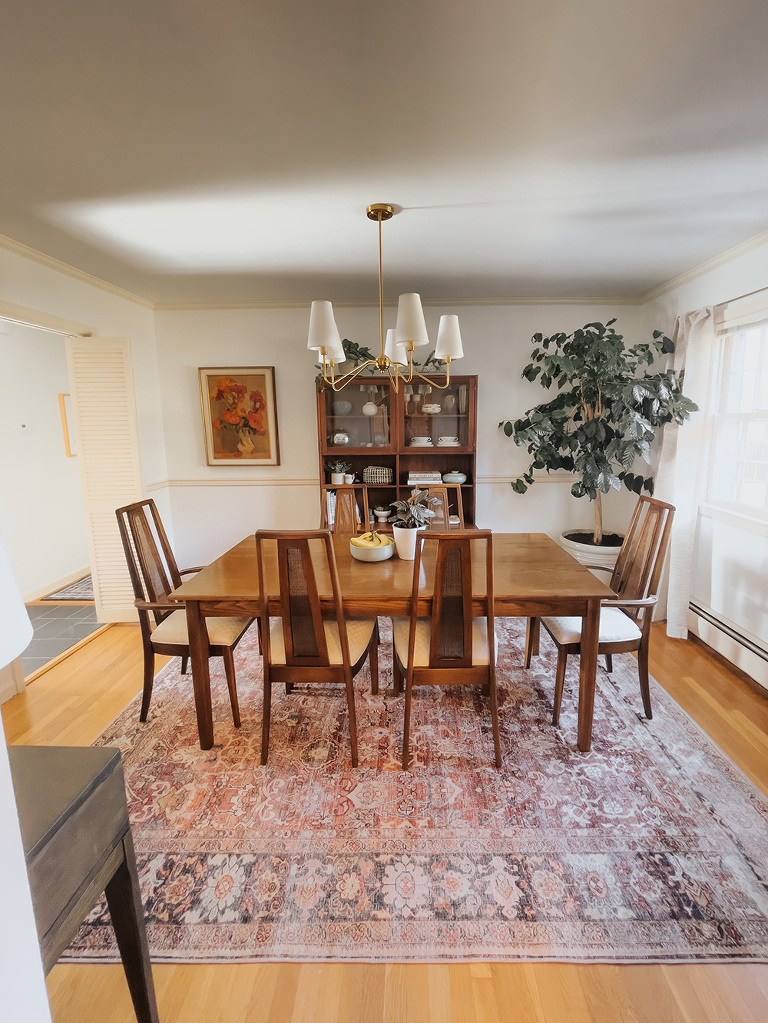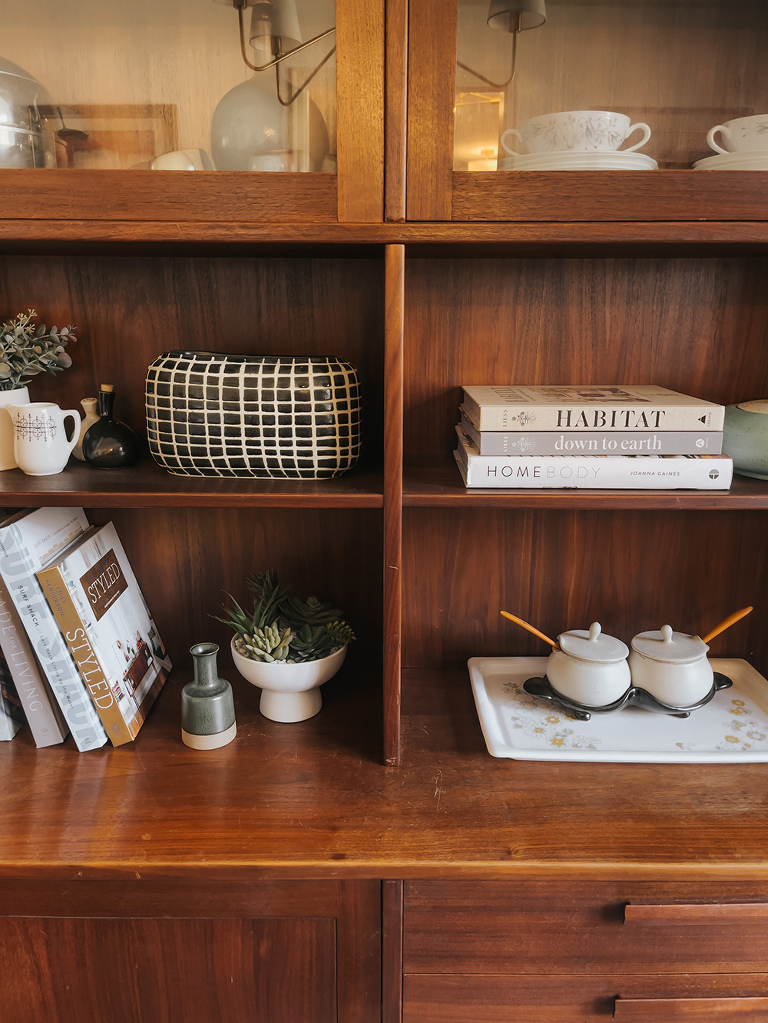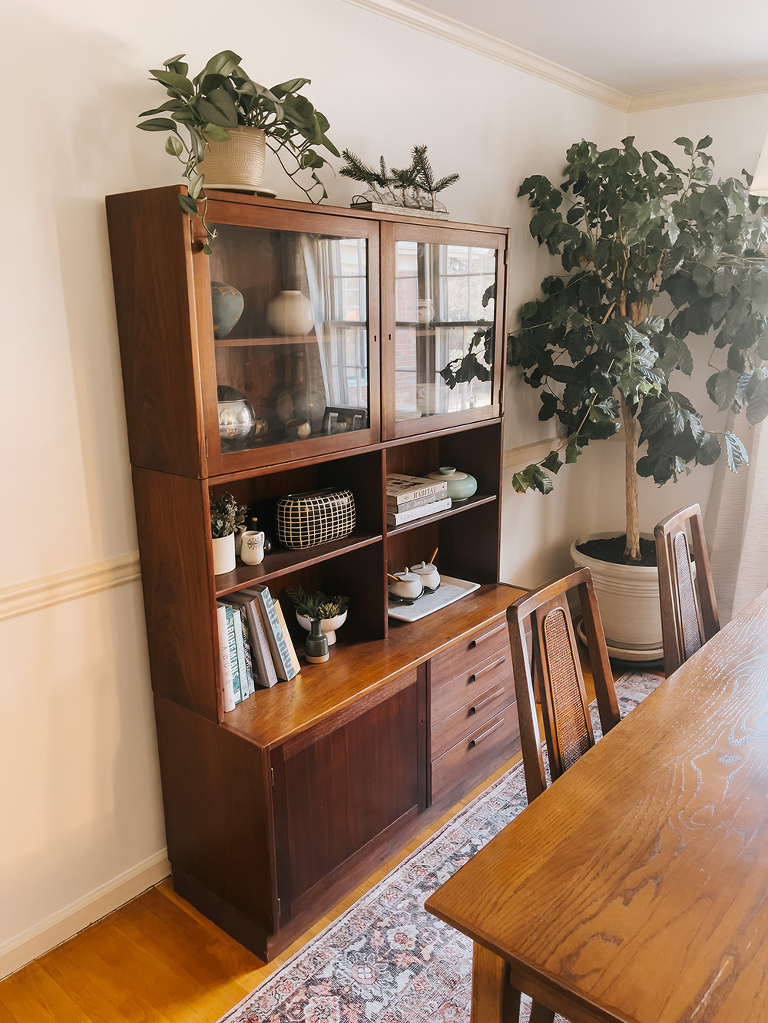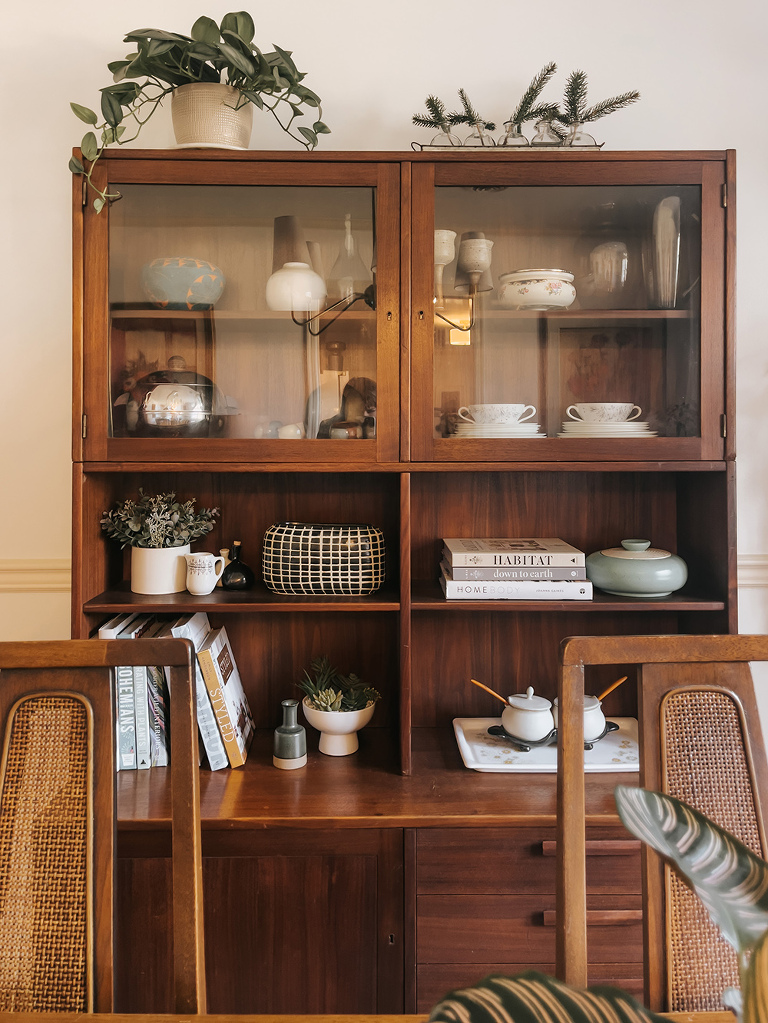 Another thing I had room for in this house that I didn't at our old one was a dining room hutch. I dreamed of finding something chunky and wooden from the 1960s or '70s, but I ended up finding something a tiny bit newer from Heyday Antiques in Charlottesville. We think this piece is from the '80s, which is fine by me as an '80s child myself. I love the classic mid-century-inspired lines. It feels very Scandinavian to me, although you know I don't have any kind of restraint, so I didn't style it very authentically to minimalist Scandi style. I adore having all of that extra space for display of my favorite ceramics, books, and serving pieces.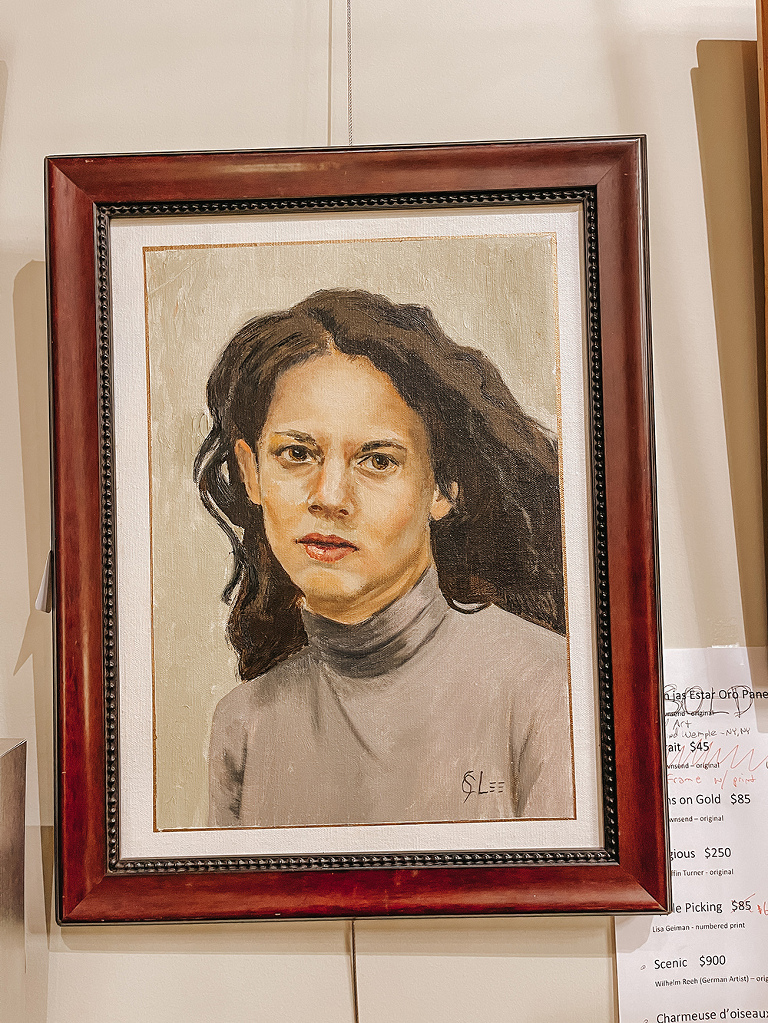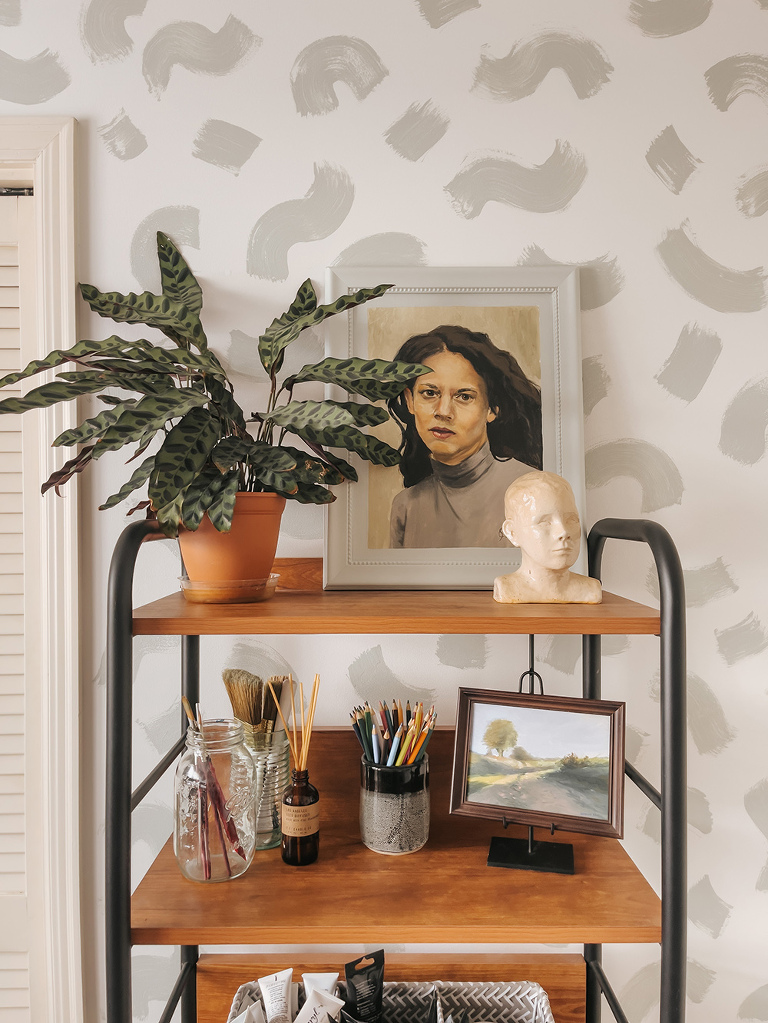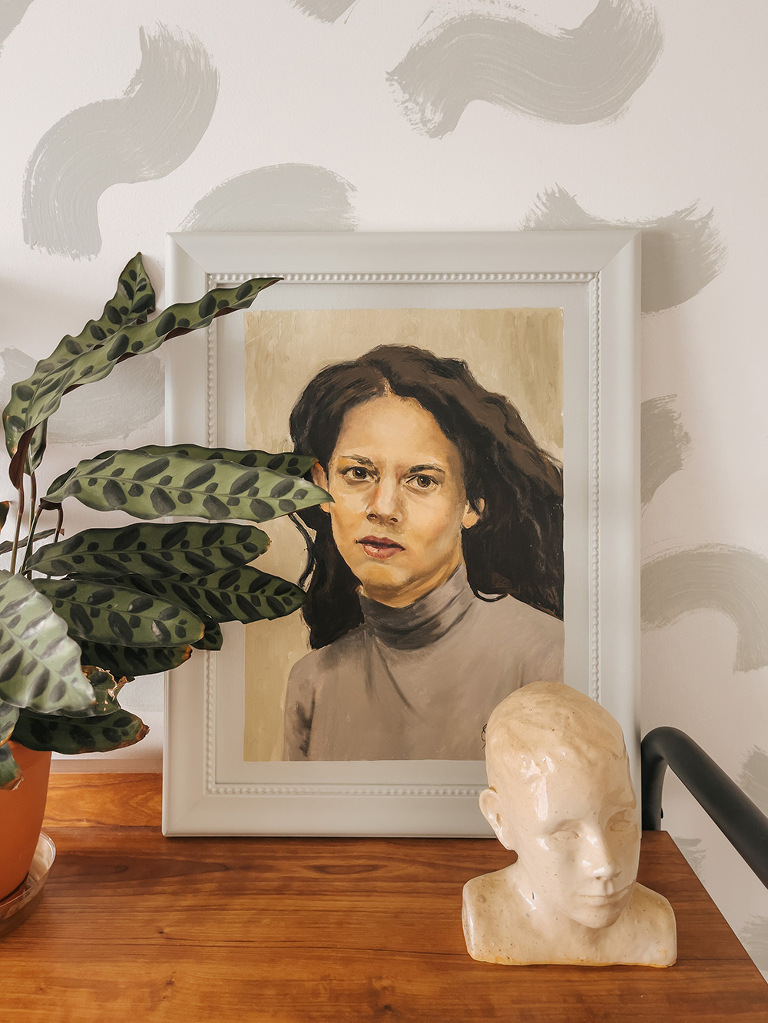 Art is undoubtedly one of my very favorite things to look for when antique shopping. I don't really have room for more art, but I just can't help myself when I see a beautiful secondhand print, painting, or drawing—especially when it's a portrait. The female portrait painting you see above is an original and cost less than $40 from Heyday. I know it might cause people to balk, but I ended up painting the frame and a tiny bit of the unpainted canvas because I thought the dark frame and hand-painted gold border distracted from the art. Now that it's finished with a soft minty green paint color, the art piece feels just right for me and my newly completed art studio.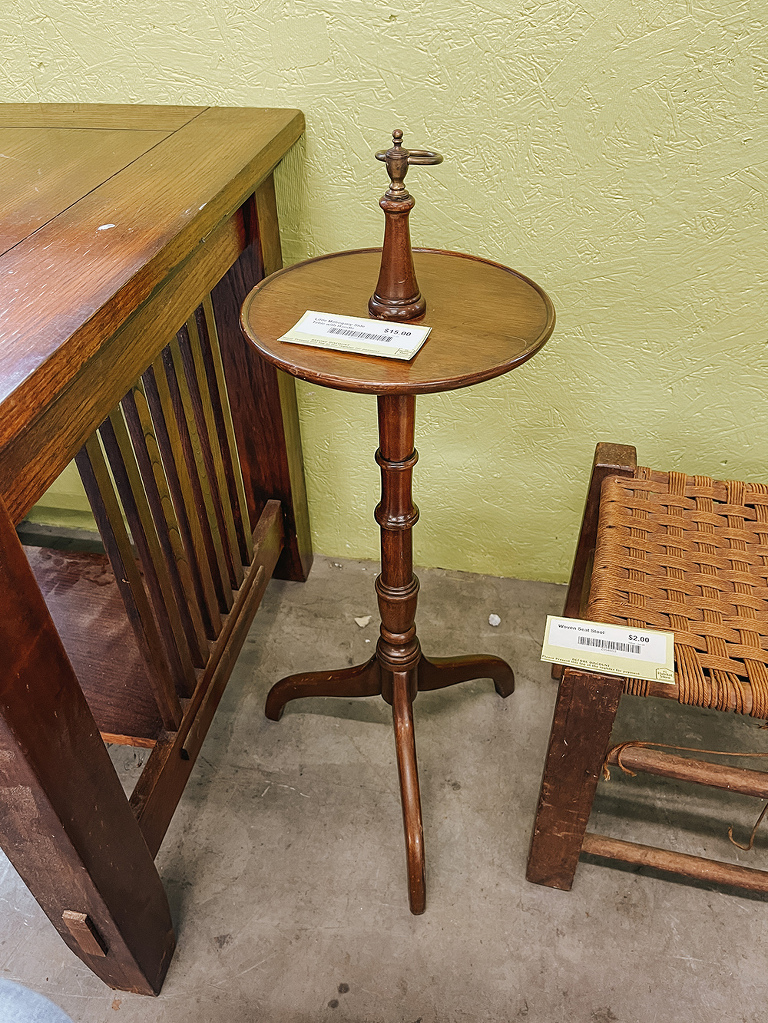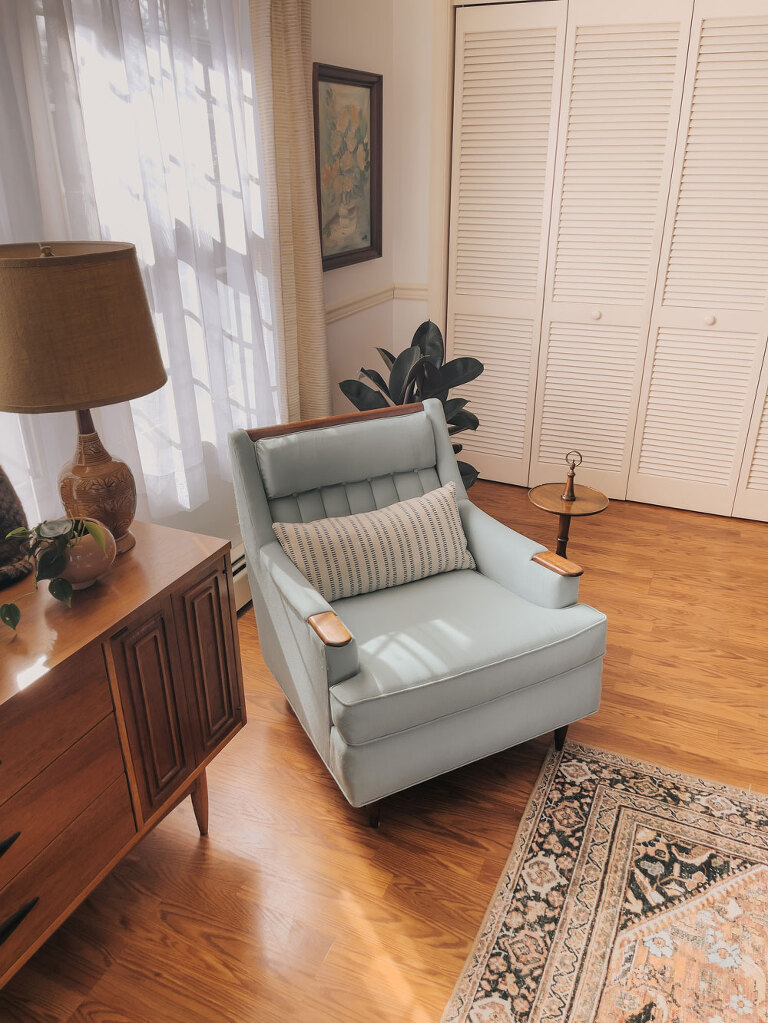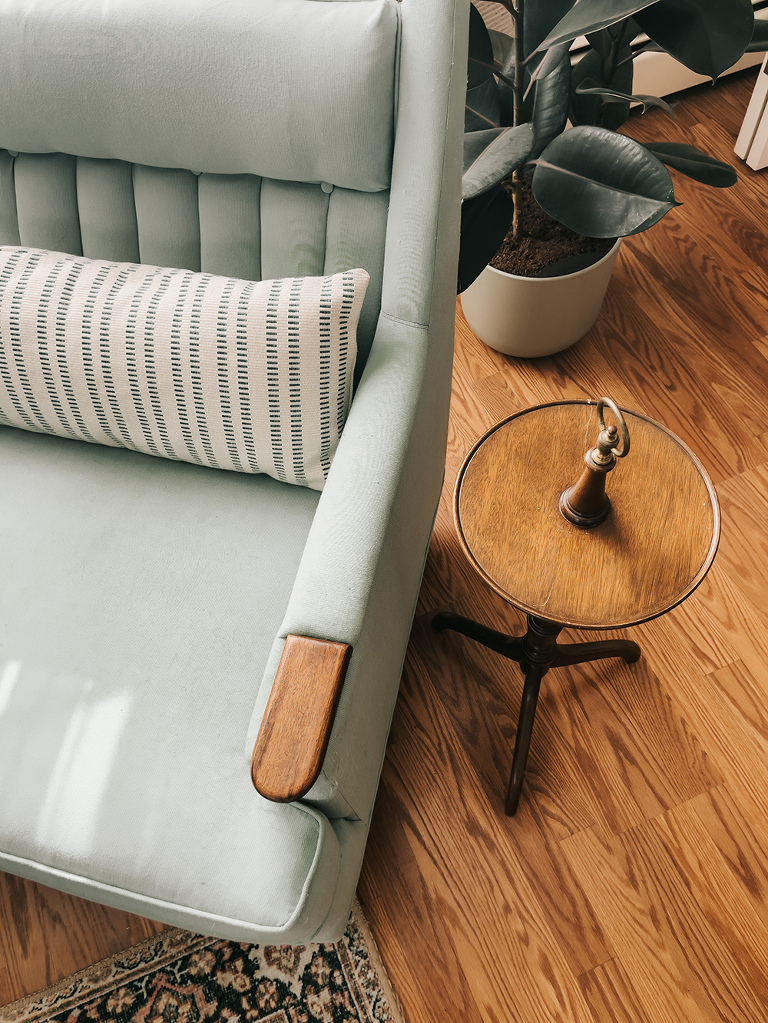 Our new home has two fairly large living rooms in it, which means that we have space to really spread out our furniture. I have a number of side chairs in each living room that don't have to be pushed up against a wall, which is really nice for lounging, but does present some problems when it comes to placing side tables. They have to be small enough to float in place without being too small or else they risk looking disjointed. When I spotted this handled $15 round table at Habitat Restore in Charlottesville, I knew it was the perfect solution. I have it sitting next to our vintage blue chair in the sunroom now, but eventually plan to move it to the living room where we have a new swivel chair coming that's not near any other type of tabletop. My one parameter? That it be able to hold a wine glass. This tiny table does so with ease.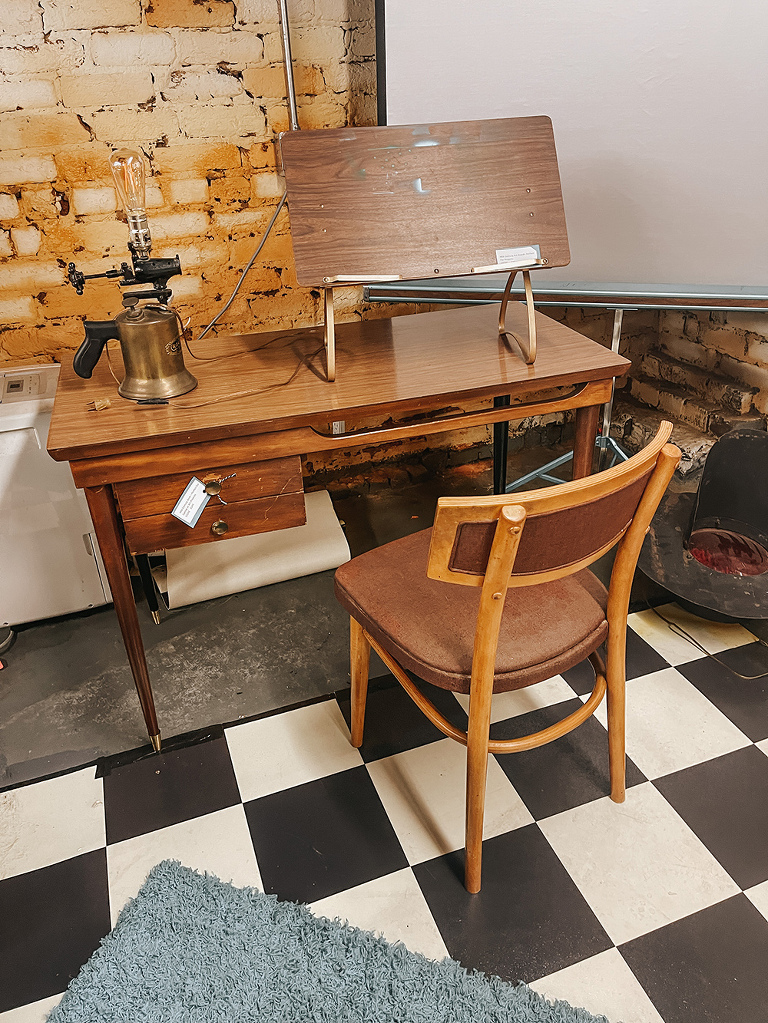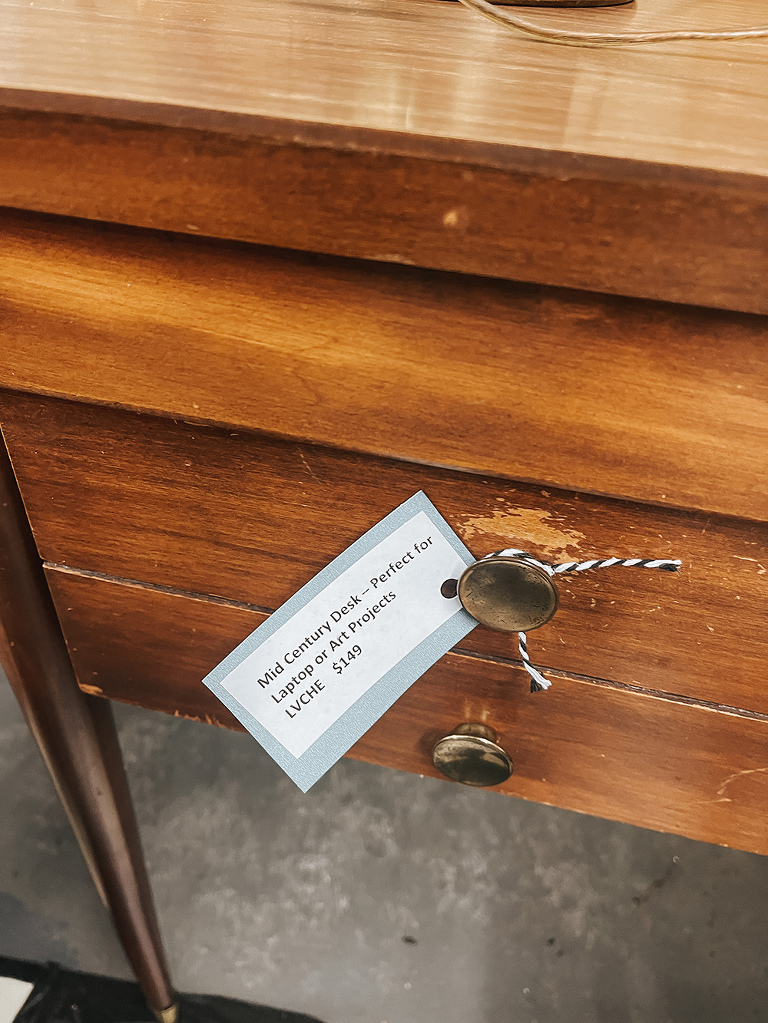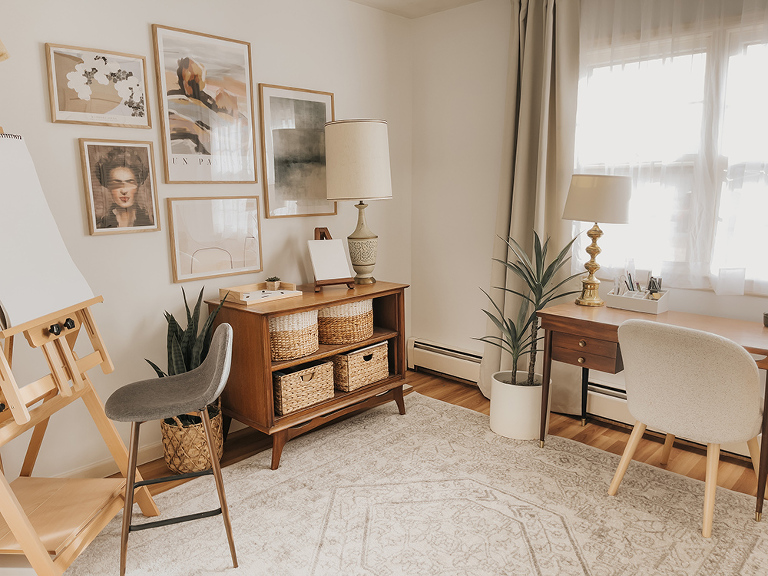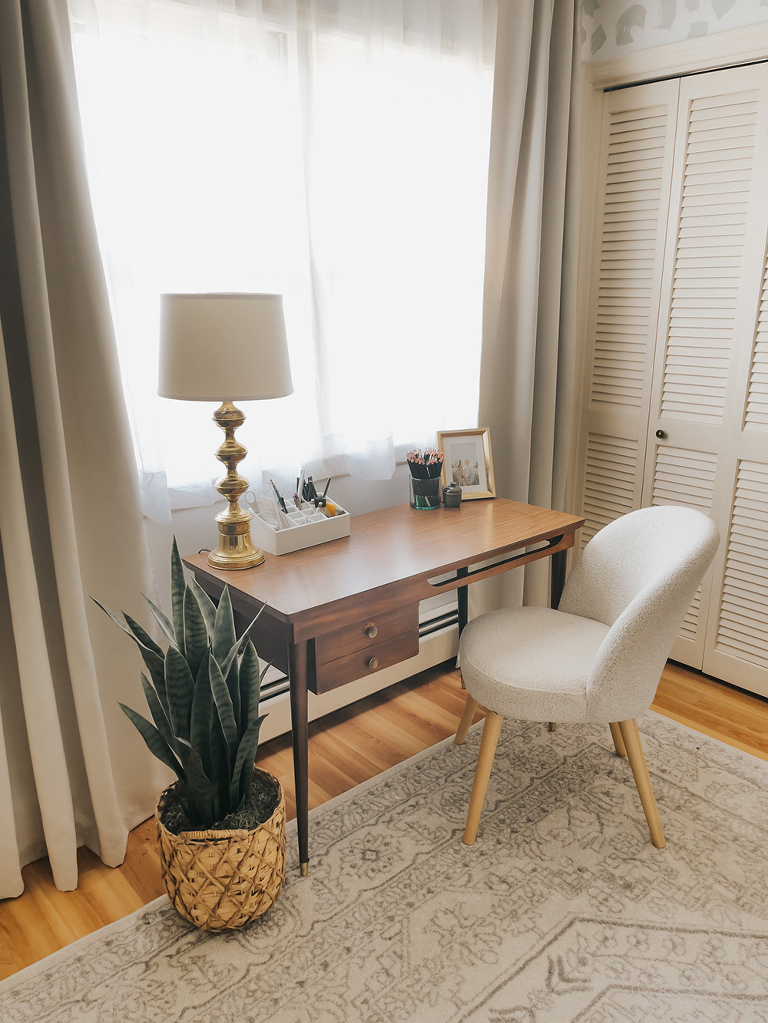 When I was pre-move brainstorming what types of functions I wanted our two extra bedrooms to serve, it eventually occurred to me that I had the space for a dedicated art studio. You may have caught that room makeover recently, but if you didn't you can click here to take the tour. At any rate, I decided to add a small lightweight table under the window to act as a drawing desk. This one cost $150 from Staunton Antiques Center. I feel like it might have been a tad overpriced considering the fact that it was light enough for me to carry practically one-handed all through downtown Staunton to get to my car, but since it's not my everyday work desk, I figured lightweight was all I really needed. I love the mid-century style of it!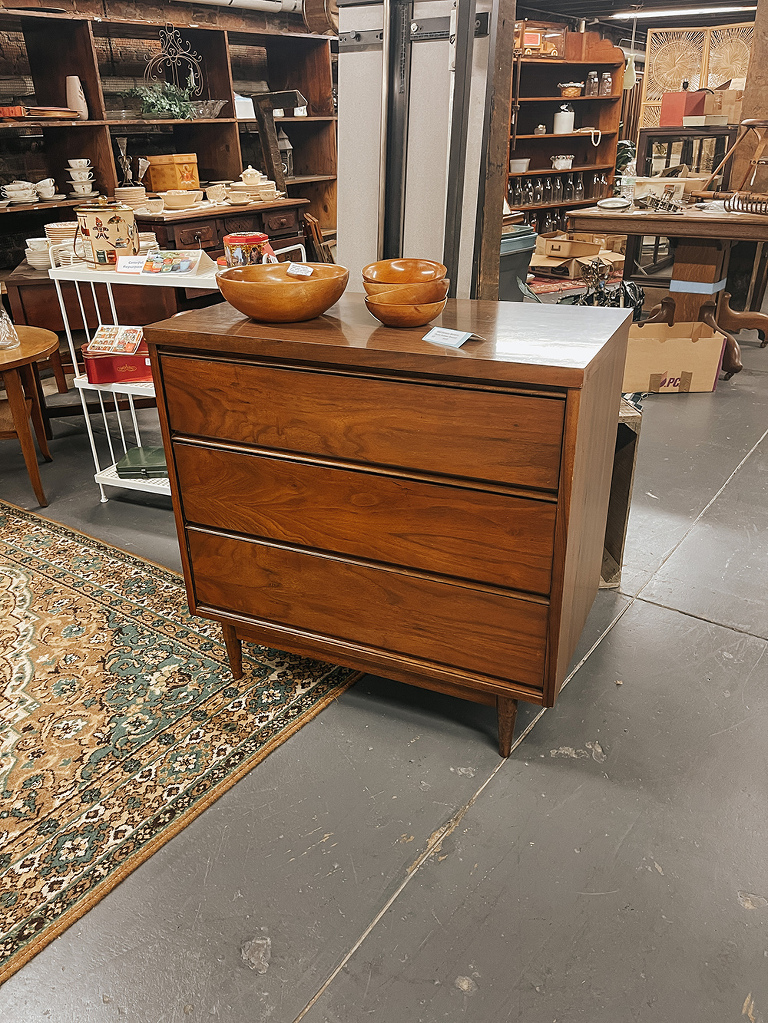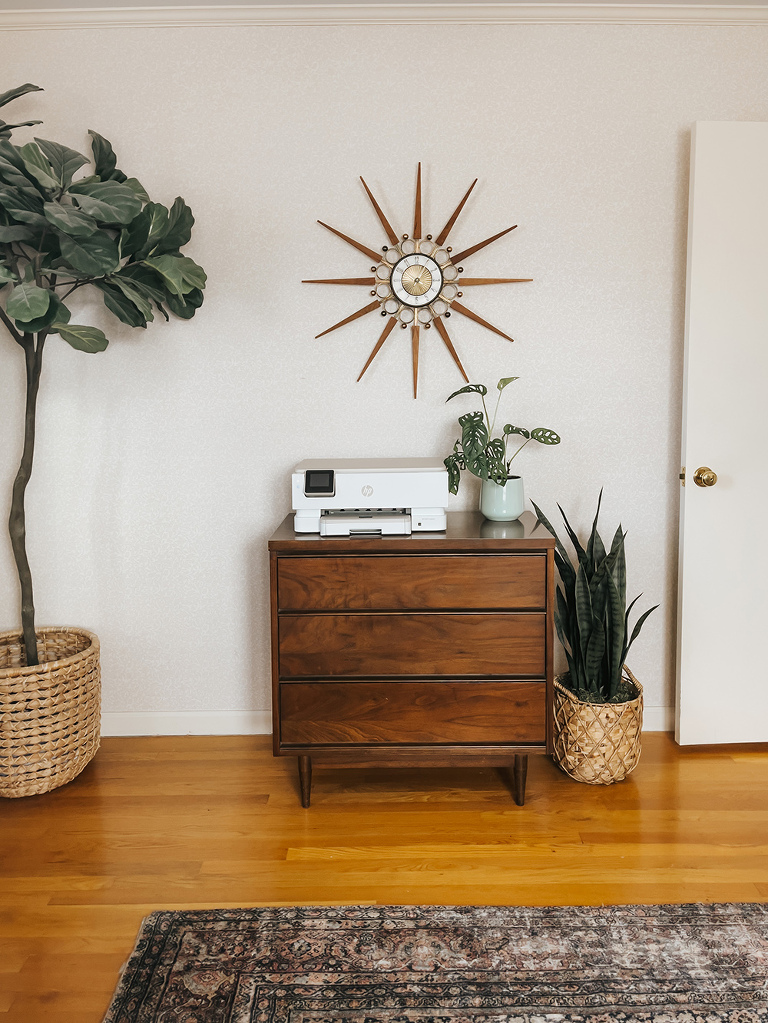 One more Staunton Antiques Center find was this wooden 3-drawer dresser. I love the pint-size scale of it, and that it perfectly fits my printer on top. I use it in my home office as a printer stand, but also as linen storage since our main bedroom is just on the other side of the wall from my office.
This is actually only a fraction of the secondhand scores I've invested in over the past three months, but if I did a thorough inventory, this post would be miles and miles long. If you like reading these "Where are they now" types of story posts, let me know in the comments, and I'll be sure to share more of them as I continue my hunt for vintage finds that fit our new home to a "T."